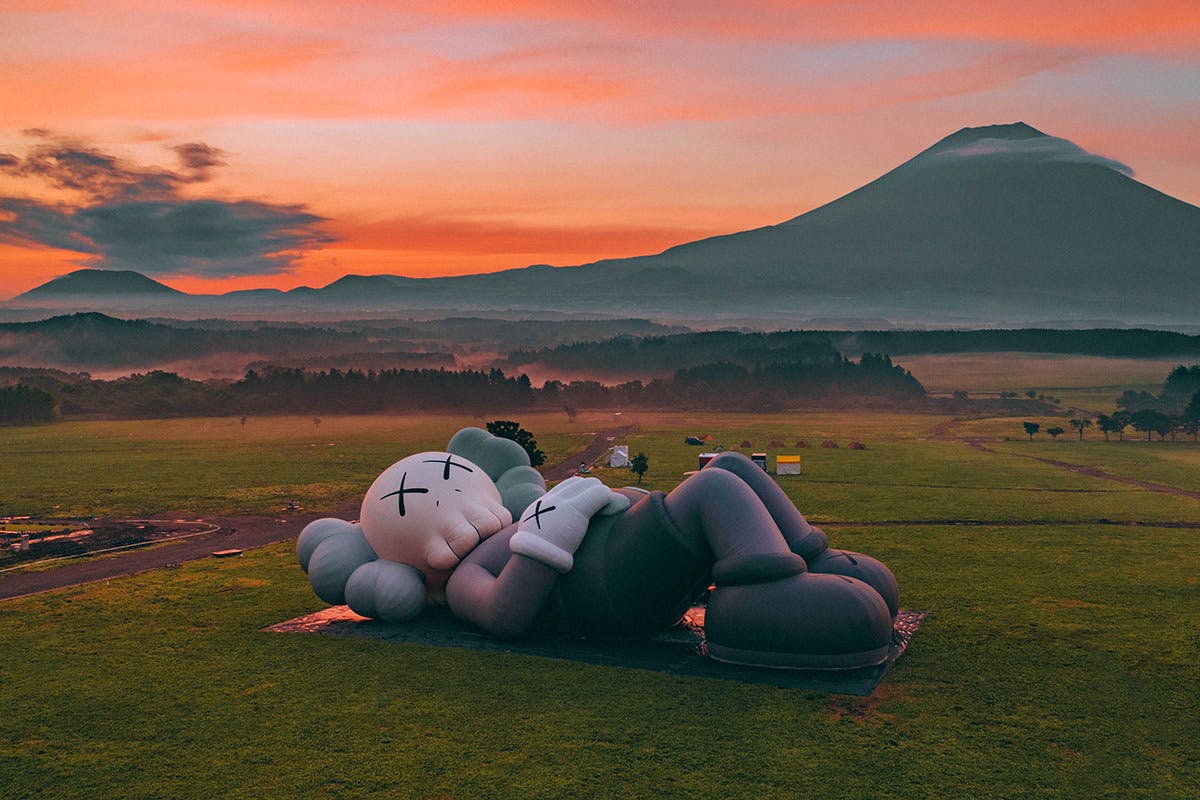 Last week, artist KAWS (aka Brian Donnelly) brought his traveling installation KAWS:HOLIDAY to the foot of Japan's spectacular Mt. Fuji. The 40-meter-long Companion was reclined at the Fumotoppara campsite in Fujinomiya, Shizuoka, where a selection of lucky fans were treated to a VIP camping experience in collaboration with Herschel Supply and AllRightsReserved.
Guests were treated to KAWS-themed food which included KAWS ramen and branded chopsticks, live music, and an exclusive drone performance by SKYMAGIC, but the highlight (other than the amazing Fuji x KAWS view) was the opportunity to sleep in exclusive KAWS x Herschel Supply tents and sleeping bags.
And the tents were only one part of a wider Herschel Supply and KAWS collaboration, which also included lanterns, tumbler mugs, apparel, amenity kits, and, of course, KAWS:HOLIDAY Japan tote bags and Herschel Heritage backpacks.
At the event, Highsnobiety's Creative Director Edward Chiu caught up with Herschel co-founder Lyndon Cormack to get a behind-the-scenes look at how the KAWS collaboration came about, and to find out if we can expect more camping gear from the brand in future.
Tell me about the collaboration. What was the process like with KAWS?
Brian's idea for the event was really the idea of a celebration of art, but also rest and relaxation, which was a nice cue for us. We're a brand that believes in travel, in the journey, and in the need for taking the scenic route occasionally.
It was the perfect coming together; we could support a big cultural moment and have people come together to celebrate art. As a brand, this is the kind of event we're into because we're able to touch a lot of people, talk to a lot of people, but also it's got a lot of purpose to it.
What sensibilities do Herschel and KAWS share?
Beyond our fascination with culture and art, I think we're both very consistent. We have an aesthetic and we stick to it. It's very easy to get dragged into different ways and different trends, but we believe in having a utilitarian product that's design-driven, and that's what we do every single day.
We think it's important because we have the ability to talk to a younger consumer, to really be able to introduce art and architecture and culture and things that help define the next generation. For us, I think working on projects such as this allows us to, A: be a part of something a lot of people know, but also, B: introduce something to people who maybe don't follow art as closely.
What are your first memories of KAWS' work?
KAWS did some shows in Vancouver early on at a gallery called MADE Gallery, and that's really where I first discovered him. Then, probably around 17 years ago, I bought this OriginalFake KAWS down vest that was one of the first pieces I owned.
His art was a little unobtainable at that point and still is, so [to get] that OriginalFake piece was pretty amazing. He's just been a constant fixture in a really progressive time of people's lives. We all live in our own lane and we all live in our own bubble, but what's going on in fashion, and in culture and art, has never been bigger, and it's pretty cool to be a part of it.
You made tents and sleeping bags for this collaboration. Is camping something you guys would like to expand into?
We're much more famous for being in cities than we're known for the outdoors, and as much as we love nature, we're a modern design company that concentrates on the city, so I'd be lying to you if I told you there was a whole bunch of new camping products coming out.
More and more travel solutions to help people get around the world is really what we're doing. I think the travel industry is really, really boring, and we're going to double-, triple-, quadruple-down on making it more fun, whether that's the creation of new luggage or the deconstruction of categories that already exist.
Our goals are making sure that people get seamlessly through airports: check-in, check-out, on and off planes, in and out of Airbnbs or hotels or wherever they're staying, and keep on working and telling stories through that.