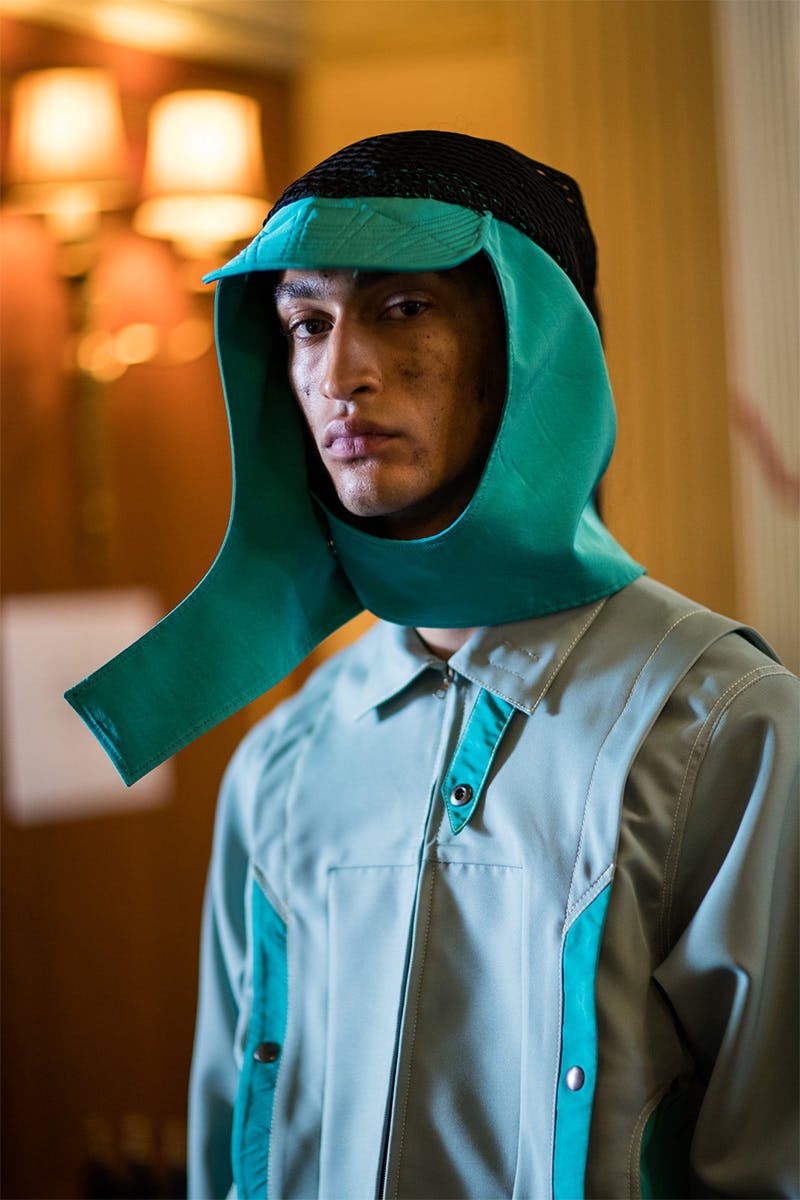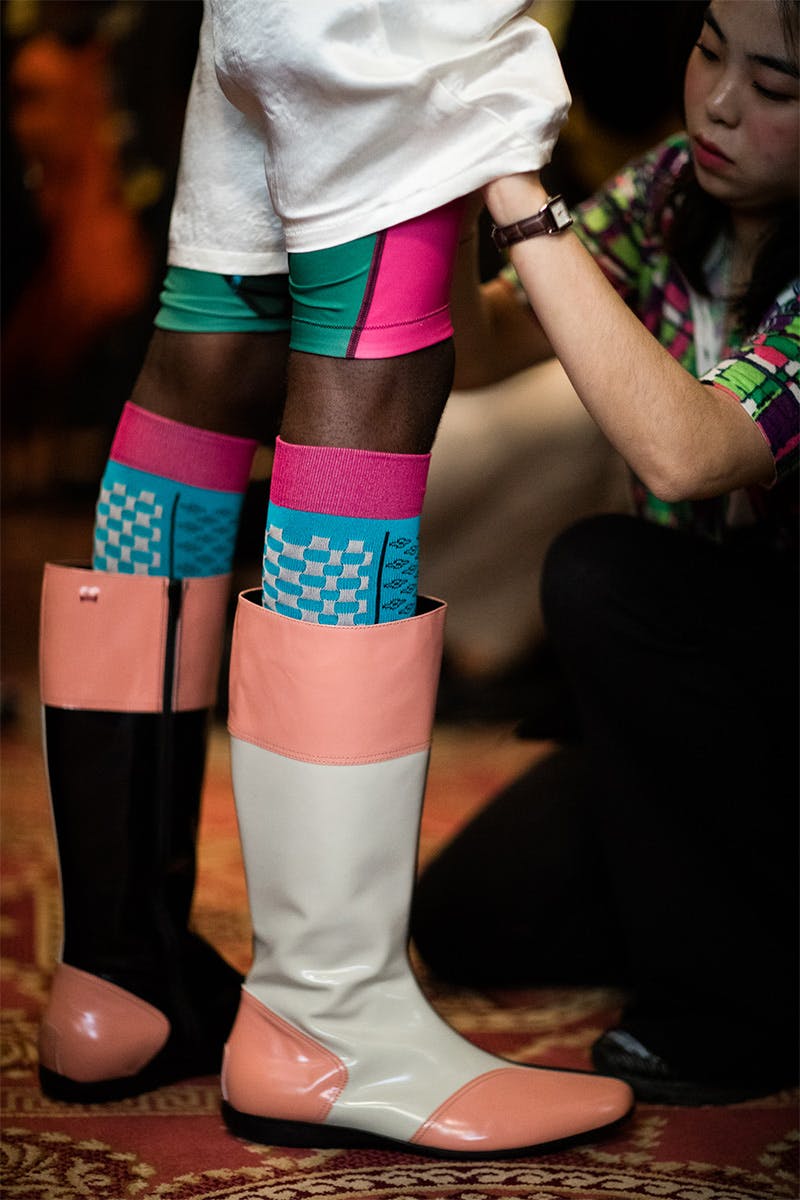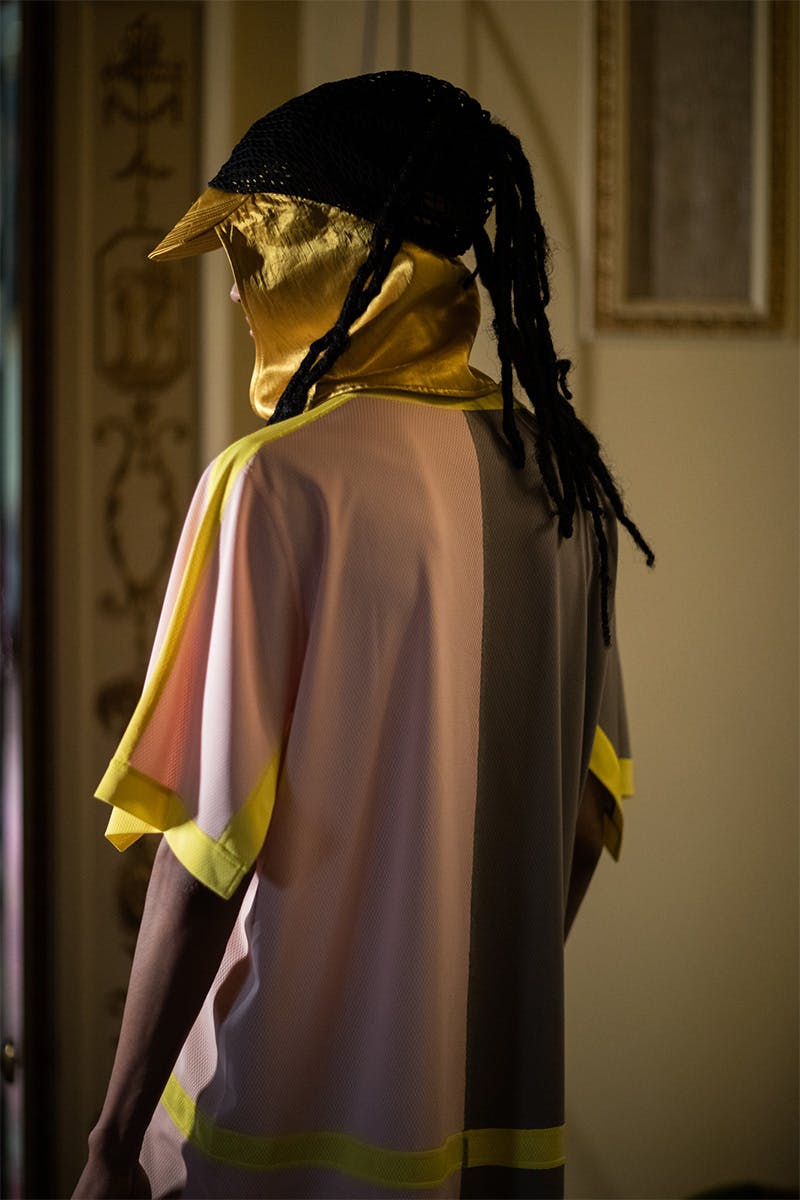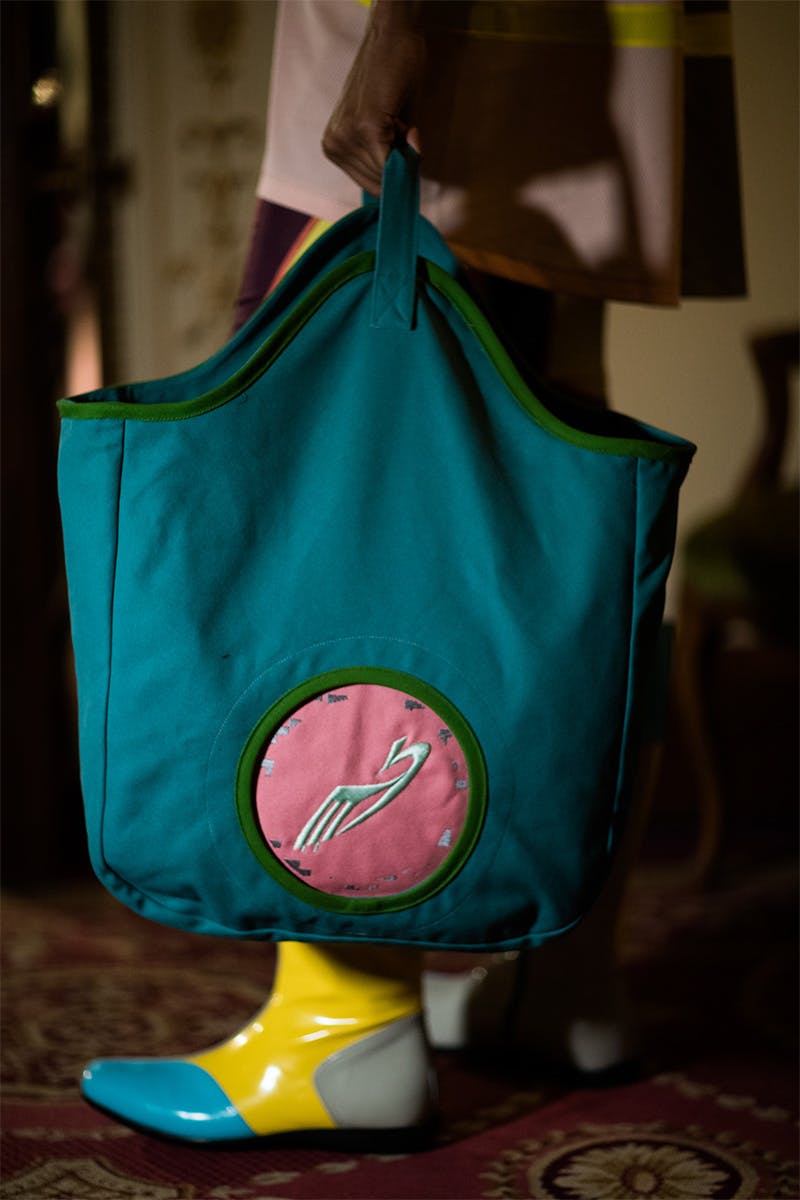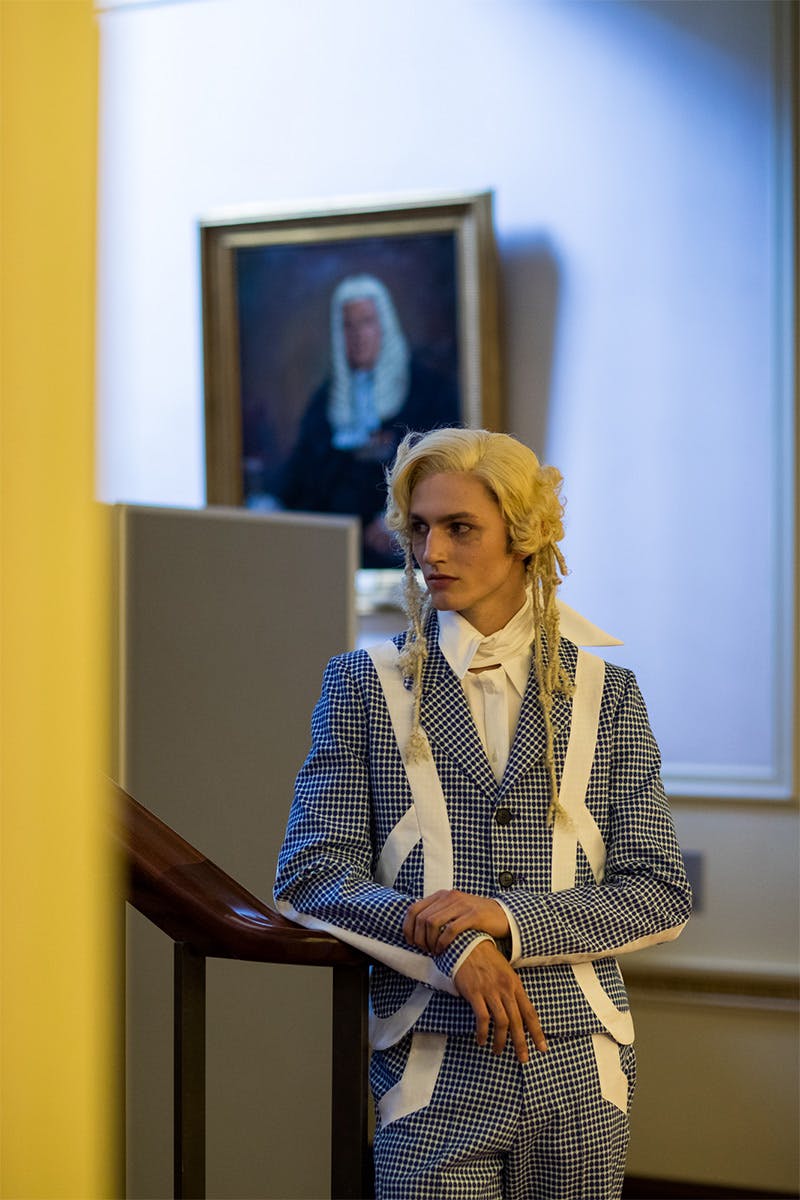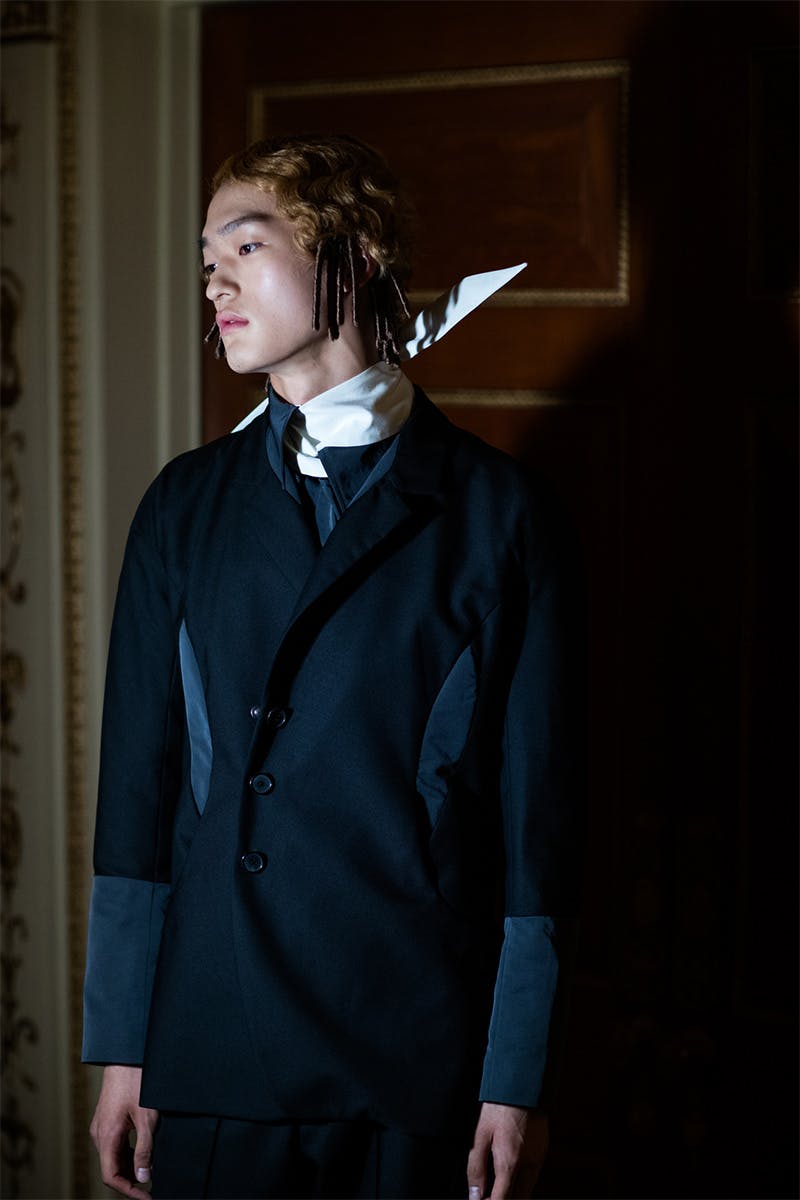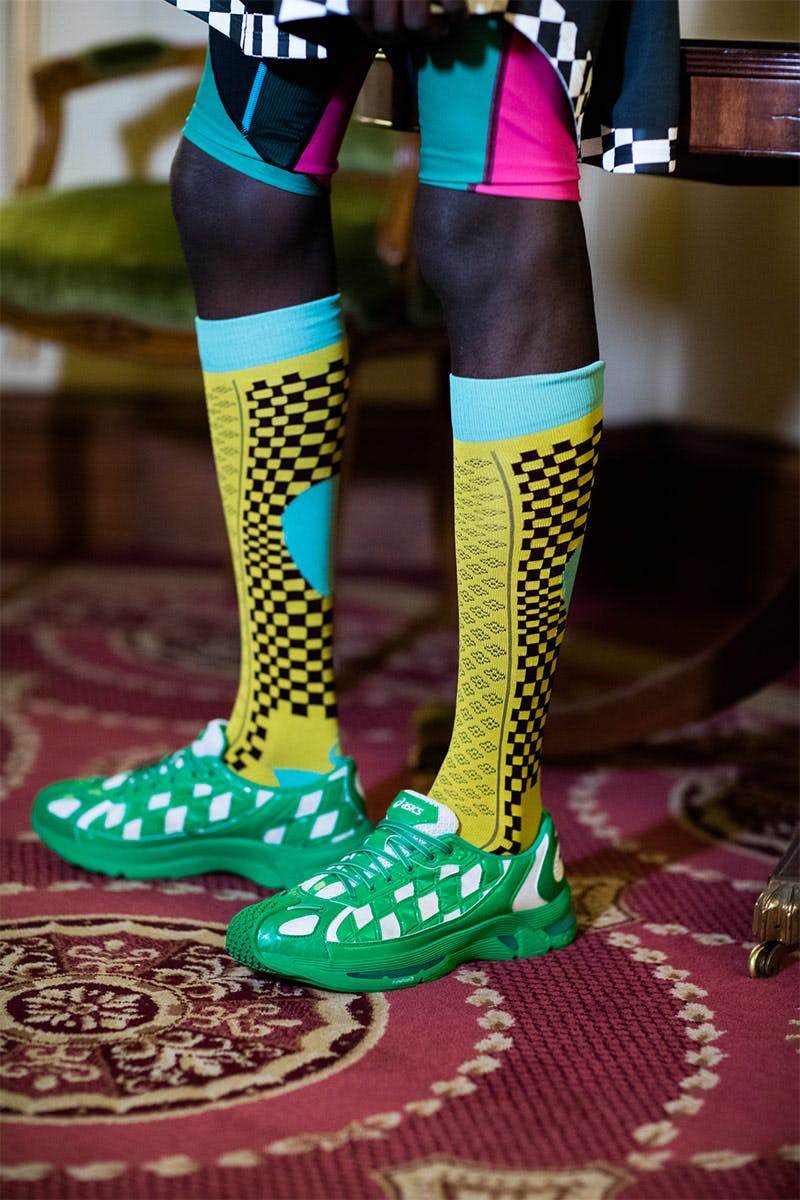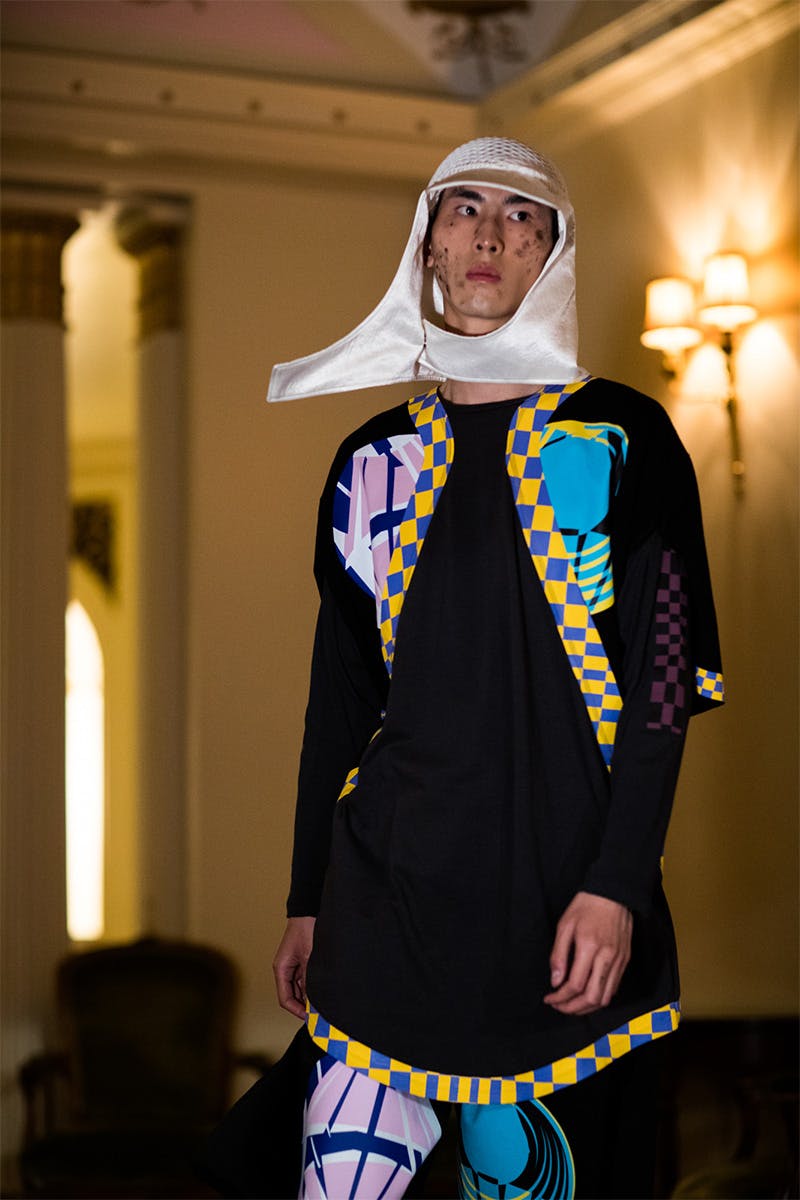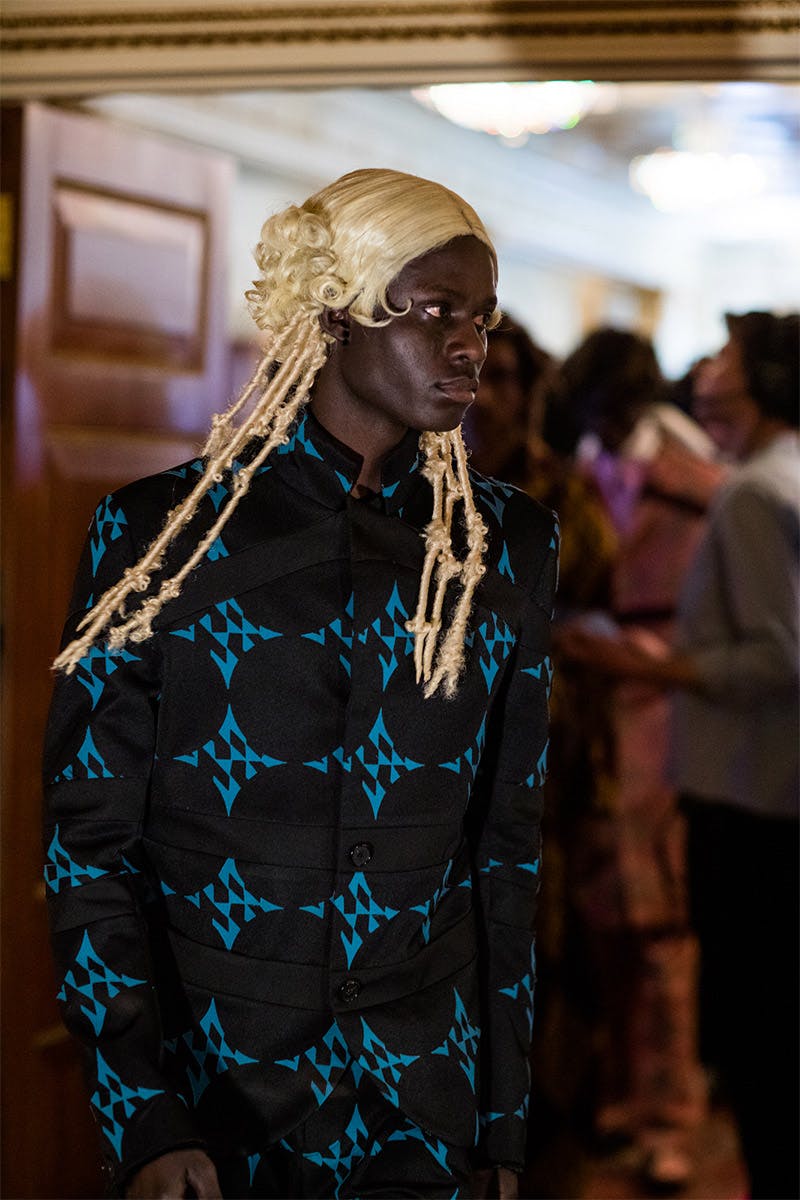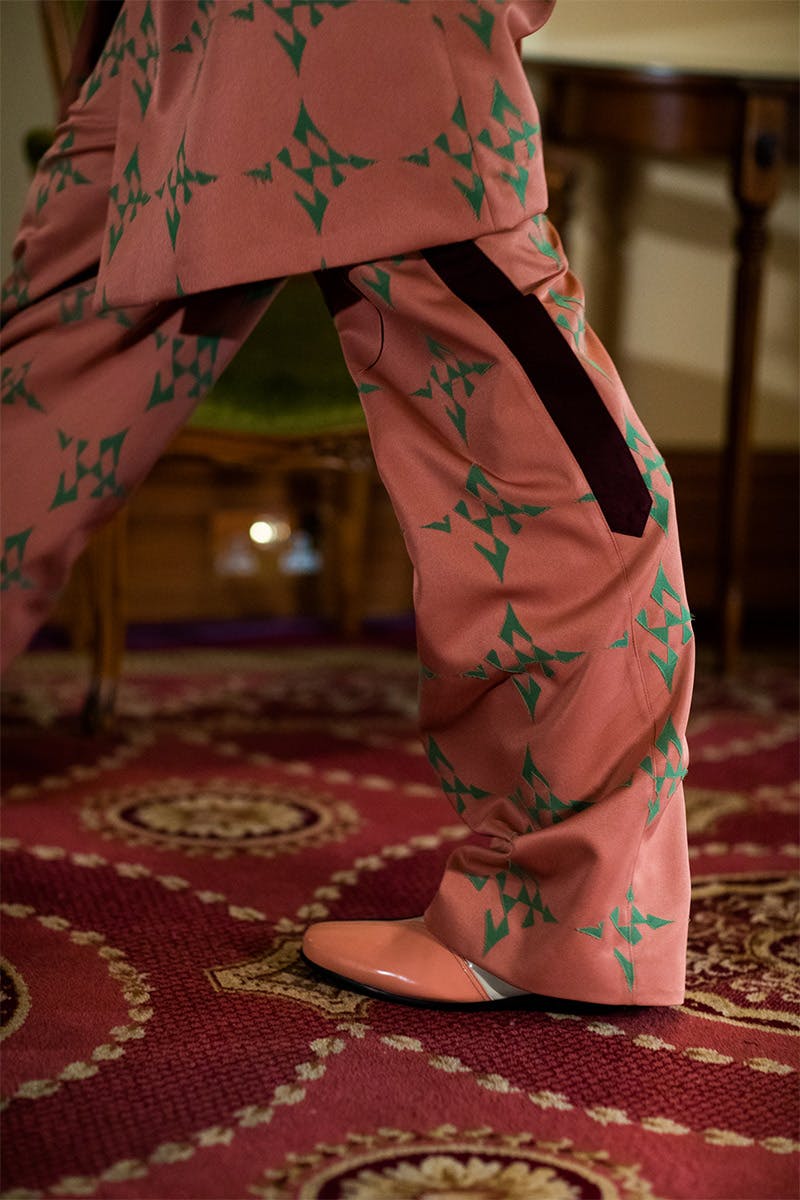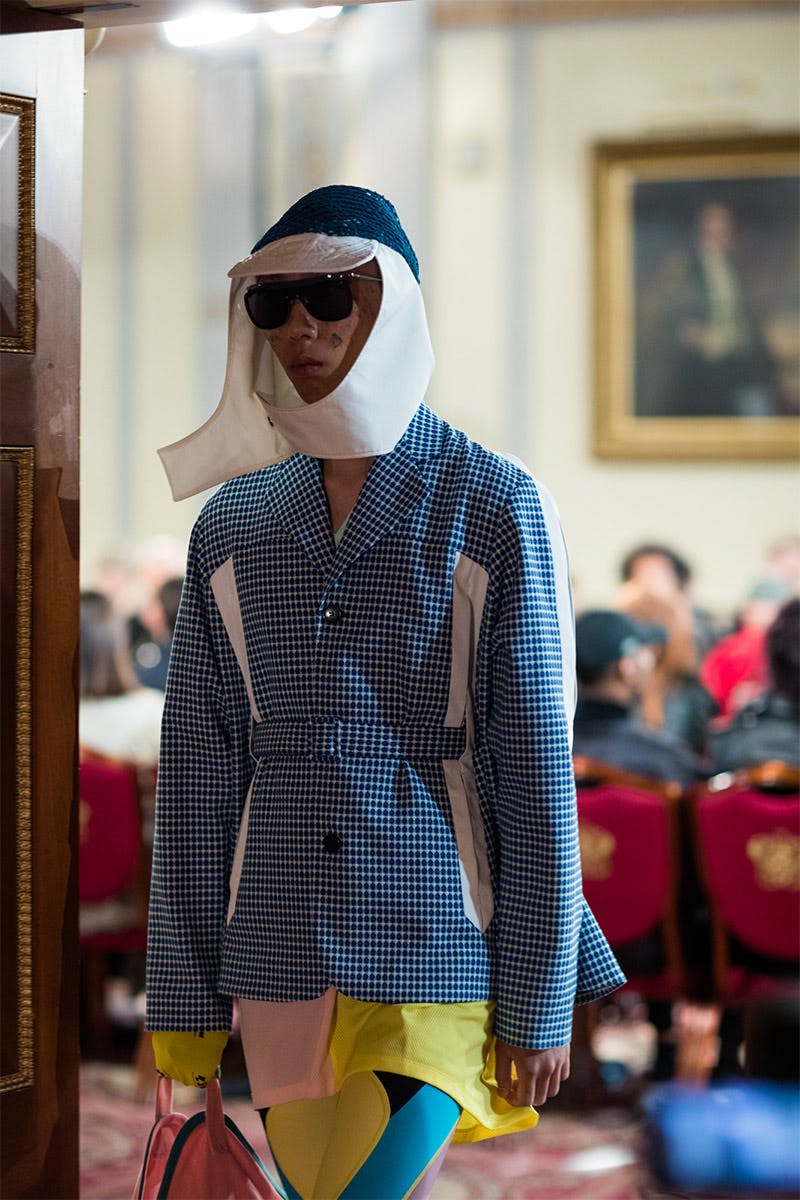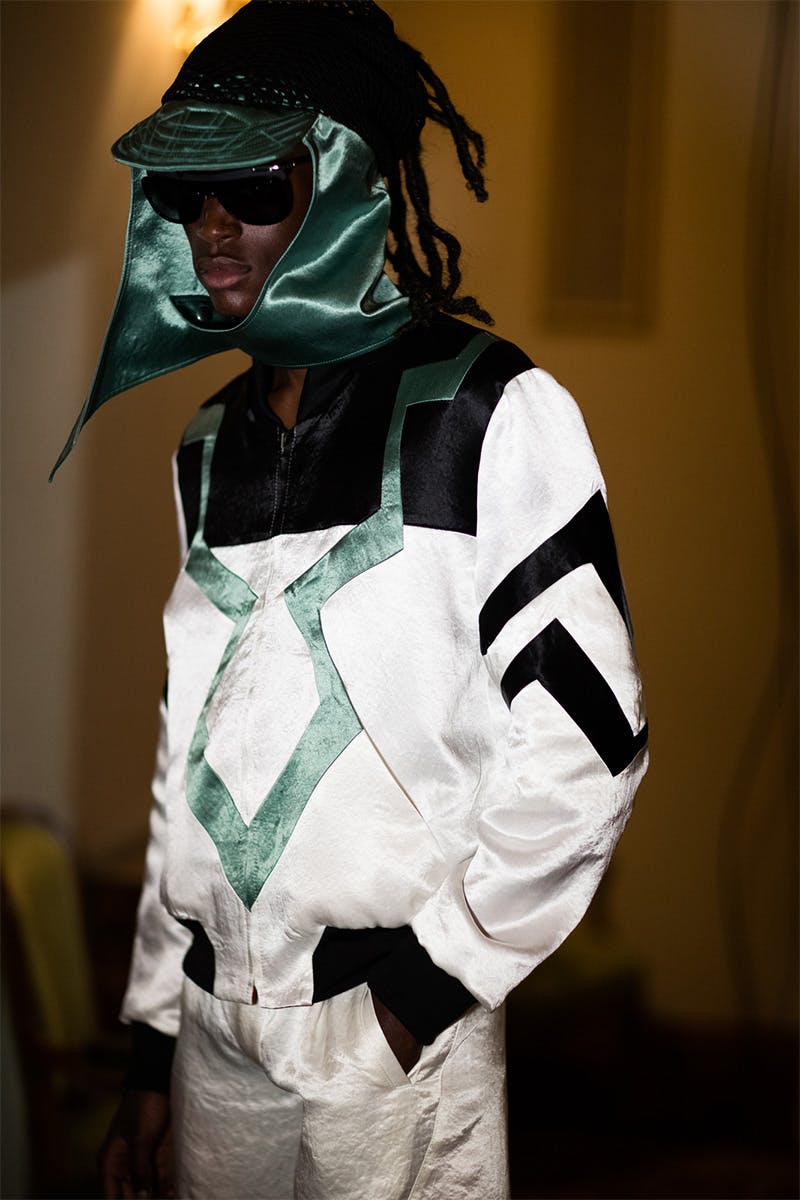 It's rare for a brand to own a color. Christian Louboutin red, Acne Studios pink and Tiffany blue are some of the rare examples. While not fully "his," Kiko Kostadinov, too, is creating a spectrum of signature hues — spearmint, apricot, and especially turquoise.
His latest Spring/Summer 2020 collection themed around American horse race The Kentucky Derby lends itself to the exploration of coloring. "I was fascinated watching this documentary [7 Days Out] on Netflix on the Kentucky Derby and how the jockeys prepare 12 months for a race that lasts just two minutes," the Bulgarian designer tells Highsnobiety backstage after his show.
All those equestrian signifiers were present, but made perverse in a Kiko way. Riding boots and cut-off Chelsea style boots, made with Camper, were made in multi-colored leather, resembling those of Pierre Cardin and André Courrèges. Bright sportif jockey silks and fluid jerseys were subverted through bold color clashes and bright patterns, giving the sportswear pieces a kaleidoscopic effect. Hacking jackets and Watteau-back belted trench coats evoked mid-century volumes in Italian virgin wool, Japanese cupro, and recycled twill.
Checked knee-socks, silk jockey caps, feed bags, and riding whips made for more literal style references to the sport, as did the mud splatters on the faces of models who sported ponytails.
More than aesthetics, Kostadinov's eighth collection was a comment on our class system. On a micro-scale, that's what derbies are. "Horses are trained by gypsies as they're really close to them, then the middle, suiting, section of the show was about the people that organize the race and own the horses," says the designer. Then you have the audience, the jockeys themselves, and all the politics that go into multi-million dollar races.
Kiko's eighth collection was also a season of new beginnings. It was the first time he wasn't inspired by cinema or art, he says. The venue, London's lavish Plaisterers Hall, was in stark contrast to The China Stock Exchange where the designer has shown his collections in previous seasons. "This season was about creating our own story," he says.
Then there was the standout footwear with ASICS, which, after four seasons of reworking existing models, for the first time was completely made from scratch. "The silhouette is completely new. I was the first person who could use the FlyteFoam sole unit," explains Kostadinov, who says it took a year and a half to develop. "For such a company to invent a new tooling and me to use it, it's a big deal."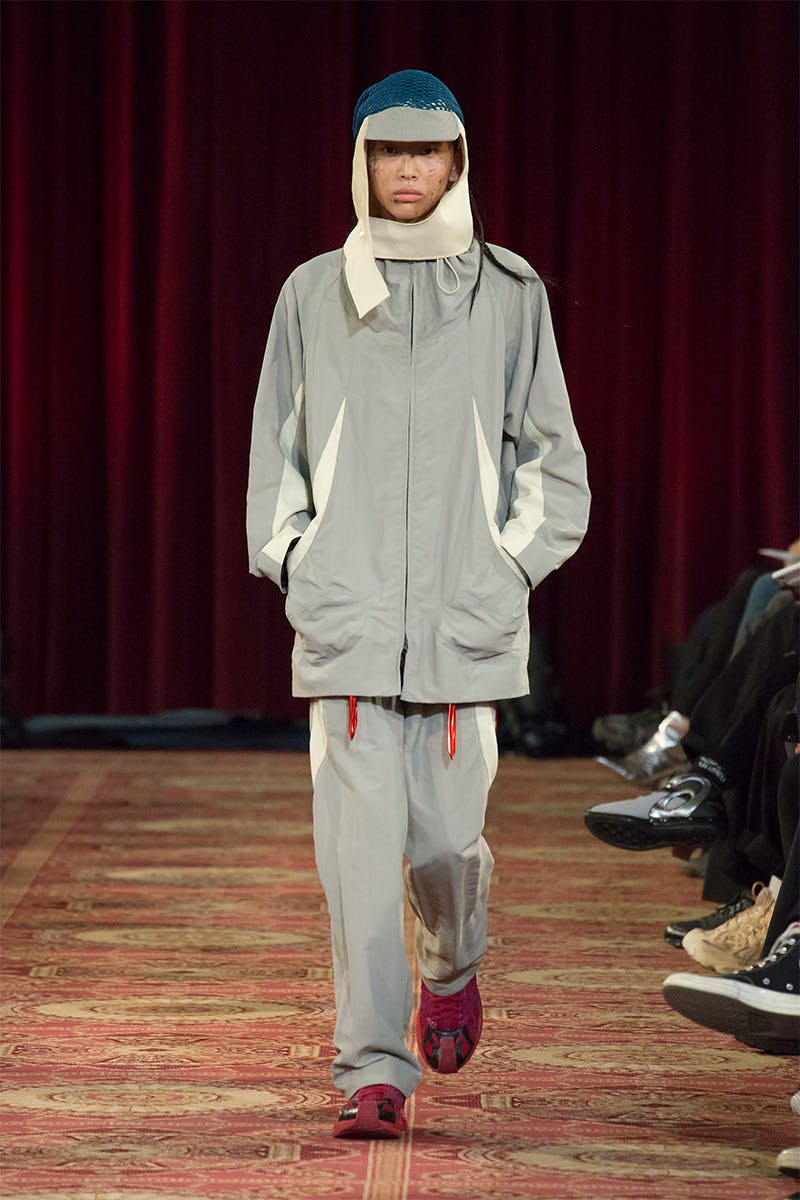 The curled toe, embossed checkerboard sneakers fitted with the theme and came in three colorways. Tights, socks, and tunics were made with the Japanese sporting company as well. All will sell well on the shopping floors.
This year's LVMH Prize finalist has a vision, a clear differentiated aesthetic rooted in futurism and uniformity. But commerciality is different. While Kiko single handedly catapulted ASICS into the fashion zeitgeist (with GmbH and Harmony Paris all following his example) and at least a dozen editors front row sporting the Gel-Delva 1s at the show, his clothing hasn't been as visible on the streets.
For Kostadinov to be the designer he deserves, and can be, more wearable products need to be made and marketed beyond his loyal fashion-forward clientele. The talent is certainly there, now let a wider audience enjoy it.