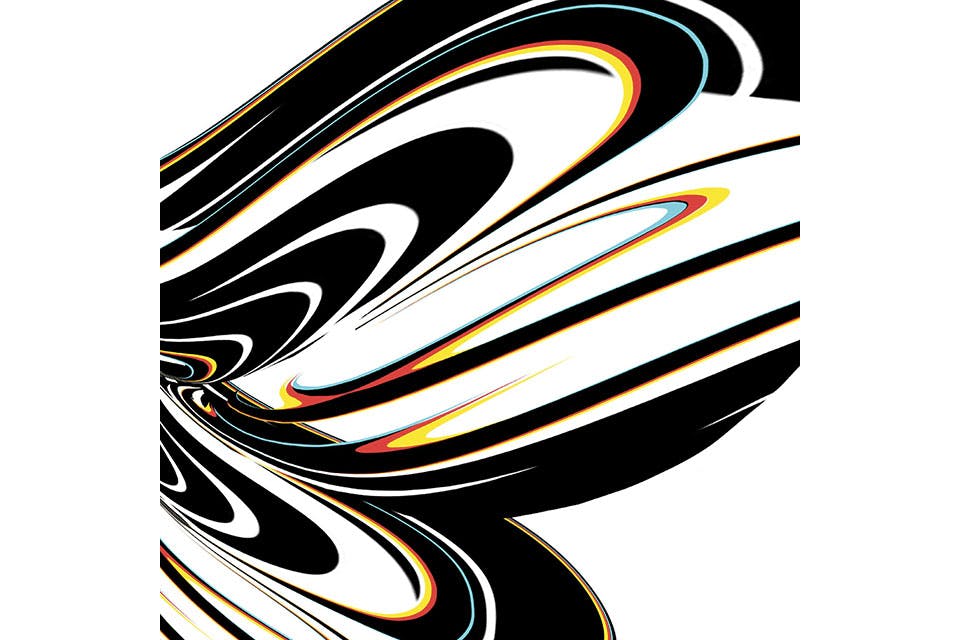 4.5/5.0
The name Kilo Kish is not a new one to music fans keeping up with the more prestigious hip-hop projects this decade. The enigmatic, genre-defying artist has been on the scene since 2012, building her name on a series of extremely well-received EP's boasting production from The Internet and nabbing features from the likes of Earl Sweatshirt, A$AP Ferg, and Childish Gambino. More recently, she's appeared on the last three releases from Vince Staples and on Gorillaz' big comeback record Humanz. And yet in spite of such high profile appearances and a steadily building body of work, her presence has been largely relegated to the shadows, an enigmatic chanteuse finding success on the margins in a business that so rarely allows for a true enigma to flourish.
Mothe, her new EP and first solo release in two years, is the moment where Kish's identity starts to sharpen in focus. Her lyrics remain clouded in the shroud of stoicism, but this titanic collection of six tracks stands as her most immersive, engaging, and downright listenable output to date. The jump in the pure quality of her songcraft is, frankly, astounding – in a year in which the 20-minute body of work has been received and analyzed with all the pageantry of a 'proper' album release, there's no reason to consider Mothe as anything other than one of the most captivating releases of 2018.
Opening track "San Pedro" loses no time in submerging the listener to Kish's molasses-thick sonic world. Guitar chords heavy with reverb trudge through the track's entirety, soon adorned by Kish's breathy coo and a flock of whining synths, intermingling and swooping in one after the other like seagulls against the sort of humid, blood-red sunset the track evokes. Embodying the utter angst of being alive in 2018, she sings offhandedly of a lover who keeps leading her on "Like its something to ignore/ Death and taxes and war." Buddy Vince Staples appears for a half-mumbled spoken word outro, with a few discernible nuggets of wisdom such as "I pat my own back, I fetishize my own blackness" floating to the surface. The feeling of yearning that courses through this song is palpable, yet it refuses to be acknowledged in Kish's impenetrably cool delivery.
The Staples connection runs deeper than his tagged-on cameo here; Kish worked with producer Ray Brady to concoct the potent blend of beats that are simultaneously vulnerable and menacing. Brady, fresh from Staples' sublime 2017 record Big Fish Theory, delves even further into the sounds he tapped into on that album, mining a feeling of overripeness, of sugary sweet rot, that adds heft to what could otherwise be wrought as loose, formless electronic music. That Kish and Staples are sonic kindred spirits is plain for the ear to hear, but both artists demonstrate a proclivity for delivering a seemingly innocuous message with the same razor sharp edge.
"Elegance," the project's lead single, is the platonic ideal of this notion. Musically, it is a club cut that has been slowed to the point of intoxicating the ear, taking an otherwise danceable beat and freezing you in place without loosening its grip on your attention. A cacophony of bells and Kish's earnest lilt of "When I think of you..." balance the otherwise subterranean bass line, looming up from below like a hammerhead shark. Kish told us in a breakdown of the EP that the track is "an ode to invention and the power of the human mind," one that is "a song of gratitude and a song of thankfulness to everybody that makes everything work." It speaks to the chaotic world we live in, and Kish's artistry, that her translation of overwhelming gratitude and connectivity would sound this outright heavy, weighed down with a darkness that fails to be cast off by feelings of love or hope. Inscrutable? Perhaps, particularly if one attempts to make meaning from the accompanying visual – a neon-lit romp through Tokyo with Kish in a tutu hanging with a posse of people in woodland animal suits.
The smorgasbord of genre offerings that colored Kish's previous releases rang with the sort of timidity indicative of one still finding their voice. She has more than found it on Mothe, but her previous forays into unexpected directions have paid off handsomely. Here, such stylistic veering is done with purpose and executed within the confines of the already-formidable palette she has built the EP off of. "Alive" is the sort of sun-drenched, psychedelic-influenced ballad that Tame Impala would lease for a Rihanna cover, right on down to the harpsichord breakdown that closes the proceedings. Meanwhile, the more upbeat cuts like "Like Honey" and the sublimely sinister "Void" evoke the witch house-indebted electronica so en vogue circa 2012 without once aping to an act of mimicry.
While closing track "Prayer" could be shortened by a minute or so, it inevitably provides the closest thing to a statement of artistic purpose Kish offers – still largely a mystery even on her most revealing, character-driven project yet. "'Cause I am made for the dark," she sings, "And spaces even darker/ I exist best in the dark." It is as if she is the antithesis of a moth to the flame; a nebulous avatar that seduces our own darkest impulses with the promise of shelter in her own irresistibly anonymous shadow. Mothe is a listening experience that instills far more questions than answers, but we do have one rock solid basis of fact: Kilo Kish has unceremoniously dropped one of the most incisive pieces of electronic music of the year.
Kilo Kish' 'Mothe' EP is available to buy or stream. For more of our album reviews, head here.