Experience this story and others in the new issue of Highsnobiety Magazine, available from retailers around the world and our online store.
The fashion journey of Kim Kardashian is one of those things that's so ubiquitous we almost forget to recognize its epicness. From her early days on Keeping Up with the Kardashians, we've watched her run the gamut of the human experience: marriages, divorces, family brawls, robberies, and gimp masks. In the process, we've also followed her style evolution.
As Kim went from Paris Hilton's assistant to reality TV star to an entrepreneur with a net worth of $1 billion, we've seen her in everything from Juicy Couture tracksuits and metallic Louis Vuitton purses, to rocking the earth-tone sweats that brought Ye's YEEZY vision to life as his muse. And today she oversees her own million-dollar business ventures in both beauty and fashion.
Kim's journey is what should go down in history as the ultimate girl boss evolution — from Khaotic to Kalculated. And love it, or hate-watch it, her tabloid oeuvre has become arguably the most influential body of work in all of fashion — one that brings high concept ideas to the masses through fast fashion purveyors like SHEIN and Fashion Nova.
Behold, Kim K's 16-year fashion odyssey, a document that will one day serve as a blueprint for future hyper-influencers.
Hanging with Paris (2006)
It's long been easy to make fun of this photo, but Kim has had the last laugh: Today, the Fendi Baguette has returned with full force. Let us be clear though, the world does not want us bringing back raffia wedges anytime soon. We're much better off without them, and so is Kim.
The Bigger the... Belt? (2006)
There's something chaotic about a belt that is so obnoxiously big it becomes the focal point of an outfit. Landing somewhere in-between sexy schoolgirl and naughty teacher, this is something we're happy Kim left in the noughties.
'Keeping Up with the Kardashians' Premiere (2007)
When KUWTK first aired in 2007, no one could have foreseen that Kim would eventually have multiple Vogue covers and be one of the world's biggest stars. I mean, her look is so 2000s we can hear the crunch of her BlackBerry keyboard.
The Bigger, the Better (2010)
We're skipping ahead a few years, but the trends of the past decade still haunt this look. Sky-high heels, tight dresses, and massive shades continue to reign supreme, and Balenciaga's City bag is once again an accessory of the moment. It's about being glamorous and bold, and Kim is the blueprint.
The Dawn of Kimye (2012)
Only a year into their relationship, Ye's influence is starting to show. If it wasn't obvious, the whole thing was also documented on KUWTK, when Ye basically threw out Kim's entire closet. Following his intervention, Kim began frequently sporting Balmain, keeping things simple and sexy…at least for the time being.
It's Balmain, Bitch (2014)
Here's where the fun begins. Kimye land a Vogue cover, shot by Annie Leibovitz, and the world collectively mourns how a reality star even got there. Balmain's Olivier Rousteing has made Kim his muse, and both she and Ye are frequently spotted wearing the brand. This is where Kim's journey really begins, and where we're finally leaving the Beverly Hills trust fund princess look behind.
Blondes Have More Fun (2015)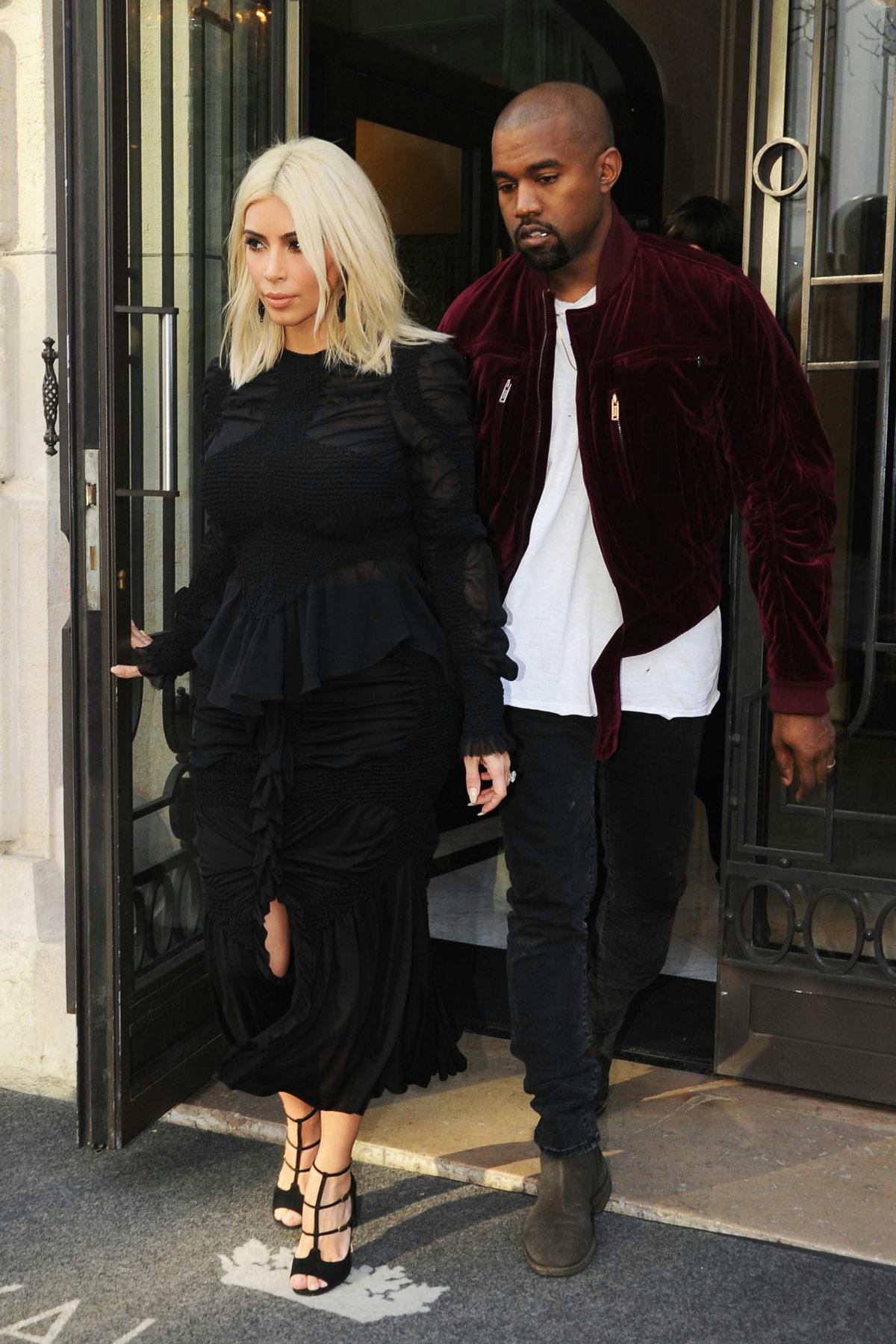 Ye launches YEEZY, the couple attends the Met Gala, and Kim sits next to Anna Wintour at Paris Fashion Week. At this point, she's broken into the industry with full force. She is papped wearing Ye's creations on the daily, using the tabloid media as free marketing for her hubby's megabrand.
Minimal on the Menu (2017)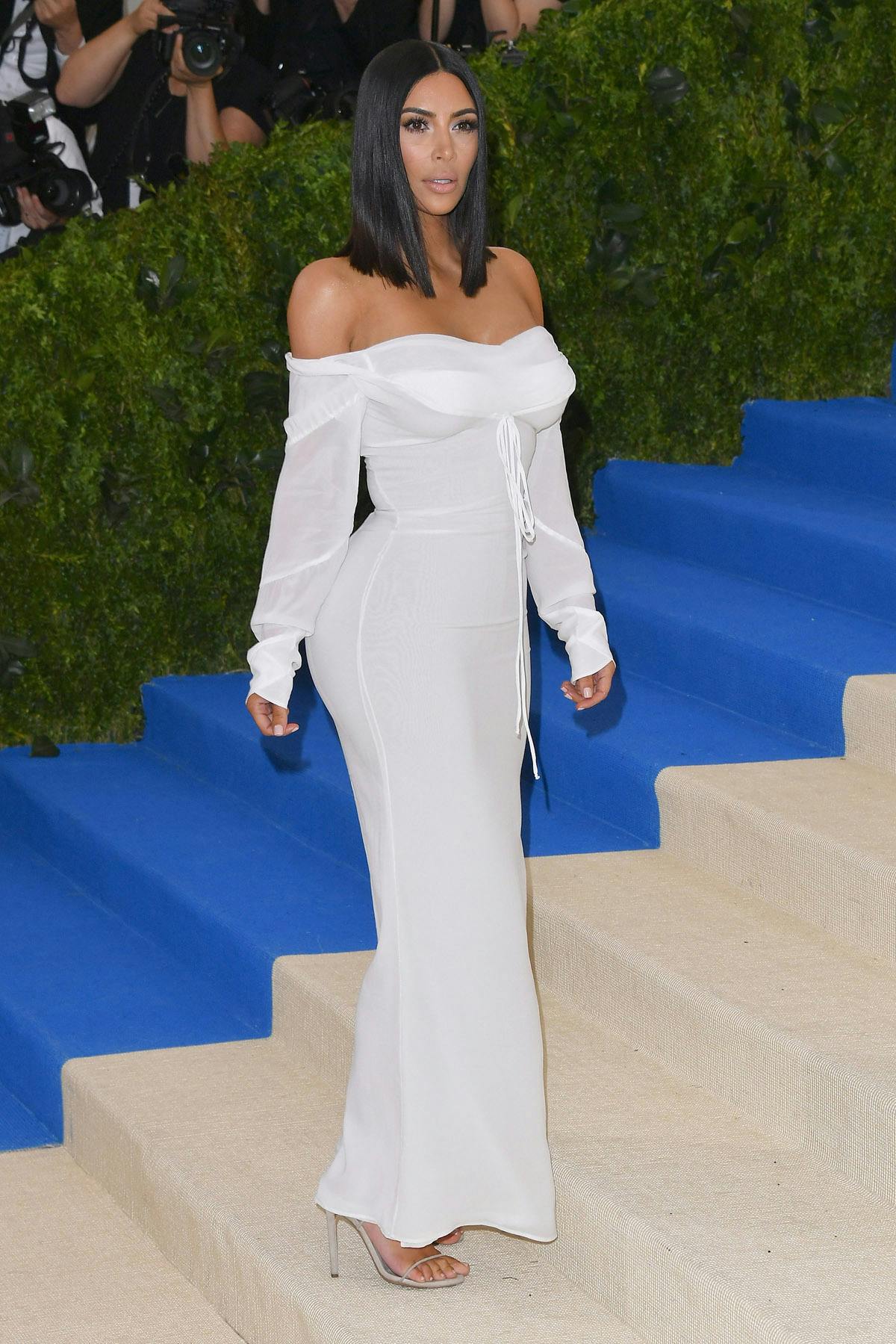 When Kim was robbed at gunpoint in Paris, everything changed. After a social media hiatus, Kim returned with a new and minimal approach, stripped back with no eye-catching jewelry or accessories on display. She cemented it all when she turned up to the Met Gala in a simple, white Vivienne Westwood dress, and a new age began.
It's Business, Baby (2019)
This is the year when Kim K really activated her inner GirlBoss™. By 2019, she not only established herself as empress of social media, but she was also running multiple successful businesses while studying to become a lawyer. Her shapewear line called SKIMS is currently valued at $1.6 billion.
Ballin' in Balenciaga (2021)
Keeping Up with the Kardashians is over, and Kim and Ye are in the process of getting divorced. Now, she's paving her own path — and it looks brighter than ever. During this transformative time, Kim began rocking Demna Gvasalia's Balenciaga left and right. On SNL she wore multiple looks, including couture, and she wore an unforgettable masked look on the Met Gala red carpet.
Ushering in the Pete Era (2021)
Just when we thought Kim had basically used every single trick in the book, she began dating Pete Davidson. The romance was announced via a picture of Kim, the SNL actor, Kris Jenner, and (inexplicably) Flavor Flav, all cozying up in matching plaid. The image was auspicious, slightly surreal, and most importantly of all, very un-Ye-like.
Head here to get a copy of the new issue of Highsnobiety Magazine.