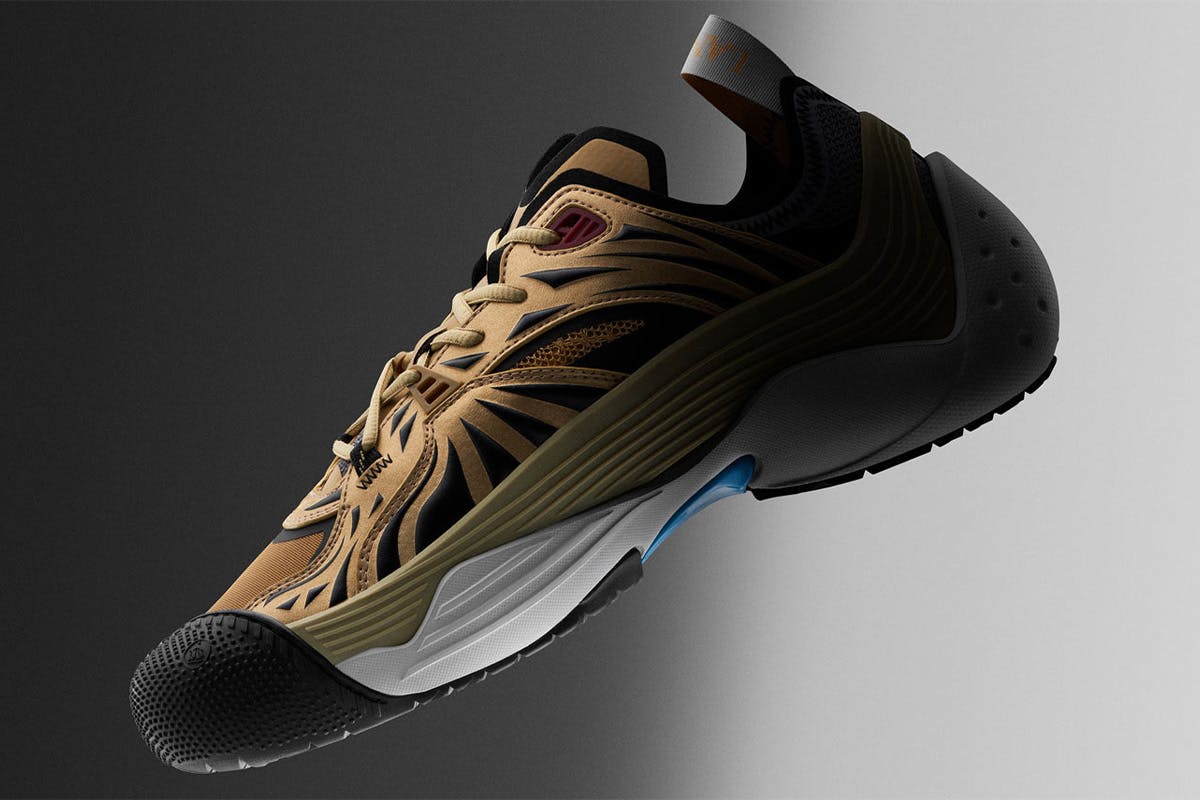 In recent seasons, Lanvin has become a major player in the world of luxury sneakers. In times of old, Lanvin sneakers were understated tennis styles composed of suede and patent leather. Recently, though, a focus on bolder, exaggerated silhouettes like the Lanvin Curb Sneaker and the Bumpr Sneakers have repositioned the storied French label. Fall/Winter 2022 sets the backdrop for one of the brand's most striking silhouettes yet in the Lanvin Flash-X.
The Lanvin Flash-X silhouette borrows design cues from several places — much like the Lanvin Curb, which took inspiration from skating shoes of the '00s — but the finished product is a long way from the puffed-up tongue and huge proportions of the Curb. Flash-X is an immaculately technical design with a streamlined, purpose-driven silhouette.
As a whole, the Lanvin Flash-X recalls the shape of climbing shoes. The shaped sole unit with an emphasized bridge and reinforced toe bears great similarity to the wildly uncomfortable, utilitarian designs used for climbing, just without the discomfort. The aforementioned reinforced toe box feels like it'd be more at home at the tip of a trail runner. As for the rigid midsole which reaches up to the laces on the lateral side, well, we can't even place that.
The end product is a mutant, but a mutant that we can't stop looking at. There's so much to focus on, and it sort of doesn't compute. It's definitely not a classically good-looking shoe, but who wants one of those in 2022? From certain angles, the Lanvin Flash-X is, though, really pretty. The rounded toe, for example, looks great from above, giving the shoe a satisfyingly compact shape, and the silhouette as a whole is clean and punchy.
Lanvin's Flash-X is a shoe of its times. It's a hodgepodge of influences that prove yet again how free and open the world of footwear design is right now. While the Lanvin Curb may have set the foundations for a Lanvin takeover, it might be the Flash-X that really sees it through.
Shop Lanvin Flash-X Sneakers below.
Want to keep browsing? Head to the Highsnobiety Shop for more products that we love. Highsnobiety has affiliate marketing partnerships, which means we may receive a commission from your purchase.