This piece is a part of the Levi's® Fresh series where we celebrate the brand's latest sustainable, color-first initiative. Stepping into the world of three different creators, we see how they style pieces from Levi's® Fresh and use colors from the collection to express their own unique stories. Learn more about Levi's® Fresh here.
From chromotherapy to advertising, colors have been used to guide emotion for years – and LA-based digital strategist Landon McGregor seems to agree. He adds, "Since colors are already associated with human emotions we can intentionally choose which ones to help build that brand association to a feeling."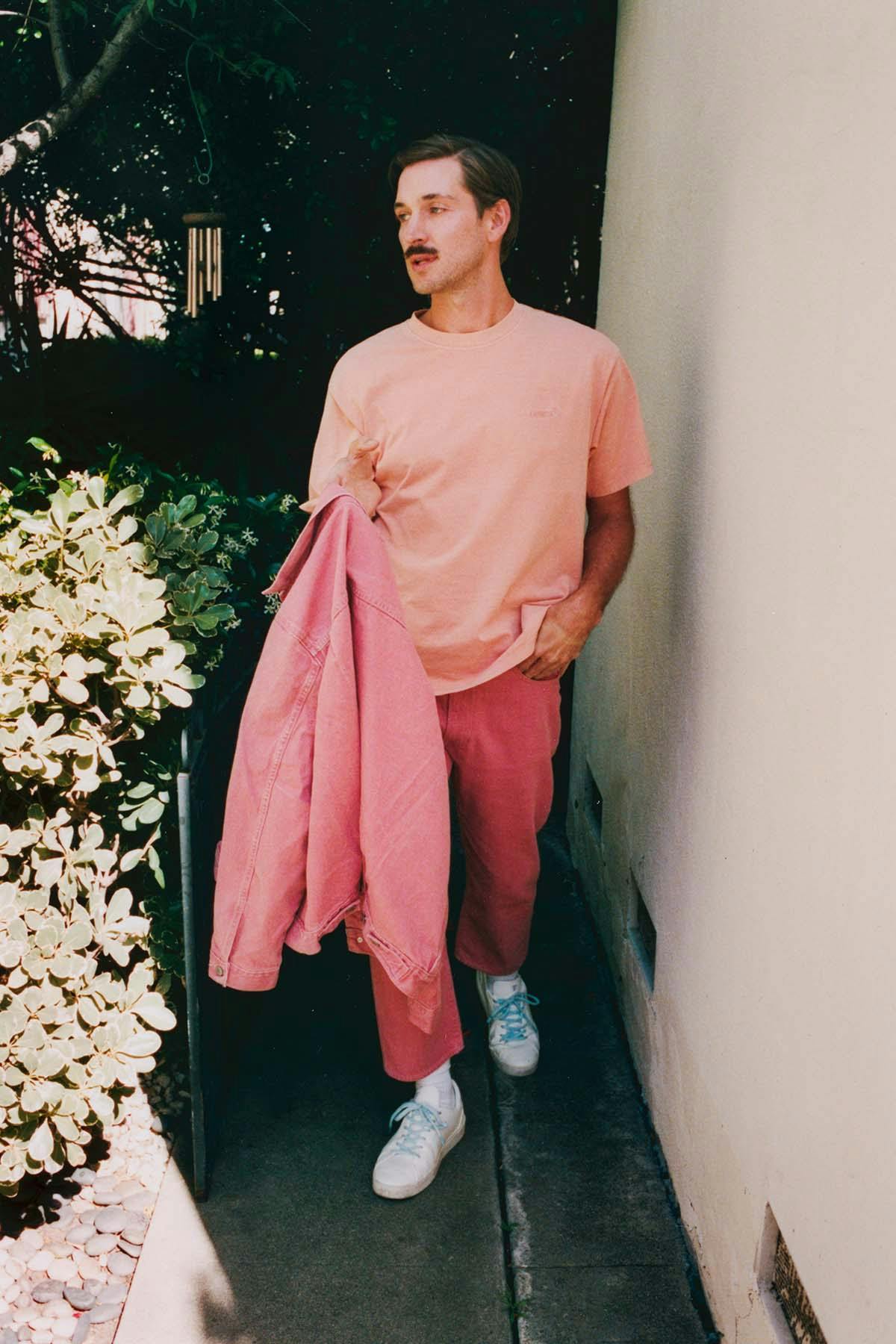 Styling himself in all pink looks from the Levi's® Fresh collection, McGregor takes us throughout his daily routine in his own home, a safe space that holds endless creative inspiration. Opening up about his penchant for the color, McGregor wears pink as a way of rebelling against societal gender norms and expressing his individualism. See more below on how colors guide McGregor's choices both professionally and personally and how Levi's® Fresh allows him to flex his authentic self.
Describe how color informs your personal style.
Color drives my mood, my inspirations, and my daily wardrobe. I consider myself a maximalist – I love mixing colors and creating a vibe based on that. I typically start with a piece I want to wear that day and build around it. After the first piece is chosen, the color becomes the magnetic charge for the rest of the outfit.
What's your favorite way to wear Levi's® Fresh?
It depends on my mood! Sometimes it's an entirely monochromatic fit. On other days, a specific piece might be an anchor of a different color story or palette – but I love wearing all pastel outfits, so I would also mix and match all of the collection's colors together.
What made you choose your specific color?
Since I can remember, I have always been drawn to the color pink. The shades have changed over the years; sometimes magenta, other times mauve, but baby pink nearly always remains.
I think my love for pink also has something to do with the fact that societally it "isn't for boys". In that sense, the color has a specific allure to me. Around 2014, I started #landonlovespink across my content to categorize outfits and musings that incorporate pink. Eight years later and I still wear it all of the time.
As a content producer, how does color inform your creative decisions?
Color is such a huge part of branding, aesthetics, and overall mood. Since colors are already associated with human emotions we can intentionally choose which ones to help build that brand association to a feeling. To nail a client's vibe, I have to consider the warmth, saturation, and brightness of their visual standards, as well as the use of color and if the brand prefers muted or bright visuals. Some stick to very strict sets of colors, while others prefer a more natural flow of colors.
How is your personal fashion style represented through your digital storytelling?
For me, personal style is intertwined with overall aesthetics. Inspiration is built over years from fashion, film, art, music, and various other experiences that form references. It informs the way I use a camera and the vibe I want to capture when filming or editing.
I love playing with color and I dress pretty loudly at times. I have repeat cuts and silhouettes I know I can go for time and time again like short shorts, high-waisted pants, cropped shirts, and pants with a lean thigh and looser lower legs. Those more dramatic elements of my style definitely give way to my professional work as well.
What elements within your day-to-day routine inspire your style most?
Working in a creative field like content production and social media means that most of my days are split between computer and more physical work. It definitely depends on the day, but the common denominator is that I like to feel cute whatever the day may hold. This is also why I resonate with Levi's® Fresh – you can make the collection your own and easily adapt it to your personal style.
Levi's® Fresh reflects a larger movement of integrating style and sustainability. Check out the full collection on levi.com.