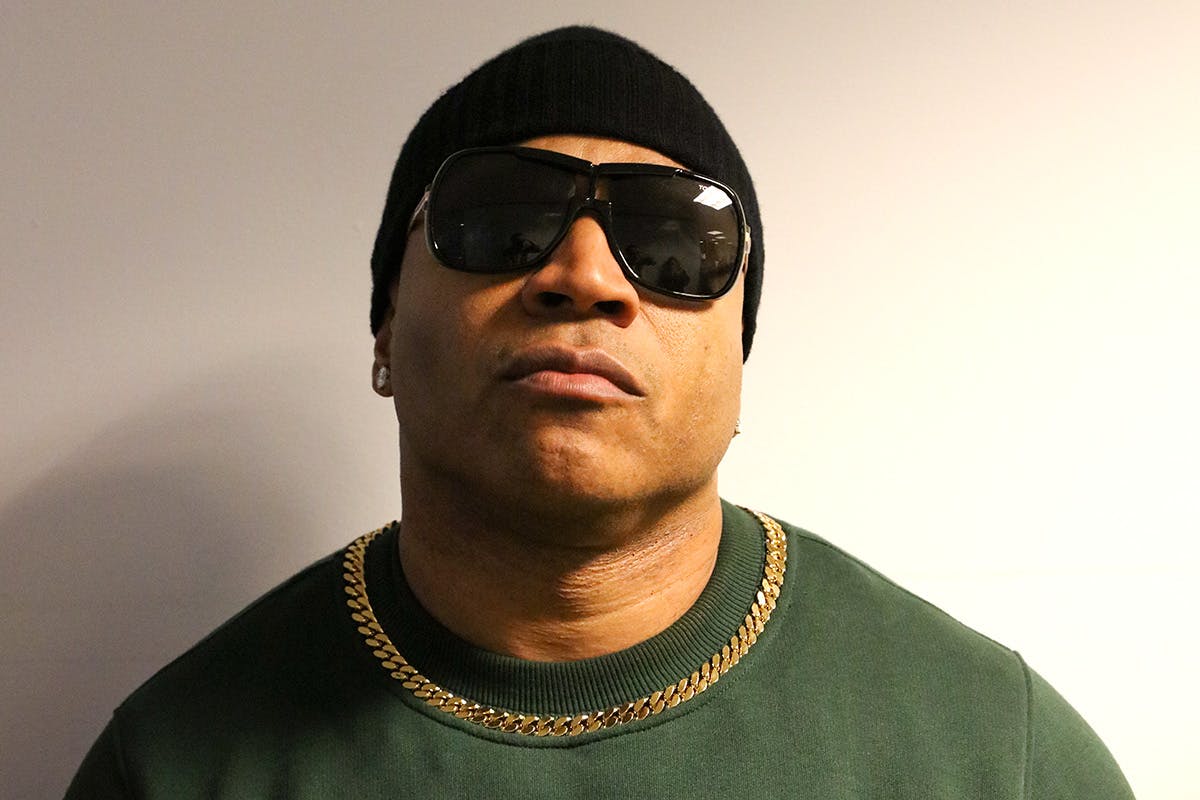 Ladies Love Cool James, but the rapper, producer, actor, radio host, and all-around entrepreneur is an icon for rap lovers alike. This week marks the 34th anniversary of LL Cool J's debut album Radio, which was received with critical acclaim and contributed to the solidification of rap as a genre of music.
LL signed to Def Jam Records when it was a fledgling hip-hop label, and later turned to acting as he made his debut in movies and TV shows like NCIS. The Grammy Award-winning artist emceed for the show multiple times, and stays classic rather than fitting into a new school or old school style. This mentality led him to a place on the Hollywood Walk of Fame and earned him the Kennedy Center Honors a year later, marking him as the first rapper to achieve the recognition.
This week, The Dropcast hosts Jian DeLeon and Noah Thomas sat down with LL to discuss his current projects and play a little game that's a twist on the usual. The trio dive into the episode with the quick hits, starting with 424's collab with adidas on the SC Premiere and Pro models (8:24). LL shares his thoughts on the shoes and how the recent announcement of adidas and Prada's collab shows that classic hip-hop is culture.
The below interview is a written version of 'The Dropcast' Episode 84. It has been edited and condensed for clarity.
Jian DeLeon: Speaking of Adidas though LL, one of the biggest stories last week was Adidas and Prada doing a collab. And I feel like now that we have you here, you were around in that era where it was crazy that Adidas and Prada would be working together because Adidas was just starting to work with rappers.
LL Cool J: It definitely was.
JD: So how does it feel to like, see those two coming together?
LL: Well, I'll tell you man, what it shows you is that classic hip hop is, you know, culture. Because that's the reason it happened, right? We know the product is what the product is, but it's the culture surrounding the products that makes the collaboration interesting. So I think that what it shows you is that classic hip hop culture has really entered the mainstream. When you look at things like, we all know the story of Gucci and Dapper Dan. That's a classic example of not only social media forcing a conversation, but then the flip side being that them recognizing even before they got with Dap that that was the direction that they needed to go, and they needed to tap into that classic hip hop culture.
JD: Right.
LL: So it's not surprising, I mean, when I look at everything that's going on, when I look at everything that people try to do in that area, it makes sense. The question is execution, right? It's always about execution. But all these brands, they realize that classic hip hop culture is the wave. You know what I'm saying? And that's where the true aesthetic is going, even, that's where the aesthetic is at….
Talk of Colin Kaepernick's rumored Nike AF1 collab leads LL to discussing his favorite sport and his stance on Rodney Reed's conviction (14:21).
Noah Thomas: But in bigger news than the collab dude. He had some practices, some practice workouts. So some brands came through. I mean, not brands. No, that's how you know I don't do sports.
LL: Scouts.
NT: Scouts pulled up and hopefully man, hopefully he gets on a team. It's about that time.
LL: I like him too.
JD: He knows more about sports. You've played football players as well. Several times.
LL: I've played football players. My favorite sport is boxing. That's my go to sport. I'm the dude in the barber shop when it comes to boxing. And that's one I can sit there and talk all day.
JD: For sure. But yeah, some other news as well. Rodney Reed's execution has been halted. We see you've been active in social media about that as well.
NT: That's massive.
LL: Anytime, if they don't have all the facts straight and somebody is potentially innocent, you can, and I say this respectfully, but you can always execute a person, but you can't bring them back to life. So to delay it a month, three months. I mean, whatever it takes to make sure that you have your facts straight before you go down that road, I say is always the right thing as a human being. Like, I mean, we don't want around run around taking out people that could potentially be innocent. And you know with the Colin Kaepernick thing I hope that he can make it back into the NFL, but at the same time there's a lot of debates, that raised around how he handled that workout. You know what I'm saying? And I wouldn't never disrespect him and I totally understand because I'm a black man in America. So everybody's feeling threatened, but it's just everybody's threatened by something different. So I think we really have to think about these things as we're moving forward and understand and be able to put ourselves in other people's shoes, even shoes that make us uncomfortable.
On that note, LL breaks into Ice Cube's "You Can Do It" as the cast moves on to Lyst's best collabs, viral products, and brands of the year, which includes the revival of (un)comfortable clogs (19:03).
JD: The heel out. I got mules on today, so LL Cool J and LL Mule J right here.
LL: Listen, listen. They look great on you. That's your vibe.
NT: That's my vibe.
LL: Yo, if you catch me in some mules, karate, just give me a flying kick in the chest. My feet are too big.
NT: You can do it, man.
LL: I can't do it. You can do it, put your back into it. You can do it, put your back into it. Put your back into it. If I put them joints on —
NT: You might be shocked.
LL: I might forget my ABC's.
As the source code of trends, LL talks his clothing line FUBU while playing a game by the name of "LL's gonna have to do it to these style meatballs" (24:20). If you get it, you get it.
LL: Y'all saw that on Twitter huh? Do it to the meatballs. We got to do it to the meatballs. Okay.
JD: All right next up, of course we referenced this earlier, but the one pant leg up.
LL: One pant leg up was real simple, that's the bike messengers in New York, you know what I'm saying? They didn't want to get the oil on their pants, so they would pull their leg up, and a lot of us, we've seen the messages run around, we start pulling that joint up, like it's just cool.
JD: I'm going to start doing that too, 'cause I got eczema, you know, so it's just in the winter, it's hard.
LL: Yeah go for it man. Just go for it. Just flex on it man. Own that shit man, it's 2019. Eczema what? Motherfucker.
NT: This just got real left. It's fine.
JD: Next up we got what? No shirt under a shirt.
LL: It depends on the type of shirt. I mean, I don't want irritated nipples and shit. You know what I mean? So it depends on the shirt. Are you talking porn producer, buttons down to the middle of the stomach, or… what are we talking?
After serving the style meatballs, LL discusses what he currently has on his plate. In addition to NCIS: Los Angeles, his radio show Rock the Bells on Sirius XM gives listeners a chance to travel back down the rabbit hole of hip-hop music (34:25).
LL: We celebrating our 250th episode and this is the 11th season. And it's been a lot of fun. We having a good time. The show, a lot of people don't know, but the show was in over 205 countries around the world. So it's really touching the world in a cool way. Oh, and one other little tidbit. Just for people who don't know, the Navy has to approve all our stories.
NT: Really?
JD: Straight up, I remember being in the Pentagon because I used to work for the DOD way back, and there was like a person who literally reads scripts.
LL: See?
JD: All day.
LL: See what I'm saying?
JD: Then of course you got Rock the Bells on Sirius XM.
LL: The cool thing about Rock the Bells is that it's giving… these classic artists are getting the prestige and recognition that they deserve.
JD: Well, we should clarify that for listeners too, is that it's like a classic hip hop show, right?
LL: No, it's a station. It's channel 43 on Sirius XM, and it's dedicated to all the classic and timeless music in hip hop from the very beginning to up around the early 2000s. So anything from the early 2000s… it's all the classic artists. All the timeless music.
The Question of the Week (QOTW) asked listeners "Who's the greatest rapper/actor of all time?" with LL weighing in on their rankings (37:22).
LL moves on to his hefty purchases in "What'd You Cop?" including sweatshirts from Feature, a couple Rhude pieces, some Murakami skateboards, and a few jewel-encrusted portrait paintings by Fab Five Freddy (43:48).
Stay tuned for the next QOTW which will be posted on Highsnobiety's Instagram, and leave a voicemail on The Dropcast hotline at 833-HIGHSNOB (833-444-4766) for a chance to be featured in a future episode.
Relevant Links
1017 ALYX 9SM's New Knit Sock Sneaker Is Equipped With a Vibram Sole

424 Give the adidas SC Premiere & Pro Model a Luxe Spin

Nike's Air Jordan 4 "What The" Pays Homage to All Four Original Colorways

Colin Kaepernick Gave Us a Glimpse of His Rumored Nike AF1 Collab at NFL Workout

Kim Kardashian Confirms Rodney Reed's Execution Has Been Halted

Lyst Reveals the Best Collaborations, Biggest Viral Products & Hottest Brands of 2019

Pharrell's Million-Dollar Richard Mille Watch Is Out of This World