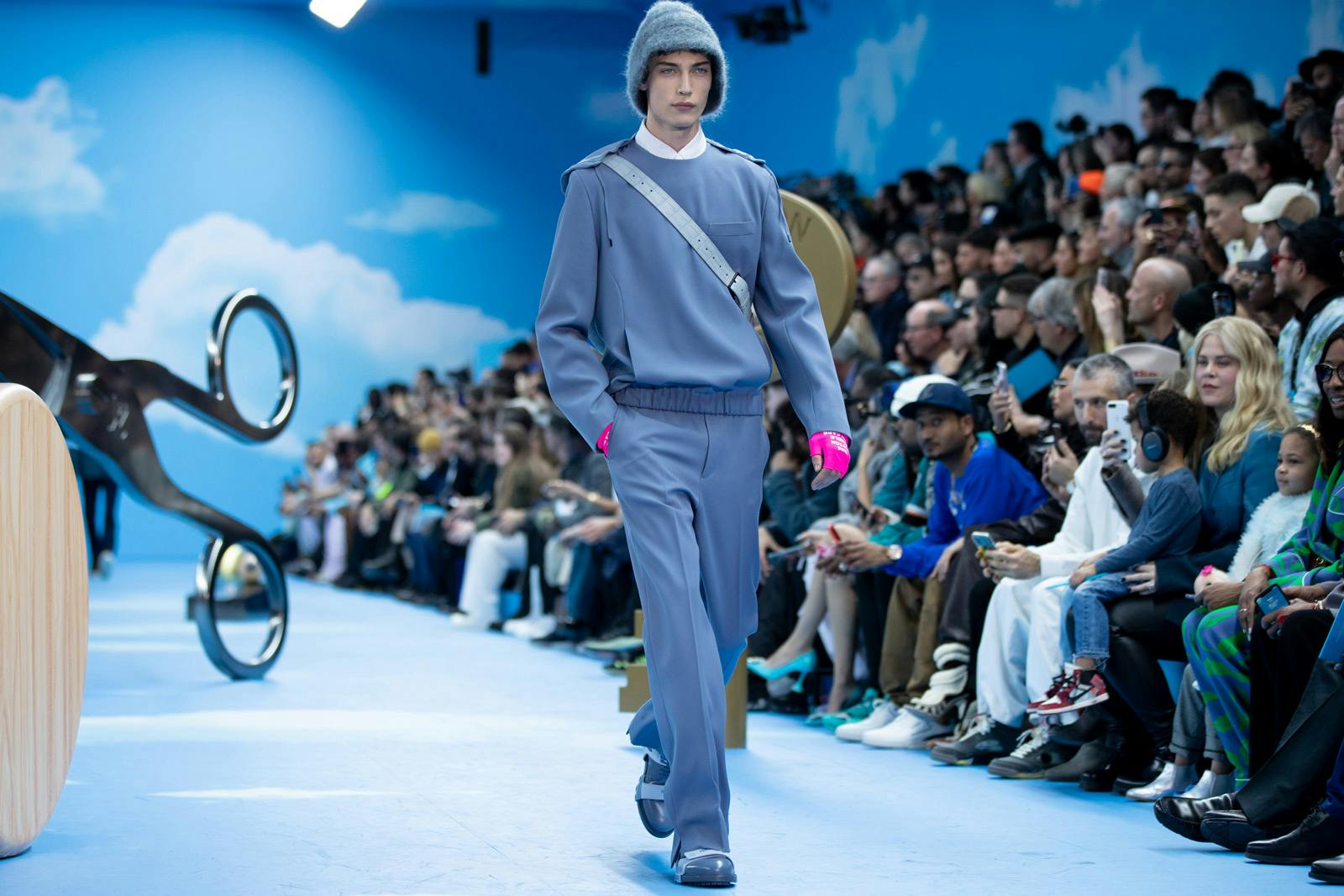 Highsnobiety / Eva Al Desnudo
Louis Vuitton Fall/Winter 2020 Men's. Paris, France.
Editor's Notes
"Hoopla" is a word I learned from Virgil Abloh, and it rang over and over in my mind as I entered the cloud-printed hangar he installed inside the Jardín Tuileries for his FW20 Louis Vuitton show. Only here can one literally rub shoulders with Bella Hadid, a giant pair of scissors, 2/3 of Migos, Alexandre Arnault, Shawn Stussy, PeeWee Longway, Diplo in a cowboy hat, the artist known as @FoodGod (fresh off his appearance at Y/Project's balloon pit), Matthew Williams, Dev Hynes, and all of the other Medicis, Tudors, Hapsburgs of this brave new feudal court we call "The New Luxury."
The show was trumpeted by the sliding wall, revealing a trip of DJs spinning Detroit techno. Out a trap door on the other side of the massive venue emerged Abloh's most tailoring-heavy men's collection to date, one backing up the designer's Nostradamus-like proclamation of the death of streetwear at end of last year.
After the end of the final line, Abloh waved hello to the crowd in a Arc'Teryx windbreaker.
After the show, I rummaged through the press pack to confirm the name of the DJs invited by Abloh and his musical Svengali Benji B (the correct answer is Detroit techno duo Cybotron). Inside, it contained an updated vocabulary — a show glossary he's been iterating since his first show. New additions include terms like "Cloudification," defined as: "The transformation of a basic garment into a cloudlike shape through fur or fluffy materials, effectively elevating its meaning. See: Surrealism." It could also apply to the prints rendering suits, coats, and monogrammed carryalls with all the childlike appeal of the Toy Story film series.
But for all the new words added to Virgil's vocabulary, one that still sticks out is the entry for "Irony." It still reads: "Virgil Abloh at Louis Vuitton."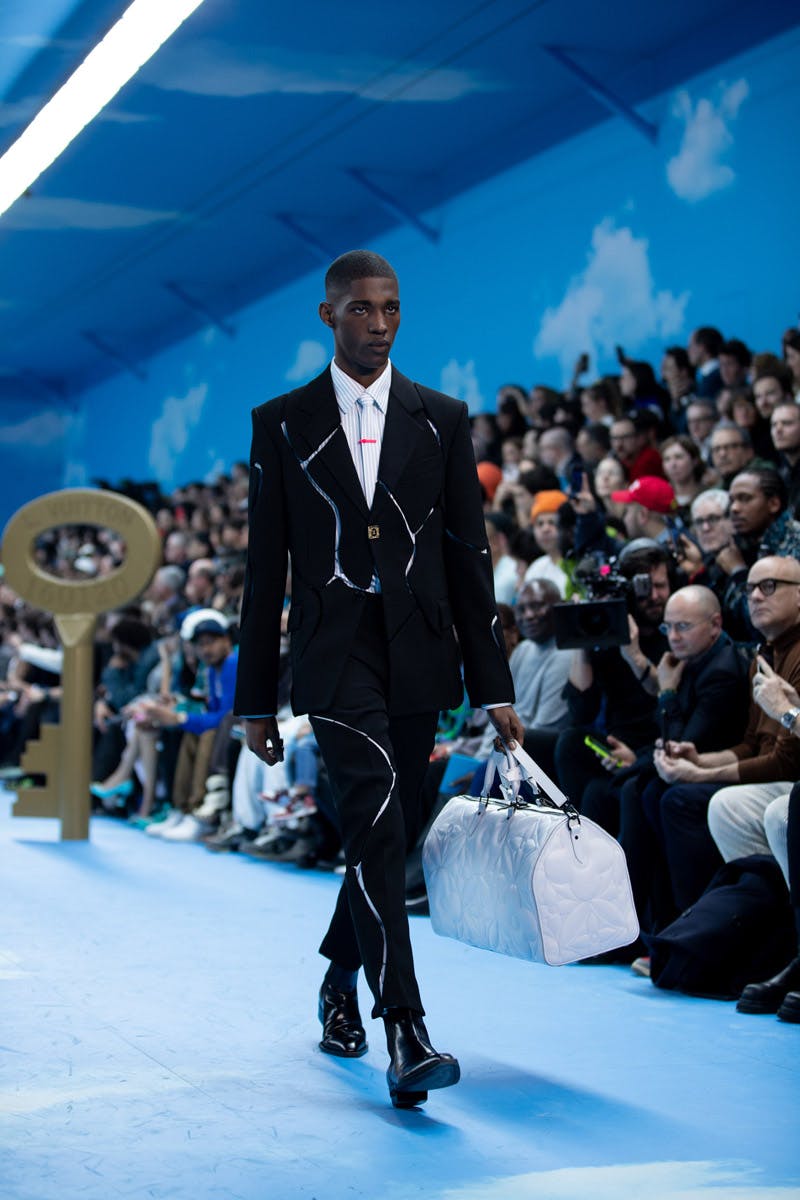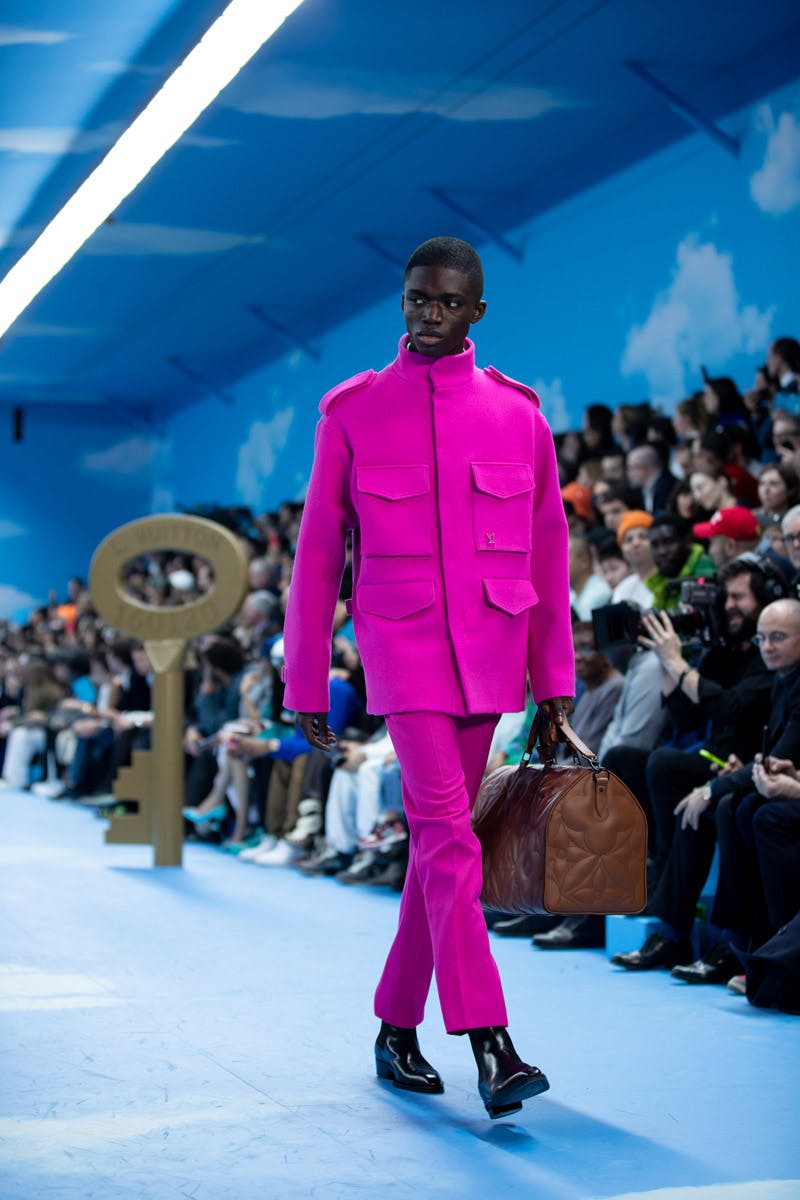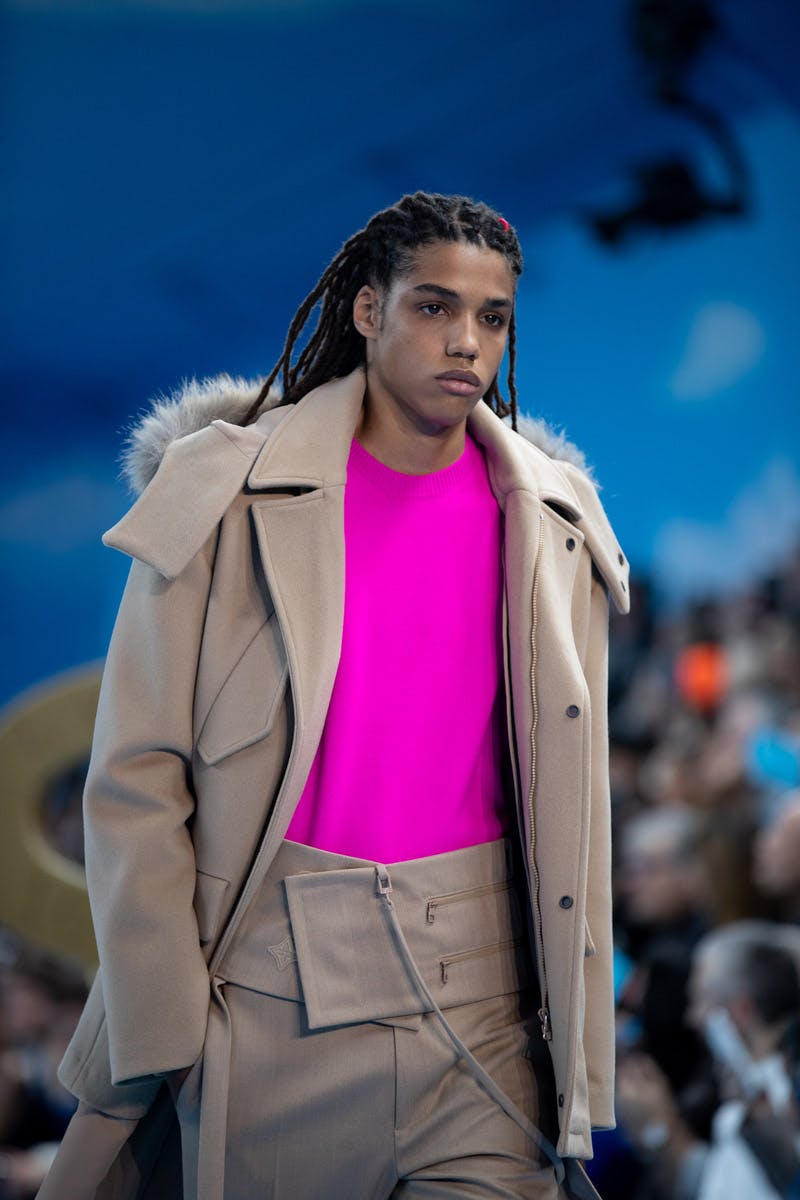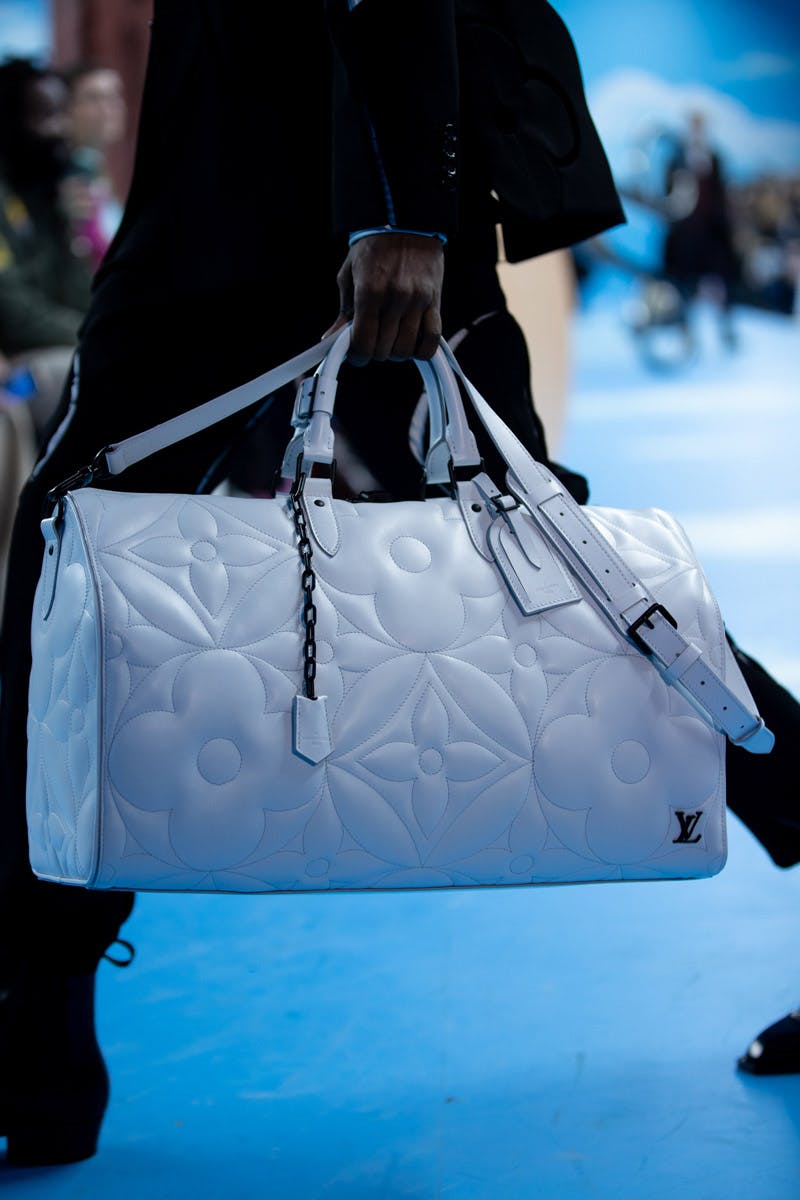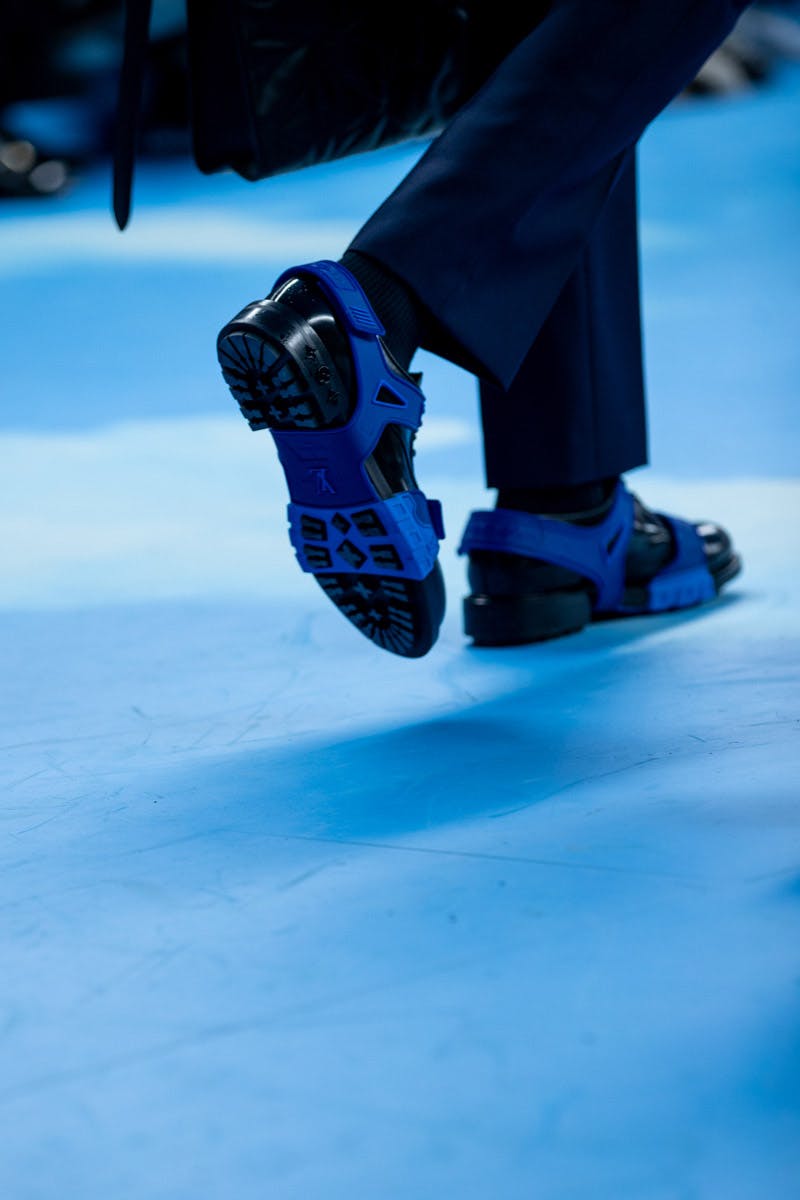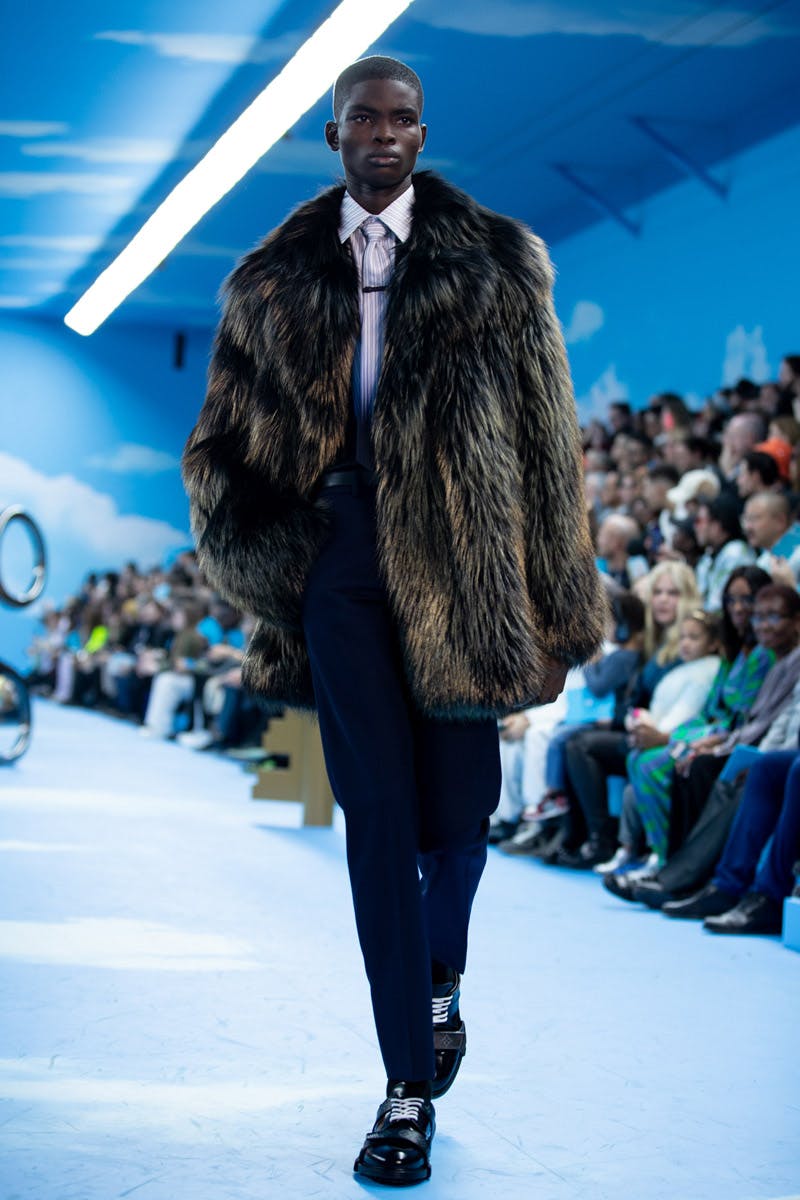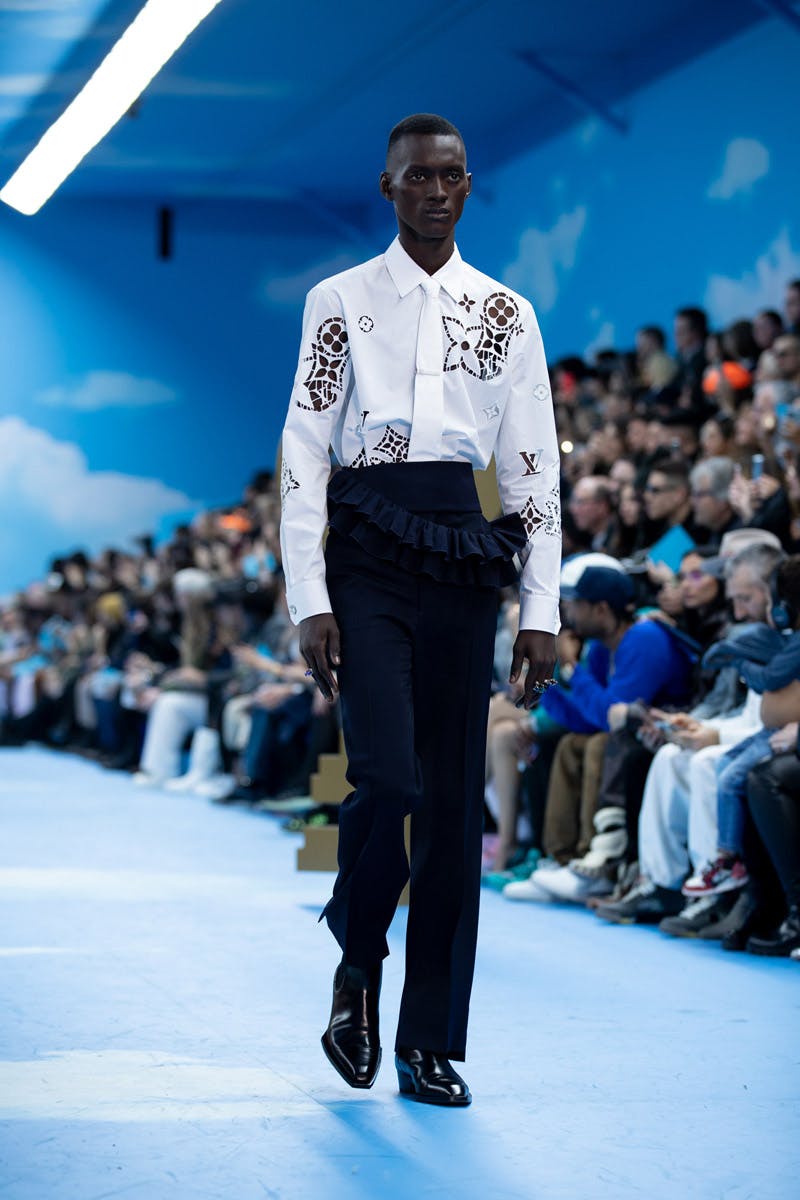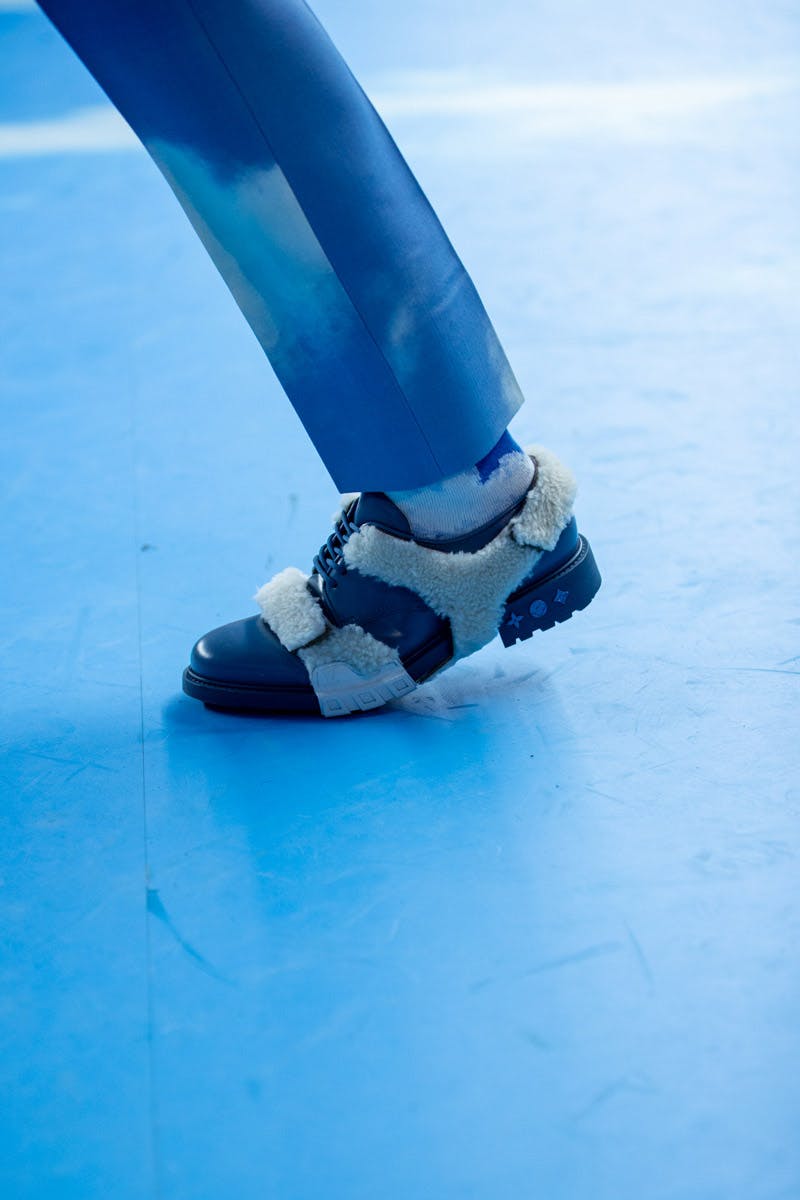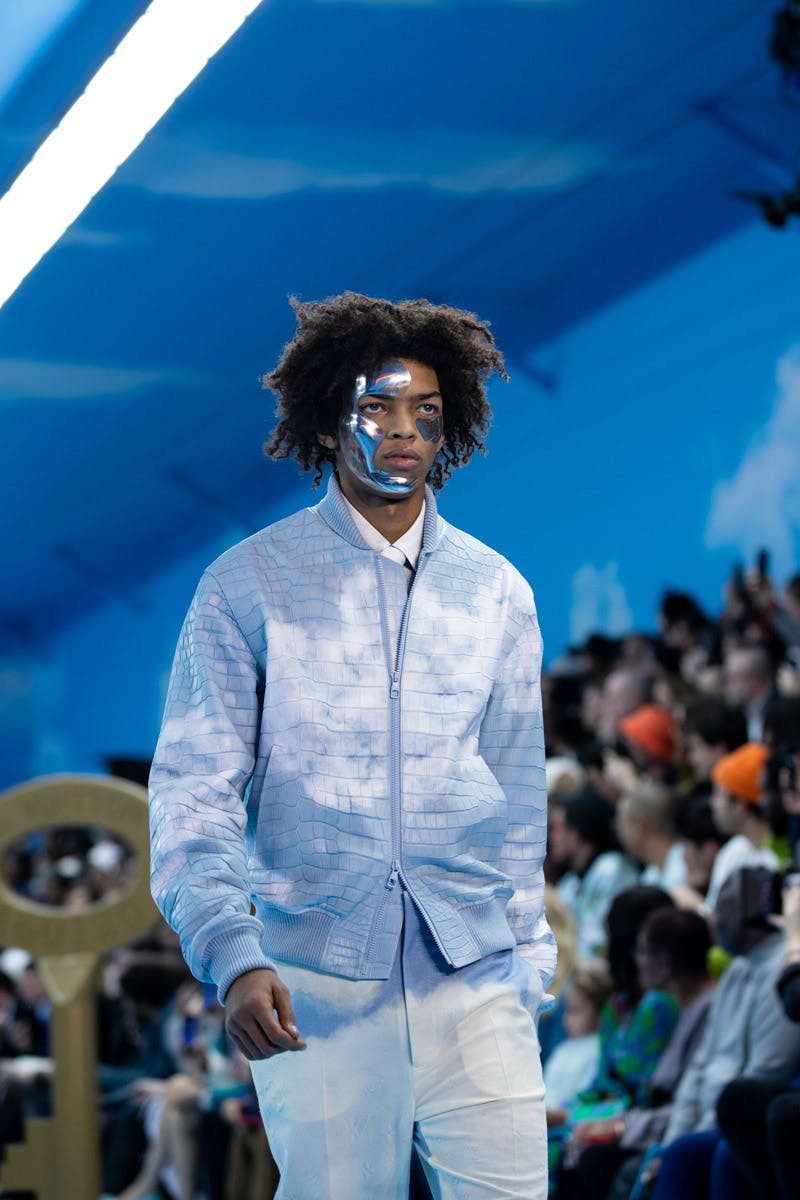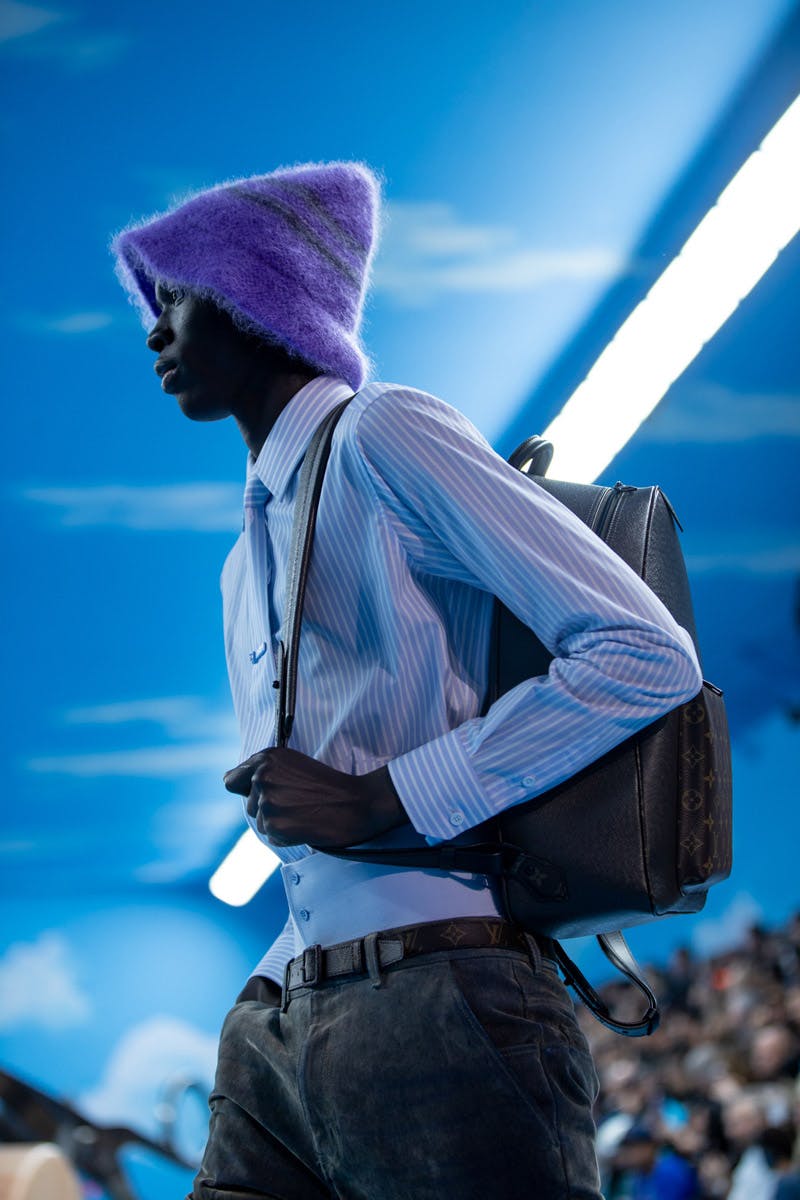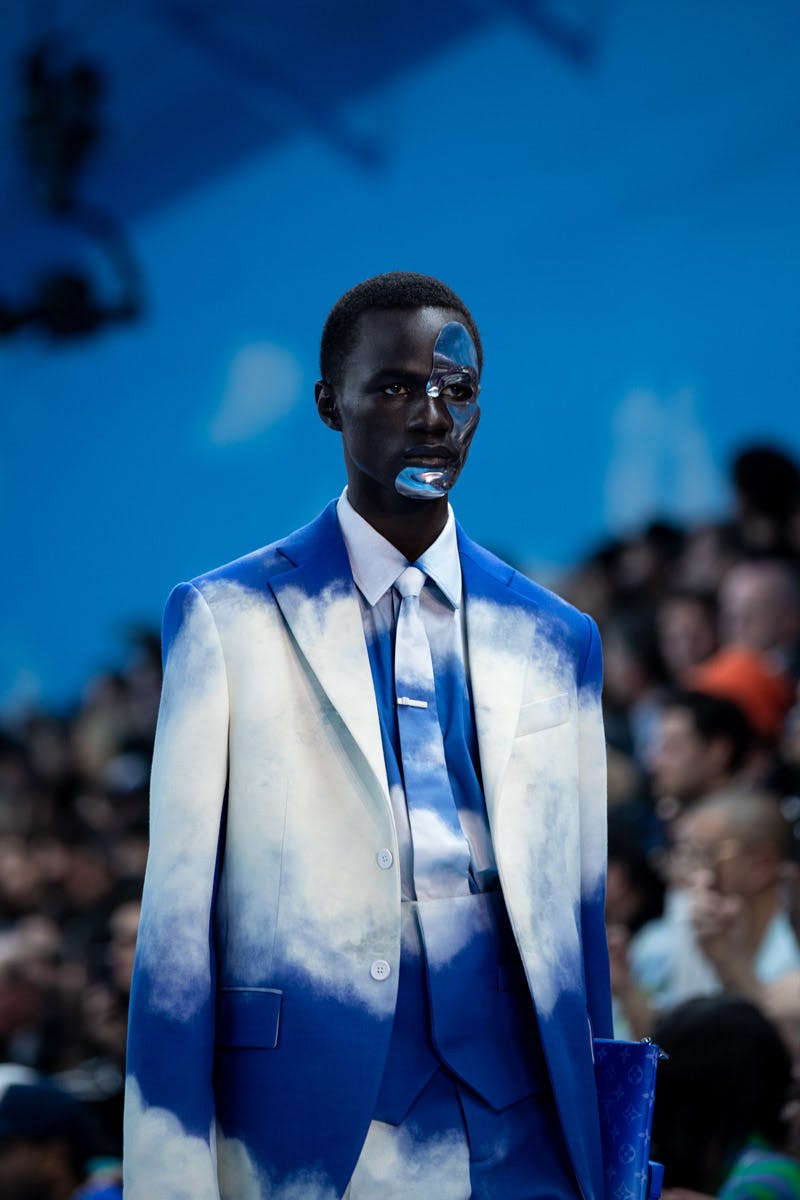 Highsnobiety's Shopping List
More Shoe-cessorizing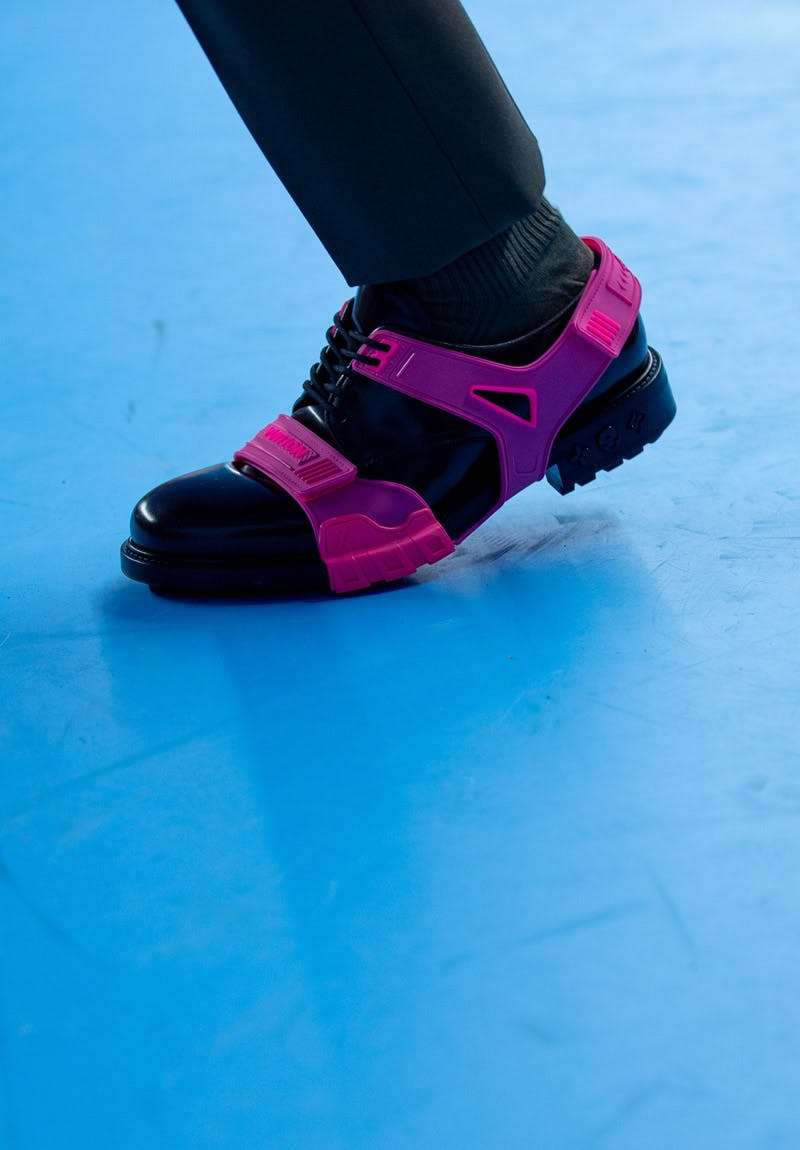 Gaiters, rain shoe attachments, and other shoe-cessories were big last year, and in this collection Abloh threw his hat in the ring with a series of Oxfords girded with shearling, monogram leather, and rubber straps. Because shoes like bondage too.
Keep All My Money
Following up on his "wavey" rendition of the iconic LV keep all duffle, Abloh revealed a more architecture curved version of the bag that was a master class in merchandising and reminiscent of Frank Gehry's iconic sculpted purse for the house.
Glammed-Up Kicks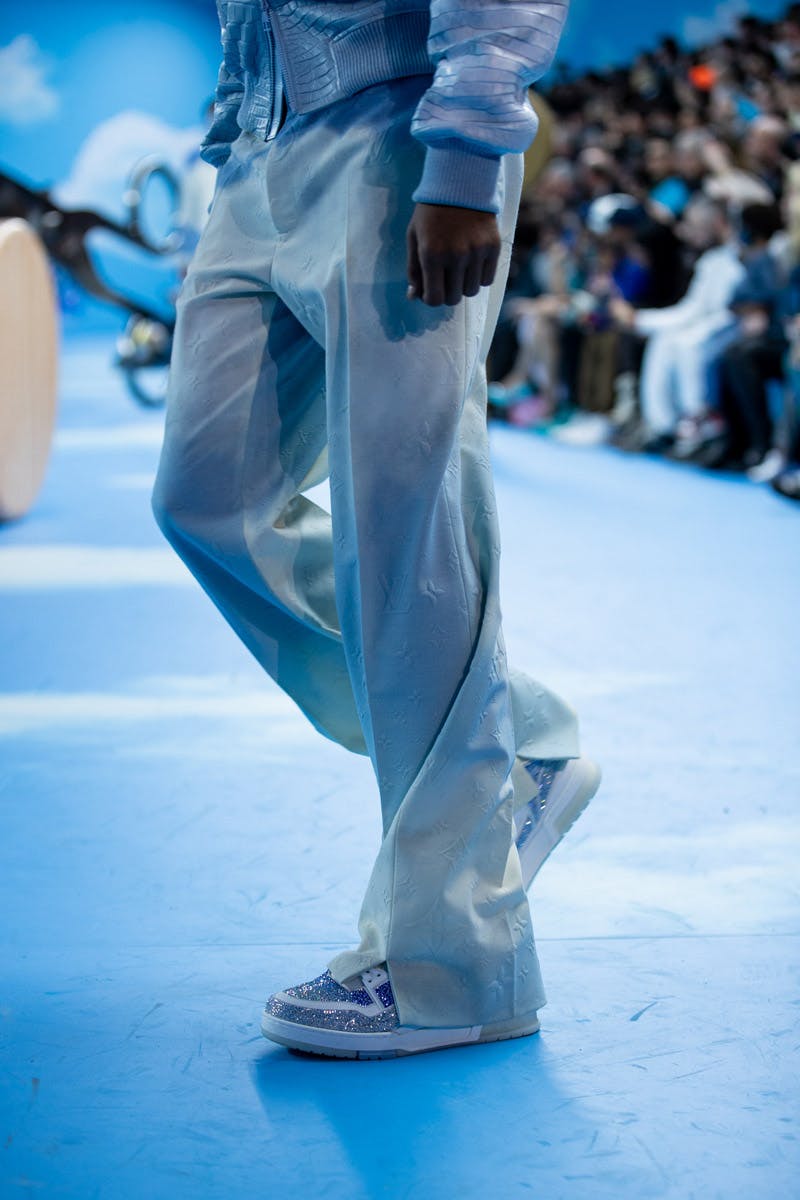 The Jordan 3-esque sneakers seen all over Instagram are cool for sure, but these glittery trainers literally steal all the shine.
Monogram Shearling Trucker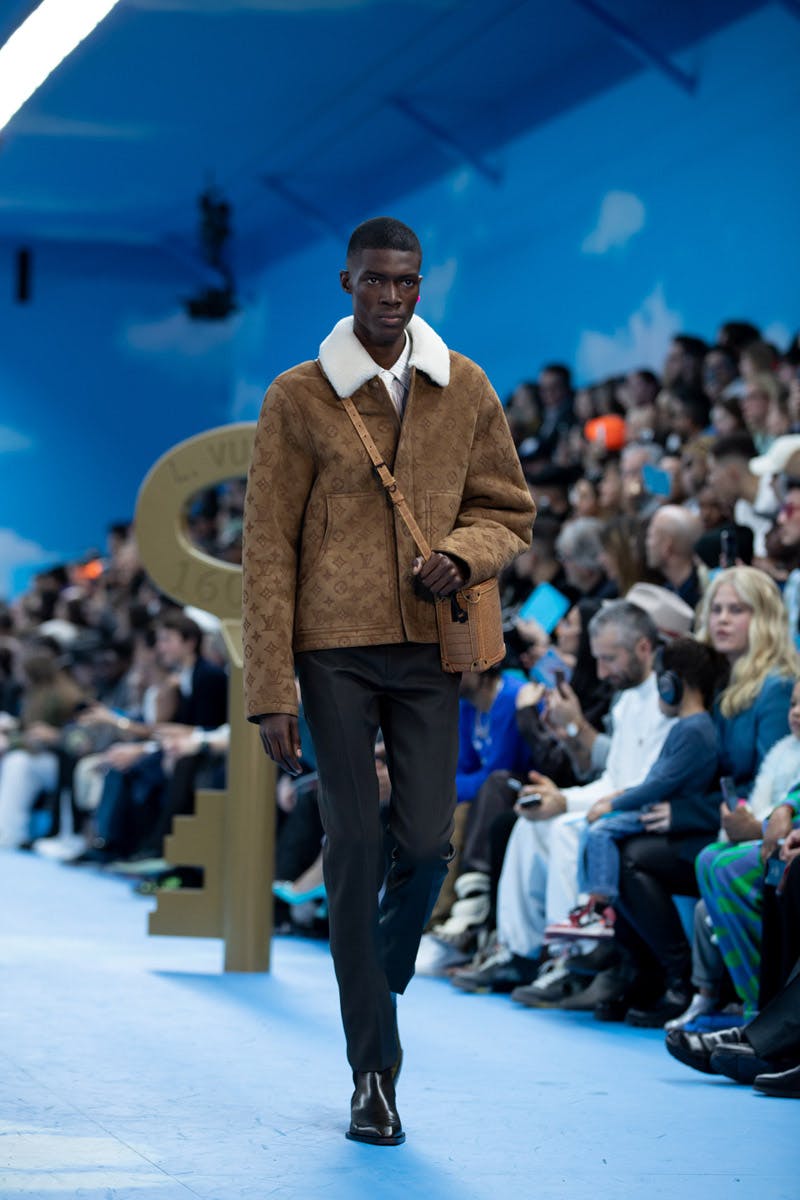 It's funny that in a post-streetwear, post-LV x Supreme world, an LV-monogrammed camel shearling jacket seems a bit minimal. But like a tree falling in the woods — if a Vuitton piece doesn't say "LV" in a visible way, then is it really a huge flex?
Cloud Print Coat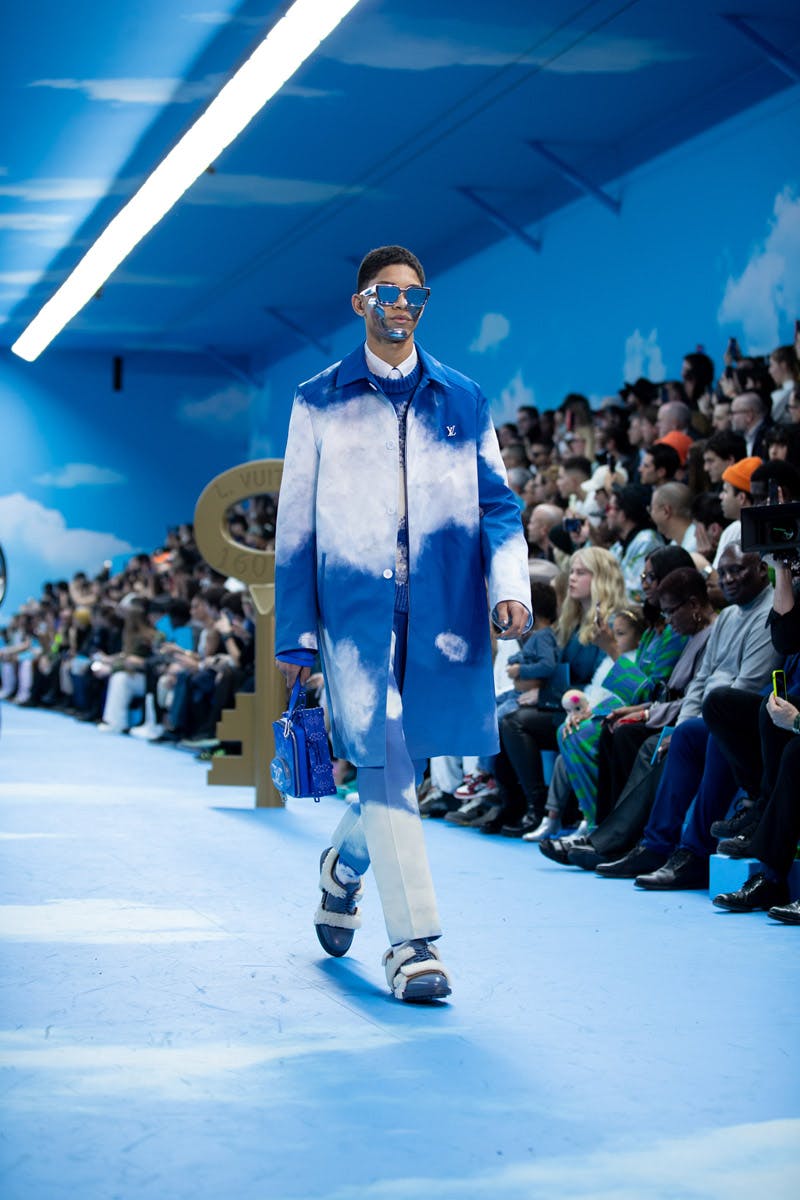 For all the talk about cloud computing, it seems Abloh's found a way to put aspirational style in "the cloud."