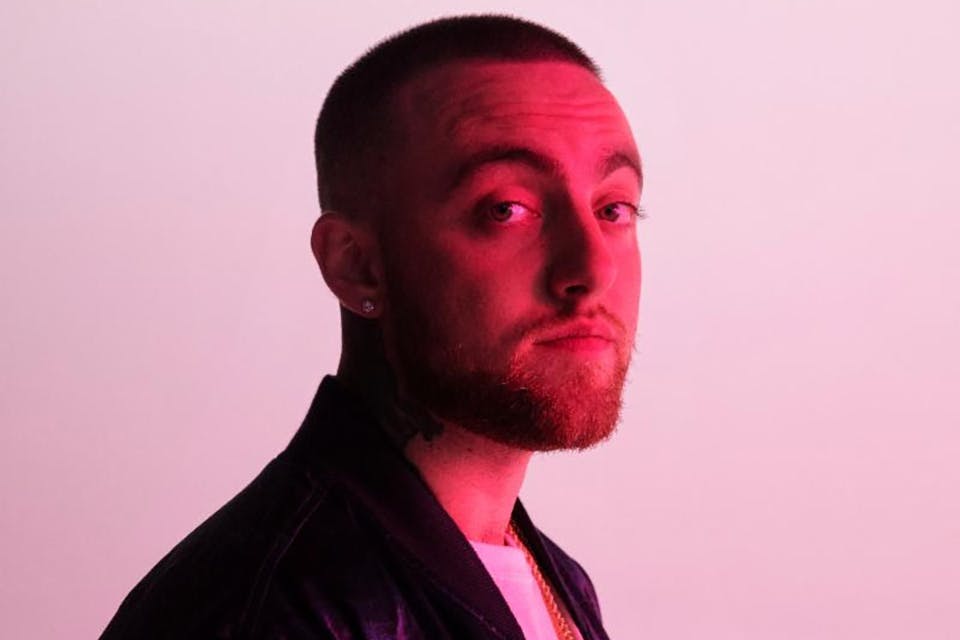 Last week, the music world lost one of its brightest stars when Mac Miller tragically passed away at the age of 26. Based on the ongoing outpour of love from his family, friends and fans, the Pittsburgh rapper clearly made a huge impact not only amongst his peers, but on all the future generations to come. Last month, Miller put out what would be his last full-length album, Swimming which cemented his legacy as one of the most progressive artists of our time.
Today, fans from his hometown will gather at the iconic Blue Slide Park to hold a vigil in his honor. As a tribute to late rapper, the Highsnobiety staff highlights eight of his songs that made a long lasting impression on us as music lovers. Even though he may be gone, the memories and music that he made will live on forever. RIP Mac, we'll always miss you. While you're here, revisit his episode of Behind the Track from 2014.
"God Is Fair, Sexy Nasty" feat. Kendrick Lamar
There are so many wonderful collaborations on The Divine Feminine, but this ballad will be my favorite until the end of time. It closes the album on a high note as Mac and Kendrick spread an unfiltered message about the power of love and pleasure when it comes from a place of pure acceptance. The outro features a recording of his grandmother telling a heartwarming story about how she fell in love with her husband. I feel incredibly honored to have been given the opportunity to sit down with Mac for an intimate interview during the promo cycle for this record. Speaking with him about his growth as an artist really opened my mind to what he intended to offer the world through his introspective work and there are so many gems from that honest conversation that I will always keep close to my heart. Thank you for sharing these special pieces of your soul with us, Mac. - Sydney Gore
"Best Day Ever"
It may not be his biggest musical feat, but I blasted this track on repeat on a road trip through Italy with the top down years ago and it'll always hold a special place in my (usually cold) heart. I'm usually not one to be affected by the lives of people who have nothing to do with me (new beef? IDGAF), but hearing that we lost this one truly hit me hard. Mac was around on some of my best days ever, and it's a painful reminder that his last day came way too soon. - Naina Kamath
"Rush Hour"
GO.OD AM was my favourite Mac album and "Rush Hour" was the essence of what I liked about his style at the time. With a laid-back, almost lazy flow and lines like "Heaven is a crimescene/ stay behind the yellow tape" that stick in your head, this song was easily a go-to for me. - Anders Schans
"Traffic In The Sky"
This is one of my all-time favorite Mac Miller tracks. I used to have it on repeat while chilling in my dorm room. Something about the jazzy beat and Mac's smooth delivery instantly made me a fan. The song gave off such a chill vibe and also contained a relatable message about enjoying life one day at a time. Mac was pretty young when this came out, but you could tell that he appreciated the culture. - Byron Stewart
"Nikes on My Feet"
I was 14 and just got a fresh pair of Nike Dunk Highs. They were my favorite shoe back then, around the same time I discovered this track. I always listened to it on my way to school, as it was the perfect song to start off the day, especially with my fresh Nikes on feet. Loved those shoes and I still love this track! - Viktor Kaćunić
Vince Staples & Larry Fisherman - Stolen Youth
Twenty-six years is no time at all, but the contributions Mac made to music in general are immeasurable. He was a super talented producer and dedicated himself to breaking new artists. In 2012, as Larry Fisherman, Mac produced and released Stolen Youth, the mixtape that introduced most of us to Vince Staples. All I can say is thank you, Mac. - Robbie Russell
"Gees" ft. ScHoolboy Q
This song was the first to catch my attention when it came to Mac Miller's music. It elevated my opinion regarding his art, and allowed to look at him as one of the most talented MC's to touch the mic. His development over the years is something that artists should take notes from for decades to come. - Sanzhar Toxanbayev
"Under the Weather"
I was in high school when Blue Slide Park dropped in 2011 and the whole album's light-hearted approach both instrumentally and lyrically caught the high school vibe perfectly. You know that "soundtrack-of-a-time-period"-type of shit? This was it for me. - Anders Schans
If you or anyone you know are struggling with addiction, please reach out to the National Council on Alcoholism and Drug Dependence (NCADD) or Substance Abuse and Mental Health Services Administration (SAMHSA) for assistance, even if you just need to talk.
For more like this, revisit Highsnobiety staff's favorite Young Thug songs.