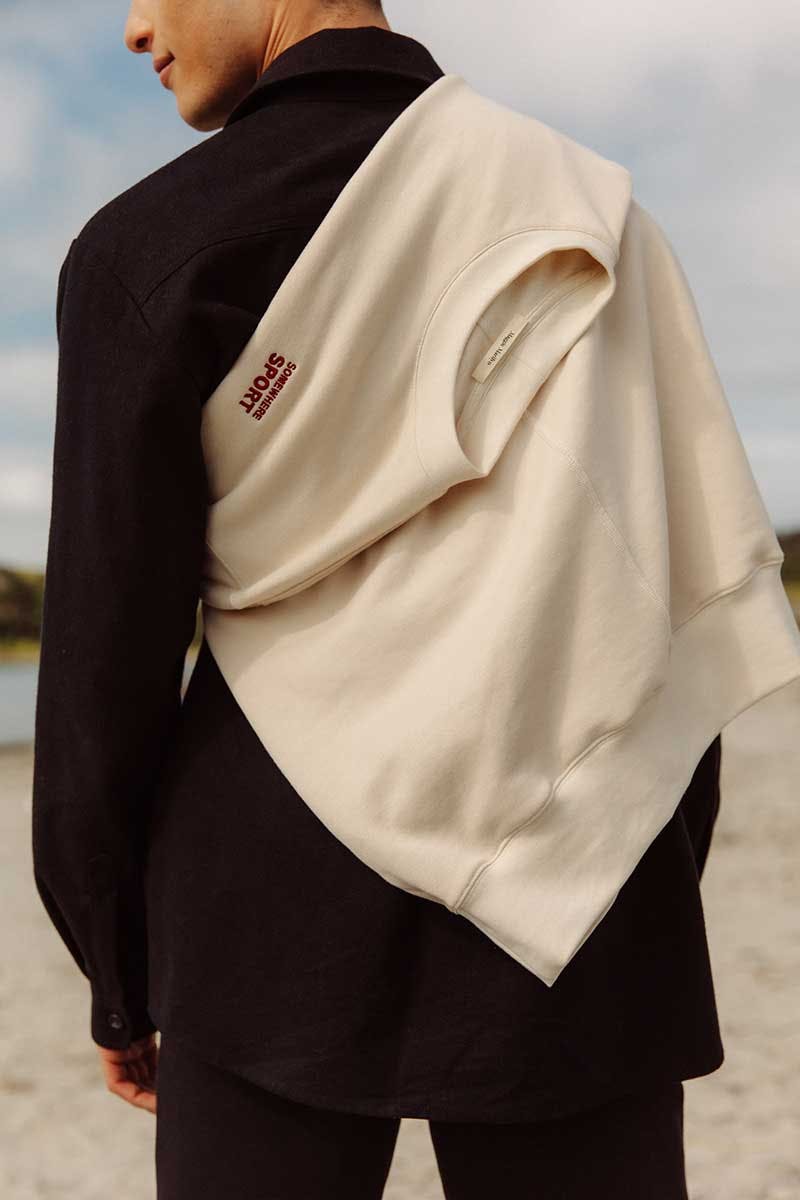 I'm tired of hearing the word "sustainable" in relation to clothing production. Truth be told, the term has lost its meaning since becoming a hot buzzword for any company seeking to tap the Gen Z market.
The thing is, the fashion industry is inherently unsustainable — it's not at all enough to merely use organic cotton or pay a "liveable wage."
New Zealand-based designer Maggie Hewitt refuses to join the parade of greenwashers. Since founding Maggie Marilyn five years ago, Hewitt has taken great pains to ensure her brand is truly eco-conscious, even as she expands into menswear for the first time.
"My dream with Somewhere Man was to bring the core values and design language from our Somewhere line of evergreen, traceable, circular essentials and adapt them in a way that resonates with a male consumer," Hewitt said.
What Hewitt's referring to, Somewhere, is Maggie Marilyn's essentials line, more casual than her more directional (and pricier) Forever offering, both of which have been womenswear-only thus far.
So, just like the women's Somewhere garments, Maggie Marilyn's debut Somewhere Man collection, which launches on Maggie Marilyn's website October 27, offers a spread of easy, wearable garments that aren't necessarily revelatory but are plenty reliable.
"The line really took shape by looking back to similar goals we had with Somewhere when we launched this line two years ago," Hewitt continued. "Building blocks for your wardrobe: the perfect casual blazer, loose linen shirt, crisp white t-shirt."
Again, Somewhere Man's initial designs — classic tailoring, relaxed shirts, easy sweats in shades of white, black, and bone — aren't designed to be stylistically explosive. These are timeless staples that Hewitt hopes wearers turn to again and again, distinguished more by their heightened eco-consciousness than adventurous designs and letting the thoughtful construction tell the story.
Indeed, though it's affordably priced and especially wearable, Somewhere Man's production is no less complicated than any of Maggie Marilyn's other lines.
Hewitt asserts that Maggie Marilyn's Somewhere pieces must be truly circular — the garments can be recycled or composted when their lifecycle ends — and made entirely of traceable organic or repurposed fibers from cotton and merino wool farms in New Zealand, mere miles from where the clothing is crafted.
"We're not here to tell guys how to dress," said Hewitt. "We simply want to give them the tools to decide for themselves, and ultimately build a level of trust that then allows us to educate them on what a circular and regenerative business looks like and why the future of our planet depends on it."
"We feel so lucky to already have a diverse global community of environmental activists, and Somewhere Man allows us to continue growing that community and encourage more people to take a seat at the table."