Highsnobiety / Derek Milton
Curated by Highsnobiety and presented during the time period formerly known as Paris Men's Fashion Week, Not In Paris 3 is our third in a series of bi-annual digital exhibitions celebrating creativity in the age of remote interactions. Head here for the full series and cop our new merch via our online store.
As a sweltering heat wave descends on Berlin, my phone lights up with iMessage notifications. The rapper Jazz Cartier and Marni creative director Francesco Risso are swapping plant pics. For Jazz, the Toronto-born and Los Angeles-based musician, the photo is of a snake plant shooting skyward out of a tasteful, off-white ceramic pot situated in a wood stand. And 6,033 miles of land and ocean away, Francesco's "proud plant dad" snap is of a massive cactus that fills the frame and towers nearly to the ceiling.
In any other time, the pairing may feel out of place, but this isn't any other time. In the Covid-19 era, where all rules and notions of how to collaborate have been thrown in the trash bin alongside discarded masks and cleaning products, inviting both a rising Canadian rapper and a fashion designer who's been at the helm of Marni for half a decade to a laid back group chat makes sense. With Jazz decked out in full Marni and giving us all a chess lesson for Highsnobiety's Not In Paris exhibition, it made sense to get the two creatives in a (virtual) room together (though without Francesco's physical presence, we asked Jazz to play against himself). Connecting the pair across Los Angeles and Milan through any medium takes about the same coordination and foresight as a game of chess, but Not In Paris was built on a reimagining of what constitutes "digital space." And what better way to deconstruct this idea than a group chat exposing how two seemingly opposite personas have much more in common than we'd think.
Even before the pandemic shut down life as we know it, their paths were following similar tracks. For Jazz, the period from 2015 to 2017 saw the rapper achieve critical success. He was long listed for the prestigious Polaris Music Prize in 2015 for his debut mixtape, Marauding in Paradise, and again the following year for the 2016 mixtape Hotel Paranoia. That same year, thousands of miles away, Francesco broke away from a decade-long stint at Prada to lead Marni as its new creative director — succeeding the label's own founder, Consuelo Castiglioni.
In the years since, both Jazz and Francesco have become rising talents in their respective industries. Their creative energy never stopped flowing even as the world slowed to a halt last year, but in the absence of any sense of schedule or normality, the two spent their lockdown phase branching out past their professions. Jazz has toiled away on a skincare line and played many games of chess, turning what was a casual pastime into a television show that has enlisted both Compton rapper Buddy and Diddy (aka Puff Daddy, P. Diddy, or Puffy, depending on your preference). Francesco, partially freed from the headache of a lightning fast fashion calendar, has taken up the cello and renovations on his Milan apartment, which also happened to play host to Marni's Fall/Winter 2021 collection this past February.
Now, as the world starts to spin once again, we jumped on an iMessage chat with Jazz and Francesco to get the scoop on what they've been doing during the pandemic, why a Shiba Inu may be the best dog breed ever, and what vegetable Francesco would most like to be.
During the pandemic, Jazz started taking chess seriously after playing a bit in middle school. I'm curious if you picked up any hobbies, Francesco?
Francesco Risso: I have actually started playing cello, or let's say learning how to play, with a teacher. From zero [to] learning how to read music and everything!
Highsnobiety / Derek Milton
What inspired you to learn cello? Also, Jazz, do you play an instrument?
FR: At first, I guess I was terrified [that] I wouldn't have anything to do locked in the house for a long time. Then it made me think [about] growing old and equally being locked [inside] and not really knowing what to do with myself.
The problem is that I think I do too many things, so I might find myself too busy rather than not. Music was definitely the right thing for me. It really makes me fly. This makes me very curious [about] how you make your music, Jazz?
Jazz Cartier: I don't play any instruments, but I can produce.
I wanted to ask about skincare and self-care. Jazz, you're creating your own line of skin care products. What are your favorite products?
JC: My favorite products right now are my own, Petal Skyncare. I've been testing over 100 samples for the past six months and I'm almost done with the final product.
FR: Wow I didn't know you had your own skincare brand. The fact that you produce music and make such products makes me think about you as an interesting mad scientist. I love that.
JC: It's really something that felt like the thing to do after getting so deep into it, and the pandemic made me realize there's more things that I can do outside of music.
FR: I had the same intention when [I was] ignorant about music, [and] I started cello. It was extremely meditative for me.
JC: My first girlfriend ever played cello. Big ass instrument.
How intense are you about skincare?
JC: I'm super intense about it. Beyond just what I put on my face, I'm mindful of all the things I put in my body. I have very sensitive skin so breakouts for me can happen easily if I don't stay on it.
FR: I'm not sure I have ever been very mindful or caring so much about skin products in general. I don't have that kind of attention I guess. My real issue has been my hair since I was really young as [it is] extremely unmanageable. Just needs a bit of air and it grows high like a dirigible [hot air balloon].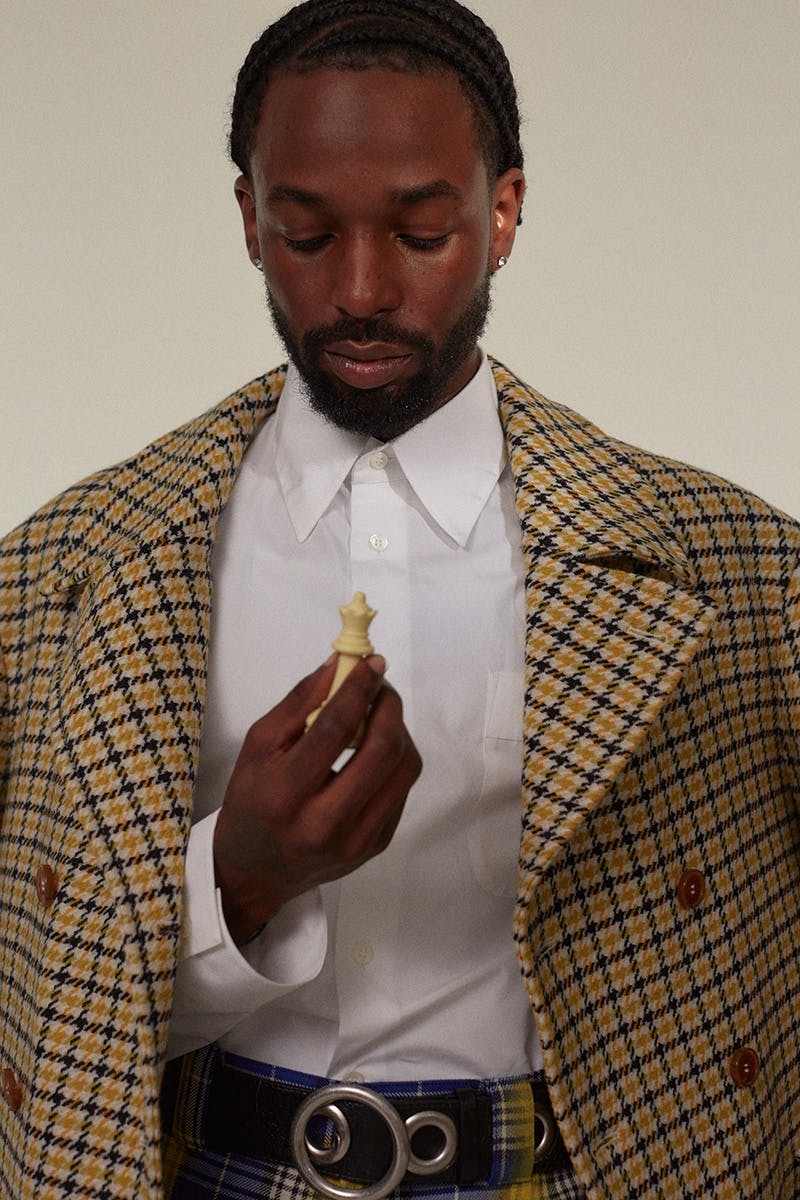 What self-care did you do to keep sane during the pandemic?
JC: I was doing a lot of reading, yoga, cooking, [and] meditating. Also a whole lot of nothing some days; that's also an under appreciated form of self-care people tend to overlook. As much as everyone wants to seem busy all the time, being able to just be present and do nothing is good for everybody.
Francesco, do you have something you'd like to pursue as a side career beyond fashion?
FR: I want to learn how to plant anything from vegetables and all sorts of plants.
JC: Do you have plants now?
FR: I have many, many, many cactuses, and they are extremely sneaky. Very difficult to keep alive.
JC: I have a snake plant, birds of paradise, and a peace lily. I call them Plantasia, Keyonce, and Jasmine lol.
FR: Nice, what is a snake plant? I love Plantasia; it sounds like a nice country I would love to visit. Do you really have birds of paradise? Are they sweet?
JC: Yeah I do lol. I've been neglecting it for the past two weeks because I've been busy busy, but they'll be good.
FR: Lol me too with my dog and, in fact, he just destroyed a new pair of shoes I got. He is pissed.
Highsnobiety / Derek Milton
Jazz, do you have any pets? Or did you grow up with any?
JC: The only pet I ever had growing up was fish. My mom wasn't too big on animals and neither was I. From a distance they're cool but in my house, I was like, "Hmmm, not so player having animal hair all over my clothes."
FR: Lol.
JC: I did have a cat as I got older and he used to pee in my suitcases on purpose before I would leave. I still have nightmares about the smell.
FR: Thankfully my dog doesn't lose any hair. We always had animals of all sorts. My brother and my father were obsessed with hunting dogs and horses and bla bla bla. But it was good for me as my family was so loud all the time. It was nice to be silent and surrounded by animals, actually.
JC: I've been thinking about getting a dog recently now that I have a house, but I still need to find balance in my life before I make that decision.
FR: What kind?
JC: A Shiba Inu.
FR: Oh yes, I love those! I'm curious to get a second dog. Maybe a rescue dog. But it might be a big difference I'm not ready to manage, too.
FR: You might have some issues with hair all around the house. I love them. They look fake.
JC: Lmao they really do, but they're the most well-mannered dog I've ever been around.
FR: Yes they walk like they know their shit.
Highsnobiety / Derek Milton
How has the pandemic affected the way you create art? How do you slow down in an industry and world that expects creatives to always produce something new or fall into obscurity?
JC: It allowed me to be more present with myself and tap into other parts of my creativity. It also showed me [how] to work from habit and not inspiration, because if you wait to get inspired you will never get any work done.
FR: I never wanted to think about what I do or make as art. I feel that before the pandemic, in fashion everyone was complaining — me included — about time and how to slow things. Covid arrived and it forced everyone to slow.
In regards to the practice however, at the beginning it was really hard I must say, [but] in many ways it brought good. We slowed, [and] we at Marni got more focused, less spoiled, and less greedy about making just stuff. More clarity, more creativity, and more consistency.
It was hard and painful keeping the motivation high and the love for what we do at the maximum, [but] being open with each other made us just stronger.
JC: For me, I fell out of love with music only to fall back in love with it even more. I think that's healthy because, like any relationship, you're supposed to have those moments of clarity where you just need time to yourself. A lot of us don't view our careers as relationships but they are — especially mentally and spiritually. So to take a break from the constant thought process of music everyday was a relief for me and allows me to think clearer, miss it more, and give it my all this time around.
Jazz, you went from a label deal to independent. Francesco, you've been at the helm of Marni since 2016. Could you talk about the challenges of finding independence?
JC: Everything in life is a challenge, whether you're doing it independently or with a label. The obstacles differ depending on the situation but it is liberating knowing that your hard work is paying off. The general public might see things as an overnight success but the beauty comes from the years of building the foundation and that's where I'm at now that I'm independent.
FR: I guess at that time, I was about adapting into a new family. I had 10 years at Prada on my shoulders and you find yourself on this new planet and little by little you start to understand a new language with new people you encounter and work with, and they start to understand your language and things bloom.
Jazz, you've said your new album will be more fun, and Francesco, Marni has really made exciting, fun collections under your creative direction. How do you maintain this sense of fun? Especially when it feels like it's one crisis or piece of bad news after another in the world.
JC: Never losing your inner child is so important to me, man. Being an adult is cool but people just be too serious all the damn time. The moment you lose that [inner child], you corner yourself into a wall and stress over the littlest things. All my new songs have been me in the studio with friends laughing, joking, freestyling our thoughts till we find something that's worth turning into a song. If the vibe isn't there, we don't force it. That's how we go about life. Not overthinking shit.
FR: I really like what Jazz just wrote and that counts for me too. The point is having fun and learning. I'm surrounded by people that I love who share these intentions with me. Even though the world many times appears like doomsday, there is such beauty and wonder in the most simple things. And doomsday is not bad if you look at it as something we have to go through to grow and become better.
Do you have any questions for each other?
JC: Hell yeah. Francesco if you were to be any fruit or vegetable, what would you be?
FR: I would definitely be a mushroom. 🍄
Browse a selection from our Not In Paris Gift Shop below, and see the rest of the releases here.