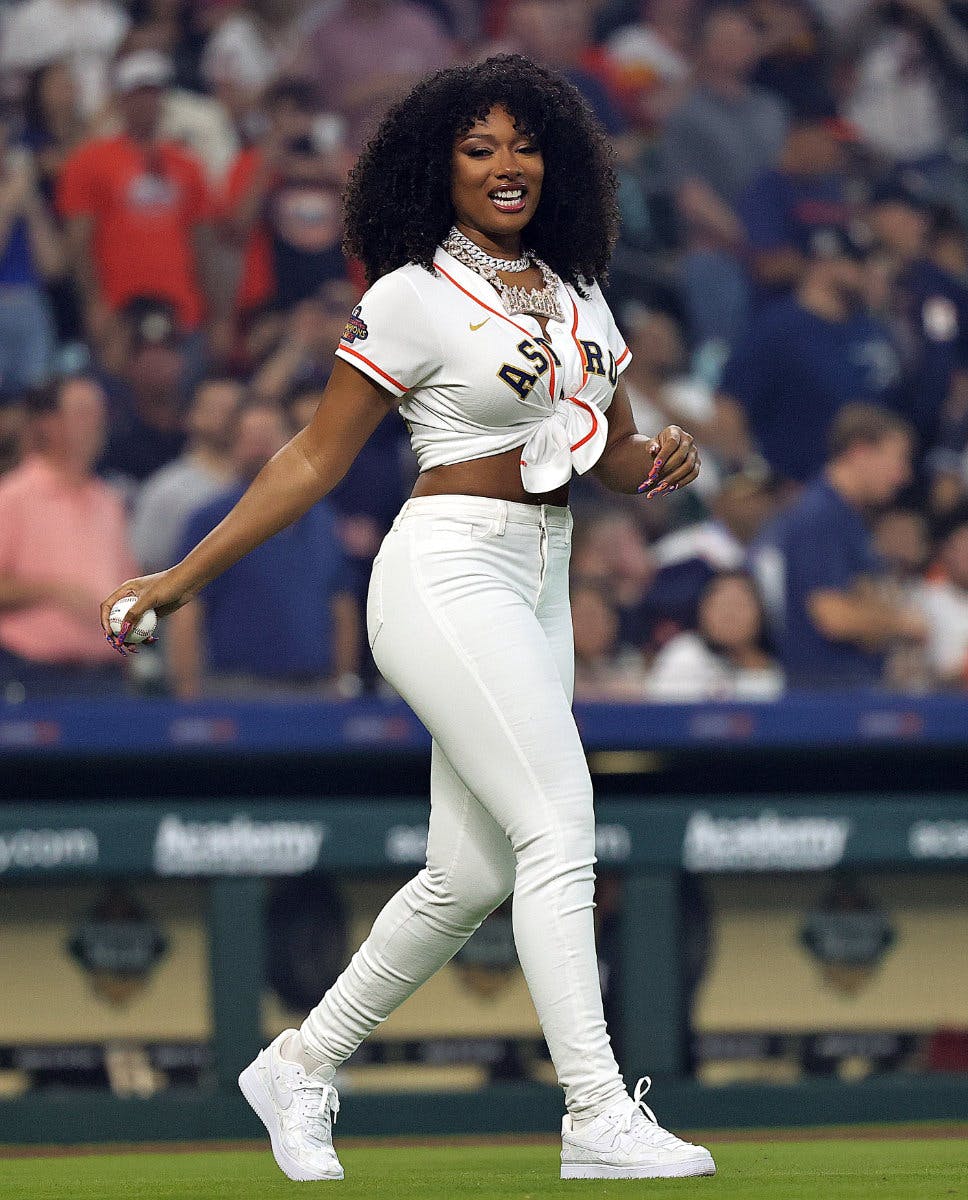 We love baseball (the baseball we're talking about: Megan Thee Stallion).
The self-proclaimed Houston Hottie threw the first pitch at the Astros' game against the White Sox on March 30. As for her outfit, she naturally repped the Houston team's jersey paired with some body-hugging white jeans and Billie Eilish's Nike Air Force 1 collab on feet.
Megan's delivery of the ceremonial first pitch went viral, of course. Let's just say: folks didn't give a damn about that game once the beautiful superstar — known for her irresistibly fun spirit and proudly owning her curves — stepped on the mound.
The Astros may have lost and ended their opening-day winning streak, but is it a really a loss with Megan Thee Stallion on your side? I think not. If I'm being extra real, our cover star was the real winner of Thursday night's game.
Megan Thee Stallion's comeback era has been nothing short of exciting (and stylish). She made her first big appearance since the Tory Lanez trial — of which he was found guilty of shooting Megan — at Grammys 2023's afterparty, popping out in a stunning Mach Bai gown.
Fast forward to a couple of days ago, she attended an event in support of Law Roach, with the famous stylist outfitting her out in custom archival Paco Rabanne.
Megan is set to make her major return to the stage this weekend, as she'll be headlining the AT&T Block Party for the NCAA March Madness Music Festival.
In addition to what will surely be a performance to watch, I suspect we'll be blessed with more impeccable looks this weekend as well. 'Tis a great time to be part of the Hottie army.
Shop our favorite products