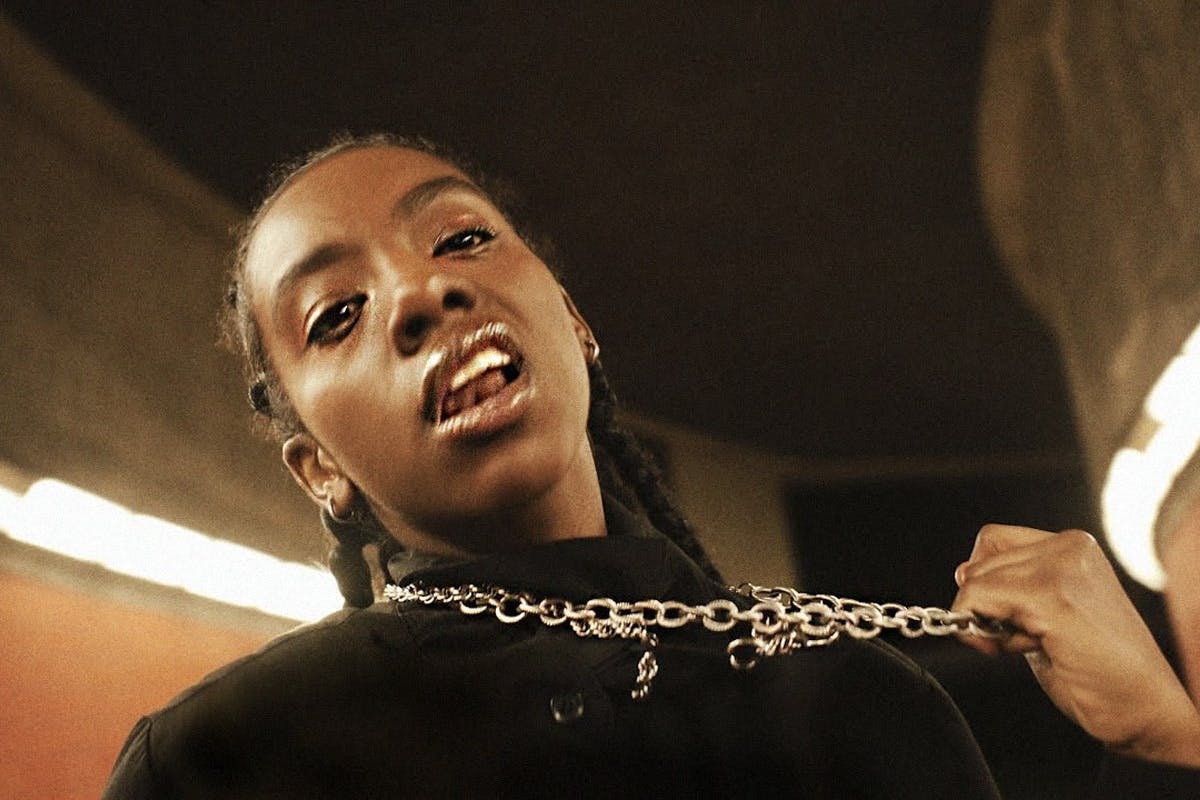 Earlier this year, the murder of George Floyd drew international attention to activists and organizers on the ground in Minneapolis. Local bail funds were flooded with donations, and vital organizations like Black Visions Collective, which fights for queer Black liberation, made global headlines.
At the time, Minneapolis-based artist Dua Saleh was gearing up to release ROSETTA, a brooding, atmospheric EP named in tribute to the "mother of rock 'n' roll," Sister Rosetta Tharpe. Saleh immediately hated all promotion, instead using their social media to signal-boost local activists in need of help, as well as to highlight other unjust murders including those of Elijah McClain, Tony McDade and Oluwatoyin Salau. Next, Saleh released a surprise track: "body cast," a powerful statement on institutional police racism. One-hundred percent of the proceeds were donated.
It's easy for anyone who hasn't experienced systemic oppression to view this redistribution of money, time, and resources as radical, but for Black queer artists fighting to thrive, it's the norm. "Black artists within the LGBTQIA+ community have always reallocated resources to each other," explains Saleh, who also curates and regularly updates a playlist of underrepresented excellence. "[They've always] championed each other's artwork, and supported each other in the face of inequity. Collaborative efforts within the art scene are just one sector of those symbiotic relationships."
Booboo, a talented artist who produces alongside creating music of her own, holds similar values close to her heart. It was in high school that she met Kamilla Love, a fellow Black trans woman using art and music as forms of expression. "Her presence in my life really inspired me to be more bold about who I was, and to take control over my life and my identity. We started making music together right after I had graduated," Booboo says, recalling their first collaboration, "Emotions." "I produced that song for her while we were emotional as fuck," she laughs. "It was that kind of vibe!"
For Black trans artists in particular, these collaborations are about more than just music. "When we already have a layer of trust as friends, it makes it a lot easier to trust each other with our visions and really personal ideas," Booboo tells me. In the last few years alone, she's collaborated extensively with artists like Kamilla, her partner Yonci, Blu Bone, Yasmeenah, and Deka, as well as featuring on Saleh's "kickflip" remix. Booboo is also releasing a triptych of new singles: "U1," which dropped earlier this month, plus "candy" and "love it baby," both of which are upcoming. Each of them is an aural celebration of her community: whether it's resilience, vulnerability, or sensuality at the core, the tracks are a testament to the power of community.
Kamilla describes her art as catharsis. "I just go with my heart, let it all flow out, and express what I'm feeling. I speak from my soul and my experiences, and I hope to communicate that it's okay to speak your truth at all times." This isn't always encouraged, though. "Especially being Black and queer in Minneapolis, people will try to shut your voice down. I will never let them."
Again, Kamilla highlights the intimacy of this process, and the need to be careful when choosing who to invite in. "I stick to myself and the Black queer artists that I trust, like booboo, Dua Saleh, E, Dream Love, Dolo Khan, Denaisha, and a few others," she tells me. "Honestly, sometimes it's hard to tell who genuinely supports you and who has other intentions, but I do believe in collaboration and networking. Everyone here pretty much knows each other, so we all work together, in some kind of way."
Sonically, these artists push boundaries: rock, trap, electronica, and pop melodies are all fused into their work, melding seamlessly into fresh, infectious sounds.
This willingness to experiment is important in the context of stereotypes, which Tim Dooley experienced firsthand growing up in Atlanta: "The only options that were presented to me as a musician were either religious music (his mom was a kids' choir director) or hip-hop, rap, and R&B," he explains. "I grew up seeing flamboyant rockstars on TV, and something about that always stuck with me." Determined to leave Georgia, he sent out applications for music school; an acceptance letter led him to Minnesota, where he teamed up with his classmates to form a punk band, Timisarocker.
In his eyes, the whitewashing of musical history has had exhausting consequences. "I always have that annoying question: why are you a rock musician when you're Black? I have to explain that Black people originated rock music, and that Black queer musicians like Bessie Smith and Ma Rainey have always been making waves." This historical ignorance has to led to a cycle of erasure, which then leaves artists defending their validity. "We have to know who started the music we all love today," Dooley urges. "They were probably Black, and they were probably queer."
Now, he sees his queerness as a strength. "Rock music has kind of regressed in the way that it's presented," he explains. "You see these basic white boys and their guitars with black jeans, but I love to be on-stage in personalized outfits, which I make myself, giving that razzle-dazzle that rockstars should." These shows are often borne of local queer labor, too: "There are meeting spaces for queer people to meet and bounce ideas off each other," Dooley says. "They then form these friendships and families, which then blossom into events, festivals, and shows."
Visibility is one thing, but resources built with Black queer artists in mind are another. "It's been difficult," sighs Booboo. "I feel like the only way I've had access is either through working, or because I have a white mom who was able to help me buy shit for myself. It's very much that if you know someone with a studio, then you can gain access, but if not then you're on your own, in a way." At the minute, these artists are generally thriving in spaces they built for themselves – but there are limitations when it comes to space, expertise and money.
Racism in the music industry is well-documented, but queerness and trans-ness add new layers of stigma into the mix. "There are some beat-making programs," Booboo explains, "but they're all led by men, so that's not very appealing to a trans woman." There's fear of being misgendered, misunderstood, or spoken-over in these spaces, and that only grows when producers and artists bring their friends into the mix. "Even at studios where it's somebody that I feel I could trust to a degree, if some of their friends come through, they might not be on that same level of understanding trans identities or the Black struggle. There's a lot of room for ignorance to thrive in those spaces."
As global media slowly returns to business as usual, it's crucial to ask how allies can sustain their support for Black queer communities. "I think one thing people can do is to offer sound and studio equipment, whether it's new or used and in good condition," says Saleh. "A lot of artists have to rely on people who have access, so they can't create on their own time. That could also lessen the burden of navigating cis and white-owned spaces, where Black and trans people are often met with voyeurism and fetishization. It could help us avoid the pain and trauma that confronts us in the music world."
Kamilla also highlights the importance of allies using their platforms. "Support Black queer artists by making sure that our voices and stories are pushed to the forefront, and by making sure our needs for resources are being met." Crucially, she underlines the importance of allies not centering their own feelings: "We don't need guilt, we need action." As for queer and Black trans-led organizations like Black Visions, the work has never — and will never — stop. Booboo also underlines the important work of Black Trans Femmes in the Arts, and echoes Saleh's claim that the most impactful thing allies can do is offer their resources. "It can be offering up your time, your equipment, your space or studio time… that shit is huge."
Speak to any of these artists and you'll see that their fight for liberation is ongoing, despite the diminishing media coverage. "The only people who really have that persistence right now are Black people, specifically Black trans people," concludes Booboo. "We're being attacked by the police, but Black trans women are also being attacked by men in our communities, by men in general. This is why I feel like, 'Okay, let's get this shit going,' because we can't stop advocating for our own safety. This is happening right now, and people need to listen, because our freedom is urgent."