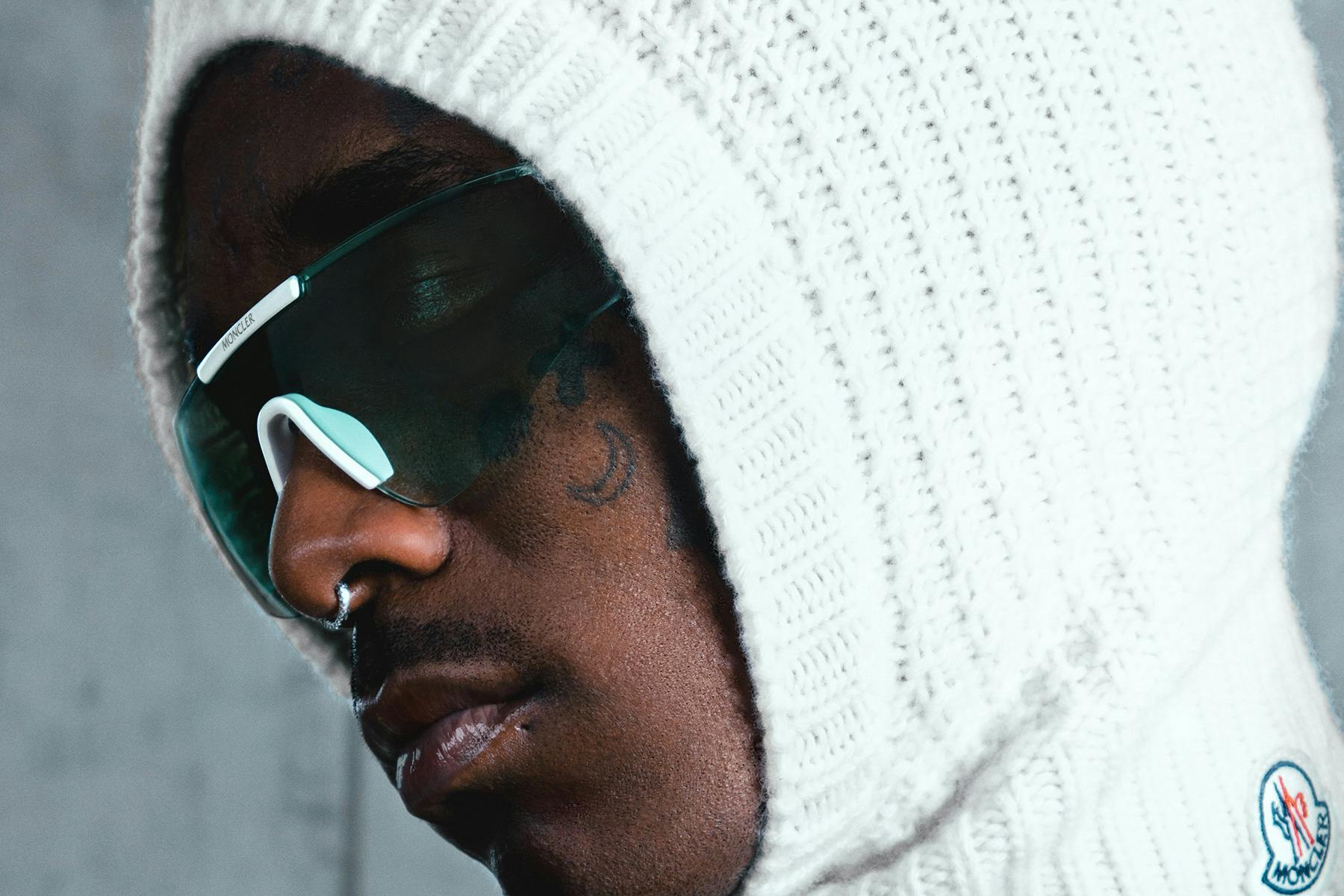 While most sunglasses are worn to help cover you up, Moncler Lunettes were created to make you stand out. Utilizing a diverse range of silhouettes that fit anywhere from the streets to the slopes, Moncler has paved the way in unique eyewear that will have you reconsidering your regular shades.
In its latest FW22 collection, the fashion house honors its OG heritage in outdoor adventure. Its latest drop merges futuristic fashion elements with a technical-driven design for high-performance eyewear ready for both the city and the mountains. Moncler called on none other than the intrepid Lil Uzi Vert to back the bold claim.
Uzi dons the collection's three distinct styles, Ombrate, Pentagra, and Wrapid, which embody the best of Moncler's unmistakable identity with a futuristic twist. The result? An unexpected must-have fashion accessory, no matter the season.
When Moncler expanded its goggles collection earlier this year, Moncler's intention was made clear: bold eyewear should be incorporated into everyday fashion. Its city-style goggles made that possible. Just as suitable to wear over the eyes as they are to wear over the head, the City Goggles introduced a fresh cross-functionality in its category. Of course, the goggles' outdoor capabilities did not go unaddressed. The Terrabeam Goggles offered a high-performance ski-ready alternative, paired with advanced lenses that darken on exposure to sunlight.
Shortly after, Moncler introduced another versatile style with the Visseur Sunglasses and the help of musician Sofaygo. Pairing its futuristic silhouette, featuring a semi-rimless droptemple design, with the budding XXL 2022 Freshman, Moncler proved that the new wave of eyewear was gaining traction as an official adoptee into youth culture.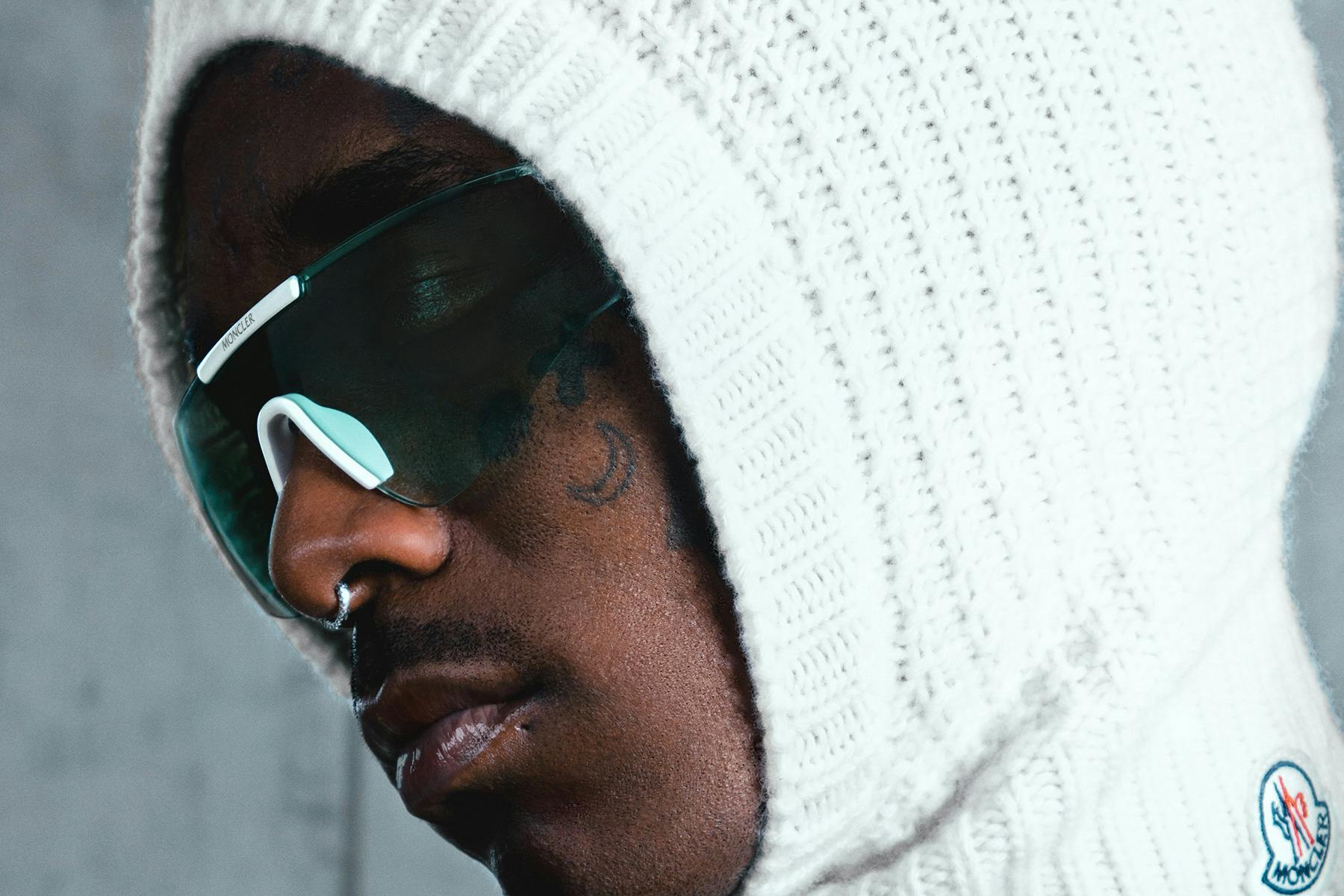 Now, with back from Lil Uzi Vert, Moncler has solidified the fact that its Lunettes collection is here to stay. Throughout Uzi's countless record-breaking hits and musical awards, the artist has been quoted admitting he does fashion better than music. "Honestly, in my heart, I think I do [fashion] better than music. Cause the music shit is effortless. I actually take my time with this."
The style icon has been known to take chances when accessorizing, sporting everything from spiky hair to multi-chain looks, and their recent co-sign to Moncler Lunettes' FW22 collection further confirms Moncler's inclination to fortify early trends.
The Pentagra features a futuristic wraparound silhouette, while the edgy frame front and temples seamlessly marry the collection's goal of style and comfort. The Wrapid on the other hand honors performance and fashion differently. Distinct rubber bits on the inside of the temple tips ensure a strong grip while its colorful flashes flex a distinct personality. Rounding out the collection is the Ubrate, which blends the past and present with Moncler's signature logo on its temple and a clear front shield.
Learn more about Moncler Lunettes and shop the collection at bergdorfgoodman.com.