British hip-hop's surging global popularity is eclipsed only by the short supply of female emcees in the genre, but UK rapper Nadia Rose is poised to break through those walls with her infectious, razor-sharp bars.
Hailing from a family of musicians—Nadia's father was a dancehall DJ and her cousin is grime superstar Stormzy, who just headlined a historic set at Glastonbury—it's no wonder that performing and music comes naturally for the 26-year-old Croydon, London native.
Just as grime and British hip-hop is experiencing global recognition and mainstream success, so to are American imports like baseball, which captivated the attention of a global fan base over the weekend with the inaugural MLB London Series 2019­—the league's first-ever games held in Europe that saw legendary rivals New York Yankees take on the Boston Red Sox.
'47, a sports lifestyle brand also hailing out of Boston and one of the official partners of MLB, brought their rich sport heritage over the pond and linked up with Nadia to spotlight the shared energy of sport and music that transcends across cultures.
With such a unique crossover opportunity between two iconic cultures and genres, it was a natural fit to tap Nadia to perform at London Yards, the baseball festival held to celebrate the historic London Series, drawing fans from 27 countries around the world and over 44 different states in the US.
"London is so diverse, there's people of all different walks of life. You're drawn to learn more about these people because they're not that different from me," explained Nadia. The way she sees it, getting up there on the stage isn't much different than being out there on the field with your team. "You've got supporters, you've got people behind you, be it in a pitch, in a field, on a stage. There's people that are rooting for you and that energy is unmatched."
Watch Nadia journey from her south London home to her electrifying London Yards performance at Truman Brewery as she talks us through her process and how music can relate to any sport, and discover how she gets in the zone before hitting the stage.
You've come a long way since you broke out in 2016 with Skwod, what's this ride been like now that you're becoming more recognized among your peers and fans?
It's been interesting. There's ups, downs, lows, highs, perks. Overall it's been a journey that I'm not regretting, I'm learning loads, and I'm also able to share wisdom with people that are coming up as well now, which is nice. I'm just excited for where the rest of the journey is gonna go.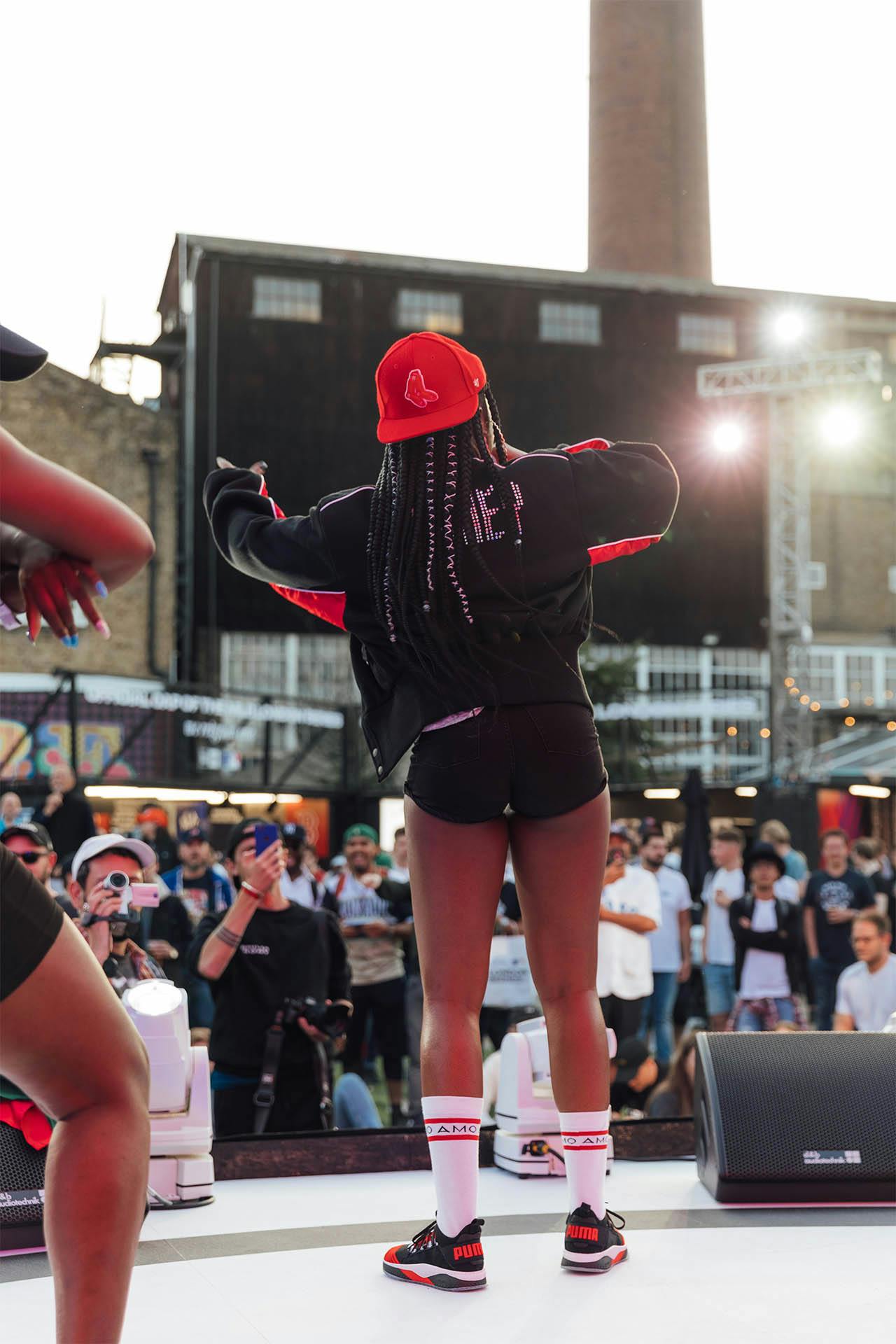 How do you prepare for a big performance and get yourself mentally focused?
Food is key. I'm not me when I'm hungry. So I've got to have good food. Mom's home cooked is ideal, if not just avocado anything. Everything avocado is good for me, pre-show.
And I just need good spirits around me, you know? I've got to go out there and present myself one way, but life might not be treating me that way necessarily. So to have people that just keep my energy in the right place, regardless of what's going on, that's always necessary pre-performance.
I'm a strong believer in practice and putting in your 10,000 hours. I'll be backstage, people will be talking around me and I'm just in my own little corner doing my buzz. I've been doing [it] for years, so, really, I know them to a T, but, you never know, innit? I could just go out and totally forget it, so it's always good to have that last minute recap.
You grew up with your cousin Stormzy who lived a few doors down from you, has he influenced your music at all or your sound?
Do you know what? Not really, we make quite different music. Some can be quite crossover, but overall we have two quite different styles.
I can relate to a lot of what he talks about in his music style because we grew up together so I get a lot of it, 'cause, yeah, we both grew up with the same things around us, the same people and influenced by the same things. So I just really get his sound and I get his music, and feel it's vice versa.
We've always had our own vision; this is what it works and feels right for me. We just both admire that from afar, you know?