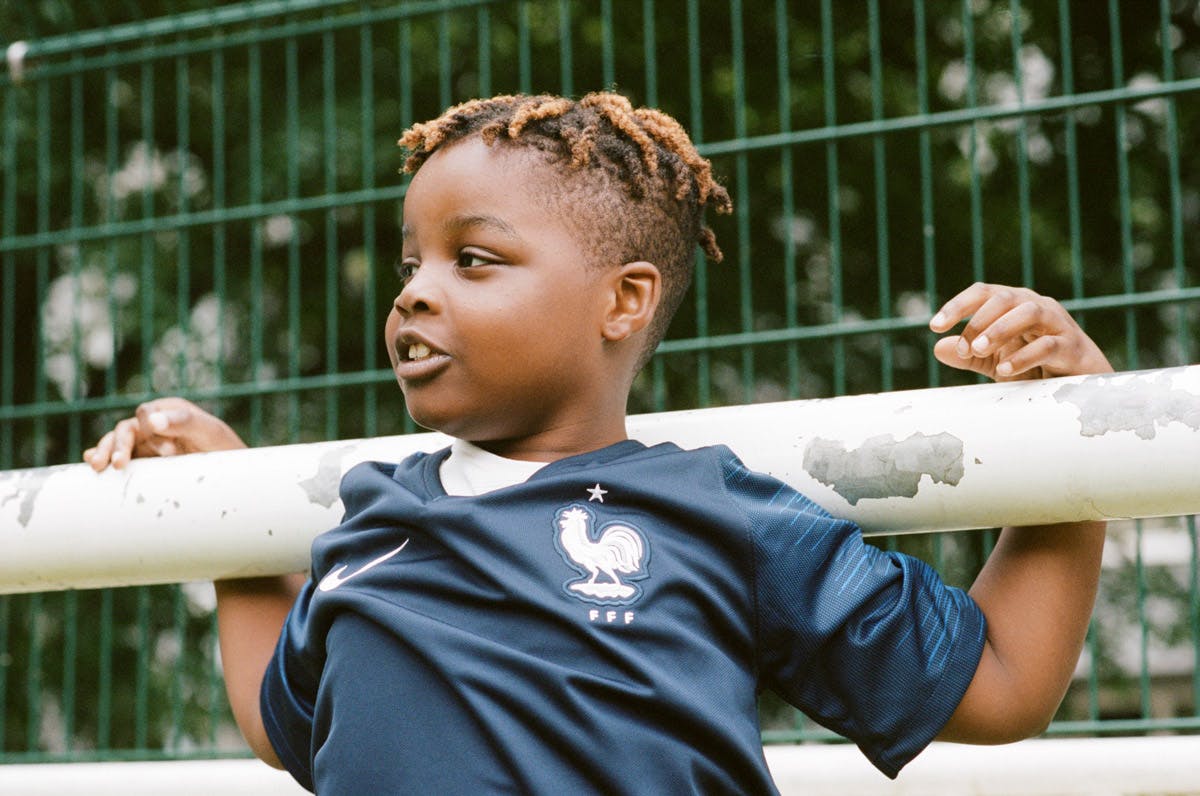 There's an interesting thing that happens every four years when the World Cup comes around, and you don't even necessarily need to be a die-hard fan of football to notice it. You see it on Twitter and Instagram, in videos of fans tidying up the stands after games, or of ecstatic supporters celebrating in the streets in weird, wonderful and utterly outrageous manners, or of fans from around the world partying and having fun together in the streets, celebrating a shared love for the spirit of the game over whatever cultural differences they might have.
And with good reason. Though football, at its heart, is like any other sport, it carries with it a weight of symbolism and significance like few other sports. Growing up in a country like the UK, where football is such a formative part of the young male identity, the game taps into so much of what we are taught to hold dear; community, teamwork, grit, determination, national pride, and identity.
At the heart of this is the football jersey. Though the jersey is worn by the players as uniform, to the fans it's something much more than that. The act of donning your team's jersey is a powerful statement of who you are, your values, your passion, your tribe. And if this sentiment is true for domestic teams, it reaches an entirely other level for our national teams.
Because again, the act of putting on the jersey for your national team is something much more than just showing support. It's a declaration of allegiance, a celebration of national identity, of the things we have in common as a country and the things that bring us together. Nowhere is this sentiment felt more powerfully than in a city like London, a place so diverse in its culture and beliefs, but united as one for a few weeks every 4 years.
But that's not to say that we're all wearing it the same way, for the same reasons, or that we're even wearing the same jersey. One of the most interesting things about football jerseys is the way they're worn, and for what reasons. In a city like London, everyone has their own reason for putting on their jersey, and a deeper meaning behind it.
For a lot of non-British Londoners, for example, whether the child of immigrant parents or an immigrant themselves, the World Cup is an opportunity to reaffirm their roots. It's a phenomenon we observed recently with the incredible success of the uniform for the Nigerian national team designed by Nike, which proved so popular among the city's large Nigerian community (as well as many others), it sold out almost immediately. That so many of these people find themselves cheering on two "home teams" just demonstrates the complexity of national identity today, and how the jersey is an opportunity to reconnect with one idea of home whilst living in another.
Mike, a 38-year old barber, doesn't hesitate when he tells us he'll be wearing his Nigerian jersey for the tournament. "I've been a football fan since I started walking. I can't wear any jersey other than mine," he explains. "I'm a proud African." It's a sentiment that's resonated throughout London's Nigerian community, where first, second and third generations of Nigerians, some born in the city, others elsewhere, have come together to proudly champion their roots in a city to whose cultural they are now so integral.
That same spirit of pride for one's roots is echoed by Antonio, a 42-year old man from Portugal. "Of course I'm supporting my country – Portugal! The Portuguese, you know, we're the best team in the world! They're gonna win, for sure." He knows that he'll be watching every match with other Portuguese supporters in one of the city's Portuguese cafés. When asked how long he's been a football fan, he takes his time to think before smiling and answering, "42 years."
For Cerny, whose parents come from Congo but who himself grew up in France and now lives in London, the World Cup is an opportunity to reaffirm his roots. "When I put the France kit on, it makes me feel so proud. The French team is so diverse with so many different backgrounds, that they've united all these different countries under one team, trying to represent."
For others, particularly second or third generation immigrants, donning a jersey for the World Cup is a time for celebrating that same sentiment on a national stage. Though he admits to not being a massive football follower, 19-year old San sees the tournament as an opportunity to celebrate his British identity and the things that bring us together as a nation. "I feel like being English is just a part of my childhood. It's this sense of, like, being together with all the other people in your area, getting together to support one team."
When we spoke to 11-year old Anaya, she jokingly confessed that she'd be supporting Brazil during the tournament – hoping they'd learned their lessons from 2014. But she was proudly wearing her England jersey nonetheless, and had her own personal reasons for wearing it. "This is where I'm from. My nationality. When I'm wearing it, I feel like it says that everyone is different skin tones, different colors, from different places, but we can all be united as one."
It's certainly uplifting to see people, particularly younger generations, engaging with the nuances of national identity, both personal and cultural, in such positive ways, but it's equally nice to see people simply celebrating different countries around the world for reasons as simple as loving the country – or even just the kit.
15-year old Hugo, for example, enthusiastically declared his support for Australia, "because I love Australia." When asked why he was wearing the official kit for the Croatian team, his answer was equally straightforward. "I thought it was the best one out of all of them. It represented everything Croatia is about."
Ultimately, the multiplicity of ways of wearing a football jersey is one of the greatest phenomenons about the World Cup. There's something about the tournament that really levels the playing field, creating an open space for expression and allegiance without prejudice. Though we're all cheering on our own respective teams, for our own personal reasons, there's equally a respect and admiration for other people all around the world. Whether you're "home from home", representing a second nation that you've made your environment, someone who's travelled the world but uses the jersey to reaffirm their connection to their home country, or just someone in love with the culture, spirit or colors of somewhere you've no other connection to, we're all connected through this notion of the World Cup as a time for celebration. It's not important what you're celebrating, or even why. Just have fun – after all, it's only football, except for when it isn't.