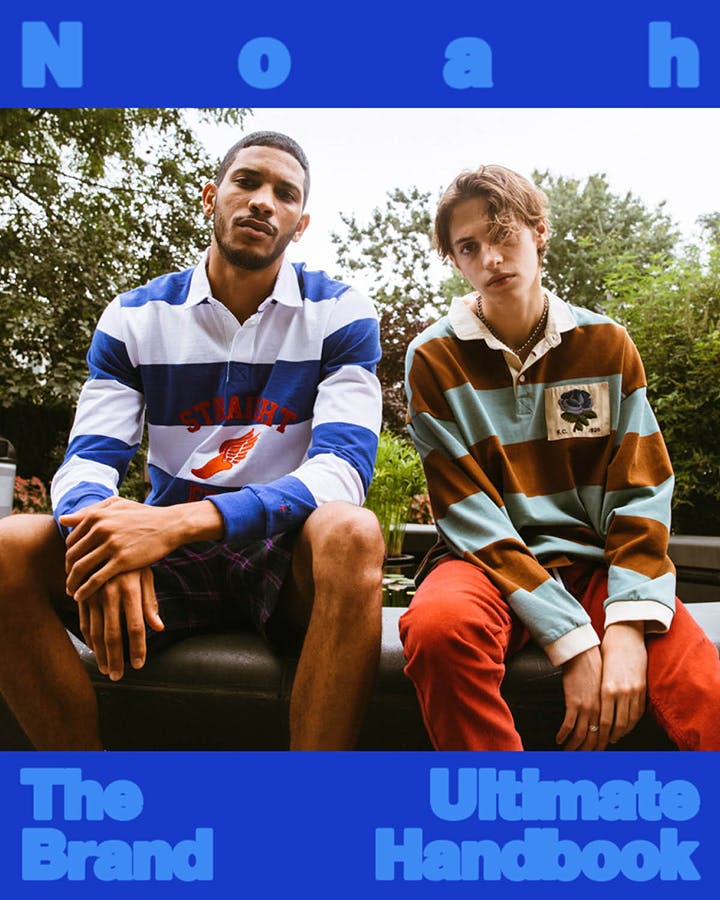 HARDCOVER is a  digital content series exploring the people, places and things that define and continue to shape the Highsnobiety universe. In this chapter of Brands You Know But Don't Know Much About, Gregk Foley takes a deep dive into the world of Noah, the New York label founded by former Supreme creative director Brendon Babenzien.
Whenever you're writing about American streetwear, it's not uncommon to encounter moments where you ponder whether or not to build your thoughts around the brand that is perpetually on everybody's lips. Whether you're talking about the original East Coast boom of the early '90s, the "if you know, you know" days of the early-to-mid 2000s, the social media-led blow-up of the early 2010s or the contemporary era of catwalk-meets-sidewalk synthesis, all roads seem to lead back to that brand that begins with an "S," with the packed-out store at 194 Lafayette Street in New York City.
Such is the case with Noah, the casual menswear brand founded by former Supreme creative director Brendon Babenzien which in recent years has carved a comfortable niche for itself as a safe haven for well-weathered older heads and style-savvy younger generations looking for on-point pieces away from the hype, hysteria, security guards and velvet ropes that come with trying to buy a box logo these days.
Talking about Noah is a bit like the energy that has helped the brand's growth: an attempt to get away from Supreme. One of the most interesting phenomenons to come from Supreme's expansion into mainstream culture over the past few years is the space that expansion has created for numerous offshoots and side projects to find their feet and cater to a more considered customer. Where once the simple, stylish and ever-so-slightly-premium category of streetwear was almost entirely monopolized by the New York skate brand, that saturation has created a customer hungry for clothing that's not necessarily different, just...well, different.
However, to say that Noah is just some sort of offshoot or little brother would do a disservice to what is in fact a very considered and cultivated attempt to offer an alternative approach to streetwear; one less about ceaseless hype and high resale prices than perennial style and low stress. Noah might take its lead from many of the same inspirations and reference points as its older sibling, but it uses them to create something markedly different. So, with that out of the way, here's a brief history of Noah, and a guide to understanding what Brendon Babenzien is creating through this personal project.
The Beginning of Noah
The Noah that you and I know today first appeared on the scene in Fall/Winter 2015 following Babenzien's departure from Supreme a few seasons before, but the brand's history actually goes back a little further. Babenzien first stepped out with Noah in 2006, debuting his label at New York Fashion Week with a full runway show, before shelving the brand shortly after. Images of the collection are pretty hard to come by, but the few photos that do exist in savvy corners of the internet show flashes of what the brand would eventually become a decade later; think long-haired beach bum models and nautical ropes lining the runway.
It seems fair to say that the original iteration of Noah was a more high-end iteration of Babenzien's vision than what returned to the scene in 2015. Following the announcement of the brand's return early in the year, Babenzien partnered with longtime friend Chris Gibbs and his West Coast streetwear institution Union LA on a small-scale pop-up shop that offered a taste of things to come: understated streetwear staples with prep, military and nautical influences, peppered with late '80s punk rock and post-punk references. So far, so good.
When Noah's [re-]debut collection was unveiled for Fall/Winter 2015 that seed of an idea had crystallized into a clear and coherent vision. For audiences familiar with Babenzien's impressive output at Supreme during the mid-to-late '00s, it was a familiar recipe, but much more sartorial, perhaps unfettered by an overt need to cater to the youth. Herringbone pants with double-pleats, double-breasted jackets, shearling duffle coats and woven leather belts suggested this was a brand for the customers who wanted to grow up while dressing down.
This move wasn't so much a departure from Babenzien's previous output, however, as a deeper exploration of the roots and reference points that have informed his entire body of work. Born and raised in Long Island, New York, Babenzien's upbringing against a backdrop of East Coast preps, country club WASPs and coastal lifestyles meant labels such as Ralph Lauren, Nautica, Sperry and Tommy Hilfiger were wardrobe fundamentals.
As he grew older and began venturing into NYC, interacting with the city's skaters, writers, artists and street kids who were appropriating the same labels at the same time as a way of dressing up for the evening functions, those two worlds found their way of weaving into one another. It's no secret that one of Supreme's key reference points throughout the years has been digging up old pieces from Ralph Lauren's iconic Polo Sport sublabel, as well as forgotten proto-streetwear labels like Iceberg, Calvin Klein, Pervert and Fubu. What many of the younger generations might not be able to grasp is how this cross-cultural pollination is something that played out on the streets of Manhattan in the late '80s and early '90s.
Tie all that up with the key cultural touch points that defined New York City youth in that same era – skateboarding, graffiti, hardcore punk, hip-hop and enduring relics of New York legends past – and you get a near-perfect facsimile of the world Babenzien is recreating with Noah, just a little more softly spoken. As a final touch, switch out the rugged "fuck you" individualism that has been the marker of Supreme's brand identity with the more inclusive, pluralistic aesthetic of '90s mainstays like United Colors of Benetton and GAP, and you've got a pretty good grasp of what Noah's all about.
Noah's Political Statements and Transparent Sustainability Efforts
Put simply, Noah is a brand where Babenzien really wears his heart on his sleeve, and it shows on every level. Whether collaborating with bands, brands or like-minded creators, the thread that runs through all of Noah's output is deeply personal.
It's to this end that the brand has also made a name for itself as having deep political commitments as well. Since Noah's return to the scene in 2015, Babenzien has expressed a desire to reclaim space in the streetwear scene for dialogue, conversation and collaboration beyond sticking two logos on a label, and both designer and brand have been increasingly outspoken on a number of social, cultural and political issues.
The brand's roots in nautical lifestyles is more than just for show. In a previous era, it might have been possible to sell a laidback, sun-soaked, carefree surfer lifestyle, but in an age of increasing sea temperatures, ocean acidification and coral reef bleaching, authenticity and credibility requires a bit more effort. From lookbooks and T-shirts to garment care labels, Noah takes pains to stress the damage being done to our oceans by climate change, pollution and environmental waste, while the brand has been committed from the outset to improving its own production and supply chains wherever possible.
The question of whether such a thing as conscious consumerism is possible is one that is ever-looming over our heads in the fashion industry, and one that Babenzien is certainly grappling with. At the very least, he wants you to be conscious, and has made strides in informing and educating his customers, who for the most part seem aware of the brand's message and their own implication in these issues.
Noah has also not shied away from involving itself in numerous other pressing social issues of our time, leveraging its popularity and hype to raise money for causes such as Black Lives Matter, Generation Citizen and the ACLU through limited edition product releases. Noah's blog is also a vocal mouthpiece for fundraising drives, charitable causes and activist organizations, seeking to educate customers more about a world beyond brands at a time where brands have become our world.
The Inseparability of Noah and Brendon Babenzien
We live in an age where both consumers and producers are asking deeper questions about the role they play in the world, and the part they can play in making it a better, safer and healthier place for all of us, and Babenzien is using his company's status as a small, nimble and independent label to attack the issues on as many fronts as possible.
That's probably the best way to understand Noah. We could talk more about the clothes and collaborations – the Vans sneakers, Sperry boat shoes, Italian cashmere and Canadian rugby cloth – but it's unlikely it would be anything you haven't heard before, probably because it was Brendon Babenzien who played a role in teaching you about it the first time around, though you might not have even known it.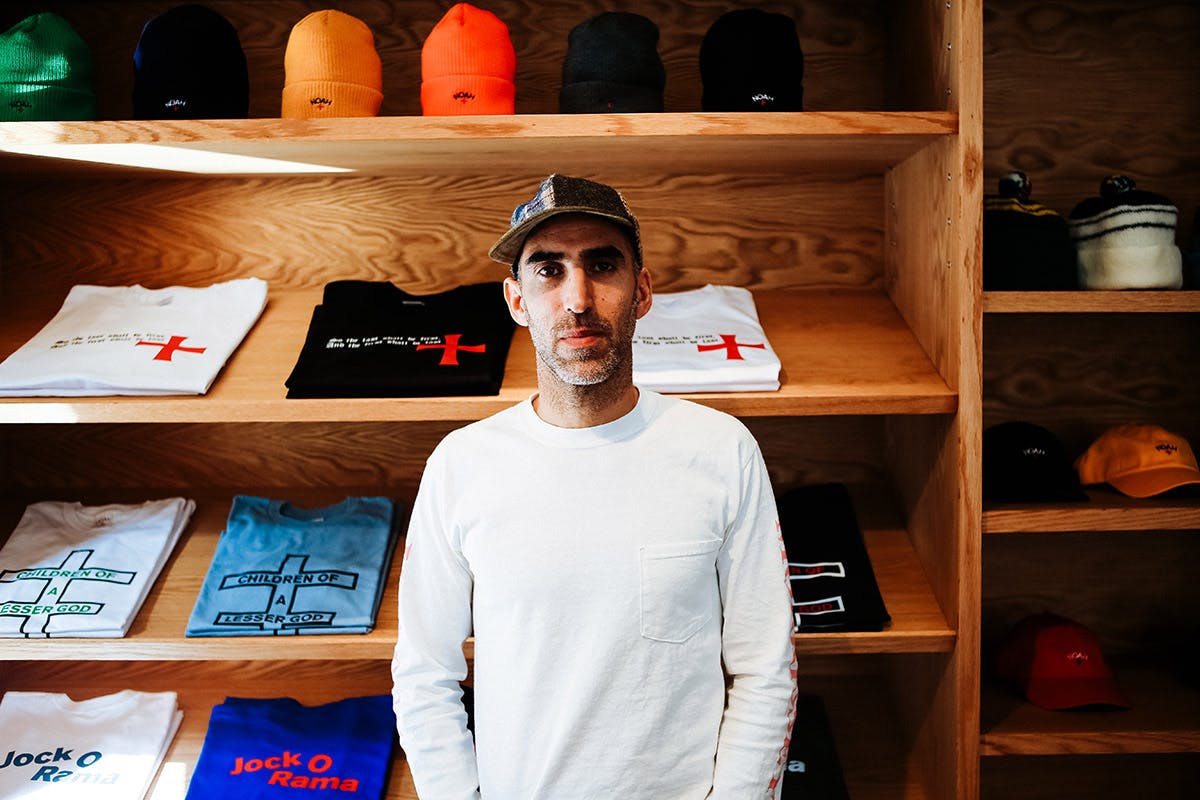 When you're writing about a brand like Noah, you feel like you're spending your whole time trying to get away from Supreme, less as a brand, but more as a skeleton key to all of the other corners of culture it's touched over the years. So it goes with Noah. It'll always be indelibly linked to the brand where Babenzien honed his craft and created an aesthetic that would define the quintessential "cool" of the first decade of this millennium, but it's only with Noah that the full character of that essence has expressed itself fully.
Noah's return to the scene in 2015 was marked by Brendon Babenzien's expressed desire to see skaters, streetwear heads, music fans and cultivators of culture talk, smile, laugh and love more. From the clothes to the lifestyle he's built around his brand and its little boutique at 195 Mulberry Street in New York, that mission continues to connect with those that know.