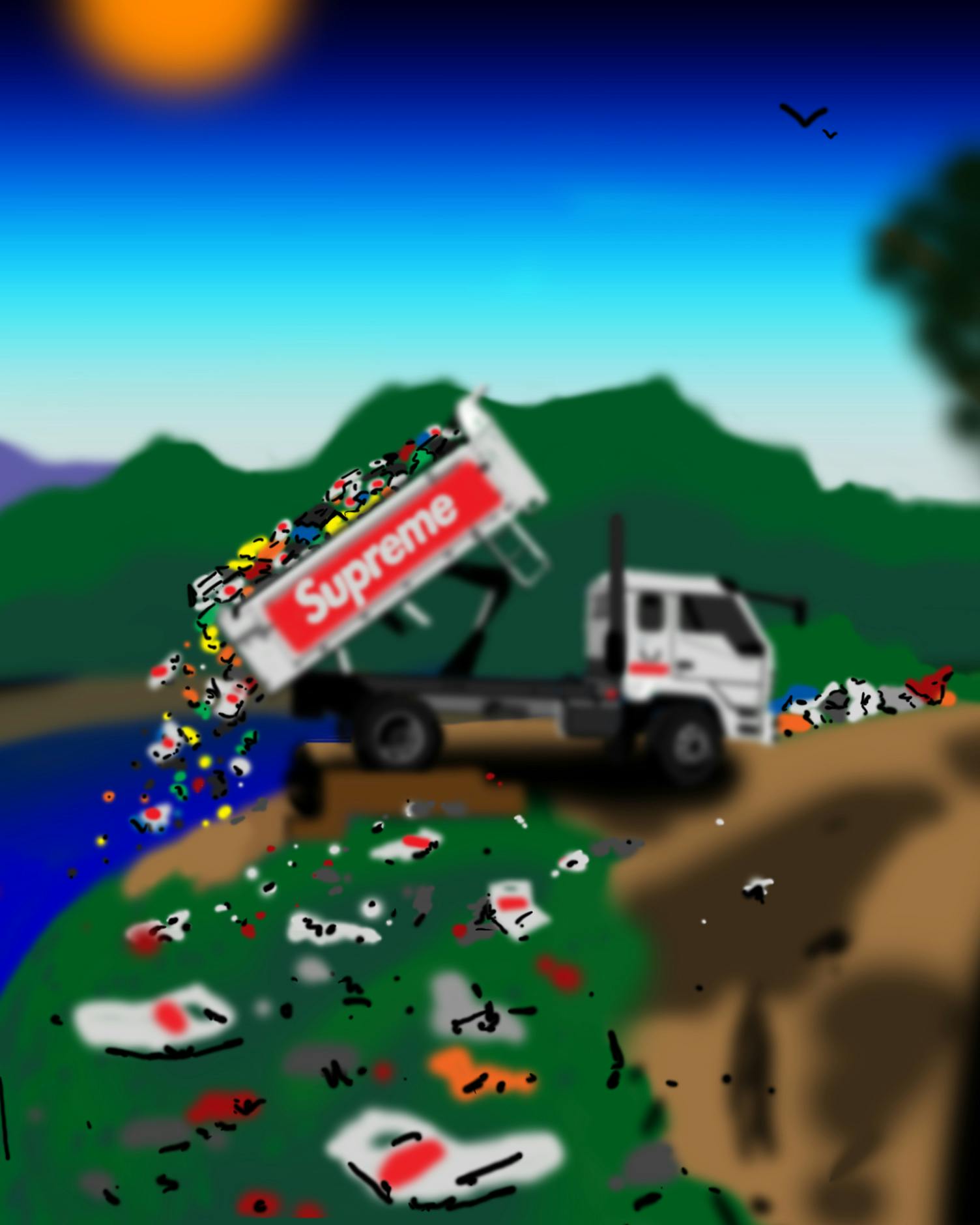 FRONTPAGE is Highsnobiety's weekly online cover story exploring the people, moments, and ideas shaping culture today. For the third edition of our series, Highsnobiety's Christopher Morency takes a deep dive into streetwear's sustainability problem.
The global fashion industry is an ecological disaster. 73 percent of the world's clothing eventually ends up in landfills. Every second, a whole garbage truck full of textiles is thrown out. More than $200 billion of unsold stock is sitting on shop floors and in warehouses around the world. Meanwhile, the number of garments produced annually surpassed 100 billion for the first time in 2014, doubling since 2000. Boston Consulting Group (BCG) projects that the global apparel and footwear industry will grow by 81 percent by 2030. With a rise in consumer spending coupled with a customer base that expects new product to be delivered at the speed of Instagram, fashion appears more and more disposable by design.
Streetwear is part of this sustainability problem.
The pressing statistics above prove that the sustainability conundrum is vastly bigger than streetwear's contribution alone, but by and large, it's streetwear that has surreptitiously dodged the bullet in the public eye, both with the media and with consumers when it comes to its harmful impact on the environment and the attached human cost. As a result, it has left fast-fashion giants and big luxury houses alone on the chopping block.
"I think there's always been a tendency to look to the big players for solutions but also to blame them for their sheer scale and therefore their impact," says Eva Kruse, CEO and president of Global Fashion Agenda, whose flagship event Copenhagen Fashion Summit is a pioneer in promoting sustainable practices in fashion. "But there's a big challenge ahead with small and medium-sized companies who find it difficult to start. It's actually within that segment of our industry where most companies are lagging behind."
At a time when Supreme is valued over $1 billion, nearly 25 billion pairs of sneakers are produced annually, and streetwear brands produce up to 350 different items a year, streetwear can no longer be classified as the nascent industry it once was. Its sartorial codes and attitudes have gone mass.
When graphic T-shirts, oversized hoodies, bold sneakers, and mundane accessories (all often manufactured in cheap virgin materials) have become the only standard for a person to launch a fashion line from their bedroom, one no longer needs to follow the traditional trajectory of attending an established fashion school and presenting high-end seasonal collections during one of the major fashion weeks in order to gain traction. Instead, it's the cultural relevance that defines the value of streetwear over the intrinsic value of its materials and labor.
As a result, the market has been flooded with countless young designers for whom environmental and social responsibility are low on the priority list. Luxury and fast-fashion brands who have adopted this zeitgeist have also opted for easily produced, high-margin items in a wishful attempt to resonate with today's young consumers.
Rapid business growth has turned streetwear into fast fashion for predominantly young men, whose identity is being formed by mindless consumerism over the counter-cultural attitudes and beliefs it once stood for. After all, its unsustainable business model rooted in weekly drops has encouraged a consumption cycle where last week's purchase is no longer relevant only a week later, pressuring consumers to buy again. In streetwear, selling out is a sign of a successful week in business.
"Streetwear is setting the trends in so many ways and also speaking to an audience that has a lot of power, so if they would also start to talk about taking more conscious consumption choices, it would affect how a lot of people would think about their role in society," says Kruse.
So why have the streetwear industry and its key figures done so little to drive the conversation forward and educate consumers when they have such a direct line to the next generation of shoppers?
Underdogs with Big Footprints
"Streetwear hasn't ever had the spotlight like it does now," says Dao-Yi Chow, co-founder of the American label Public School. "It's managed to avoid the ills of commerciality, and with it the responsibility to consider its own environmental impact. While streetwear has always been on the forefront of social consciousness, there hasn't been the same urgency to address climate change in the same energy as other social issues."
As much as streetwear has long been used as a means to express identity while signifying belonging to a wider group of like-minded individuals, its roots go deeper. Since its early days, streetwear has served as an important vehicle in representing the counter-cultural viewpoints of a group on the opposite side of the ruling class. The sociopolitical messaging surrounding streetwear has directly informed its values and structure. Think Stüssy representing surfers and skaters, and Jordan Brand's influence on lower-income communities and beyond. Eco-conscious production and design aren't part of this foundation.
"Ethical isn't a word commonly associated with streetwear," says American industry veteran and creative business consultant Julie Gilhart, who has worked with everyone from Amazon, Prada, and Jil Sander to Goyard and Mulberry. "It's too broad of a term, and it doesn't really resonate with the culture." Gilhart argues that, although streetwear has long been in the same kind of price point as contemporary and fast fashion, it has always been in its own category. "Responsibility, in terms of sustainability, isn't written into that culture. So there's a language that needs to be developed that will resonate."
En masse, that language may not be written any time soon. Despite streetwear's growing demand and long heritage, its newly found access with the traditional luxury industry has resulted in brands focusing on legitimizing their seat at the table by building fast-scalable global businesses, instead of pushing for a more sustainable agenda.
"Somehow a lot of streetwear [labels] have turned into conservative brands," says Jacob Kampp Berliner, co-founder and CEO of Danish streetwear label Soulland. "You come from a culture where you've been on the opposite side of society and then suddenly you're such a big part of not changing the world anymore. I strongly believe that there are so many strong voices out there, from Virgil Abloh to Supreme, and they never ever speak about sustainability. Streetwear is about free speech, so it feels strange when brands don't raise their voice for a better planet." (Last year, Virgil Abloh joined natural mineral water giant Evian as creative advisor for sustainable innovation design.)
Many founders of streetwear brands are self-taught and lack formal training — their own brands often being the first jobs they've held within the fashion industry — which has created challenges of its own.
"The prevailing thought process that seems to permeate throughout the streetwear market is that they don't see themselves as one of the [bigger companies], because they're not as volume-driven as, let's say, an H&M, and because they don't make their clothes in Bangladesh," says Dio Kurazawa, founder of The Bear Scouts, which connects brands like 1017 ALYX 9SM, Kith, and Billionaire Boys Club with manufacturers that help labels become more green throughout their supply chain. "Brands believe they're doing a lot more than they actually are – [meanwhile], their customers aren't putting pressure on them."
How to Change
A lack of pressure shouldn't stop streetwear brands from acting more responsibly. The tides in the wider fashion ecosystem are changing fast, not only making it a missed opportunity but a real business risk for those not taking a stance or action.
According to this year's Pulse of the Fashion Industry, an annual assessment of the fashion industry's environmental and social performance created by BCG and the Global Fashion Agenda, more than 50 percent of consumers say they plan to switch brands in the future if another brand acts more environmentally and socially friendly than their preferred one. Still, for the time being, sustainability considerations are seen as a prerequisite rather than a driver of purchasing decisions.
Getty Images / Barcroft Media / Sujay Reddy
While "sustainability" is a big buzzword in the fashion industry, it has now become so ambiguous that it's lost its original meaning. "The problem is that no one knows what a 'good' value chain looks like," says Sebastian Boger, partner and managing director at BCG and co-author of the Pulse report. "In this industry, we clearly have to differentiate between 'less bad' and things that make the current practices better."
So what can streetwear brands do to drive meaningful short- and long-term change when it comes to its impact on the environment and its people?
Step One: Lead with Product
"Don't try to sell a brand as being sustainable or responsible – it needs to be about good design first," argues designer Christopher Raeburn, who is known for upcycling unconventional fabrics from items like vintage parachutes, military deadstock, and kites. The pioneering ethos of his namesake label, Remade, Reduced, Recycled – a riff off the famous Repair, Remake, Reimagine slogan – has summed up his circular approach to his streetwear-inflected fashion line since its inception in 2009.
According to Raeburn, there are three steps brands can take when it comes to product: "Design things that are from recycled materials and are recyclable, organic, and enduring, so they keep their lifespan for the longest possible time." In October 2018, Raeburn was appointed global creative director at Timberland, where under his tenure the brand now strictly collaborates with brands that act with purpose first. "It's an interesting moment when you've got a brand the size of Timberland now saying 'we won't work with you,'" notes Raeburn.
While seemingly greenwash-y at first sight, the crux of promoting the topic of sustainability through good product design is certainly a good initial step to get the conversation started. "People really love to talk about the topic [but] they want tangible examples that they can easily explain to others," says Boger, whose report found that mentions of sustainability in social media increased a third faster than overall social media growth itself between 2015 and 2018.
adidas' partnership with environmental organization Parley for the Oceans this year sees its collaborative sneakers made up of at least 75 percent upcycled plastic trash. By the end of the year, 11 million pairs will have been made, while a wider release of its 100 percent recyclable Futurecraft.Loop trainer is set to follow in 2021.
The soles of Nike's popular VaporMax, 270, and 720 models are made with more than 70 percent recycled materials, while the Flyknit and Flyleather technologies (that eliminate any surplus waste) are becoming some of the brand's most profitable platforms.
French sneaker brand Veja — whose responsibly designed models are crafted in Brazil from organic cotton and Amazonian wild rubber soles — sells nearly two million pairs of sneakers every year, and has over 2,000 stockists. All this without spending any money on advertising. Added to the fact that many other streetwear brands are finding innovative ways of combating the millions of gallons of water, virgin materials, pesticides, and micro-plastics used in the industry every day, great design will always reign supreme.
"We know that you can do it properly and today it's almost considered lazy and immoral if you don't act upon something that can be so easily achieved," says Livia Firth, co-founder and creative director of Eco-Age, a consultancy firm providing sustainability solutions for brands including Gucci, Stella McCartney, and MatchesFashion.
Step Two: Slow Down and Speak Up
Offering sustainable solutions through design innovations certainly isn't enough. Even if materials are made with environmental responsibility in mind, streetwear's commitment needs to be deeper. It's the speed at which streetwear brands are producing, consumers are purchasing, and style publications such as Highsnobiety are promoting, that is the main problem. (By the end of the year Highsnobiety will have posted a projected 2,400 sneaker-related articles.) And each segment has its own role to play.
"The big elephant in the room is that, if you're in the business of fashion and you're producing, you want to grow," says Gilhart. "There's not one company that says it will slow down and take less profit."
"It hits the nail on the head of the biggest challenge," agrees Kruse. "The whole business model is based on creating a need that we don't have by pushing new stuff into the market and overproducing and overconsuming. We need to promote a different set of values and it would be so cool if it would come from streetwear."
Whether it's urging customers to buy less by shutting online stores on days like Black Friday, offering free repairs to extend the lifespan of clothing, or actively embracing the resale market by supplying it with deadstock products, there are many steps brands can take to slow down. But it's unlikely brands will compromise business growth to reduce their impact any time soon. They need to rethink the entire notion of speed. "Brands need to understand that the relationship with their community need not be purely a transactional one. You can buy a pair of kicks but you can't buy culture," says Chow.
The Public School co-founder has a point. The most successful, environmentally responsible streetwear brands of the future realize that commodities aren't the only things for sale. Instead, it's the brand itself that consumers want to buy into most, not necessarily the product it puts out. This means that streetwear brands should equally emphasize trading in knowledge, access, belonging, and experiences, and sell an overall ethos beyond product alone.
Getty Images / AFP / SAM PANTHAKY
Noah regularly gives its audience a behind-the-scenes look at its supply chain and breakdown of its pricing strategy, while designer Matthew Williams hosts community-driven 1017 ALYX 9SM events (where he educates the brand's following on its sustainable design innovations). These are just two examples of brands that have the power to democratically enable a two-way communication flow where consumers are empowered to be a part of – and influence – a brand's growth. It's how loyalty is built today.
Since streetwear brands are often owned by their original founders, they don't have a board to answer to. They are uniquely positioned unlike many luxury and fast-fashion brands to write their own rules and to speak out. Gilhart believes there are many streetwear brands that are implementing positive change already but are deciding to keep quiet in order to keep public criticism out. The fear of being called out for greenwashing, however, shouldn't keep brands from educating the next generation at such a critical time.
"If brands like Supreme and Off-White™, which are considered cool by teenagers, started to truly communicate with their audience and say, 'Listen, we're not only cool because of the product but also because of the story behind it,' it would educate that audience much faster than anything else," concurs Firth.
Step Three: Implement Small Wins
"For a lot of brands that started a long time before the movement was as strong, it's very difficult to change their foundations and incorporate new principles," says Gilhart. "But then, as Al Gore said, 'It's an inconvenient truth.' It's just too damn convenient."
18 months ago Soulland restructured its business model. "We went from a conventional company to one that operates sustainably," explains Kampp Berliner. "What changed everything for us was that we decided to go for the lower-hanging fruits." Putting the right garbage cans in the office and making hang tags out of recycled materials quickly turned into bigger operational changes. "Our best-selling products were basic logo T-shirts, hoodies, and sweatshirts. We made them sustainable and lowered the price. We currently make a lower profit on the sustainable products but the idea is that we can drive more volume."
"Quick quarterly wins, I call them," says Kurazawa. "We cannot expect brands to be, let's say, 60 percent sustainable within six months, so we basically create a strategy where every quarter [the brands] have a win under their belt." From better packaging solutions to circular fabrication, The Bear Scouts has 1,200 supply chain partners that provide different types of free fabrication and production in return for credit. "We make it financially viable for them so they don't have an excuse."
Change can be made effectively at scale. Nike, which uses recycled materials in nearly 75 percent of all of its products, sees both opportunities and challenges. "The challenge of being the largest footwear brand in the world brings a level of complexity that can make changes more difficult to implement across every aspect of our business," admits Noel Kinder, Nike's Chief Sustainability Officer. "We're actively working with our contract manufacturing partners across our supply chain to improve energy efficiency and water use, while reducing carbon emissions and waste."
Getty Images / SOPA Images/LightRocket / Agung Fatma Putra
Step Four: Power to the Collective
By and large, however, the streetwear market has been sleeping on its biggest asset: self-education. At a time when big luxury houses and fast-fashion businesses are treating innovations in sustainability as a competitive advantage to get ahead, the collaborative DNA of street culture has the power to educate the industry as a whole, and lead long-term financial, social, and environmental prosperity. "Streetwear has such an opportunity to educate and inspire through the way it works – it has an immediacy for younger communities and also a legitimacy in terms of its narrative that you don't get anywhere else in the industry," says Raeburn.
Frustrated by the lack of viable substitutes for the standard petroleum-based shoe sole in the sneaker industry, Allbirds invented its own solution, too. The result, called SweetFoam, is the world's first sugarcane-based green EVA foam and its a technology Allbirds has open-sourced to the wider market. Since launch, more than 100 brands have inquired about implementing the solution into their existing supply chains. Having racked up $100 million in total revenue over the first two years, it's proven that exchanging ideas won't hurt business.
"We can't alter the future of our planet by acting alone – it's going to take collaboration from a group of leading companies who can show the industry a better path forward," says Nike's Noel Kinder.
"No brand or designer is going to change our industry single-handedly, however, if we can come together and turn our individual knowledge into institutional knowledge, then we can start seeing some major changes," says Chow, who earlier this year co-launched V-to, a business-to-business program that supplies 100 percent recycled cotton blanks to streetwear brands, meant to replace the poorly sourced virgin cotton currently used by the majority of the marketplace. "In some instances like ours, overhaul it completely. Slowly but surely, things that seemed difficult or too complicated will become our norm," he adds.
As sustainability is becoming more of a conversation in youth culture than with any other demographic, streetwear brands, publications and consumers need to speak about the topic and take genuine action today. "A real big issue is that in a short amount of time, it's not going to be cool to not be responsible. It can change overnight. So for streetwear brands, first comes action and accountability, and that means before you can even figure out how to talk about your story, you have to do the work."