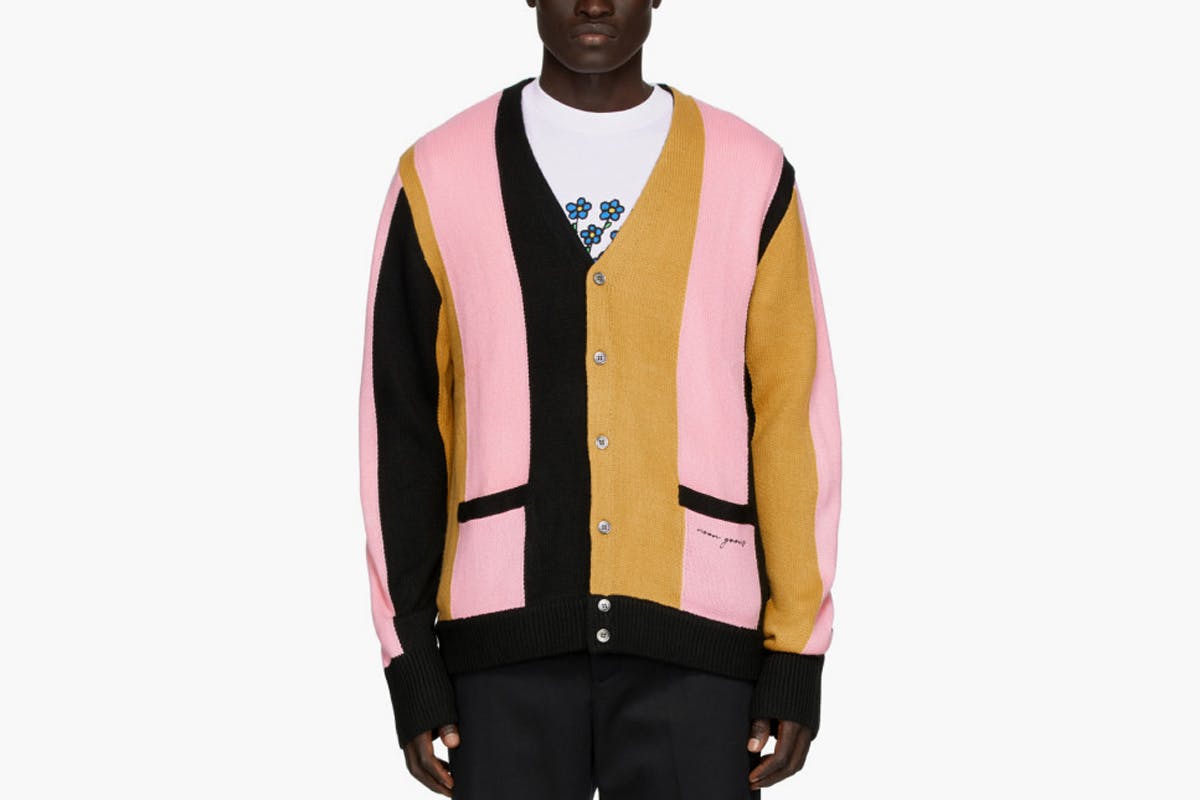 Southern Californian brand Noon Goons has gone from strength to strength in recent seasons, cobbling together a materialistic vision of the subcultures that have come to inform its recognizable aesthetic.
Embodying key SoCal countercultures including surf, skate, punk, and hip-hop, the latest Noon Goons collection is a hit of nostalgia, transporting us back to the golden days of Downtown LA. Founded by Kurt Narmore, Noon Goons was birthed out of the aesthetic of Venice Beach, more favorably known as "Dogtown." Regarded as the birthplace of skateboarding, surfing, and the stylistic cues that came with it, the aesthetic inherent to Noon Goons is rich with ease, promising to go well with just about anything.
So, to help you tap into your inner Z Boy, shop a selection of the best SS20 Noon Goons product from its latest release below.
Color-Block Zip Sweater

(Available at 2 Merchants)
(Available at 2 Merchants)
With a pattern not wholly dissimilar to that of your standard family couch, the brand's Color-Block Zip Sweater deserves to become a staple of any transitional wardrobe. The design's delicately zipped front and spread collar help balance its clash of colors.
Striped "The Droogs" Cardigan
Striped cardigans are foundational if you're looking to replicate the grunge-like feel of Dogtown regulars. Featuring a color-blocked build, a button-down front, and two hand pockets, going wrong with silhouettes like this is near impossible.
Charmeuse Leopard Shirt
For breezy summer walks through the park, the Charmeuse Leopard Shirt fuses the refinement of a button-down, with the ferocity of leopard print.
Patricia Long Sleeve T-Shirt
Reminiscent of early Karl Kani gear, the striped Patricia Long Sleeve T-Shirt is a considered combination of punchy stripes and contrasting graphic overlays. The design's monochromatic sleeve and hem cuffs help calm the silhouette's dizzying array of lines.
Jah Dye T-Shirt

(Available at 2 Merchants)
(Available at 2 Merchants)
Tie-dye was the bread and butter of mid-1970s style, seen on just about everyone from skaters and surfers, to rockers and hip-hop heads. The Jah Dye T-Shirt is a surprisingly symmetrical take on the coloring technique.
Snap Denim Shirt

(Available at 2 Merchants)
(Available at 2 Merchants)
As the warmer months roll around, you are going to want to reach for checkered layers such as these. The perfect companion styled up, or down, Noon Goons' Snap Denim Shirt promises to see you through many seasons to come. Pair with a lightweight jacket, and you're all set for summer.
Leopard Denim Short
In case you haven't heard, animal prints are back, and badder than ever! These Leopard Denim Shorts are the ideal companion to lazy summer days, and will add a dash of much-needed texture to just about any 'fit.
Color-Block Cord Pants
Catapulting us back to the "good ol' days," where color-block reigned supreme, these straight-leg corduroy pants are a much-needed hit of Dogtown nostalgia.
Purple D8 Dress Trousers
Pants like this are great. Not only they add a more adventurous edge to your outfit, but are elegant enough to wear to more formal occasions; a real "Jack of all trades." These will be just as welcome on the streets of Venice Beach as they would be on the veneered flooring of a roller disco.
Throttle Jeans
The design's box-like cut and contrast stitching are perfect for leveling out the colorful excess of any '70s-inspired outfit. And if you actually indulge in activities such as skateboarding, then silhouettes like this should be just what you need.
Our designated Selects section features products that we love and want to share with you. Highsnobiety has affiliate marketing partnerships, which means we may receive a commission from your purchase.