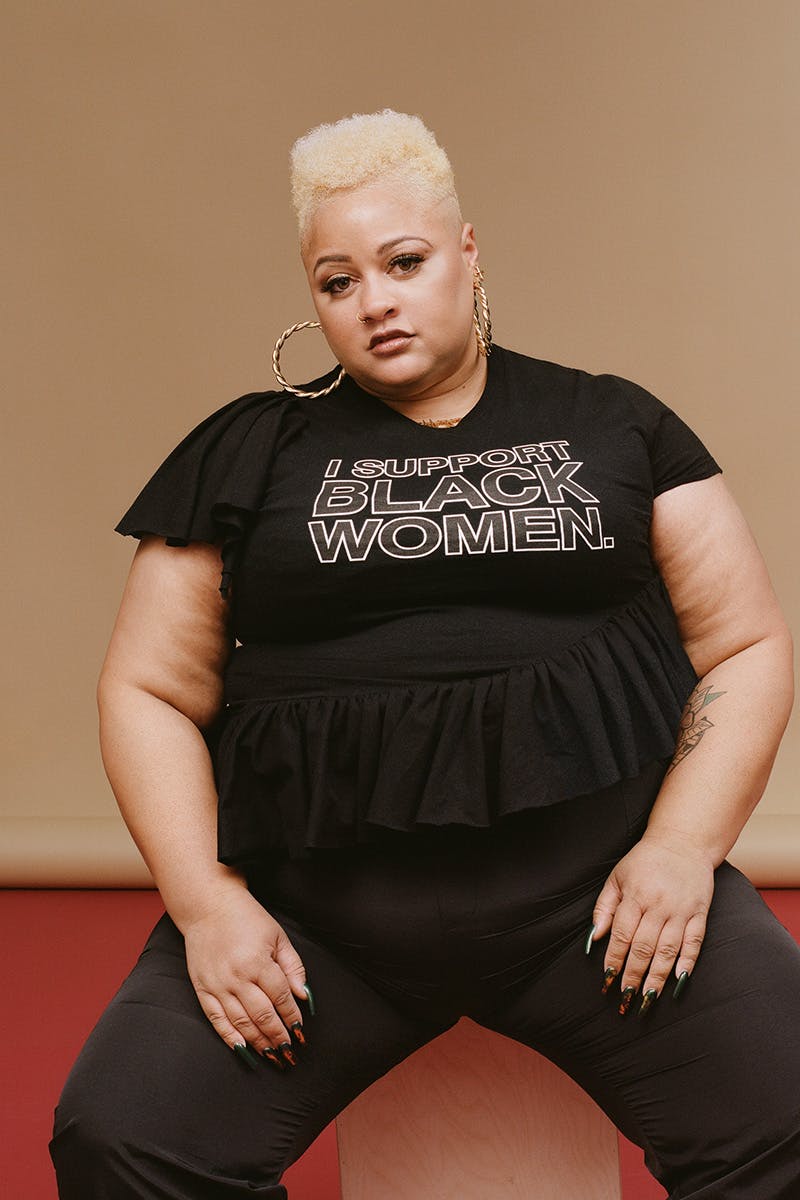 You might have seen it on your feed, "I SUPPORT BLACK WOMEN" scrawled across a black background with Off-White™'s logo idling underneath. This not just another punchy slogan, it's the brand's latest fundraising collaboration with Black queer feminist organizer Trinice McNally and a collective of female activists.
This marks the third chapter of Off-White™'s quarterly PSA fundraising program, which raises awareness and funds for organizations chosen by Abloh and his team in support of Black communities. This time, in honor of Women's Herstory Month, "I Support Black Women" c/o Trinice McNally will focus on spotlighting a series of Black women organizers and activists while raising funds for Black Women Radicals' work. 
Black Women Radicals is a Black feminist advocacy organization rooted in intersectional and transnational Black feminism. Founded by Jaimee Swift, the organization is dedicated to uplifting Black women and gender-expansive people's activism, with the money raised through I Support Black Women going towards building a physical, safe space for its School for Black Feminist Politics in Washington D.C.
McNally and Black women leaders of all identities, including Swift, Juju Bae, Aja Taylor, Keri Gray, OnRaé LaTeal, Brianna Gibson, Toni-Michelle Williams, Paris Hatcher, and Tiara Gendi will partner with Off-White™ on a series of webinars and roundtable discussions around the theme of education throughout the coming month.
"I founded Off-White to be a platform for amplifying diverse voices and talent and to help combat the systemic oppression of Black people," said Abloh. "I'm proud that Off-White has been able to create 'I Support Black Women' with Trinice McNally. She and the nine other women in our community who we will feature in our activists campaign this quarter show enormous determination in their support of Black women each and every day. It is an inspiration to honor them in our quarterly program to offset oppression Black women and men face, by amplifying Black and other underrepresented voices."
If you too support Black women you can donate to the project here to help take Black Women Radicals closer to its goal. Stay tuned to Off-White™'s channels for more resources from Black women activists and potential merch announcements – because Virgil.