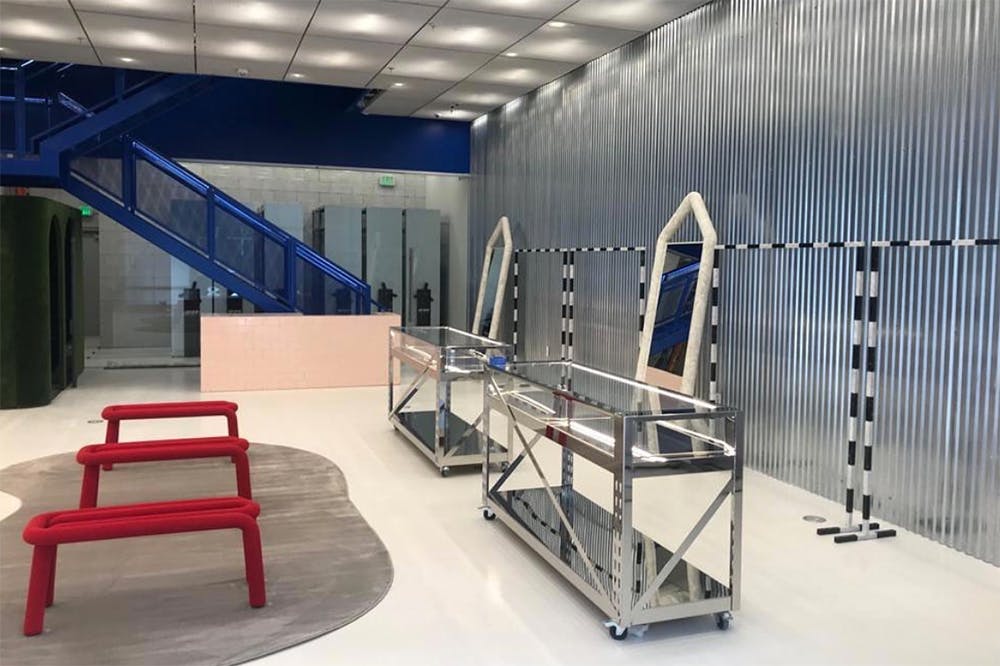 Virgil Abloh is rethinking the way physical retail stores operate. Subsequently, Off-White™'s flagship in the Miami Design District is characterized by its versatile layout, with the shop acting as a fulfillment center and multipurpose event space, among other things.
Abloh worked with AMO director Samir Bantal to design the Off-White™ flagship, as the two aimed to address the surge in online shopping and what it means for physical stores moving forward.
"We're niche entities, AMO, Off-White, Samir and myself, so we're able to sort of wear our heart on our sleeve or our brain on our sleeve," Abloh said when speaking to Dezeen. "The first slide that Samir sent for the development was like, is shopping relevant?"
"If we're able to kind of fulfill our needs by ordering a lot of things online, what's the role of a physical store?," Bantal added.
First and foremost, Off-White™'s Miami Design District flagship is made to be versatile. The space is designed as such to cater to various Design Miami events and Art Basel, specifically, allowing Abloh to host art and music activities, runway shows, and more.
"There might be 1,000 people, you know, in key moments of that year where the shop can host a runway show, it can host a talk, it can host a cafe," the designer said. "It'll be a cafe that extends out into the street, it'll be what the environment needs it to be rather than the betting on, hey, this square footage needs to be used for retail 24 seven."
Abloh continued, "Who knows, by the time it opens I might turn it into like an Uber delivery of Off-White – that's the freedom and the fun."
The flagship is spread across two floors, located at 127 NE 41 Street. To ensure the space can be easily transformed, it has been outfitted with minimal furnishings, including storage for Off-White™ goods that are for sale. The wall on the ground floor can then be pushed back to create extra space when necessary.
"You almost push everything that is retail and compress it in the space behind and then of course, ultimately it ends up in storage," said Bantal. "While the space in front of that facade is completely open and free and can be used for any function."
The Miami Design District store is the first Off-White™ location to have facade. Residing above the moveable wall is the word "Shop" with a red cross in front, a reference to the overall concept of the space.
"This is the first Off-White store to have a facade you know, that street level so the expression, the signage, you know, as the words Shop is a shop, but then has like, an X through the middle, and it's very, like monolithic," said Abloh. "The face of the concept is expressed on the facade."
The inside of the store adheres to an industrial theme, with its concrete floors and walls lined with metal. According to Dezeen, Off-White™ apparel will be showcased on stainless steel shelving or black marquina and white Carrara marble rails, while all furniture is placed on wheels or is collapsible for ease of movement.
You can learn more about Virgil Abloh's Off-White™ flagship in the Miami Design District over on Dezeen, after getting a look at the space below.