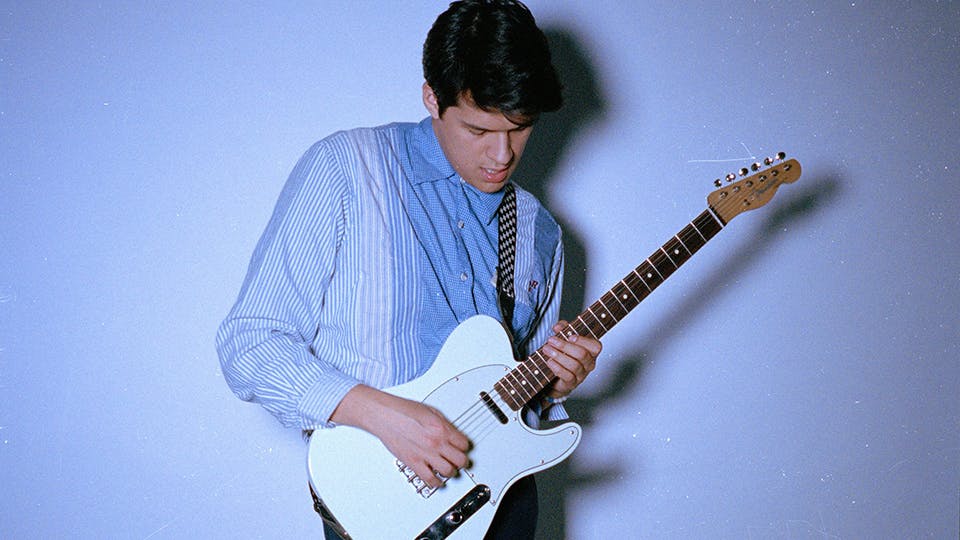 Under the Radar is Highsnobiety's celebration of upcoming talent. Each week, we're spotlighting a rising artist who is bringing something new to the world of music and is capturing our hearts and minds (and ears). This week, we're featuring Omar Apollo, a vocalist, producer, and multi-instrumentalist blurring genre lines as one of the midwest's most exciting young artists.
Indiana-based singer-songwriter and producer Omar Apollo's career has taken off quickly, with fans around the world falling in love with his warm, homespun blend of funk, R&B, lo-fi indie rock, and Latinx rhythms. He's gone from bedroom musician to rising star by the age of 21, but despite the dizzying rise there is one fame milestone that Apollo is certainly ready for: an appearance on The Tonight Show with Jimmy Fallon.
"He just inspires me, more than any musician kind of. His success is just really cool to me, the way he came up and everything he does is cool," Apollo says. "People think [he's] fake, but I don't. I'm really good at reading people and I don't think it's fake. I think he's just a good guy."
Apollo has a well-documented love of Fallon on his Instagram, and he rattles off several first-rate ideas when asked what kind of sketch he would want to do with the comedian. But it also doesn't take too much of a stretch to see some positive correlations between the two—their versatility, their lack of pretension, and their affability and interest in their creative peers. It's part of what makes Apollo one of the most exciting acts among a strong crop of DIY artists out of the midwest, many of whom he calls friends and collaborators.
"It's a free for all, you can do whatever you want, and I think that's where we get our creativity from [in the midwest], having nothing to do but hang out with each other and make things interesting," he explains. "Usually, when I meet someone in L.A. and I really like them, they'll be like, 'I'm from Kansas, not a big city.' It's interesting."
Stereo, Apollo's debut EP, is playful and free-spirited, but the emotions are recognizable and well considered. Apollo is young, but has a clear gift for self-expression and a near-pathological aversion to letting his sound grow stale.
"The people who rock with me kind of like anything I put out, so that's cool. But, I definitely know they like the dreamy, reverby guitar stuff, which is cool to me, too," he says. " I get bored really fast though, so I just make tons of shit to keep myself sane."
"Erase" is a bittersweet track about an ex, but one rendered without a hint of anger and bathed in blissful guitars and celestial vocal harmonies. "Cosa" another track about heartbreak is more pointed, inspired by a disappointing relationship he had as an 18-year-old. Even there, most of the anger comes out in the thick drums and the slight distortion of the mix; Apollo's voice remains as light and graceful as ever.
"Ignorin" pairs flippant falsetto vocals with a slick bass line that sounds like someone sprinting up the subway stairs. "Hijo de Su Madre" is impossibly catchy and surprisingly danceable, a low-budget Pharrell remake that might have more charm than the original.
But while Apollo makes sweet, infectious tunes, he is also acutely aware of his impact as a Chicano artist with a growing platform. Earlier this year he teamed with director Kevin Lombardo to make Figuring It Out, a short documentary filmed on his first trip to perform in New York. In the clip, he talks about how his parents, both from Mexico, sometimes have trouble understanding his songs in English.
"[Kevin] just hit me up like, 'Yo, I've got this idea.' He sent over some questions for me to think about, and then when we met up in New York he had his film camera and it was chill, it was real natural," he recalls.
This summer, Apollo performed at "Selena for Sanctuary" in New York City, a concert supporting several immigrant-focused non-profits. He also said that he makes a pointed effort to support and connect with artists of similar backgrounds as his own.
"I always check up on them, too, just as homies. Especially with all the shit that's happening—substances and all that—I have to check up on everyone and make sure they're good, especially the Mexicans and first-gens," he says. "There's tons of them, man. Now, there's a bunch of artists, which is cool. It's a nice little family, I feel."
Apollo cares deeply about his friends and musical community, but said that his creative process often works best when he's alone. At times, it sees him abandoning nearly-finished tracks to pull on a single intriguing thread, like a teething puppy going to town on a fraying carpet.
"Sometimes I'll make a whole beat with this really cool drum loop in 6/8 or whatever, and I'll have the whole beat and idea, and then I'll find one little thing—I've already been working like 45 minutes or an hour—then I just delete everything because I've got this new idea with the drums from the old one," he explains. "Whatever happens, you just go with it."
Apollo is amped about the prospect of putting together a proper debut LP, but said that another short project is likely to come first. Since Stereo dropped he released "Today" with Teo Halm which appeared on the Skate Kitchen soundtrack and features pitch-shifted, Kevin Abstract-esque rapping from Apollo. The song deals with the very human, yet very un-Omar concept of feeling stressed and sped up by the rapid pace of the world. Apollo, on the contrary, seems content to appreciate the moment he's in, figure some things out on the fly, and use it all to fuel what will surely be another endearing and eclectic batch of tunes.
"I've got all the time in the world to make my first album, so might as well not rush it," he says. "I want it to be like the best possible shit for this point in time, wherever I'm at, to the best of my abilities."
While it took Fallon a few years to truly find his footing on The Tonight Show, Apollo has come out of the gate as a charismatic, compassionate figure whose creative restlessness only means that we'll keep having opportunities to watch him figure it out as he goes along.
For more from the 'Under the Radar' series, revisit our profile on grime producer Ragz Originale.