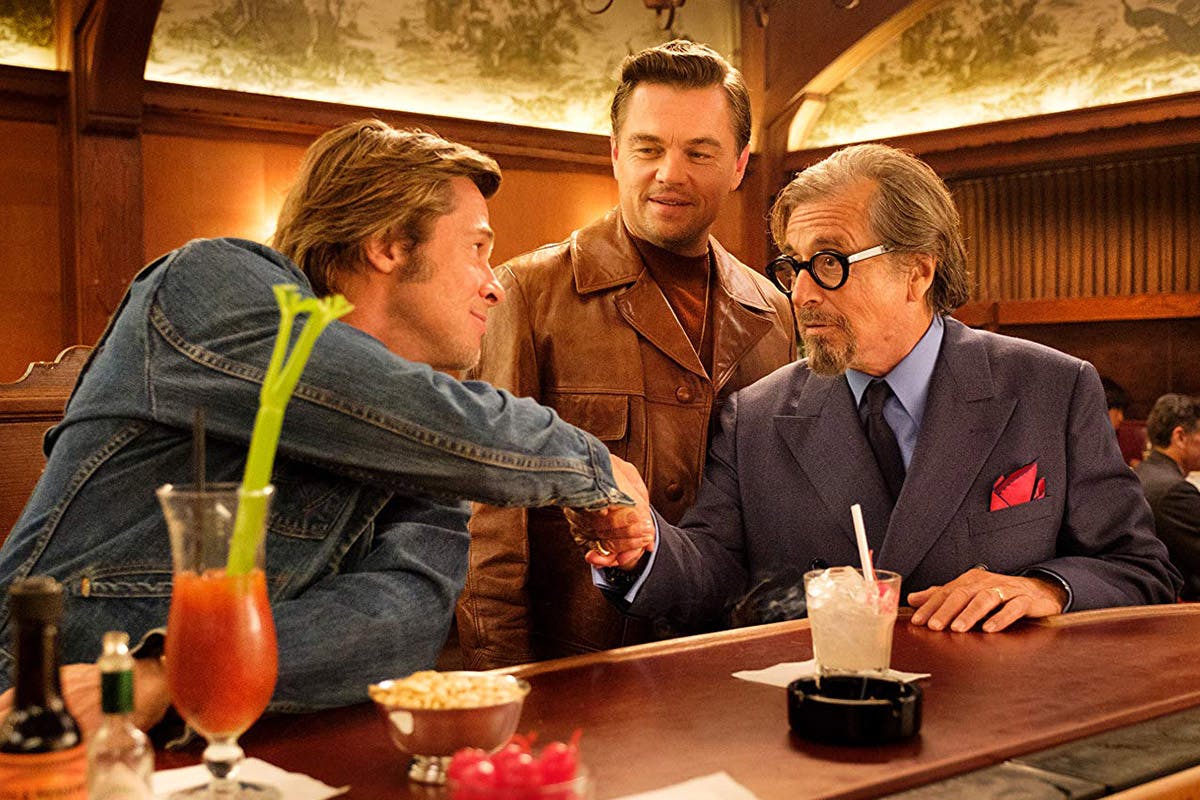 Quentin Tarantino's ninth film, Once Upon a Time in Hollywood, is as rich and vibrant a world as the director has ever conjured up. The 1969 streets of Los Angeles feel meticulously set decorated — right down to the cars ripping by — to the technicolor costumes. It's clear that this was a formative point in Tarantino's young life. As a six-year-old at the time, television was his gateway into another world — far removed from the real life clash between conformists and hippies alike. As such, Once Upon a Time in Hollywood can at times both feel like a time capsule to the era, and also a wicked extension of the vast and interconnected Tarantino movie universe.
If there's a major knock against the film, it's that it can drag in certain sections. While some might construe this as a major flaw, it could also be viewed under a much different lens; mainly, that Tarantino doesn't feel the same time constraints as other directors when world building. It's almost as if he takes equal pride in entertaining the audience as he does entertaining himself. This is why Once Upon a Time in Hollywood is littered with easter eggs of both the fictional and historical variety.
Here are the major Once Upon a Time in Hollywood easter eggs.
***Major spoilers to follow.***
The Inspiration for Rick Dalton & Cliff Booth
The two best friends played by Leonardo DiCaprio and Brad Pitt were loosely based on the lives and careers of Burt Reynolds and stuntman, Hal Needham. Reynolds starred in many TV westerns and a show called The F.B.I. which is directly referenced in Once Upon a Time in Hollywood. Reynolds was originally cast to play George Spahn in the film, but died before he could shoot his scenes.
Needham doubled for Richard Boone, who played the wandering gun-for-hire Paladin on Have Gun, Will Travel. He was also a war veteran just like Brad Pitt's character in the film.
The Spahn Ranch
The Spahn Ranch is as critical a set as any in the film. The real-life locale was a 55-acre location used to shoot many films that needed a Western aesthetic. The owner, George Spahn, eventually made the fateful decision to allow members of the Manson family to move onto the property as he was growing old and senile. However, Tarantino opted to use Corriganville Movie Ranch, now a public park, as his actual filming site for the movie.
The Hollywood royalty
While Dalton and Booth were fictional composites, the film is populated by many real world personalities. This includes Sharon Tate, Jay Sebring, Bruce Lee, Steve McQueen, Roman Polanski, Wayne Maunder, James Stacy, Connie Stevens, Michelle Phillips, Joanna Pettet, Sam Wanamaker, and Wojciech Frykowski.
The real movies and shows
In order to build out the world, Once Upon a Time in Hollywood does an artful job at combining real titles with those of Rick Dalton's fictional career. These include either explicit references or street advertisements for real projects like Secret Agent Super Dragon, Kiss The Girls and Make Them Die, Against A Crooked Sky, Lady in Cement, The Killing of Sister George, C.C. & Company, The Mercenary, Model Shop, Moving Target, Sweet Charity, Hells Angels '69, The Wrecking Crew, and many more.
The real locations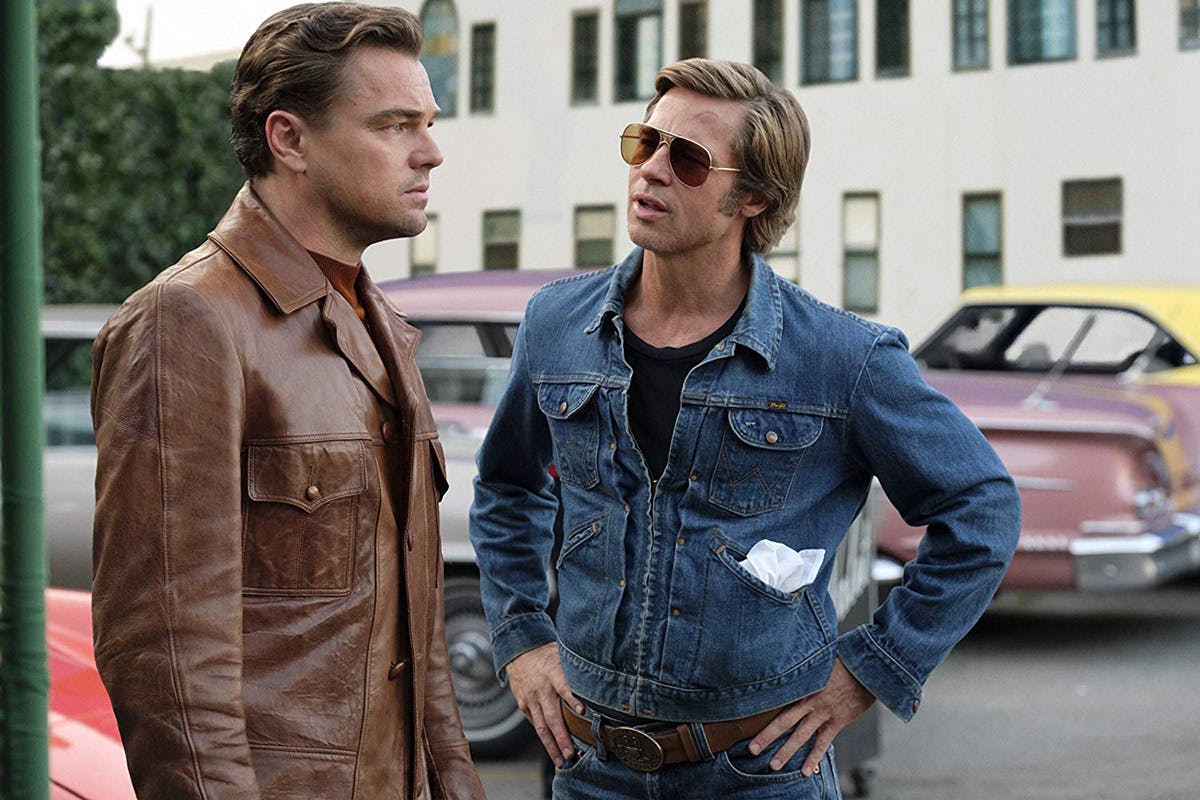 While of course much of the action takes place at locations steeped in Hollywood infamy like the aforementioned Spahn Ranch and Cielo Drive — where both Rick Dalton and Sharon Tate were neighbors — there were other key places that have survived since 1969. This includes restaurants El Coyote, Casa Vega, and Musso & Frank Grill, as well as other locations like The Bruin Theater, Playboy Mansion, Cameron Nature Preserve at Puerco Canyon, and Cinerama Dome.
Cliff Booth & His Wife
One of the biggest mysteries left unaddressed in the film relates to Cliff Booth's backstory. Specifically, it's eluded to that he killed his wife while out at sea. This harkens back to the real life ordeal of actor Robert Wagner and his wife, Natalie Wood, who died as a result of, "drowning and other undetermined factors."
Antonio Margheriti & Sergio Corbucci
In a scene which precedes the murder of Hitler and most of his high command in Inglourious Basterds, Colonel Hans Linda is introduced to a few members of the Basterds who are all posing as Italian cinephiles. Eli Roth's Sgt. Donny Donowitz introduces himself as "Antonio Margheriti." This name is referenced in Once Upon a Time in Hollywood when Rick heads to Rome to shoot a few spaghetti westerns. This name is not the only connection to the Tarantino universe. Another, Sergio Corbucci, was a real life director who happened to make a film called Django.
The Fourteen Fists of McClusky
There is another direct reference to Inglourious Basterds that probably should have told audiences that Tarantino's interpretation of the Manson family murders would have revisionist elements.
Rick Dalton stars in a film called The Fourteen Fists of McClusky where he's an American operative in Nazi Germany. At one point, he uses a flamethrower to great effect. This of course references both the climax to Inglourious Basterds and Once Upon a Time in Hollywood.
Melody Ranch
When OUATIH opens, Rick Dalton and Cliff Booth are being interviewed by a reporter on the set of Bounty Law which is shot on a location referred to as Melody Ranch. Since it was quite expensive to build period specific sets for '50s era television series, they were often reused by multiple production companies and studios alike. Keen-eyed viewers will recognize Melody Ranch as the same location where Django and Dr. Schultz collect the bounty on a crooked sheriff in Django Unchained.
Volkswagen Karmann Ghia
While Cliff Booth spends much of the film chauffeuring Rick around in his own car, there's a point when he can be seen hopping into his own 1960's Volkswagen Karmann Ghia. This is the same model of car that The Bride drives in Kill Bill Vol. 2.
"I'll Never Say Never to Always"
Before it becomes abundantly clear that the group of young women in the film are a part of the Manson family, they can be seen digging through the garage for food while singing "I'll Never Say Never to Always." The song itself was written cy Charles Manson.
Paul Revere & the Raiders
Many songs by Paul Revere & the Raiders appear in the film. This is not by accident. Their producer was Terry Melcher, who also did songs for groups like the Byrds and the Beach Boys. Although many are familiar with Charles Manson's murderous tendecies, people may be surprised to learn he also attempted to land a record deal in the years prior.
When he was eventually slighted by Melcher, he ordered his devotees to kill everyone in the house at 10050 Cielo Drive in order to "instill fear into Terry Melcher." However, Melcher had moved out, and Roman Polanski and Sharon Tate had moved in.
Eros Europa
On the eve of the Manson family murders at Sharon Tate's home, she and a group of friends dined out at El Coyote on Beverly Blvd. At one point, Margot Robbie (as Sharon Tate) remarks about a porn theater nearby. This theater, Eros Europa, is now the Beverly Cinema which is owned by Tarantino himself.
Red Apple cigarettes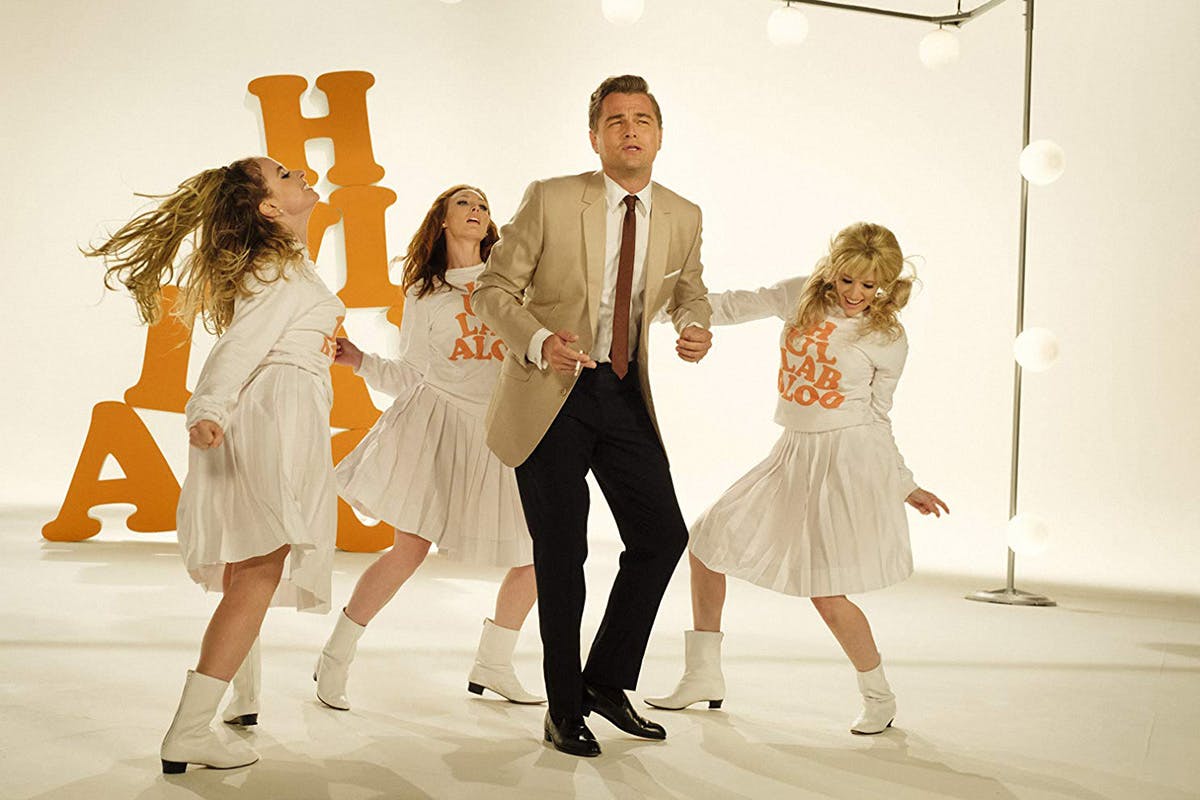 After the end credits for Once Upon a Time in Hollywood, there is a Rick Dalton-led commercial for Red Apple Cigarettes. The brand has permeated other Tarantino films like Pulp Fiction, Kill Bill Vol. 1, and The Hateful Eight. For those looking for new fictional brands that may show up in subsequent Tarantino films, be on the lookout for Wolf's Tooth Dog Food, Old Chattanooga Beer, and Hot Wax Records.
Legacy casting
Tarantino has earned a reputation for infusing life into otherwise stagnant careers — with no greater example of this than John Travolta in Pulp Fiction. For Once Upon a Time in Hollywood, he opted for a slightly different strategy; championing the daughters of major Hollywood players. Amongst the actresses cast are Margaret Qualley, Andie MacDowell's daughter, Rumor Willis, Bruce Willis' daughter, Maya Hawke, Uma Thurman and Ethan Hawke's daughter, and Harley Quinn Smith, Kevin Smith's daughter.
The LAX wall
In the opening sequence of Jackie Brown, we see Pam Grier gliding passed a blue-tiled mosaic wall. This same backdrop is utilized when Rick, Cliff, and Rick's new Italian wife return to Los Angeles from Rome.
Death Proof
Randy, Kurt Russell's character in Once Upon a Time in Hollywood, could be the father of Stuntman Mike (also Russell) from Death Proof. The connection is further alluded to because his wife in the film is played by Zoe Bell who was also in Death Proof. It certainly wouldn't the first time Tarantino made connections between eras. For example, Michael Fassbender's Inglourious Basterds character Lt. Archie Hicox is related to Tim Roth's Reservoir Dogs character Pete Hicox
Hot August Night
After several flirtatious encounters roadside, Cliff Booth finally picks up Margaret Qualley's character, Pussycat. Neil Diamond's "Brother Love's Travelling Salvation Show" can be heard playing on the radio. The opening lyrics mention a, "Hot August night." Six months later, on August 8, 1969 — the "hottest night of the year," according to the narrator of the film — the Manson family members converged on Sharon Tate's home.
"One pool party away from a big break"
Rick Dalton spends a large portion of the film contending with his dwindling acting career. It's also particularly hard for him to live next door to both Sharon Tate and Roman Polanski as their star power ascended to new heights. At one point he remarks that he could be, "One pool party away from a big break." Of course, the climax of the movie involves Rick, the swimming pool, and an invite into the inner sanctity of the Polanski/Tate home.
Easy Breezy and the hip
While Rick Dalton is preparing for a scene on set, he has a memorable encounter with a child actor. She asks him what he's reading, and he describes the tale of a bronco buster named Easy Breezy who isn't the same after injuring his hip. While most would point to a connection between Dalton and the main character of the book — channeling themes of a once promising talent who is now fading — one could make the argument that Cliff Booth was the true cowboy throughout Once Upon a Time in Hollywood. During the climax, Booth is stabbed in the hip with a knife.