If we want to tackle the climate crisis and fashion's outstanding sustainability problem in any meaningful way, people aren't just going to have to change the way they act, but also the way they think about fashion. POOL, a service that rents high-end fashion, is trying to do just that. Founded last year by Rune Orloff and Kristian Rix, POOL is a service that offers a curated selection of pieces that members can access for a monthly fee. In opposition to the mainstream fashion philosophy that covets exclusive ownership and rapid obsolescence, POOL offers an alternative focused on longevity, sustainability, and locality. It's something like the Uber for clothes, without all the messy internal conflicts.
Over the course of eight days last month, POOL held their first pop up store at the Berlin Highsnobiety headquarters. The pop up featured a modular walk-in closet (that was made with 90% reusable material) designed by Copenhagen design firm Spacon & X that showcased POOL's extended rentable wardrobe. In addition to their collection, POOL hosted a number of talks and showcased a line of sustainable products from AIAIAI, a Danish company that specializes in making headphones with replaceable parts. The pop up was a manifestation of the brand's ethos that to create a truly sustainable business model, you have to start with the community around you.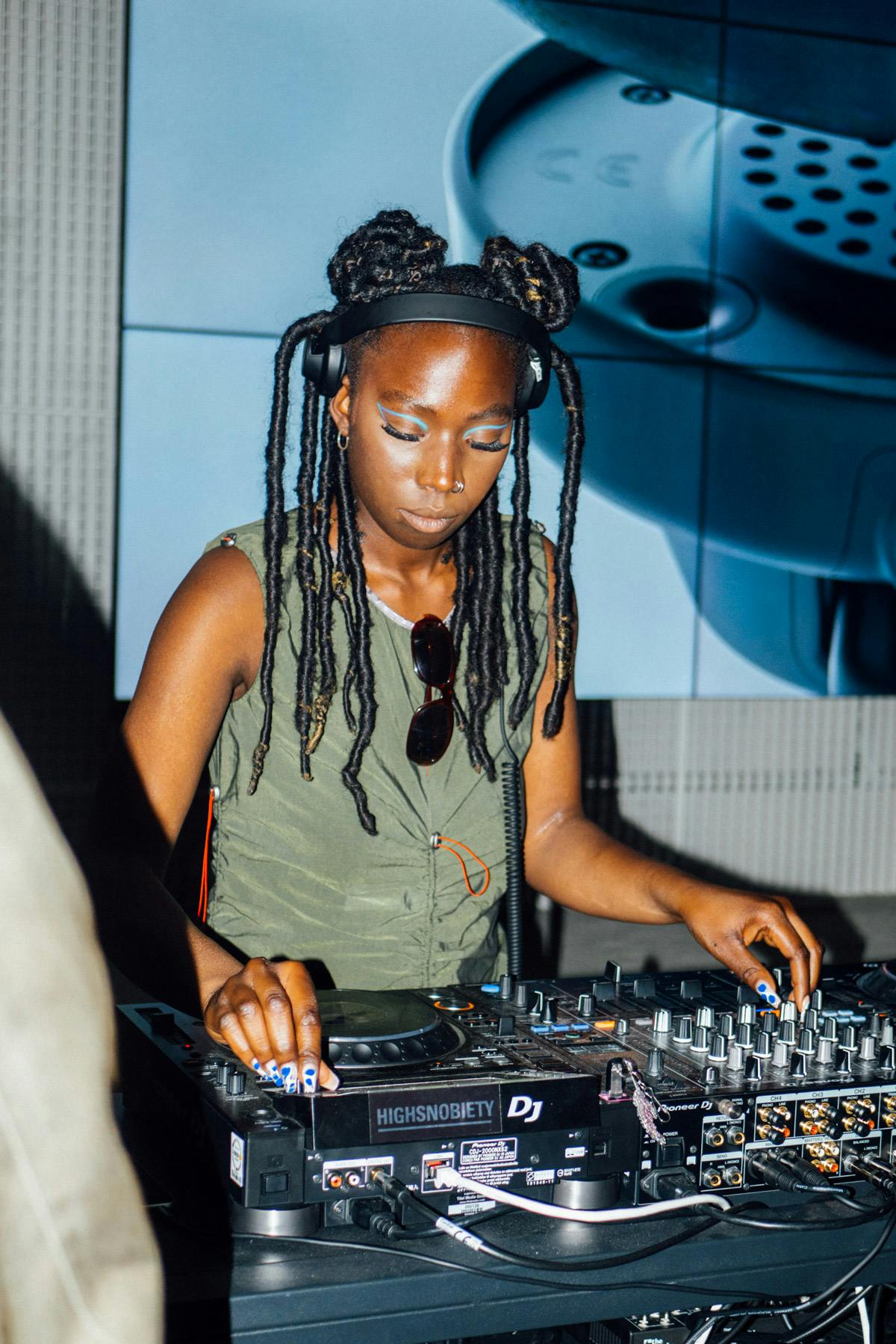 PATRICK MCGRAW: Can you tell me about the pop up event you recently did at the Highsnobiety Berlin HQ?
RUNE ORLOFF: The entire ground floor of the office was meant to be a big community event space, but was practically never used because it opened just before COVID hit. And we thought it could be interesting to launch our new sort of imitation of retail at Highsnobiety. So we did a handful of events and launches with a few new brands. The Danish architect firm Spacon & X built the installation.
You guys did a collaboration with the Danish headphone company AIAIAI as part of the pop up, right?
ORLOFF: Yeah. Part of the launch process was to integrate new brands. And one of the brands was AIAIAI. We did a bit more with them than the other brands. We had an evening with a panel talk with four guests and had some amazing DJs playing.
Do you think going forward that will be part of your strategy, to incorporate brands that are doing something similar?
ORLOFF: Absolutely. I think we aim to be a part of what the brands are thinking when they look at their distribution strategy into the market. And that's for both garments and accessories, but also for lifestyle objects. I don't think you can be a brand today without thinking in circularity. And we are one of the options in the market that is new and exciting.
How did the idea for POOL come about?
KRISTIAN RIX: Rune and I have been friends for a long time and always discussed business ideas, and eventually this idea about POOL emerged. Rune has had a long career in fashion and has developed various slow fashion concepts. Eventually this led to us talking about creating a service where you have access over ownership. Of course, we looked at similar concepts from the sharing economy in transport and entertainment. You just stream the music that you want, you have access to all the music in the world and you don't necessarily need to own an album. We thought this should come to fashion. That you don't own all your garments.
Was there a moment when it became apparent that the way the fashion industry operates is completely unsustainable?
ORLOFF: Before we started POOL I was working with some really big brands, building their sustainability strategies. One of the things that we saw that triggered us is that people think to be sustainable you have to become a slow fashion nerd and you buy one thing every ten years. But we really don't believe in that approach because promoting newness, beauty, and aesthetics doesn't just mean mass production, it also means the excitement of creativity. That's one of the things that excited us about this access economy, rental space: the idea that we could give people a lot of the things that they really care about without the impact.
I also think that the idea of owning something is quite important and can be a good thing and a hedge in a lot of ways. Do you think it's important to change people's ideas about ownership across the board?
ORLOFF: We know that no solution is a 100% solution and we are not preaching that 100% of your wardrobe should be shared. We're just preaching that there's a lot of issues with the clothing industry as it operates today. The market is already 20% of resold goods. You buy things to resell them. That's probably going to be more than 20% of someone's wardrobe. Then there will be the items that you buy to keep, your favorite jeans or whatnot. Then there's just a huge gap in the market where people buy things to wear once or twice and then forget about it. And that's part of the market that is causing a lot of the negative impact. Because the items that people buy to wear for a long time aren't causing the issues. And the resale market isn't causing the issues either. So we are not opposed to owning things that you really care about. But we do also believe that you could also change some of your wardrobe into a non-ownership model, and that should be possible.
RIX: The ideas of ownership and access also aren't completely contrary, I think it's possible to have both at the same time. Not everything should be owned and not everything should be shared. Owning your garment is great. But it's also really great to have access to a variety of garments so maybe you don't have to worry about getting the right winter jacket when you know you can swap it out for another one.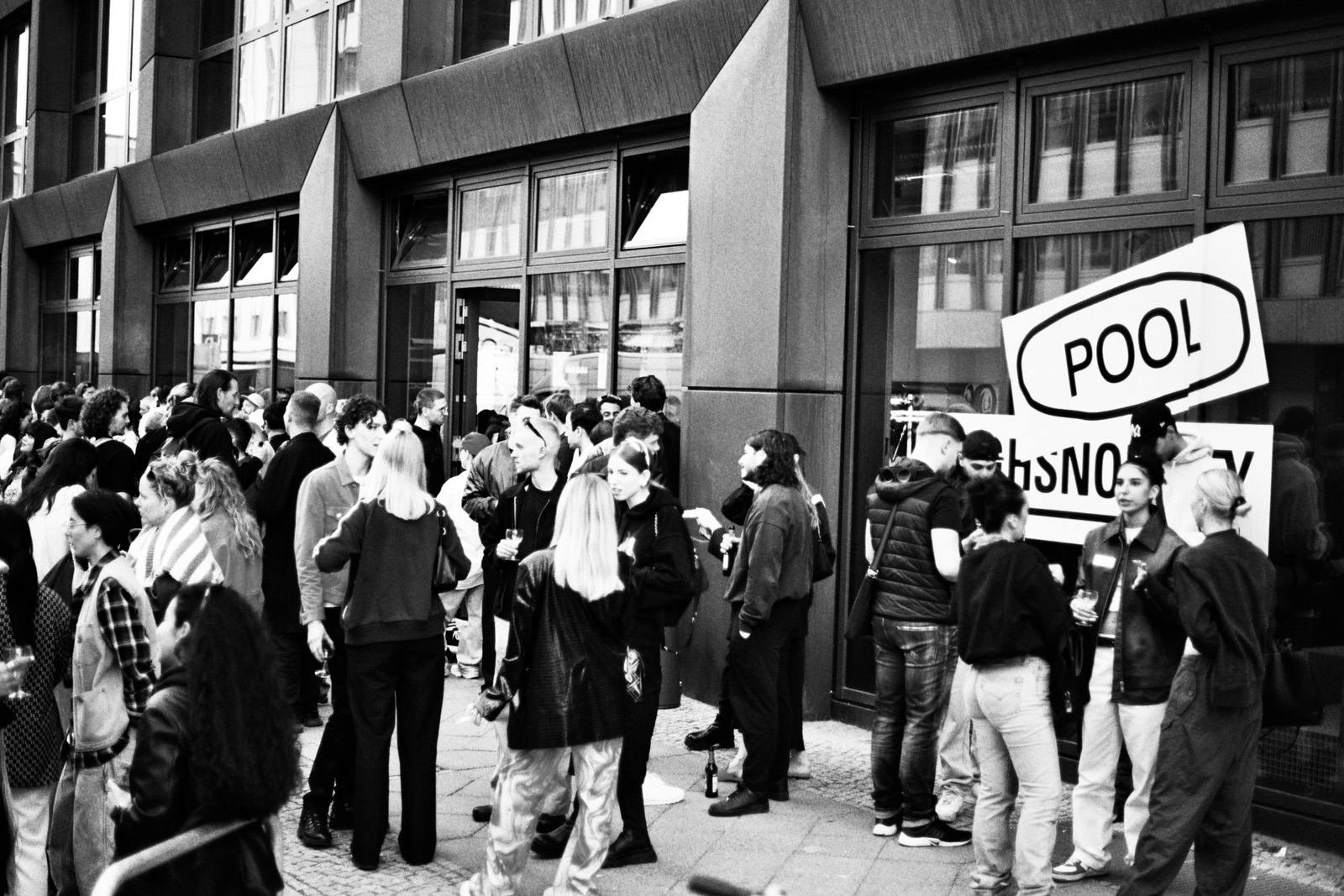 Considering the resale market, what makes POOL unique?
RIX: People don't really think about a Prada jacket being €2,000 or whatever. Maybe they think about it being €500 because they are going to resell it after a few months for €1500. So they're essentially paying €500 or so for having a Prada jacket for a period of time. That's great and that's also sustainable because they are sharing. But it's also not sustainable because they are going to the post office and shipping these garments all over the place. And one thing about the POOL concept is that we are local. Our products are managed locally and not shipped anywhere.
Do you plan on opening POOL locations in other cities?
RIX: Our dream is that there'll be a POOL in every major city. That's almost how Uber operates as well, right? They're local and global simultaneously. And an exciting side effect to that is if you're commuting between cities or traveling and you don't have to bring a suitcase because with a POOL membership you can access the shared wardrobe in a particular city.
ORLOFF: When we started we really thought of this local concept. We are big fans of the idea of going into a store, meeting someone that's really nice and can help you, and won't force you to buy anything. In this way it can feel like you're part of a club. At the moment we have somewhere around 3,000 items at our first location in Berlin. When people go in they don't look at price tags, they look at what they like and I think that whole retail experience that we are trying to enforce locally is something that we think we can blueprint and move to other cities.
We like this idea that you know where you're going, but it's always new. The garments are different in London, Berlin or Paris. The store staff and the service will also be local. That's just super, super exciting and it's this completely different way of looking at scaling. So we are not a retail chain, but we believe that the local aspect of being present and authentic is so important.
RIX: A lot of our members really enjoy that we are local and they like coming by the space. They give us two dirty shirts back and then they just pick up two fresh ones or some new styles. In a way we also hated the process of shopping, sweating in the dressing rooms trying to figure out if you want to invest or commit to this thing. Now people come in, throw on what they like, and give us the returns. Then they pick something new without thinking too hard about it. It's very physical and local. It's about a sense of community.