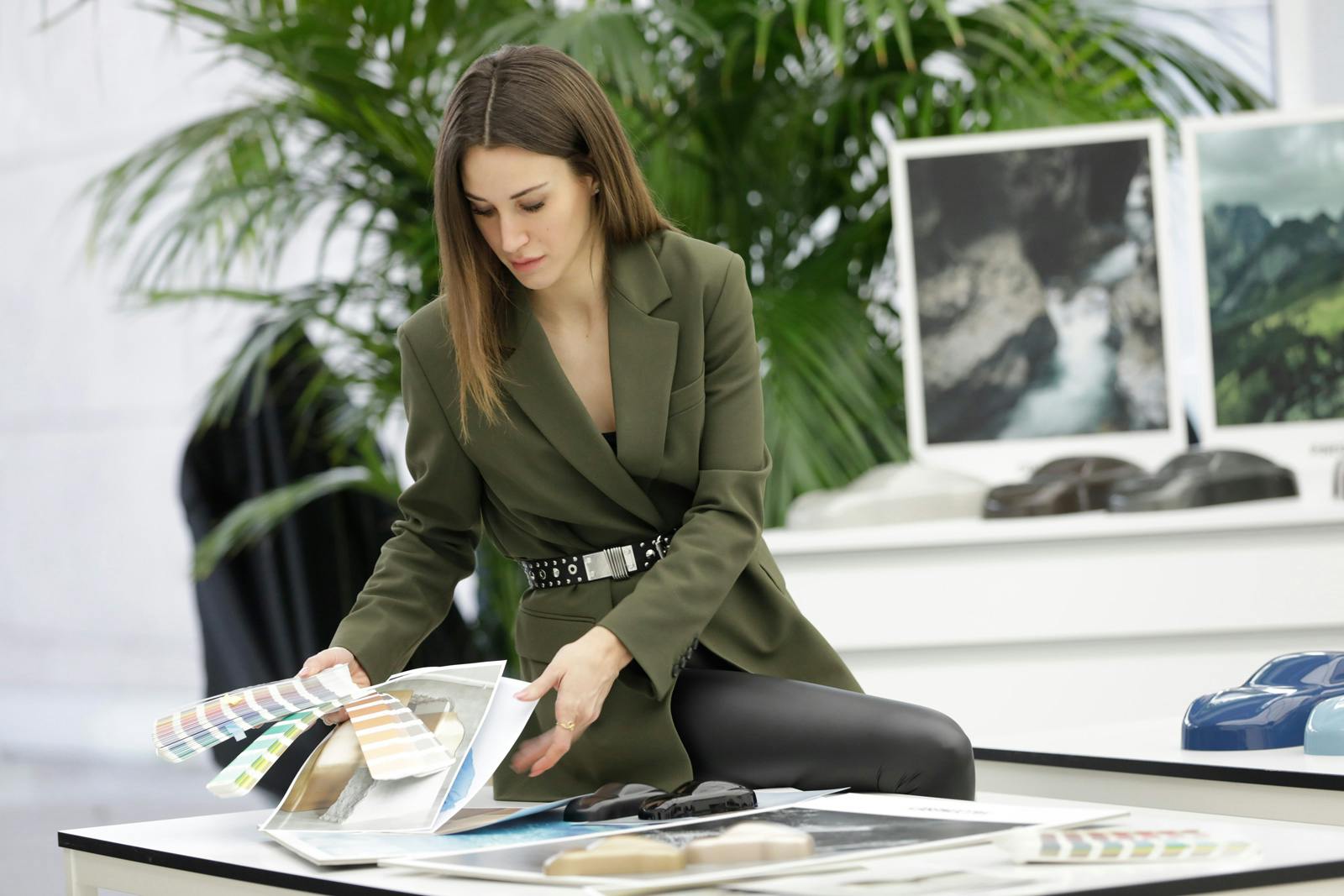 Frozen Berry. Coffee Beige. Papaya Metallic. These sumptuous names are more evocative of a luxe smoothie menu than sports cars.
Welcome to the arcane world of automotive color theory, a place where materials are brought to life and made to look fast. These designers are tasked with developing paints that speak to and accentuate a whip's personality, much like how people get dressed, but with a lot more weather-proofing. In fact, according to Porsche's Color and Trim Style Designer Daniela Milošević, the fashion cycle is actually too fast for the development cycle of automotive manufacturing, and the life span during which a sports car needs to look relevant on the road. A perfect car color, must therefore live on the edge between mind-blowing and timeless.
Milošević's work is followed by a community of enthusiasts dedicated to Porsche's color history, one that spans the globe with multiple dedicated Instagram accounts, blogs, and websites. Just as trends in the fashion world come and go, the same can be said of this industry, where tastes and preferences differ depending on the continent. Right now, metallic red vehicles are the rage in East Asia, while beiges are taking over the American scene. Staying abreast of what's hot in this rapidly shifting landscape is no easy feat. For some, it's an opportunity to make some serious cash.
In recent years, Porsche has served at the forefront of customer personalization. This is exemplified by programs like Special Wishes ("CXX" in fandom speak), Exclusive Manufaktur, and the very limited Paint-to-Sample program where buyers pay upwards of $12,000 to have their vehicle dipped in a bespoke style. It's no surprise that the Stuttgart-based company's competitors have introduced similar tailoring programs on the heels of said success.
Keen to find out more, Highsnobiety editor-in-chief Thom Bettridge and automotive correspondent Jonathan Schley caught up with Milošević for a history lesson on the process.
Thom Bettridge: What is the first step to designing a new color and where do the ideas initially come from?
Daniela Milošević: To get inspiration we look at what the fashion industry is doing, what kind of trends the industrial industry has, and everything about new architecture. We also need to look at our history, because Porsche is well known for its colorful past. We also keep an eye on existing colors: How long have those been available already? Is there any need to further develop some of them? Or is there a need for new colors? Generally, we differentiate between two processes: One is further developing old or already existing colors, the other one is creating new colors, for example, Frozen Berry, which was launched with the Taycan.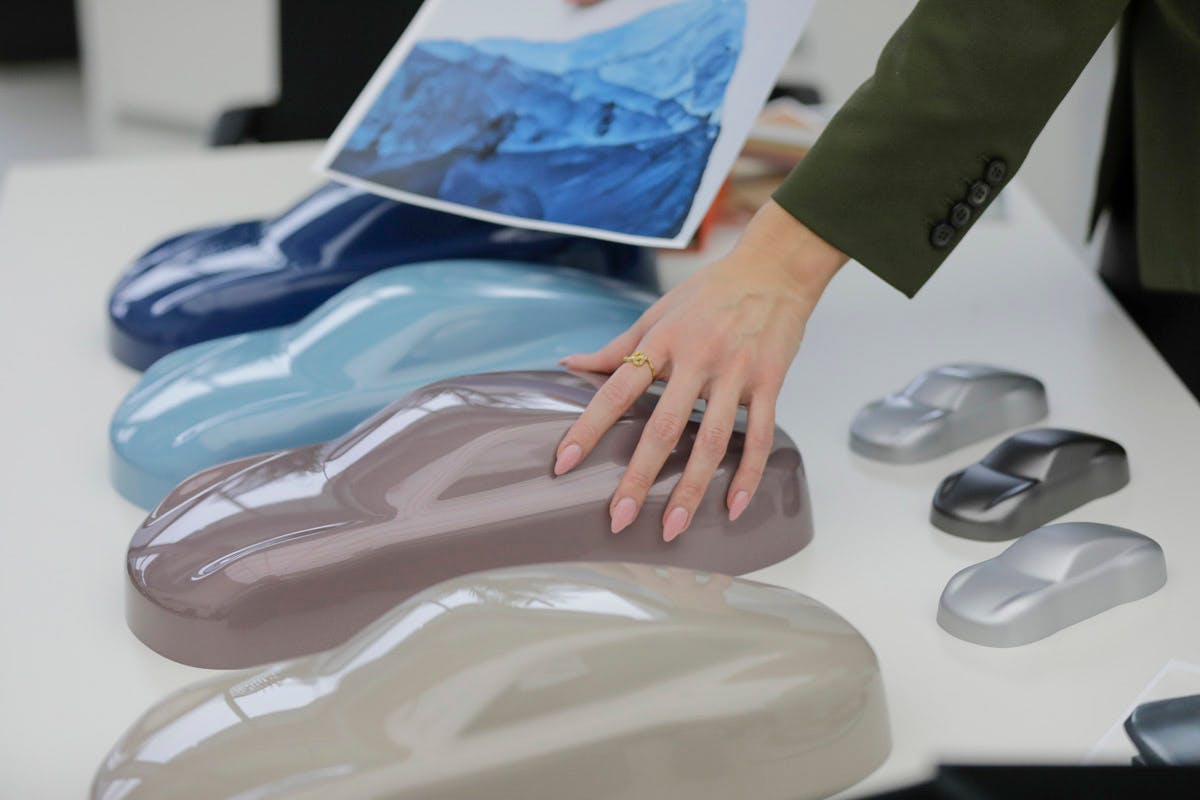 Jonathan Schley: Let's say you create a Neptune Blue for a Taycan, but a Shark Blue for a GT3 – how do you decide what fits with the model range?
Daniela: We try to create a color that precisely matches the car's character. We chose Neptune Blue for the Taycan because it's softer and less aggressive. The Shark Blue is brighter and more extreme, making it a better match to the GT3. With the Taycan, we really tried to bring a lighter touch into the color range. Frozen Blue Metallic, Coffee Beige, or Frozen Berry Metallic are soft colors that emphasize the new electric world. For this new era, we wanted to bring the pastel look back to Porsche.
Thom: When you're developing a color, are you looking at trends within the car world or are you also looking at certain color trends that exist at large in fashion or culture?
Daniela: We need to look at how the colors are established over a long period of time. Within the fashion industry, it's really difficult to predict how the color trends change from season to season. That's difficult for us because we are sometimes thinking four or five years ahead. We get a lot of inspiration from architecture and also industrial design that involves furniture and non-automotive products. Milan Design Week is a big source of inspiration for us because there we can see the color and material trends that are relevant in the upcoming years.
Thom: Do you have coveted legacy colors? Are there some more precious to collectors than others, for example?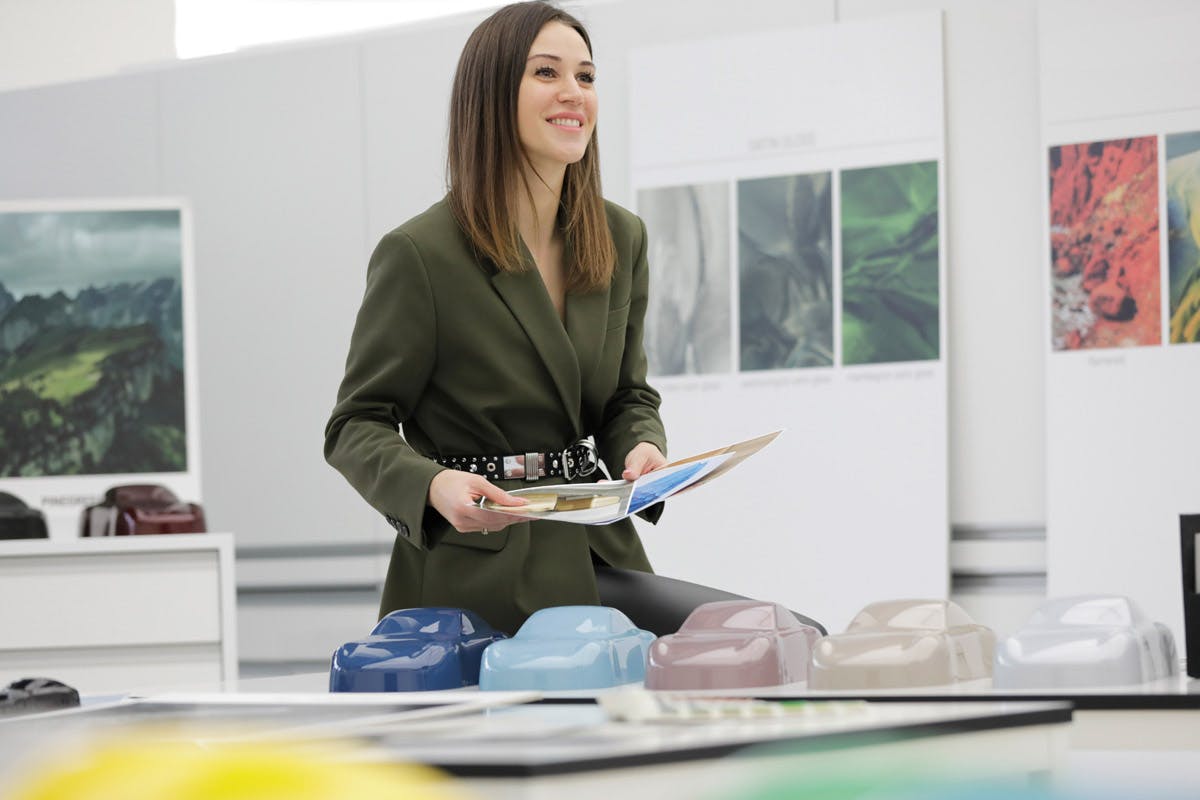 Daniela: It depends on the year. In the '70s, there were colors such a Viper Green, Irish Green, Signal Yellow. In the '80s, colors like Oak Green Metallic have become popular. The most famous colors are the green and grey tones. For green, the Oak Green Metallic is really popular now. For grey, it's Fashion Grey, but some people look at it and say, "Okay I need something new, so let's try Stone Grey."
Jonathan: Python Green is a mix between Signal Green and Viper Green, right?
Daniela: My colleague did this color, and she was trying to exactly match Viper Green. Sometimes I try to reimagine old colors, but not always the same ones. You can't copy a color from the past or use it for modern cars. – color pigments are changing. The suppliers use different pigments. So they can't always match the old colors.
Thom: Are the loudest colors the most fun for you to design? Or are there ones that are maybe less glamourous but more fascinating from your point of view?
Daniela: Every color has something unique. When I finally see it on the car, it's special in its own way. I'm designing 10 colors every year, and it's not all about being extravagant and extroverted. I also think the less saturated colors are really nice.
Thom: I love some of the words that you use to describe the colors, like "extroverted". Are there particular areas of the color wheel that are difficult to develop car colors for? For example, is it particularly hard to create a purple car?
Daniela: If you think about the Ruby Star, it's really difficult to bring this saturation to the normal series program, because it has pigments that are not really resistant against the sun. The color can lose intensity, so if we want to use a color like this, we need to make it less saturated. We have extremely high-quality standards that need to be fulfilled – also for paints. This means that the development process lasts a few years. During this time there are several tests – like putting it into the sun for 24 months to see if it changes, or testing its resistance to substances like rim cleaners or saltwater.
Thom: Are there colors that are popular in particular regions? Or colors designed for a certain market?
Daniela: In Asia, eye-catching colors like Lava Orange or Miami Blue are very popular, but also a Mahagony Metallic that is more on the red side with a lot of sparkles. The color Mahogany Metallic is the most popular color after white and grey in this market.
Frozen Berry and Frozen Blue, as an example, have been made for the Asian market and have a high take rate there. In America, it's a mix between black, beige, and extroverted colors. Generally, the top sellers worldwide are black, grey, silver, and white.
Jonathan: How would you describe our association of colors with particular models? Like how Shark Blue is being released with the new GT3?
Daniela: We call these colors "communication colors." They need to match the character of the car and also highlight the character car. The cars with that colors are used to be presented at world premier events or for advertising campaigns. Their main task is to be a so-called eye-catcher. You don't have to like it. You just have to remember it. I also combine colors with moments. When you see this car in a new shape and it has an eye-catching color – even if it's like a mint color or something like that – you always associate that car with the color. The exterior is the first thing you see. And if you put a color on it that is different or never seen before, it is something special.
Jonathan: I'm very interested in the variations in a popular color like silver. Most people look at it and they're just like "Yeah, it's a silver car." But as an enthusiast, I know I can point out what every specific silver is.
Daniela: It's funny, when I talk about silver, everybody says it's a grandpa color, but it's not. Silver is really special. It's interesting even for us as a design studio to see what we can learn about colors and different perceptions. Like blue: it has so many shades and it's still blue. But you have a red-blue, a green-blue, a more yellow-blue, or a more blue-blue! There are so many different directions. Then less saturation, more saturation. And there are a lot of people who are interested in seeing more shades.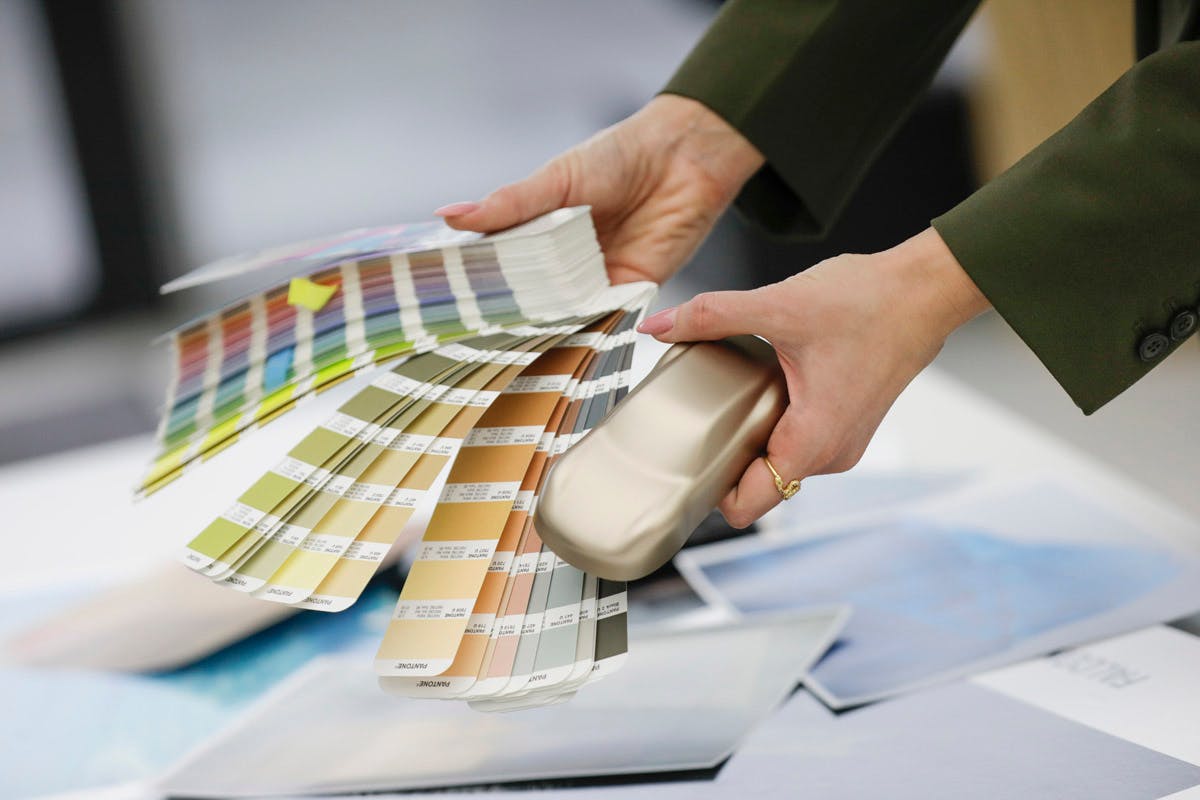 Jonathan: Are there shades or types of colors that you think work better on different proportions?
Daniela: If you paint Oak Green Metallic on a Panamera or on a Cayenne, it looks totally different because you have more flat shapes. On the 992 or the 991, the difference is not that big. It looks more technical on the 992 than on the 991.
Thom: When it comes to the Porsche brand at large, how do you guys inform your color identity relative to other carmakers? Do you sometimes develop a color and you're like "Oh wait, this is too Lamborghini-looking, or this is too BMW-looking." Is there a certain Porsche identity when it comes to these colors that connect them all together in your mind?
Daniela: Porsche is well known for a large color palette. We already had really intensive colors in the past, pastel colors and a lot of dark colors. So a mixture of everything. Generally, Porsche is well known for colorful cars and especially non-metallic versions.
Thom: Do you have to keep the genie in the bottle at times? Are there colors you're tempted to use, but you're like, "It's going to take the world a couple years to be ready for this"
Daniela: Yes, we do not create colors for a special model line – we create so-called trend colors. Not every color will be available directly. We also have to keep in mind that we need some "news" for the customers. That means that we need to make sure that new colors differ from existing ones.
Jonathan: Are there Porsche colors that will never be painted on a different mode ever again?
Daniela: We are always trying to make it different. If you have a Sport Classic Grey and use it on a different car, it maybe doesn't feel so exclusive. So you need to do something fresh or different. Maybe make it darker, or maybe bluer...