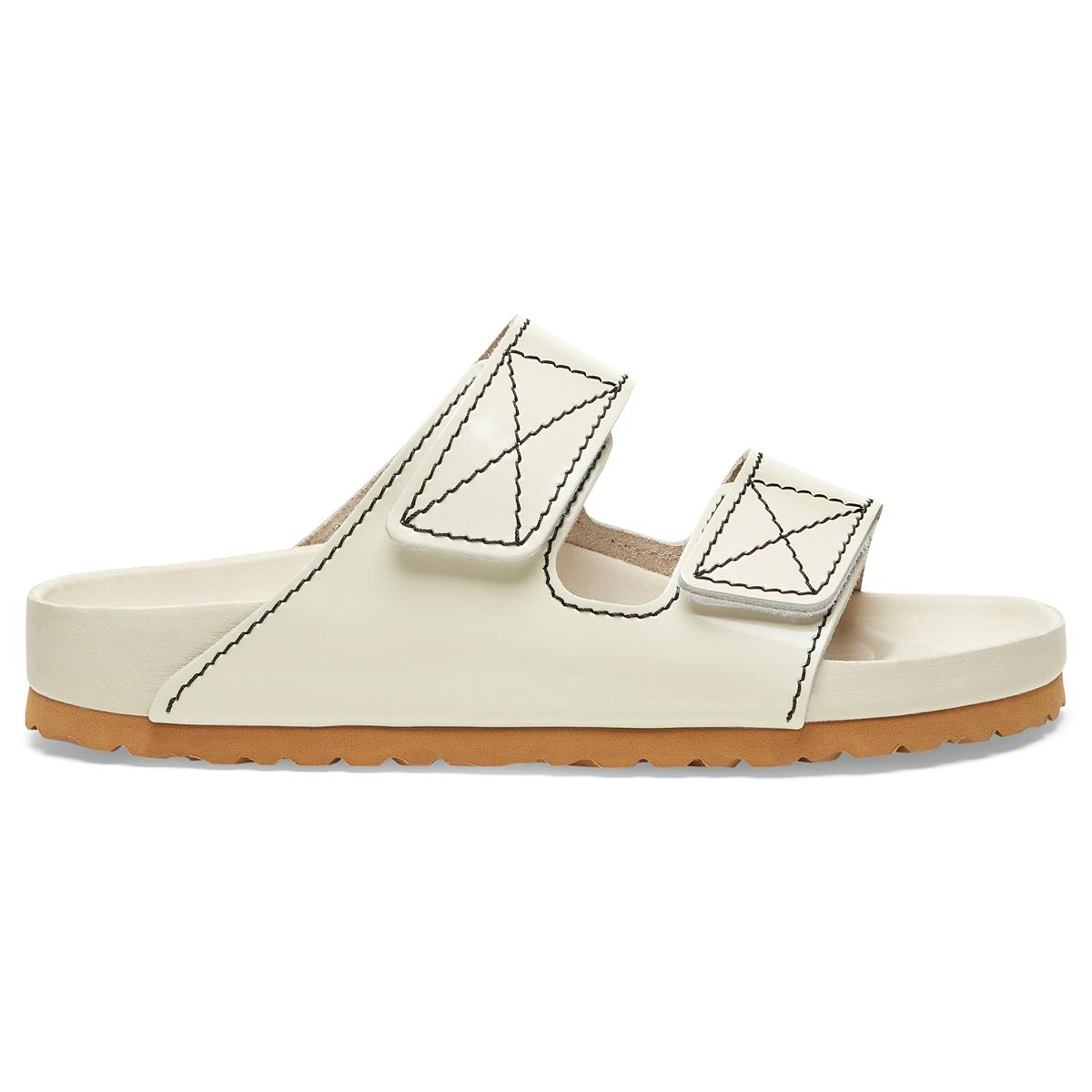 Jack McCollough and Lazaro Hernandez aren't interested in reinventing the wheel, just perfecting it. Proenza Schouler, their label, is an experiment in adventurously out-there garments reworked with McCollough and Hernandez's signature whimsy, dishing dressy duds, casual classics, and everything in between. When their first Birkenstock collaboration dropped a little over a year ago, it yielded pleasantly unusual takes on timeless Arizona and Milano sandals, both revisited for Proenza Schouler's latest round of Birks — available August 6 on Birkenstock 1774's website, Proenza Schouler's web store and select stockists in both men's and women's sizing.
Whereas some of Birkenstock's recent collaborations may toy with familiarity, McCollough and Hernandez prefer to remain rooted in convention. After all, if it ain't broke, why fix it?
Indeed: Not only are the winning elements of the previous Birkenstock x Proenza Schouler effort back, but they're fleshed out and expanded.
For instance, straps are attached by velcro instead of eyelets, making them easier to fine-tune on the go. A flashy specchio leather — glossier than grain but not as gaudy as patent — gives the shoes additional shine, while workwear garments inspire the contrast stitching that graces each design. Tweaks are applied to returning colorways, which join a few new makeups.
What results is a proper collaboration, one that doesn't try to upon perfection but recontextualizes it.
As McCollough and Hernandez told Highsnobiety, anyone can make a wannabe Birk — authenticity is key.
What made you want to keep working on the same silhouettes as your prior Birkenstock partnership? If you rejoin in the future, would you opt for different sandals or these ones?
Our first collaboration with Birkenstock launched at the start of the pandemic, which ended up being great for us personally because we spent quarantine in the country wearing our Birkenstocks. It was nice to spend time appreciating a product we had worked so hard on, and we had a lot of great feedback from friends who said the shoes had become a staple in their "at home" wardrobe. Now that the world is opening up again, we knew we didn't want to reinvent the wheel we wanted to add some depth to the [color] palette.
This year has taught us to really reflect on the customer and what feels right to her or him at this moment. We always aim to deliver products that make the customer feel good, that are lasting, timeless, and less focused on trends. Our Birkenstock collaboration is the perfect example of that — we knew the initial styles were popular and loved by our customers and friends, so releasing them in a fresh palette just made sense.
What inspired your colors this time and what made you bring back the patent leather?
We have been inspired by how fluid the Birkenstock is within both country and city life. We found that the polished, specchio leather really elevates the shoe and allows it to become more of an urban, city sandal. Contrast topstitching has always been a brand code for us, we use it in a lot of our ready-to-wear and accessory pieces, so adding that element really allowed us to put our stamp on them.
In terms of the colors, we wanted to keep a transitional palette that can take the customer from late summer into fall but will still feel fresh when you revisit them for next summer and beyond. We made slight adjustments to the black and white palettes from last season and also brought in this new ecru that feels very elevated — it's more of a polished neutral.
Why is Birkenstock a fit for Proenza Schouler and vice versa?
We both feel so much personal history with Birkenstocks. We each grew up wearing them throughout our childhoods and as we went off to college in the '90s, they felt like such an iconic part of our wardrobes.
We really see them as timeless. Our brands have a shared attention to quality and detail, so it made a lot of sense to join forces and create something that feels authentic and lasting.
Given that Proenza Schouler has its own in-house footwear program, what made Birkenstock sandals appealing?
We love the idea of two New York designers who have a brand firmly planted in the ecosystem of NY fashion collaborating with a historic German shoemaker. The cross-pollinating of cultures and ideas and work styles feels totally pertinent to the world of today. It's important to open up your studio to new voices, new ideas, new people, in an effort to push the boundaries of what is possible in-house.
We could have done our own version of a Birkenstock sandal with Proenza Schouler shoes but it would never be a real Birkenstock. Authenticity is something we care deeply about and if we wanted to create something in the world of Birkenstock, who better to do it with than the masters of that kind of shoe.