If you've ever been invited to a potluck dinner party and struggled for inspiration on what dish to make, The Roots frontman and drummer Questlove has your back. This week marks the release of his new cookbook, Mixtape Potluck, and it's completely dedicated to party feeds and festive feasting
In fact, Mixtape Potluck is so committed to its theme that, rather than simply compiling recipes from Questlove himself, it's built from offerings from his celebrity pals, all of whom share the recipes that they bring to dinner parties —  from Martha Stewart (who wrote the foreword, no less) and Stanley Tucci to Gabrielle Union and Q-Tip. What's more, Questlove has even thrown in tips on compiling the ultimate party playlist.
And, as we love a dinner party, we had to put this book to the test. After scrolling through various celeb offerings, we settled on four dishes, selected from different sections of Mixtape Potluck. The results and subsequent reviews are listed below. Enjoy!
Arrival Snack: Martha Stewart's Grape Focaccia
Ingredients: 12 ounces (340g) seedless grapes // 3tbsp (120ml) olive oil // 2 tbsp salt flakes // 4 1/4 cups (595g) all-purpose flour // 1/2 cup plus 2 tbsp (95g) golden raisins // 3/4 tsp active dry yeast // 2 1/4 cups (533ml) warm water // 3 tbsp sanding sugar // 2 tbsp fresh rosemary.
Method: Remove the grapes from the stems, place in a large bowl, and mix with 1tbsp of oil and 1/5 tsp of salt. Set aside.
Place flour, raisins, and yeast in a mixing bowl (ideally in a stand mixer) and combine. Add the warm water slowly until completely combined; the dough should be super sticky. Pour 1/3 cup (75ml) of oil into a separate bowl or container with a lid, add your dough mix, and turn to coat. Cover, place in a warm area, and leave for a minimum of two hours until the mixture has doubled in size.
Preheat the oven to 450° F (230°C). Put a baking sheet over a 18x13 inch baking tray, grease it, and turn out your dough, spreading it out with your hands. Leave out for another hour until it doubles in size yet again. After that, drizzle the remaining two tbsp of oil over the dough and stretch it out so it fills the pan. Scatter grapes over the top, top with salt, sugar, and rosemary. Bake for 20 minutes and then rotate the tray and bake for another 15-20 minutes until golden brown. Leave to cool.
Verdict: 4/5. I have to be honest, I suck at baking. I'm quite impatient and this takes hours to make, plus my kitchen wasn't warm enough so my dough didn't rise and remained a wet sticky mess until it found a new home in the bin. The picture you see above is attempt two and crafted by photographer-slash-baked goods queen, Chloe Orefice. The final result was really tasty and, if raisins aren't your bag, they can easily be left out.
Veg Friends: Natalie Portman's Spinach Pie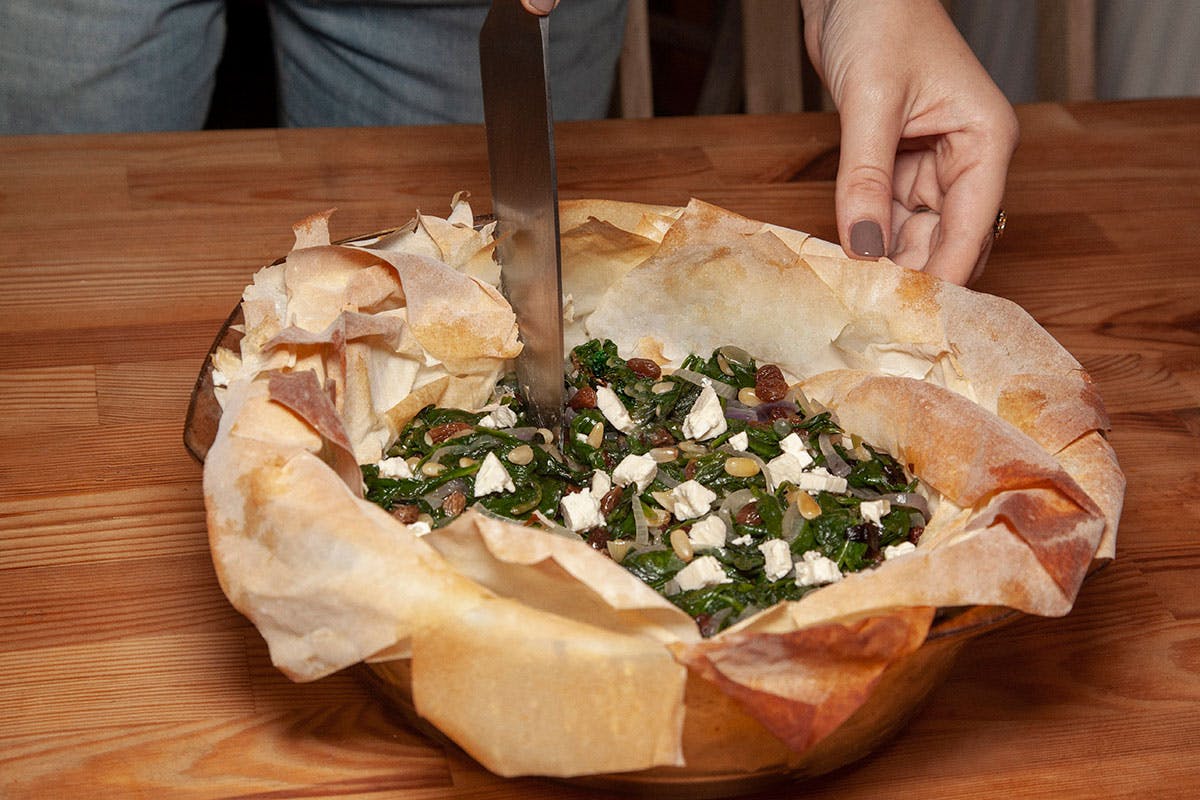 Ingredients: 8 ounces (227g) store-bought phyllo dough (filo dough for non-Americans) // 1/2 cup (120ml) olive oil // 1 yellow onion, thinly sliced // 2 tsp salt // 4 cups (120g) fresh baby spinach // 1/4 cup (34g) pine nuts // 1/4 cup golden or purple raisins // crumbled feta cheese for serving.
Method: Preheat oven to 400°F (205°C). Remove dough from the packaging and, using a pastry brush (or your fingers if you don't have one, but it gets very messy), coat the bottom and the sides of a pie dish. Lay the first layer, brush with oil, and repeat until you've used all the dough.
In a pan, heat two tbsp of oil and sauté the onion with a pinch of salt until translucent. Add the spinach and remaining table spoon of oil and stir until wilted, and then add the pine nuts and raisins. Remove from heat and season to taste. Add the mixture into the pie dish and bake 20-25 minutes. Top with feta (or don't and keep it vegan — if the dough is egg-free, of course) and serve.
Verdict: 2/5. It breaks my heart to say this but I'm sorry, Natalie Portman, a killer pie this ain't. Firstly, nowhere in the recipe does it specify the size of the pie dish, and mine is clearly bigger than the one she uses, which resulted in having to double the filling ingredients to stop the dish looking empty and tragic.
Also, despite the recipe's recommended 20 minute bake time, the edges of mine burnt after 15 minutes. I ended up baking a second batch of pastry separately and adding the filling in later. It tasted fine, but it certainly isn't something I'll be recreating and taking to a dinner party any time soon.
Meat Eaters: Kevin Tien's Thit Kho Tàu (Vietnamese braised pork belly)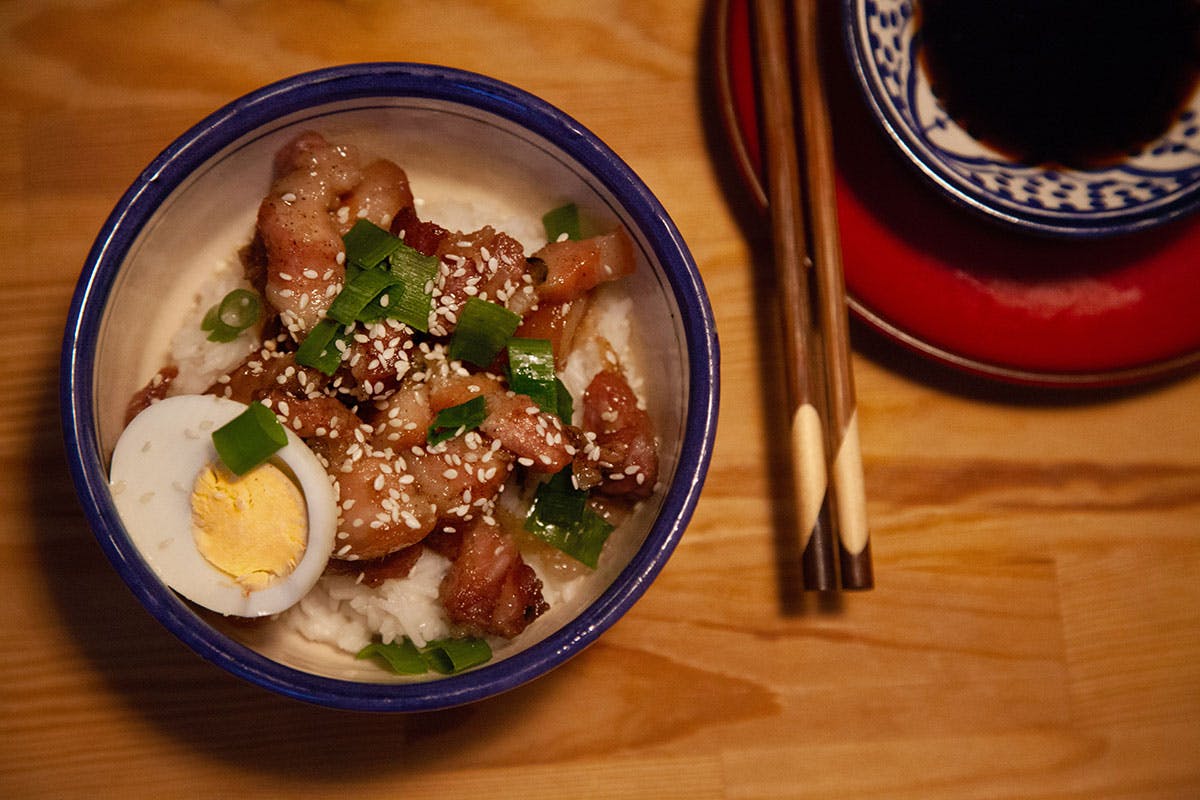 Ingredients: 1 1/2lbs (680g) pork belly cut into cubes // 2 tbsp fish sauce // 1 tsp freshly ground black pepper // 6 large eggs // 1 cup (200g) sugar // 1/4 cup (60ml) water // 2 shallots, minced // 3 Thai chilies, sliced thinly // 1 (12-ounce/355ml) can of Coco Rico soda // 1 bunch of scallions, thinly sliced // steamed rice to serve.
Method: Marinate the pork belly with the fish sauce and pepper and let it chill in the refrigerator for at least an hour (or overnight if you have time). When that's nearly done, boil eggs for six minutes and then transfer to ice water and set aside (this just mean they'll peel easily by the time it comes to serving).
In a heavy-bottomed pot, combine sugar and water and stir over a low heat until the sugar dissolves, and then leave to simmer for five minutes until it turns into a caramel. As soon as the mixture starts to turn golden, remove from the heat. Add chopped shallots and chilies and leave for two minutes — they'll cook in the residual heat — then add the pork belly, turn to coat in the caramel, and return the pot to medium heat.
Stir in the soda, increase the heat to high, and bring to a boil. Lower the heat to a quiet simmer, partially cover, and leave to cook slowly for around two hours until the meat is really tender. Serve with steamed rice and the peeled boiled egg.
Verdict: 5/5. This was banging and super easy to make, just be conscious of factoring in time for marinating and slow-cooking and this is a winner for any dinner party. I added spring onions, sesame seeds, and soy sauce, but that's just personal preference.
Side note: Coco Rico is not a thing in Berlin, Germany, which is where we did the test, but I replaced with soda water and a little coconut sugar and it still tasted great.
Raise a Glass: Gabrielle Union's Bourbon Raspberry Tea
Ingredients: 2 cups (430g) Raspberry Iced Tea mix (4C suggested), 1 1/2 gallons (5.7l) of water, 1 (750ml) bottle of bourbon, fresh raspberries. (This makes an entire punch bowl).
Method: Dissolve the iced tea mix with water in a giant punch bowl or pitcher, add the bourbon, and stir. Serve over ice with fresh raspberries.
Verdict: 2/5. Meh. This was a little basic IMO. It's fine if you're on a budget and making booze for a lot of people, but personally I think making this with homemade raspberry iced tea and exchanging ice for frozen raspberries would be a level up. I would also add more bourbon, but I'm British, so that kind of goes without saying. Basil garnish is obviously not in the recipe but it helps elevate the aesthetic, if that's what you're after.
Overall, this Mixtape Potluck situation is a mixed bag, but I guess that's always the case when heading to a BYOD (bring your own dish) dinner party.
Buy your copy of Mixtape Potluck here.