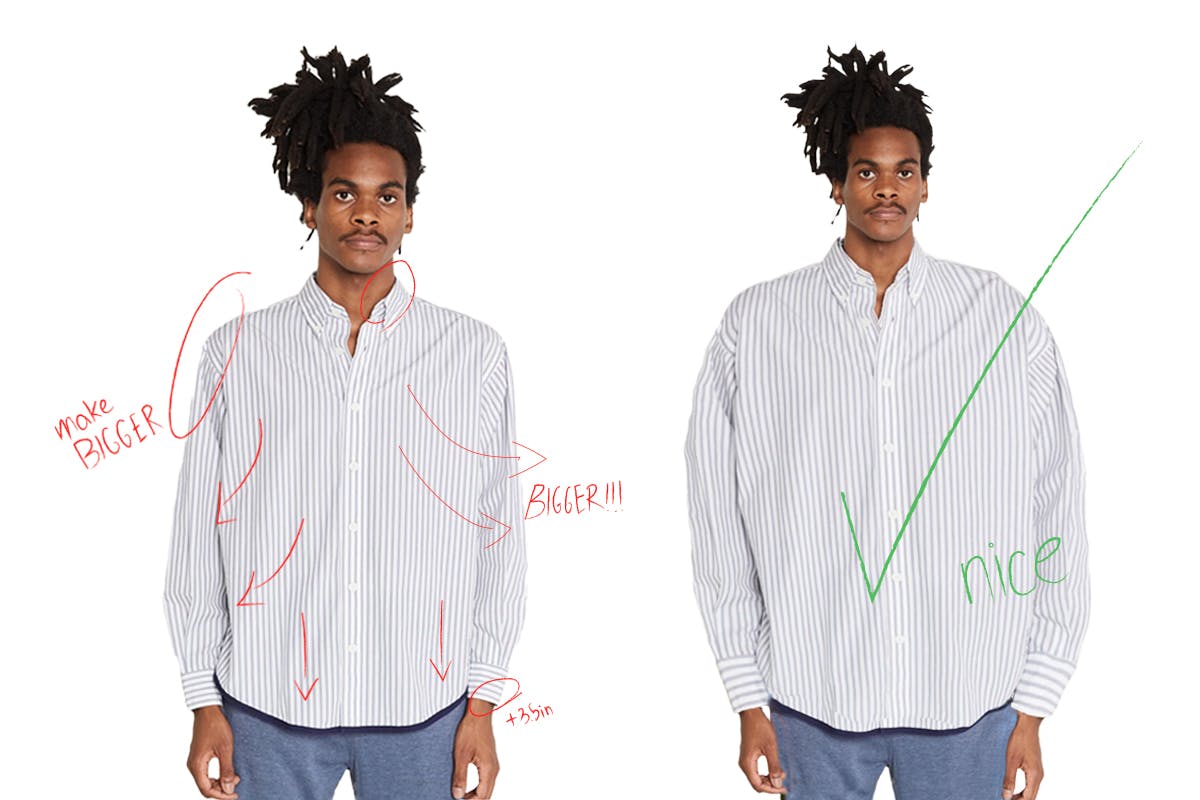 What's your favorite Ralph Lauren glossy ad? Tyson Beckford and Naomi Campbell looking every inch the '90s power couple while yachting for Polo Sport? Chiseled surf hunk Buzzy Kerbox being canoodled by an adorable lion cub on safari? The New Romantics campaign, featuring a brooding sculptor in an oversized tweed coat that looks like it could have been stolen from the Central Saint Martins student union cloakroom? Like facing a color-blocked shelf of impeccably folded garments in the Madison Avenue flagship, deciding isn't easy. But if forced, mines would be the "Big" campaign from 1991.
The '80s saw Italian designers like Gianna Versace and, in particular, Giorgio Armani bring a whole new — extremely literal — meaning to the idea of big fits (you might recall that Armani referenced the era for his recent SS20 shows) by loosening up the silhouette to combine casual and formal in a way that had never been done before. This bled into the following decade, with the always agile Ralph applying the same methodology to prep wardrobe staples. As the man himself noted, "I started with the origins of tradition, but I was not bound by it." Billowing sleeves that could be considered a fire-hazard had arrived. Opulence was the name of the game.
"The Oxford, for example, was considered a comfortable shirt by dress clothes standards already, so perhaps Ralph wanted to double down on that by sizing it up," Jordan Page, aka Instagram's @veryadvanced, tells me over e-mail. "Ralph being a Jewish kid from the Bronx, liked to shake up the establishment, so I guess oversizing the shirt and marketing it as such was him bringing a little edge to it."
The big shirt has become a wardrobe Swiss army knife for most guys; a reliable, if not always appreciated, jack of all trades that can be wheeled out at any time of the day — kind of like a sartorial Kraft Dinner. They're season agnostic, so you can pair one up with shorts and a T-shirt in summer, or use it for layering in winter. Unlike Ralph Lauren, whose intentionally exaggerated proportions actualized the big shirt as a thing, I prefer to scale up from M to XL on a regular fit. Internalized norms — sizing, gender — do not apply where this bad boy considered, and in that sense, wearing one is almost like hacking the fashion system at source level. When I wear mine around my flat I feel unbound to society's shackles, like Matisse in his studio or Jared Leto's teenage tearaway in My So Called Life. The flouncier and off-kilter the better, preferably to the point that a Saville Row tailor would look upon you with disdain.
The big shirt operates in its own universe. It does not play by any rules. It is a non-conformist; a renegade; a subversive. Find our favorites to rebel wearing below.
Our designated Selects section features products that we love and want to share with you. Highsnobiety has affiliate marketing partnerships, which means we may receive a commission from your purchase.