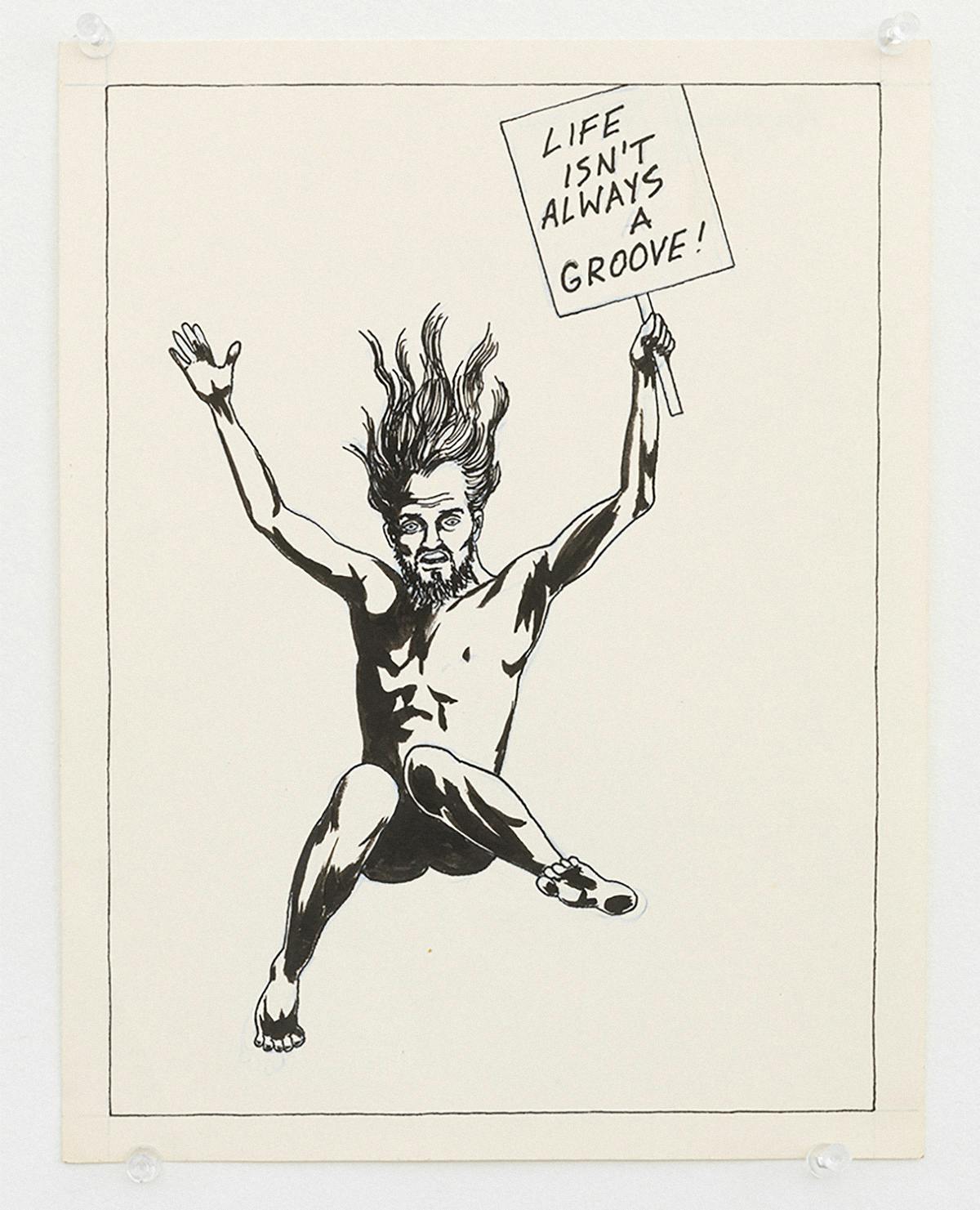 This piece appears as part of "Not In Paris," an online exhibition hosted and curated by Highsnobiety. Head here to see the full series.
In partnership with David Zwirner Gallery, Highsnobiety is proud to present a series of drawings spanning five decades of work by the artist Raymond Pettibon. From baseball cards to nuclear explosions to CIA black sites to encircled posses of stoners, the following selection of pieces focus Pettibon's mastery at depicting an America hell-bent on swallowing its own tail. Now, more than ever, the country's jubilant penchant for self-destruction has taken on a heightened sense of meaning, which the writer Nathan Taylor Pemberton explored with the artist via a Zoom call from his studio in Lower Manhattan.
This special online retrospective for "Not In Paris" launches alongside Studio: Raymond Pettibon, an online viewing room displaying some of the artist's most recent works.
The hippie appears to be in free-fall. Arms splayed, legs splayed, each long hair straightened by gravity. His naked body floats in an equally naked white space. His face is printed with shock, yet his eyes locked outwards towards us as he clings to the handle of a small sign like it's the only possession he owns. It reads: "LIFE ISN'T ALWAYS A GROOVE!"
Anyone who just happens to be living today, or who at least goes on the Internet, should be sympatico with the message. But setting aside this spiritual bummer, there's just enough room in the composition to look at things in a more ironic light. After all, who is to say our dear hippie isn't on his way down to the forgiving web of a trampoline? Or jumping from the shallow ledge of a hotel suite into a pool the color of pacific blue? Life isn't always a groove, but sometimes…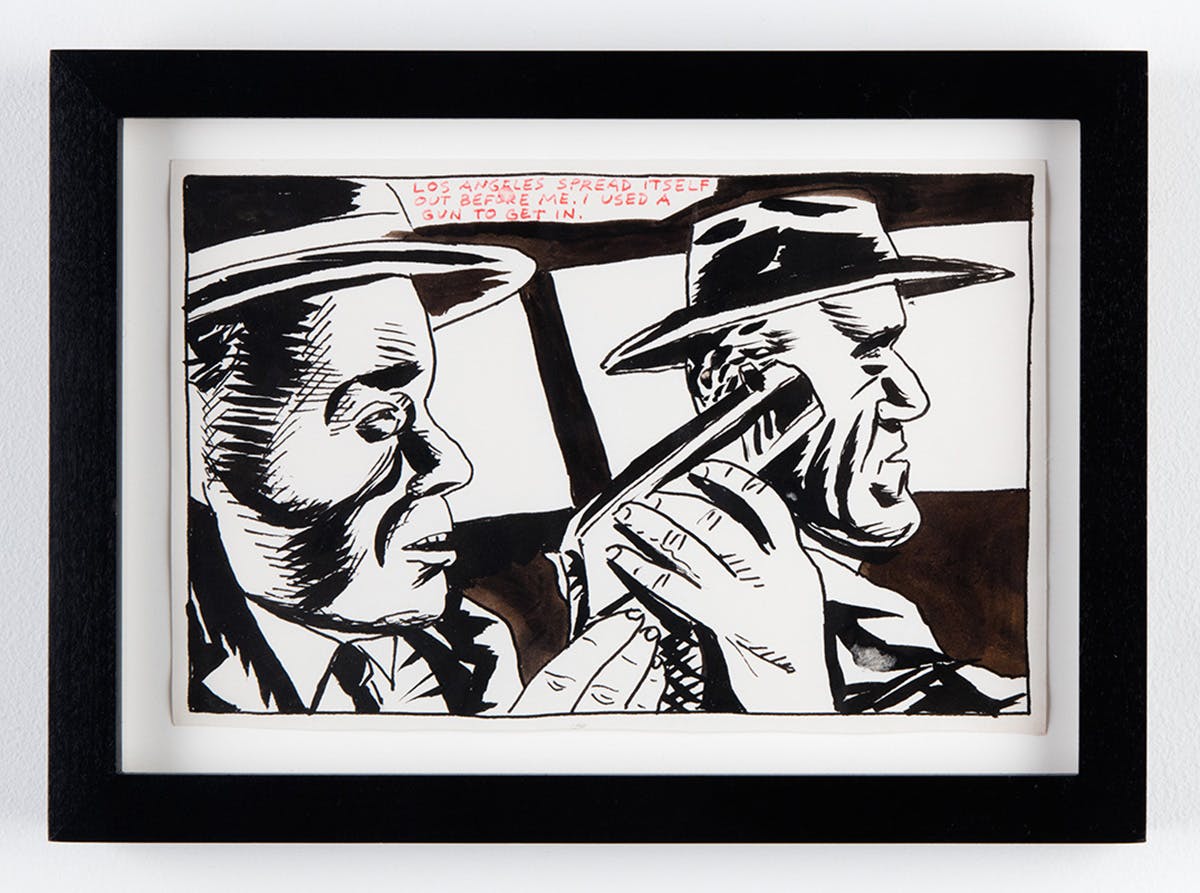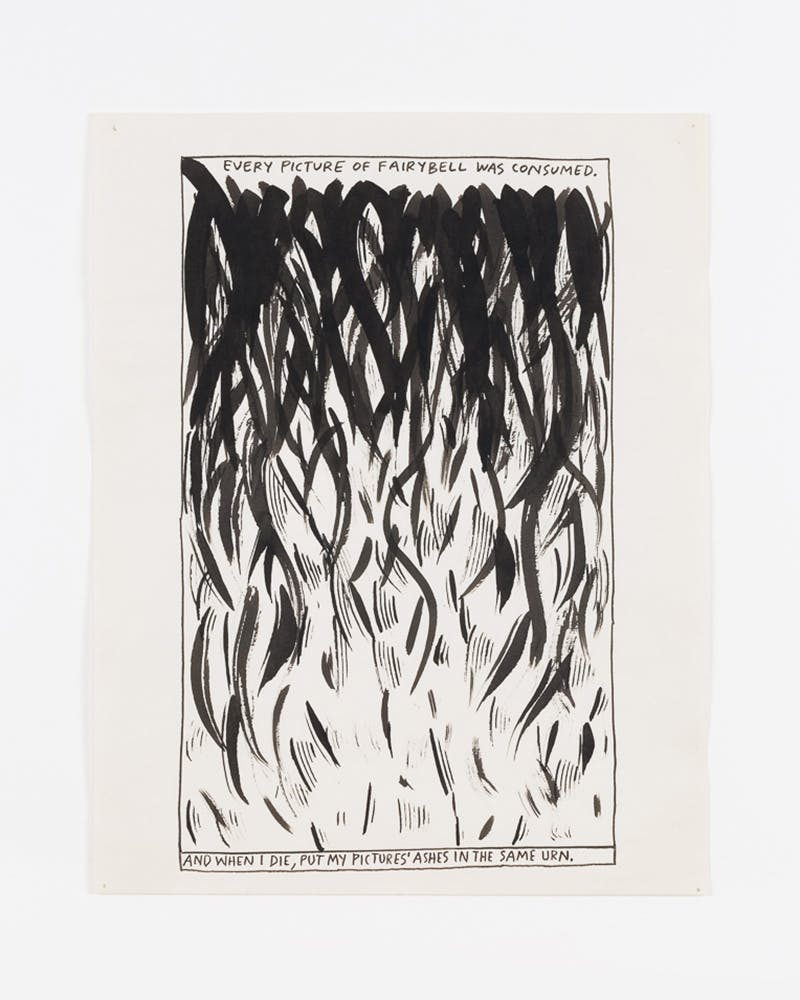 It was 1982 when Raymond Pettibon drew this one. He was not long into his accidental career as an artist and illustrator, saved from teaching high school math in the Los Angeles public school district. But he was a strange distance upstream from the 1960s revolution that has, somehow, become America's only cherished memory. Assuming Pettibon's hippie landed, on his feet, into a job, and into some respectable clothes, President Reagan had just rolled out a new kind of war that could be fought comfortably and without the hassle of foreign governments and their armies, from any home or neighborhood in the United States.
"The punk thing?" Pettibon says over Zoom about milieu surrounding his iconic 1980s album covers for Black Flag. "Totally overboard, but inevitable. I go along with it with some unease." The next time you look at a Pettibon drawing, don't forget: He is a selfless artist, or maybe just aloof. Certainly, he is not someone to slap his name on a style or a moment in time.
The characters who populate Pettibon's universe — Gumby, Batman, Vavoom guy — are but some of the friends the artist has on the road to making some 20,000-plus drawings. When I ask how he learned to draw scenes that ripple like a serrated blade across the page, he replies: "Betamax machines — press pause and you could get a still for five seconds."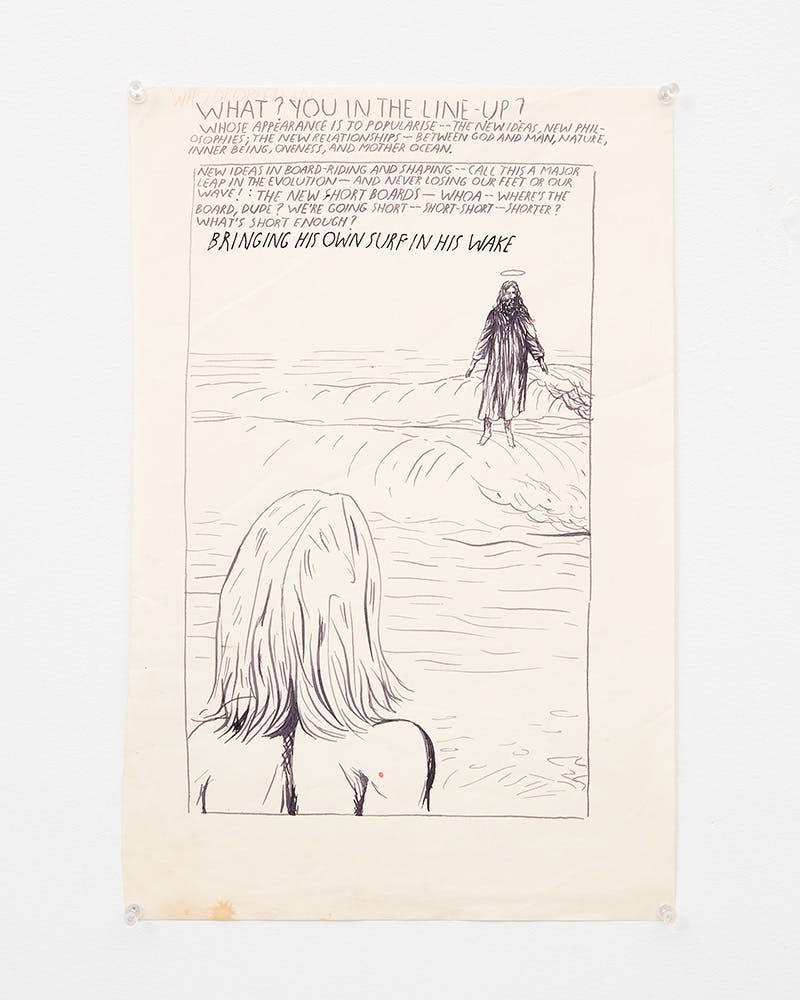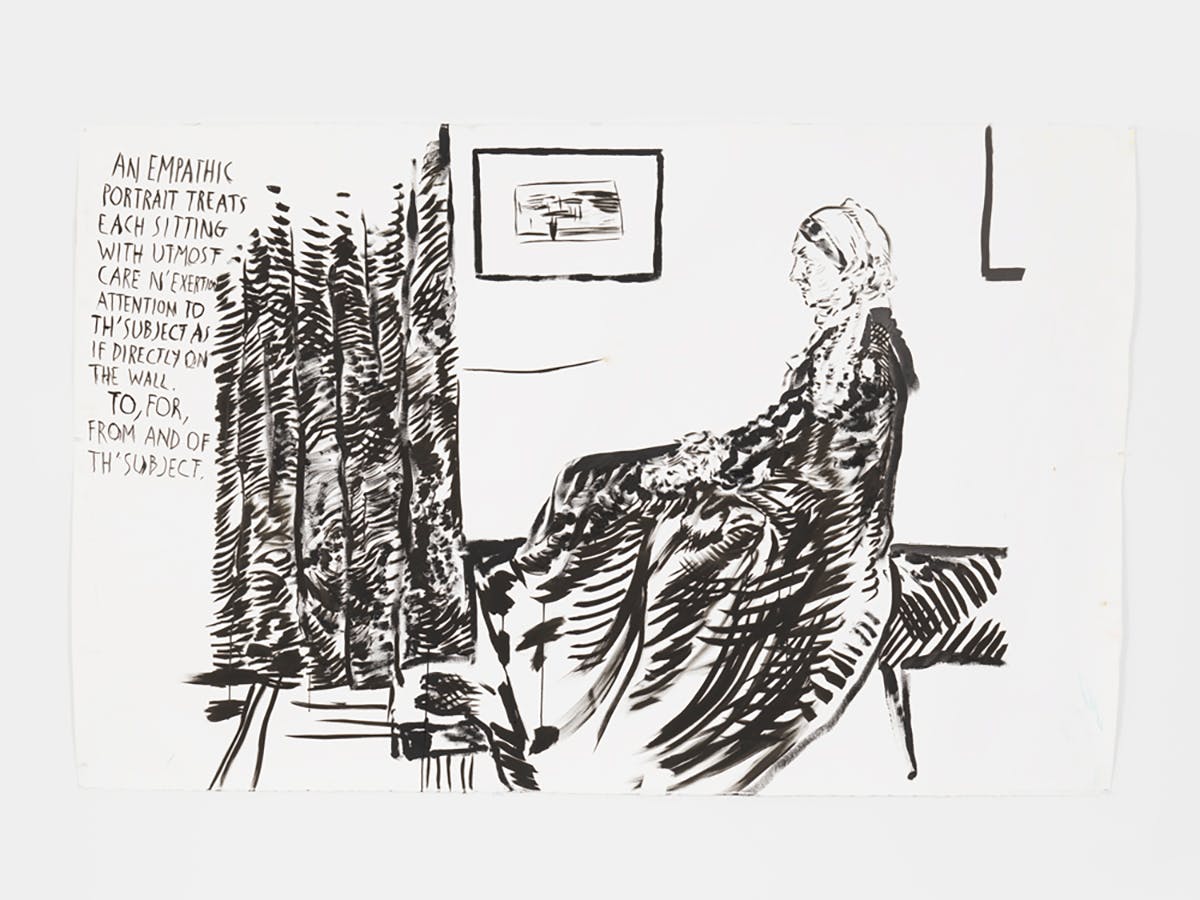 Selfish artists try to create something new where it is not needed. And it's best advised that you don't trust them or their hallucinatory visions. Their motivations are the same as developers addicted to the easy recoup on strip malls and mixed-commercial office buildings. The only people to trust in this life have no ambition. Or flip it this way: There are people who dream to influence, and then there are those who want to spend every day under the thrall of it.
"I'm not competitive or driven to compete. I don't feel the anxiety of influence. I'm the opposite of someone who wants to avoid influence. I didn't go to art school, I just learned things on my own, and there were no formative influences. You just pick things up along the way. I don't start the page or the canvas trying to make something new. When your work is so little-known for so long, that's going to help you get over that."
Pettibon isn't trying to do his thing alone. Each scrap of text draped over his drawings is an invitation for history to rush the page. And, it seems, he welcomes it in any form. Pettibon's words — which can read like an all-caps tweet, or the distorted mutterings of low bit-rate porn — are dream catchers for our muddled premonitions and unabsorbed American myths. He has an ear and eye for the furious dissonance of America's inner-monologue. It's a spirit that rants and raves and high-fives while trying to catch a fly ball in some infinite outfield.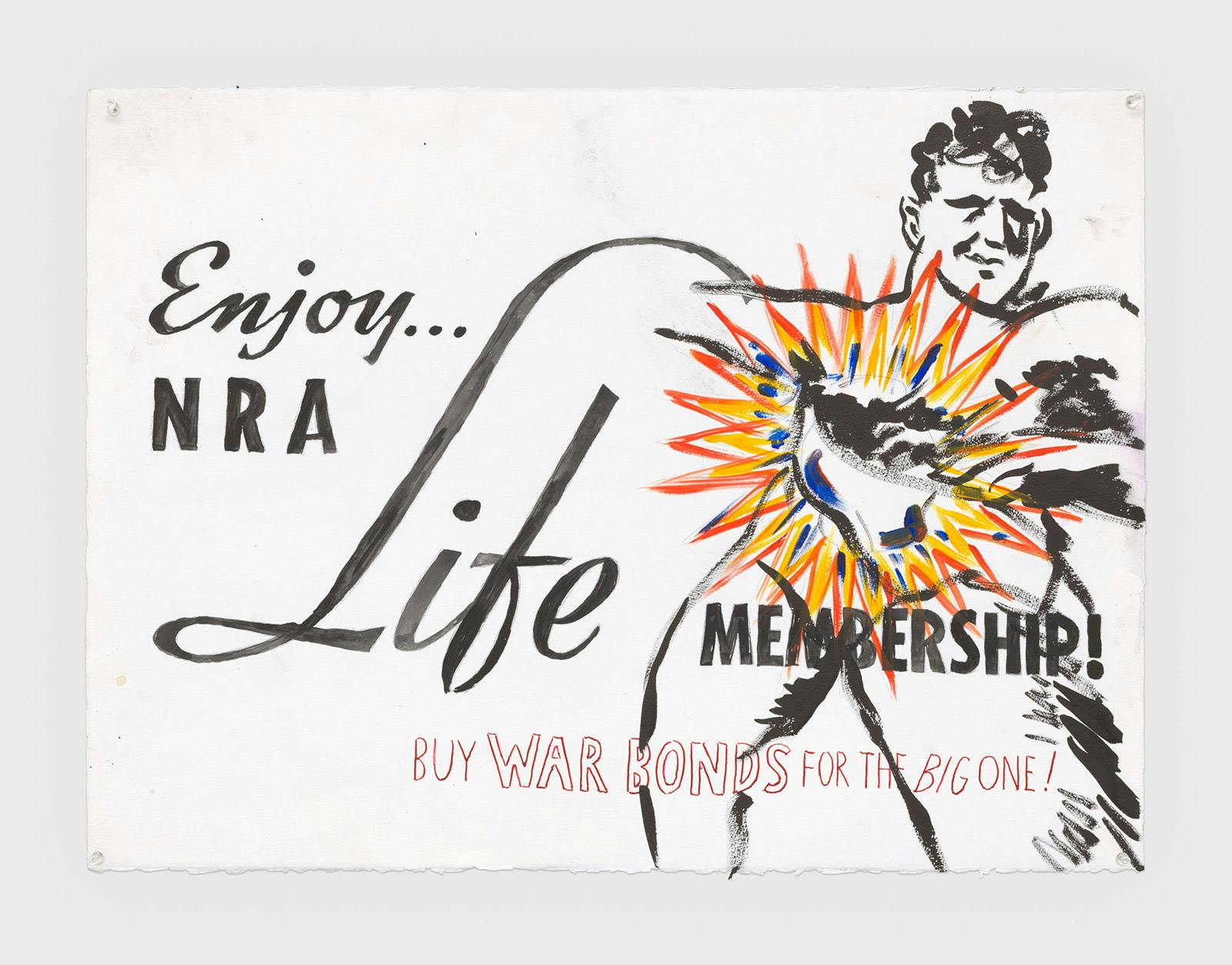 Raymond Pettibon, <em>No Title (Enjoy...NRA Life...)</em>, 2019
Through you goes the looking glass of Pettibon's word, until you find yourself listening to the voice of history itself. (Self-obsessed, hysterical, and softly lyrical.) "Pigeons, our meat food, became extinct," reads the copy above one of his mushroom cloud drawings from 1986. Next to the oozing red mass of anatomic heart, in a drawing from 2019, text reads: "Mind and blood are at war."
The form and phrasing of Pettibon's text, usually pulled from newspaper clippings or books he's read, can feel like textbook captions divorced from any kind of lesson plan. Pettibon's own ideological groove could be mistaken for something cynically apolitical, but on occasion he expresses a message with maximal force. In one drawing, Pettibon conjures up the three-chambered hell of Guantanamo Bay, Abu Ghraib, and CIA blacksites, with a muted shrug: "Can't be helped. This Americans Will Not Endure," as three camouflaged guards begin their grisly routine.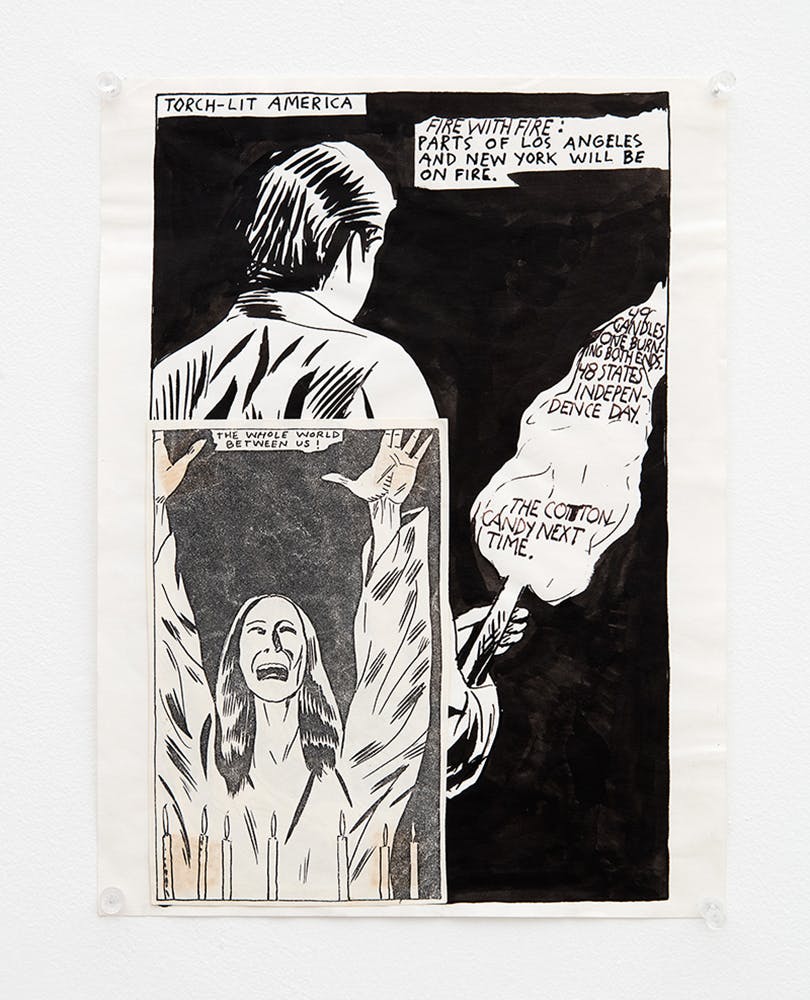 Pettibon's ambiguous detachment allows him a safe distance from the grim enterprise that is the American Dream. It's almost a signature, just like the ribbons of india ink that compose his drawing. But detachment is a funny thing for the 63-year-old who's known to tinker with a single drawing for over a decade, leaving it in the flat file until that perfect scrap of language is found. It's not that Pettibon is too spaced out on blue-chip prestige or his fame. No, it's the kind of detachment that comes from seeing each wave and crest of history as something to paddle out into, pen and paper in hand. Sometimes you come out of the barrel intact, other times you get a face full of coral.
There's something weary in Pettibon's own voice when he discusses the past, a register that stops just short of sounding burnt out or fucked over. Ask him about the latest American insurrection flooding into the streets in the weeks following the murder of George Floyd by the Minneapolis Police Department, and Pettibon jumps back to 1992, back to Rodney King and the LAPD, or a Betamax replay of the Watts riots in 1965.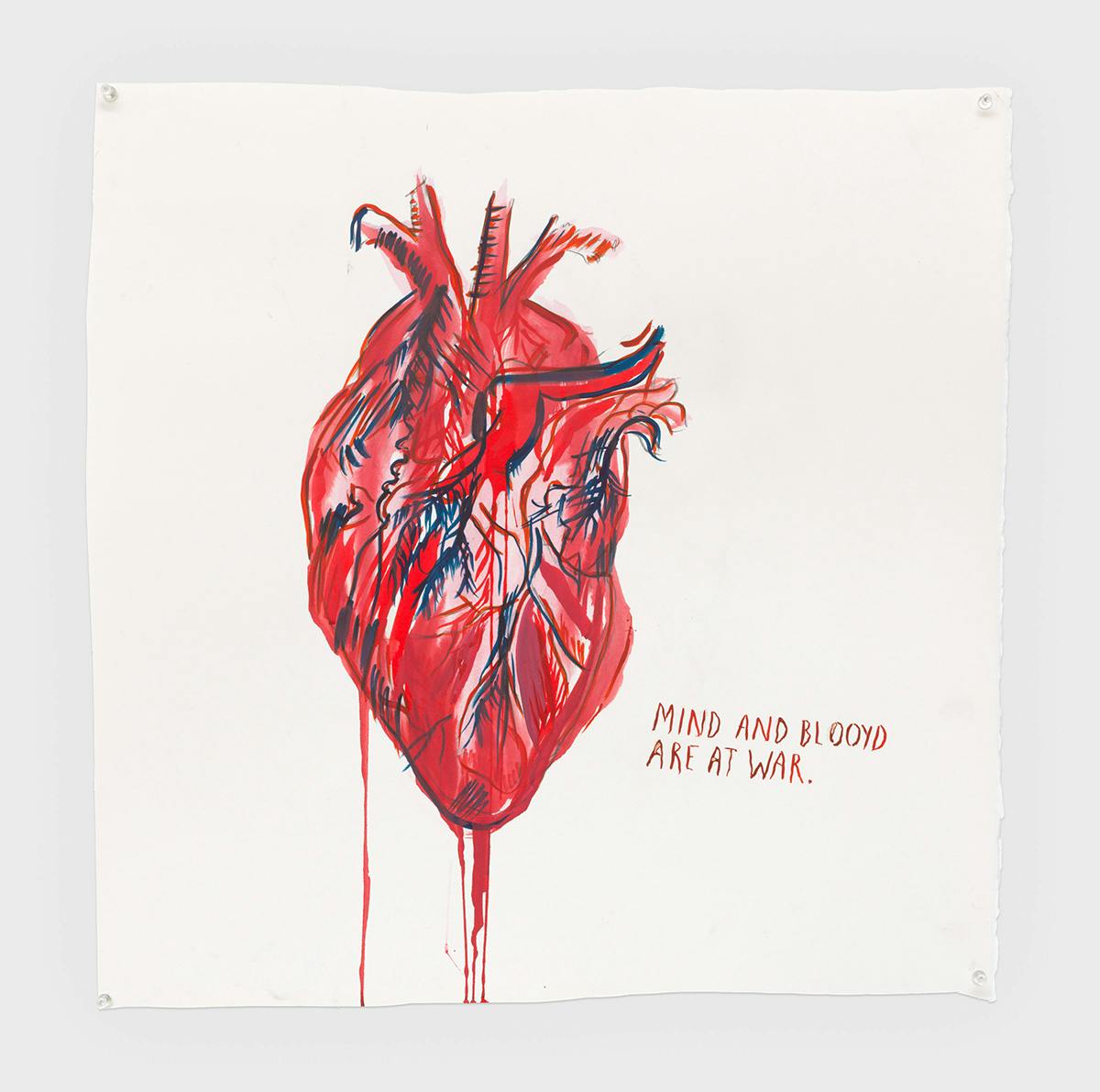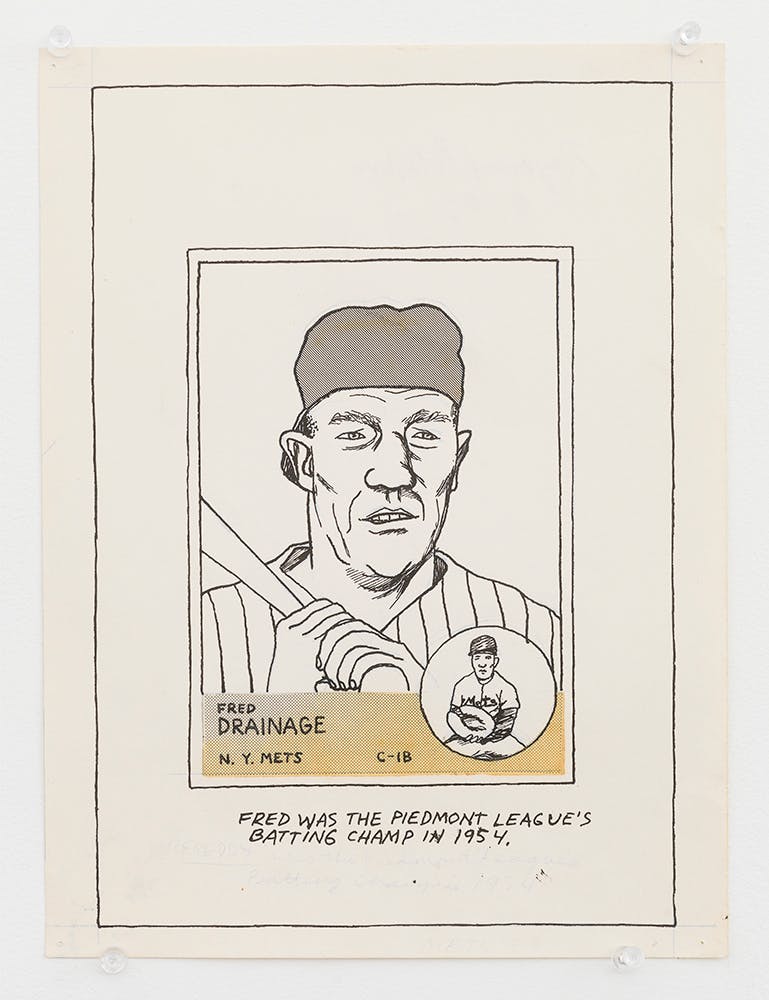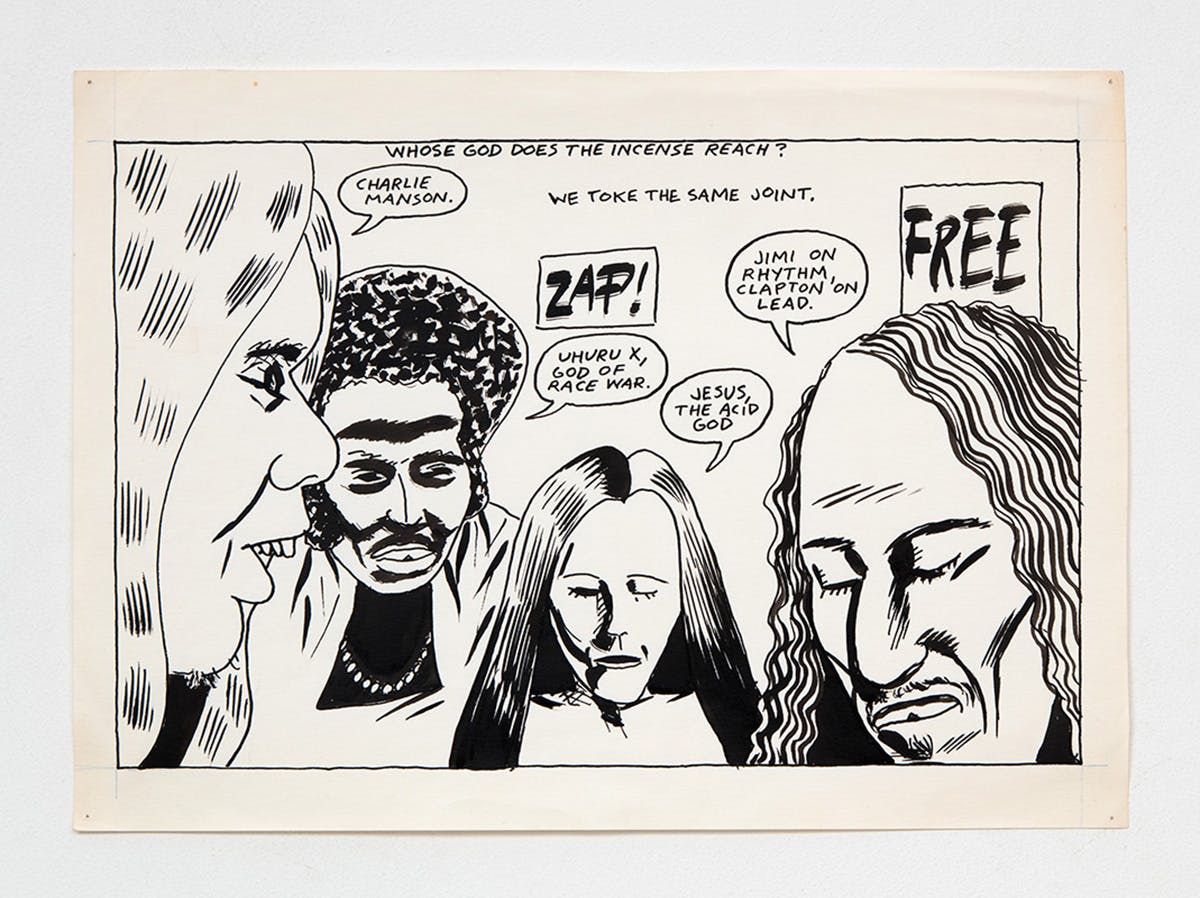 I'm from LA, so I lived through lots of insurrections, uprisings, and man, this is nothing new to me, sadly. We had the worst police chiefs ever. Daryl Gates, Chief Davis, Chief Parker. There were police killings of unarmed people, kids, black people, every day almost. It hardly even made the news. The Rodney King beating was terrible, but it unfortunately didn't turn the corner. And who knows how this is going to go. I mean, I am hopeful and it seems to have gathered legs. If there's any real structural change... or, I don't know — I mean, it's hard not to be cynical about it, but I hope real change happens."
The fight against acid cynicism and helium-grade optimism is the fight Pettibon wages in each of his drawings. There's a sense that he hasn't chosen this stance as much as he's been cornered into it, leaving him no option but to hash it out on the page, where he both lampoons the counterculture and desecrates the reactionaries. Pettibon explains that he's "pro-zero defense budget" and opposed to nuclear war: "When you're playing with fire, you're most likely to get burned, you know? Sooner or later." He's not a conspiracy theorist, as he claims, but he sees conspiracy in America's flagrant passion for wars — The Gulf of Tonkin, The New York Times underwriting the invasion of Iraq, Pearl Harbor prior to that, and the sinking of the Lusitania before that.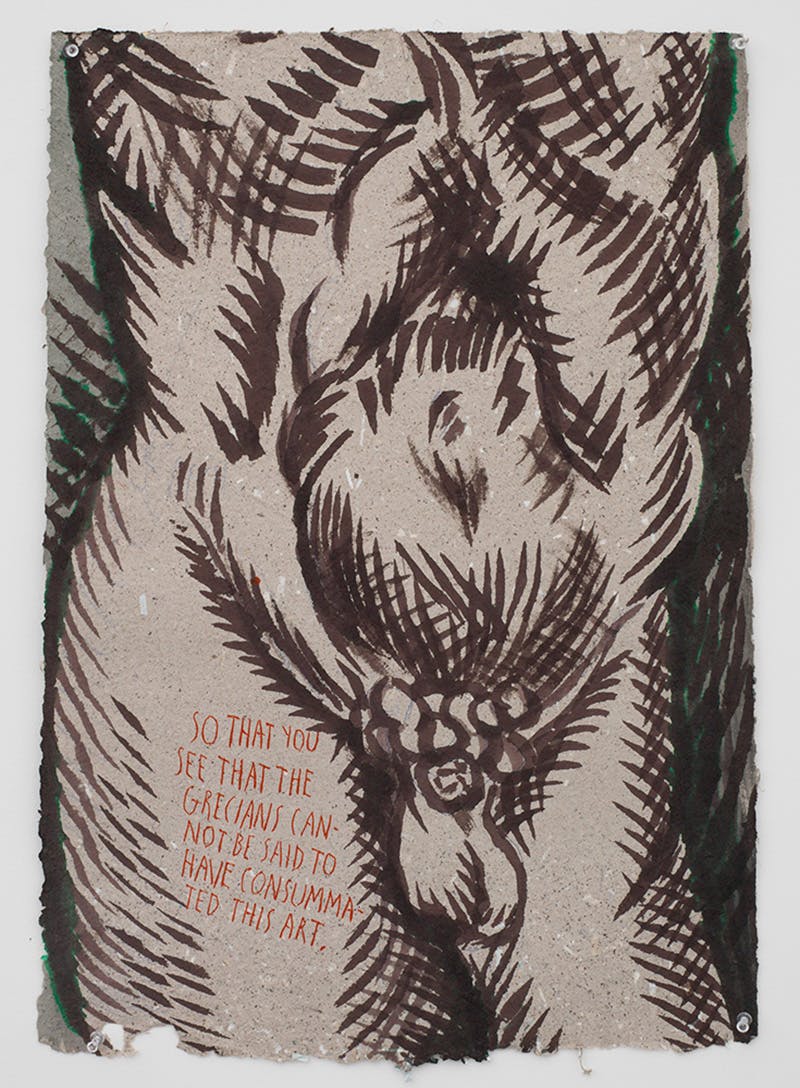 A body of work like Pettibon's does not offer a counter-message to the (largely racist and fascist) histories of America, but rather it destabilizes them. And unlike more contemporary minds, both young and old — artists, writers, politicians, pundits — Pettibon the artist doesn't feel the need to panic after each Trump tweet or hysterical pronouncement made by Fox News (though he admits prolonged exposure to either raises his blood pressure). Nor does he reflexively judge the younger schools of artists and thinkers for being hair-trigger about the culture, as establishment figures are want to do. "They think everything's gone to hell with the younger kids, but that's not the case. I don't see any of that. I've never identified with baby boomers, or whatever came after that."
Pettibon isn't here to offer "filtered, fake nostalgia" as he puts it. Undoubtedly, this is the clearest explanation for his ever-expanding legend, both in the art world and far beyond into the world of fashion through his collaboration for Dior's Fall 2019 Men's Collection. It is a reason why a new crop of creators sees him as a stable voice in a time skewed by reactionary hysteria.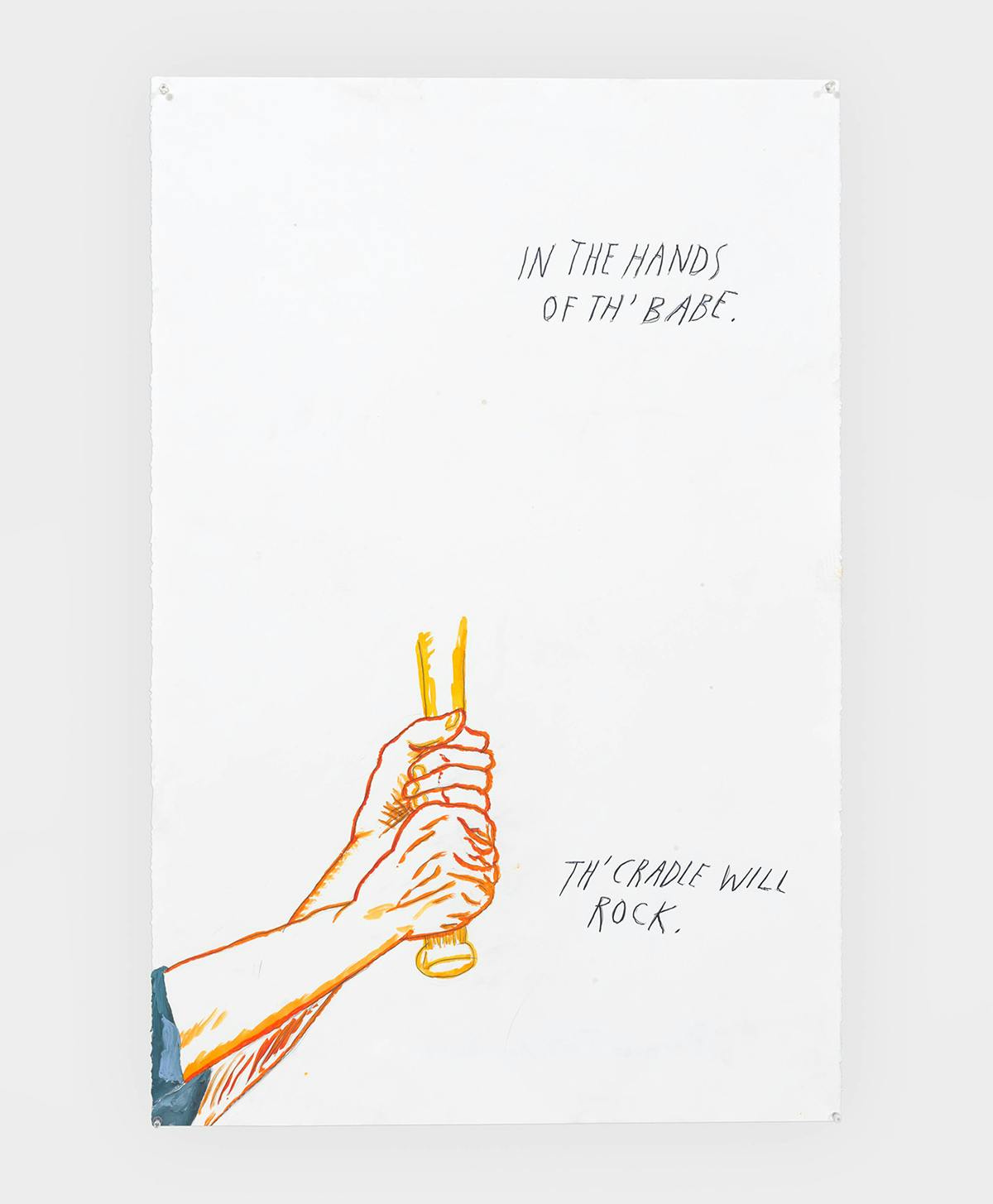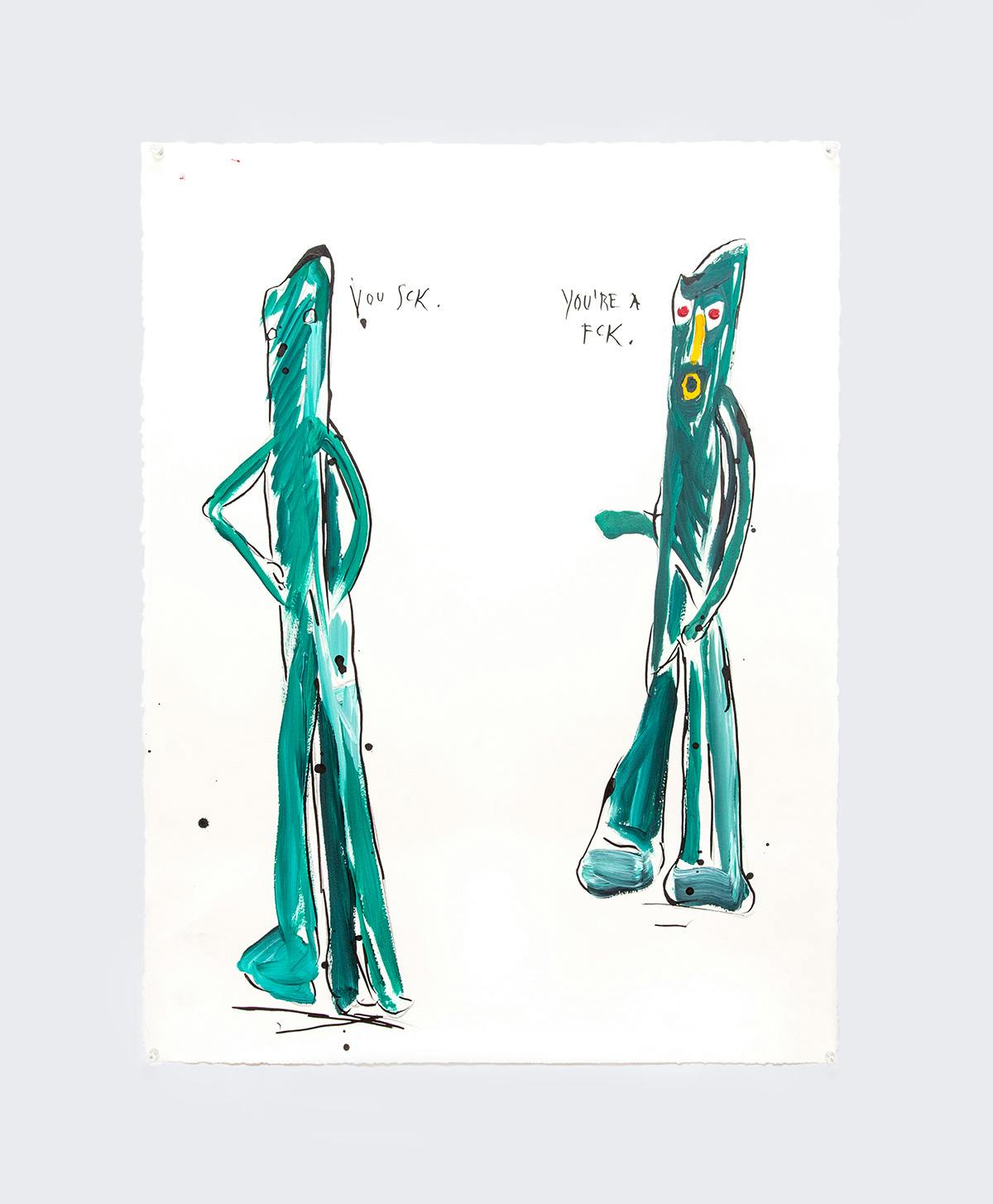 Pettibon's work reveals a man who has hoarded history — too much, maybe. It brings to mind something Los Angeles Police Chief Daryl F. Gates, the vile administrator of law and order during that city's last insurrection, once said: "I have a memory as long as forever." There is some proof that Pettibon's memory might be even longer. It's funny to think about Pettibon and Gates, two men staking out opposite flanks on the spectrum of history. While Gates had the inviolable authority of a warlord during his career with America's most infamous police force, Pettibon was a stoned, drunk, and fledgling artist, fighting neo-Nazis in clubs off the Sunset Strip. Maybe he didn't know it then and maybe he doesn't know it now, as he puts the finishing touches on yet another drawing, but his whole life has been fighting men like Gates: the kind who try to put their own chokehold on history.
Are you also "Not In Paris?" Not to worry, you too can join in on the non-gathering with our exclusive set of merch. Shop the collection here.