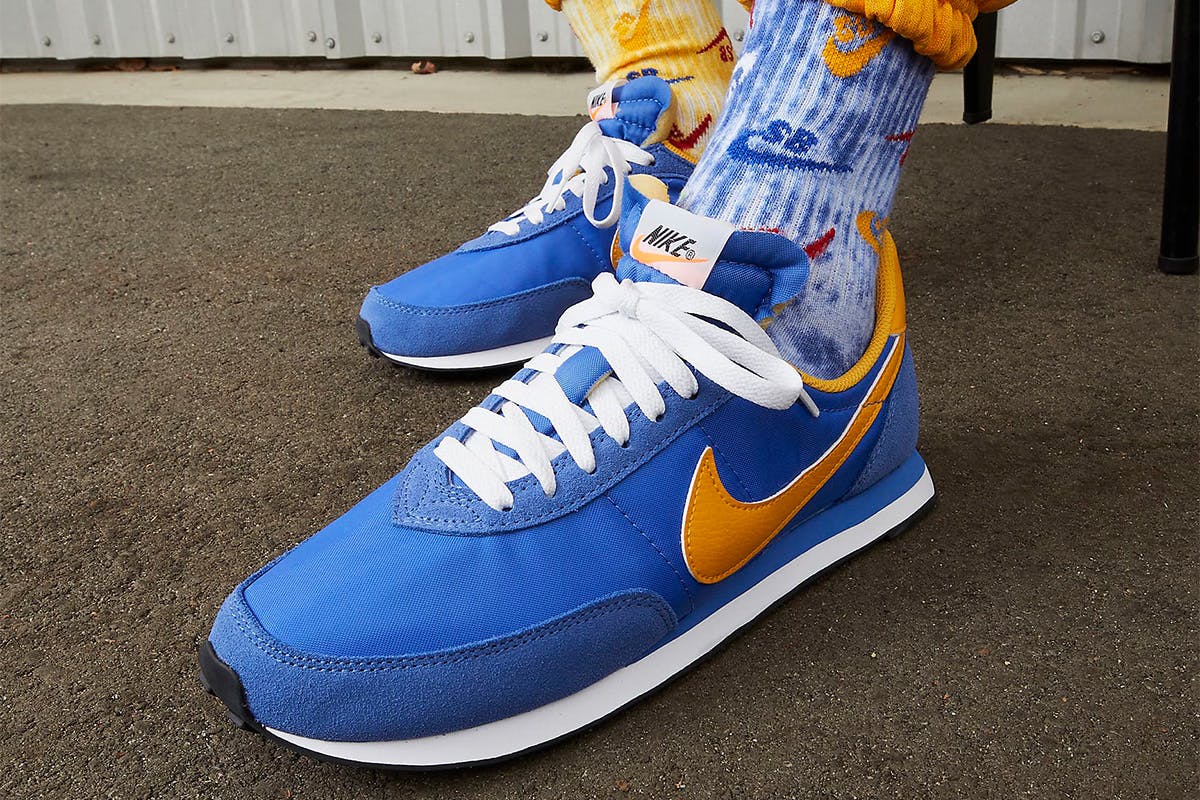 Beginning life on the running track in 1964, nobody could have predicted the influence that Nike would go on to wield. The Swoosh has effectively set the pace for sneaker culture since it was founded by constantly seeking the next thing in style and technical innovation. But while the company itself is always looking to the future, some of its greatest designs lie in the past.
Over the past two years or so, sneaker tastes have shifted strongly to more retro styles. While there's still a booming market for performance-driven concepts, many sneakerheads have turned their lifestyle rotations to face the past. Those retro rotations are composed largely of Nike trainers.
Retro Nike sneakers are some of the best in the game, and it's thanks to the fact that Nike was, as noted, always leading the pack. In celebration of Air Max Day, we decided to take a trip down memory lane to uncover some of the best retro Nike sneakers to wear in 2022.
Keep scrolling to discover our top retro Nike sneakers.
Air Max Dawn
Nike's new Air Max Dawn blends vintage aesthetics with modern tech for a smooth ride that's rooted in the brand's track history.
Blazer Low '77 Premium
Turning the clock back to '77, the Blazer Low has barely changed in the last 45 years. And for good reason: if it ain't broke, don't fix it.
Waffle Trainer 2
The Waffle trainer is another of the greatest retro Nike trainers that's still around. Still carrying the iconic waffle outsole, this one is a real blast from the past.
Killshot OG
One of the big pulls of retro Nike sneakers is that almost all of them are wildly versatile. None more so than the Killshot, though.
Waffle Trainer 2
Another major positive is that Nike's colorways were at an all-time high during the '70s. This classic blue & yellow iteration never goes out of style.
Challenger OG
The 2022 Challenger OG is, astoundingly, basically still a one-to-one replica of the '70s runner that revolutionized track running.
Blazer Mid 77 Vintage
While the earlier Blazer Low is a classic, there's nothing like a Blazer Mid to really get the retro juices flowing.
Killshot 2
We're always here for a gum sole. It's one of the surest hallmarks of a retro classic.
Waffle One SE
The Waffle sneaker has been the subject of a couple of facelifts in recent seasons. This one might be our favorite yet, though. It's still decidedly retro, but with one eye clearly on the future.
Air Max Pre-Day
It's a retro Nike sneaker but with an Air Max window, too. How could you not love the Nike Air Max Pre-Day, especially in this masterful neutral colorway?
Want to keep browsing? Head to the Highsnobiety Shop for more products that we love. Highsnobiety has affiliate marketing partnerships, which means we may receive a commission from your purchase.