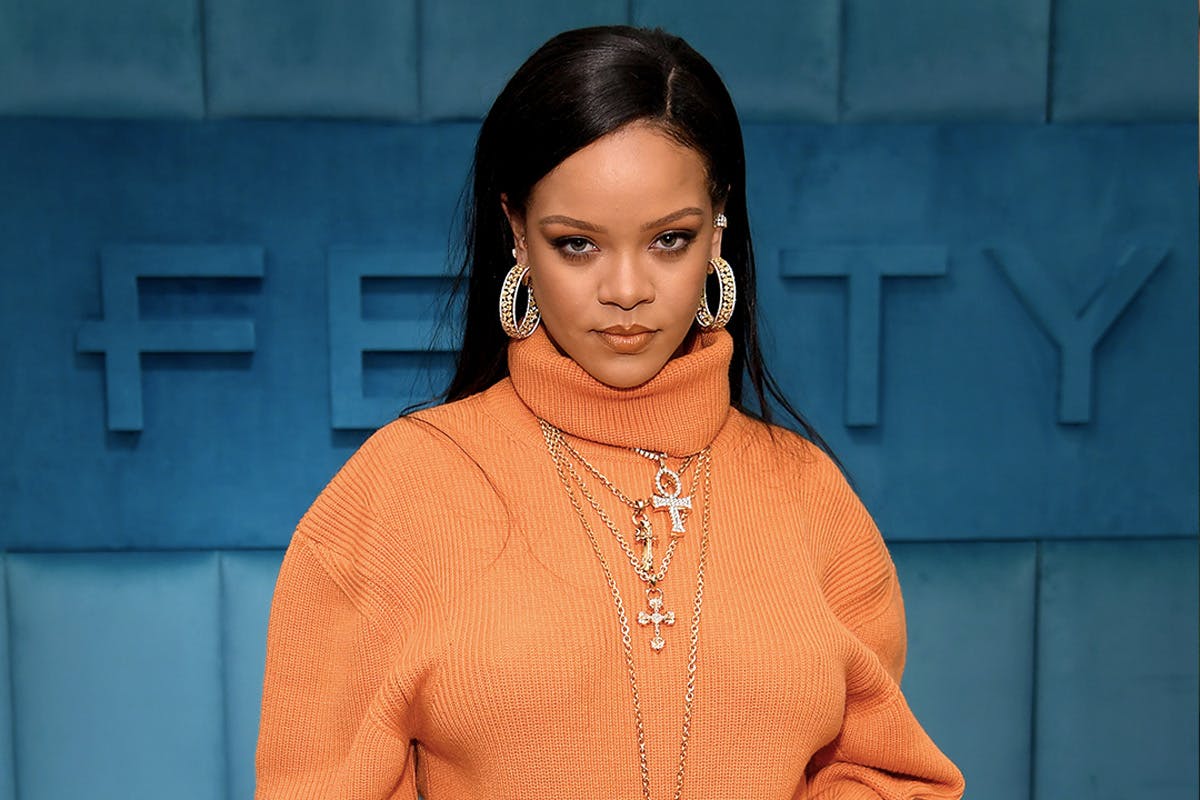 Last year came and went without a new Rihanna album. Alhough she told Vogue in March that she was "very aggressively working on music," R9 has yet to receive a release date. With such a highly speculated upon album, it's getting hard to separate fact from fiction.
Thankfully, we recently learned that the album is very well worth waiting for – according to none other than Pharrell. If there's anyone who can give us an inside scoop on the upcoming album – aside from tight-lipped Rihanna herself – it's Pharrell. The singer and member of the super-producer duo, The Neptunes, has been working with Riri on multiple tracks for the project. He recently gave an update about the progress being made on her ninth studio album.
In an interview with Allure, Pharrell revealed "Rih is in a different place right now," Williams said. "Like, wow. She's from a different world." He continued, "I'm willing to bet, because Venus is gaseous, that if they had a telescope that could zoom through all that shit, you'd see Rih laying there naked."
In September, we got the first teaser of an unreleased song from the upcoming album. Singer-songwriter Skylar Grey hopped on Instagram to share some tunes she's been working on, including a reggae-influenced song with Diplo and RiRi.  "I was working with Diplo on a song for Rihanna. Wrote this with a guy named Hymn. […] This was when Rihanna was supposedly doing some kind of reggae album. I don't know if she's still making a reggae album or what, but this is a song we did for it. I don't have the whole song, I'm just going to play you a piece of it, and it probably won't sound great because it's an iPhone recording of the speakers," said Grey.
Listen to the snippet below.
In an interview with Entertainment Tonight last July, Rihanna gave an update of sorts, confirming that the anticipated album won't disappoint. "I am always working on music and when I am ready to put it out in the way that I feel fit, it's gonna come out. And you're not going to be disappointed when it happens. It's going to be worth it."
That might be welcome news for some, but not for her army of stans. The Navy has waited four long years since 2016's ANTI. All the while, Rihanna has taken great pleasure in teasing the project, dubbed R9.
Although Rihanna, once again, withheld a release date, we still have a lot of clues to work with. And so to make the wait a little easier, we've compiled everything we think we know about RiRi's ninth studio album.
Keep scrolling for everything you need to know about Rihanna's upcoming album.
Rihanna's new album release date
While her comments indicate that the project is close to ready, it wasn't the release date announcement fans were hoping for. And to be fair, she's been teasing R9 since 2018, occasionally suggesting that the album is complete and that the drop is imminent, while at other times it seems as though she's still hard at work.
In January of last year, a first teaser showed a glitter-filtered RiRi at work in the studio, along with a two-second melody that had fans believing the album was arriving in 2019. That didn't happen.
But as the year came to an end, Rihanna posted a video to Instagram, with the captions "me listening to R9 by myself and refusing to release it."
Back in February, she teased the drop to Entertainment Tonight. When asked when (and if) her rumored album, R9, will drop she answered "Dot. Dot. Dot. To be continued," before admitting that she gets a kick out of teasing those who ask. "I like to antagonize my fans a little bit. Well, they antagonize me, too! So, they get it right back."
Earlier this year she told British Vogue, "I can't say when I'm going to drop. But I am very aggressively working on music." Suggesting that it isn't finished after all and there's an even longer wait than we feared.
What will the album sound like?
In an interview with Vogue, for the publication's November 2019 issue, Rihanna confirmed that R9 would be reggae-inspired. She reiterated this in her most recent Vogue interview, too. Skylar Grey's video confirms that this is in fact the case.
"I like to look at it as a reggae-inspired or reggae-infused album," Rihanna said. "It's not gonna be typical of what you know as reggae. But you're going to feel the elements in all of the tracks […] Reggae always feels right to me. It's in my blood. It doesn't matter how far or long removed I am from that culture, or my environment that I grew up in; it never leaves. It's always the same high. Even though I've explored other genres of music, it was time to go back to something that I haven't really homed in on completely for a body of work."
She's also been holed up in the studio recently with Pharrell Williams and Chad Hugo aka The Neptunes, so the album may also feature their off-kilter, stripped-down electronic funk sound.
Rihanna's new album tour
In February last year, NME reported that RiRi fans noticed leaked tour dates popping up in Google searches, with the first date appearing to be Portland, Maine on April 12, 2019.
Once again, however, the date came and went without a peep, and with the coronavirus pandemic causing major tour cancellations throughout the music industry, it's unlikely we'll hear about tour dates any time soon.
Rihanna's new album tracklist
No tracklist has been revealed as of yet but back in 2019 a new song titled #LoveLooksLikeUs apparently co-written by Rihanna, Derrus Rachel ("Needed Me" & "Desperado"), Livvi Franc ("What Now"), Jeff Shum ("Concentrate" by Demi Lovato) & Keith Askey (guitarist on "i" by Kendrick Lamar) was registered on @bmi.
Other rumored titles track titles include, "No Pressure," "Mayday," and "The Only One Who Knows."
Rihanna's new album cover art
Currently, we know nothing about the artwork Rihanna has selected for R9. The ANTI cover, which was designed by Israeli artist Roy Nachum, is her favorite to date, so perhaps we can expect something equally as conceptual on the next album.
Rihanna's new album guest appearances
Apart from Pharrell, the Neptunes, and Diplo, we could see appearances from Kendrick Lamar, DJ Khaled, Calvin Harris, or Future, if her previous collabs are anything to go by.
In an interview with Vogue in May 2018, Vogue speculated that she could be working with Supa Dups, a producer who has worked with genre icons including Beenie Man, Sean Paul, and Elephant Man. Shaggy, meanwhile, reportedly refused to work on R9 after he was allegedly asked to audition for the job.