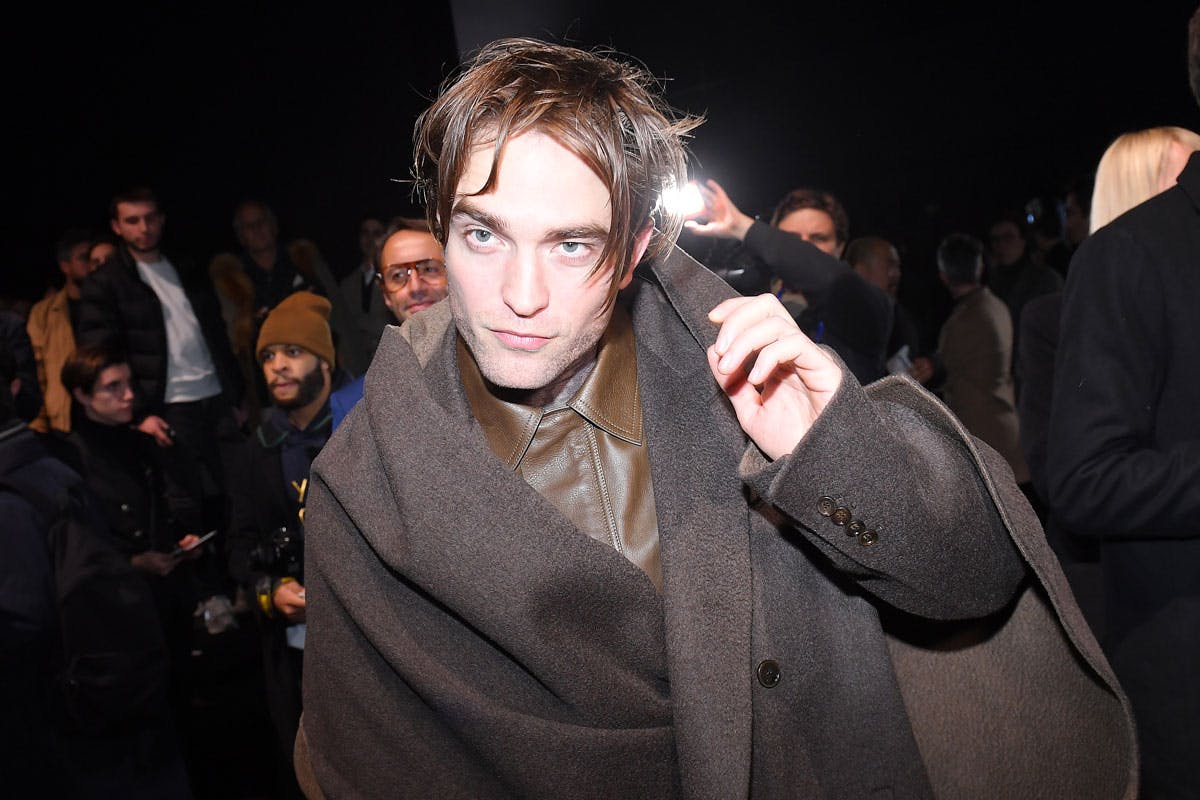 If I had to describe Robert Pattinson in one word, it would be: chaotic.
Since rising to worldwide fame for his starring role as Edward Cullen, sparkly vampire heartthrob of the Twilight series, Pattinson has delighted and puzzled onlookers with his bizarre, entirely endearing public persona — kind of the opposite of what anyone would expect from a dude who got famous for his perfectly coiffed hair or the guy who's next to play Bruce Wayne.
There are almost too many goldstar Pattinson moments to count:
There was the adidas tracksuit photo, an image that lives in Twitter infamy for the sheer number of times it's been meme'd. (In case you missed it, Pattinson doesn't just hang around looking suspicious in brown sweatsuits — the photo was taken on the set of Good Time, the Safdie Brothers film that stars Pattinson as a bank robber.)
Good Time even spawned a second viral RPattz moment, a shot of him napping in a large dog cage.
And remember the time Pattinson was papp'ed while sampling some sort of sludge-adjacent shake?
Aside from serving himself up to the meme gods on a silver platter, Pattinson has also spawned some unforgettable interviews.
"I had a stalker while filming a movie in Spain last year," he told Crème Magazine in 2009. "I was so bored and lonely that I went out and had dinner with her. I just complained about everything in my life and she never came back."
In 2017, he lied while on-air about witnessing a circus clown die. A week later, he admitted the story was made-up. (Note: years earlier, the actor told Jimmy Kimmel that he lies out of panic, following up the admission with a fun fact: "I have extraordinarily heavy saliva.")
In 2020, Pattinson told Allure that he smells like crayons. The same year, he revealed to GQ that he had conceived of a new pasta dish, " Piccolini Cuscino," comprised of noodles, cheese, sugar, and cornflakes — all cooked in the microwave.
There was also the time Pattinson did a Reddit AMA and dealt some answers that continue to live in my mind rent free.
And in his most recent interview, Pattinson confirmed his tendency to fib while on the record, just to "say anything at all." He also doubled down on his cursed pasta invention, which he supposedly floated to producers.
"I was fully actually trying to make that pasta," he proclaimed. "Like I was literally in talks with frozen-food factories."
As the March 2022 release of The Batman approaches, it's pretty safe to say that Pattinson will pull some more shenanigans.
Robert Pattinson: you're doing great, sweetie!