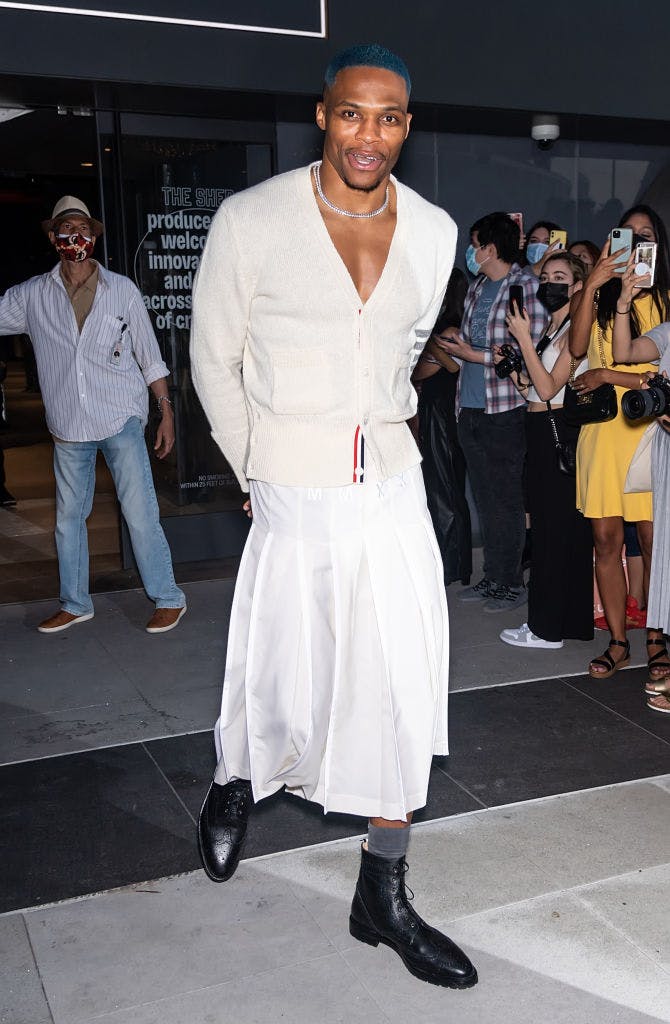 Skirt's for men are here to stay. During New York Fashion Week, Russell Westbrook and a few other leading men made a strong argument for the emerging (but not so new) menswear staple. Westbrook's position was compelling, using the master of genderless skirts himself, Thom Browne, as his medium. The point guard effortlessly sported a quintessential Browne off-white cardigan, ankle-length skirt, diamond choker, and lace-up boots. The blue hair was a nice touch too.
If you've been paying attention, the skirt has quickly become one of the most exciting micro trends in men's clothing, swaying in and out of the mainstream over the years. It's popped up in runway collections, lookbooks, campaigns, and on our Instagram feeds. Rick Owens, CDG, and Maison Margiela have all found ways to elevate the skirt, with Thom Browne leading the charge.
Westbrook clearly walked away with the W this past week. However, we didn't easily hand over the trophy. Jordan Clarkson equally turned heads at NYFW, proudly dawning a skirt in his head-to-toe Browne fit — wearing Browne's own playful reinterpretation of the modern "uniform."
This wasn't new territory for Clarkson. The Utah Jazz player has consistently sat at the top of NBA's best-dressed list this past year and even recently wore a full look from Highsnobiety's exclusive Thom Browne collection.
Outside of the NBA club, The Man on the Moon himself, Kid Cudi, wore a long black skirt and Nirvana shirt -- a possible call back to the Off White floral dress he wore during his SNL performance and to Kurt Cobain himself. It was right on point for Cudi, an extension of his grunge and punk aesthetic that we've fallen in love with over the years and unapologetic celebration of himself. Coincidently, Cudder also rocked a new blue hair dew. Will we be seeing more dyed looks in the coming months?
Fit moments like these are not only statements of advocacy for genderless dressing, but are purely exciting moments in fashion. The skirt has been around in menswear for thousands of years long before Westbrook, Clarkson and Mescudi were seen wearing it at NYFW. It's far from an anomaly, only recently being shuffled into specific gender-related boxes. It is a reminder to wear what you want, regardless of whatever the hell people think.
As skirts work their way back into our wardrobes, we figured we'd scour the internet to find some of the best men's skirts on the market right now, pieces directly inspired by today's NYFW's looks.
Shop the Best NYFW-Inspired Men's Skirts Below.
Burberry Check-Print Kilt
Remember when Kanye rocked a Givenchy kilt during his Watch the Throne Tour? He went on to describe his fashion choice as something fit for a warrior. Whether you agree with that or not, the kilt is essential in both Scottish and Irish culture. Burberry pulls from that longstanding history and gives us its own take on the kilt using the brand's signature checkered print.
MCQ Breathe Parachute Midi Skirt
MCQ's midi skirt feels gothic and a bit futuristic, teetering on the realms of the cyberpunk. That's why we love it. Not to mention, the stretchy waistband and breathable mesh underskirt help the garment fit and breathe perfectly on the move.
Y-3 CH2 Cloud Quilted Skirt
Yohji Yamamoto is another name that is no stranger to genderless and futuristic designs. The Y-3 Cloud skirt is made using technical fabric and features padded quilt all over its body. If you're a fan of Yohji and own any existing Y-3 pieces, you'll have no problem adding this into your rotation.
Molly Goddard Pleated Wool Skirt
When you hear the term kilt, you probably imagine something like this. From the pattern to the cut, the Molly Goddard skirt features all of the hallmarks of a classic kilt. If you are worried about getting cold, the skirt's Fall-friendly wool material is sure to help with that.
Thom Browne x Highsnobiety Men's Pleated Mesh Skirt
You can't mention men's skirts without mentioning Thom Browne. We admit that there is a little bit of bias here, as the American designer did bless us with our own special collection. But, what's not to like? The black skirt pairs well with Americana classics, like the white button-down or a nicely cut formal jacket. This men's skirt is a direct product of Browne's innate ability to define and redefine the menswear uniform.
Want to keep browsing? Head to the Highsnobiety Shop for more products that we love. Highsnobiety has affiliate marketing partnerships, which means we may receive a commission from your purchase.