After owning the divorced professor aesthetic in Scenes From a Marriage, Oscar Isaac continues his style accession with skirt supremacy.
For the London premiere of Marvel's Moon Knight series in mid-March, Isaac rocked his version of the classic grey Thom Browne, swapping out the cropped pants for a pleated skirt that dusted his knees.
The skirt in menswear is nothing new. The likes of Rick Owens, Thom Browne, CDG, and Maison Margiela have been including them in runway collections for years and their un-gendered use stretches back centuries — not just in the form of the I'll-only-wear-it-at-a-wedding kilt. Even so, dresses and skirts have never really stuck their flag firmly in mainstream menswear. But it looks like that's about to change.
In late 2019, pre-pandemic, we covered the rise of the man skirt and how, at the time, it was popping up on runway displays between Paris, New York, Milan, and beyond. Now, our wardrobes are doing their full butterfly transformation and becoming louder, more ostentatious, and decidedly less boring. In what is something of a perfect storm for the affirmation of the skirt for men, some of pop culture's biggest names are wearing them, too.
Take Jordan Clarkson, Utah Jazz point guard and arguably one of the NBA's best-dressed players, for example. He's been seen making more than one player arrival in a proud skirt display and we love it. Back in the midst of the January cold, Clarkson turned up to face the Brooklyn Nets in a Fear of God plaid skirt, styling it with a pair of yellow and black Nike Dunks and a sacai bomber, showing everyone how good the look can be if done correctly. He wasn't done there, either. Jordan Clarkson recently wore a full look from Highsnobiety's exclusive Thom Browne collection, including a paneled mesh skirt.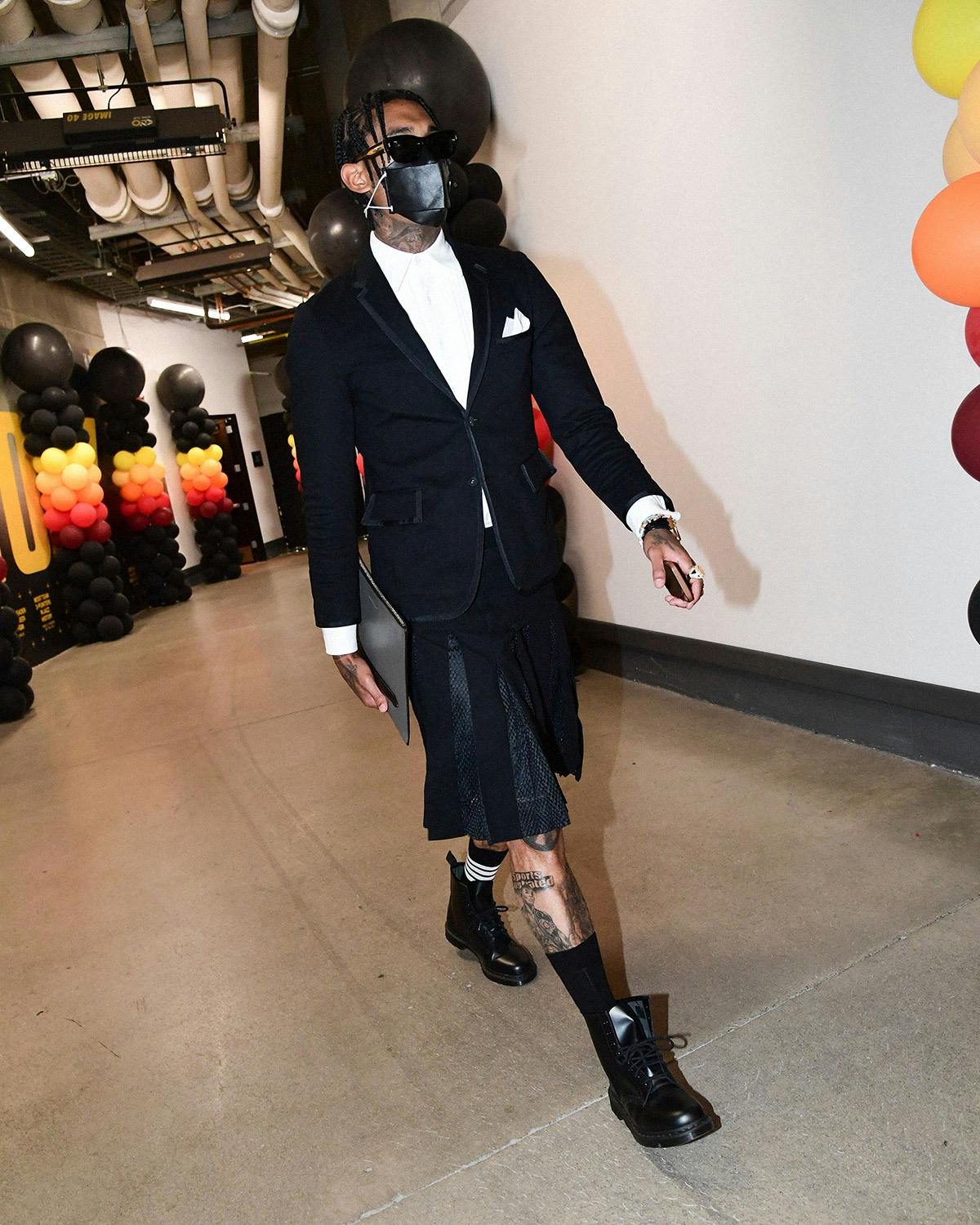 This renewed affirmation of skirts in menswear via popular culture goes far beyond the arenas of the NBA, too. In music, the skirt has been getting love from the likes of A$AP Rocky, A$AP Nast, and Lil Nas X, with the latter wearing a red tartan skirt to talk monumental success with Jimmy Fallon last month. Of course, there was also the moment that Kid Cudi performed on Saturday Night Live in a Virgil-designed floral dress. These are big stages. And huge statements of advocacy for genderless dressing.
Why it's taken this long for the skirt to really enter the realm of menswear, I don't know. And I sincerely hope what looks like a full acceptance of the category doesn't once again fizzle out with a quiet yelp. People wearing whatever they want, whenever they want, means more styling options and less time trying to work out another way to wear your Levi's 501s.
With that in mind, we hit the internet to round up some of the best skirts for men on the market right now. Our search, and the amount of them available in the collections of the world's best brands, tell us that it's going nowhere fast.
Shop the best skirts for men below.
Thom Browne x Highsnobiety Pleated Mesh Skirt
Seen on Jordan Clarkson on the IG image above, this skirt comes courtesy of Thom Browne and is from the exclusive collection we just launched on our site. We also let our staff live in a fantasy world where this was our HQ uniform, albeit for one day only. See what happened here.
Dries Van Noten Parwin Shorts
Okay so these aren't technically a skirt, but if we're basing our selection on vibes, then this Dries Van Noten piece is technically a skort. So we're counting it.
Chopova Lowena Pleated Midi Skirt
You'll notice that a lot of the skirts on the market for men and see on famous faces come in plaid form. Perhaps that's because it reflects the punk attitude of those that don't follow the mainstream. That, or because it just looks damn good.
COMME des GARÇONS Oxford Skirted Trousers
Rei Kawakubo has long had a penchant for both the man skirt and punk aesthetics, with both uniting here on a piece for those looking for a gateway to the look. This is a skirt/trouser hybrid, which allows you to introduce the shape to your wardrobe without bearing any leg just yet. You'll get there.
Situationist Pleated Skirt
This skirt, from Tbilisi-based brand Situationist, is giving me big Mark Bryan vibes. We stan him here at Highsnobiety, so I don't need to say anymore.
Raf Simons Printed Skirt
You don't have to go ultra-leg bearing to do the whole skirt thing, though. Raf's current obsession with '60s and '70s prints is on proud display in this ankle-length skirt for everyone.
Yohji Yamamoto Skirt-Overlaid Trousers
Like the CDG option above, this skirt also comes attached to a pair of pants — an idea I'm into. Why choose when you can have both, huh?
Want to keep browsing? Head to the Highsnobiety Shop for more products that we love. Highsnobiety has affiliate marketing partnerships, which means we may receive a commission from your purchase.