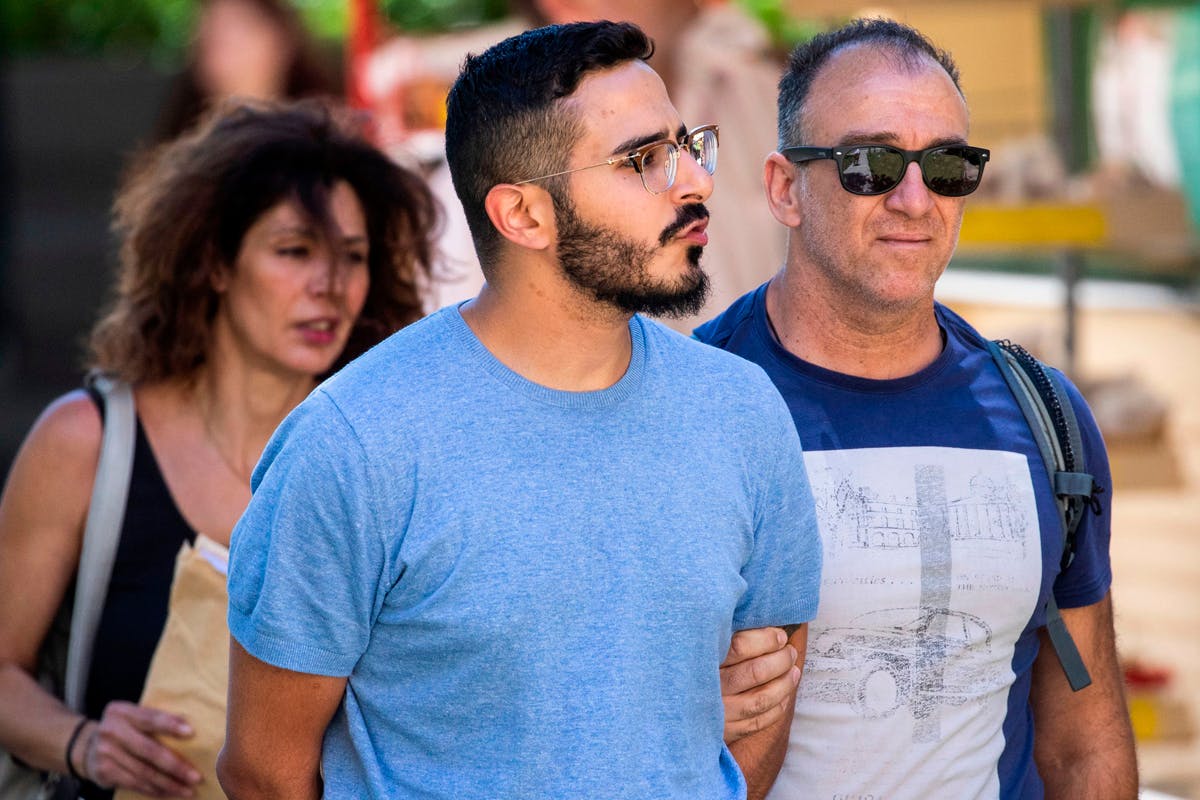 After over 50 million of us tuned into Netflix's Tinder Swindler, the world is wondering: what is Simon Leviev (real name Shimon Hayut) up to?
Well, not jail, shockingly. He's somehow still living his jet-setting lifestyle of luxury — and landing booking deals? We actually live in a world that celebrates scammers.
The "Tinder Swindler" has since signed with talent manager Gina Rodriguez — "There are always two sides," Rodriguez said on Instagram. "Like or hate it, I want to hear his side." — and wants to run with the big stars of Hollywood.
With the help of the Mama June: From Hot to Not executive producer, Hayut is apparently planning to star in a competition dating series, write a book, and host a dating podcast, according to a rep from Rodriguez's Gitoni Productions.
A scammer who is reportedly banned from Tinder on a dating show? The irony.
Netflix's Tinder Swindler details Cecilie Schrøder Fjellhøy and Pernilla Sjöholm's relationships with Leviev. Both connected with him through the dating app Tinder, where he claimed to be the son of Lev Leviev, LLD Diamonds' billionaire founder.
Leviev is said to be suing Hayut for millions.
Mere seconds after matching, Hayut enticed these ladies with his opulent lifestyle of parties, champagne, jet-setting, and designer clothes.
After gaining the womens' confidence, Hayut put his plan into action.
Suddenly, Hayut's "enemies" struck, rendering the billionaire playboy vulnerable and penniless. Wouldn't these nice women (Sjöhol a platonic friend and Fjellhøy a fiancée) send him a couple thousand bucks? He was good for it, of course, and would eventually pay them back a thousandfold.
Hayut wasn't actually rich, of course, and wasn't actually going to pay anyone back — he was using the money he conned out of trusting women to finance his extravagant spending sprees, creating a Ponzi scheme wherein the cash extorted from one woman was spent on impressing another and so on.
The estimated $10 million that Hayut collectively conned from dozens of women was never repaid.
I don't think Tinder had this in mind for its "choose-your-own-adventure" style show.
Hayut was eventually caught by Interpol and sentenced to 15 months for fraud, theft, and forgery. Justice was unfortunately not served for Fjellhøy and Sjoholm as the charges weren't connected to their cases; plus, international cases complicate matters.
And just like that, the era of Simon Leviev (née Hayut) came to an end — right? Nope, it got better (for him, at least).
Hayut only served five months of his 15-month sentence and, unsurprisingly, he picked right up where he left off – private flights, high-end eats, and day trips on yachts — all documented on his personal Instagram account, which has since been deleted (though imitators are abundant).
Doesnt' matter: just like Anna Delvey, reportedly planning to work with Julia Fox, Hayut is living every scammer's dream (maybe Netflix ought to stop celebrating con artists, no?).
Since landing Blac Chyna's talent manager, Hayut has been a hot ticket for club promoters, for instance.
His price? According to TMZ, he's requesting a whopping $20k to make an appearance but that's not all: Hayut also demands bottle service, a private jet, five-star suites, car service, and full-time security for a single night at any club.
I can see the flyers now, "Swindling Saturdays: Ladies free all night, but watch your wallets!"
Hayut has also seen wild success on the celebrity video message platform, Cameo, charging $200 per personal video and $1,000 for business ones. Publications claim that Hayut racked up $30K during his first three days on Cameo but we couldn't verify that figure.
Are the Tinder Swindler's fraudulent days behind him? I'm not too sure, considering that Hayut impersonated a medical professional for vaccine access in 2020.
Even if he does go legit, Hayut truly doesn't deserve a second chance. Assuming even half the things mentioned about him in Netflix's documentary series are true, he's a pretty foul individual.
But, then again, Hayut faked it 'til he made it and it sounds like he's pretty much unstoppable now, with plenty of Hollywood plans in the tank. If only his newfound fame and wealth trickled down to the women he scammed.