This article was published on January 8 and updated on February 14
It's Julia Fox's world, we're just living in it.
In just a few short weeks, the Uncut Gems heroine and New York City scene-ster catapulted to the forefront of online discourse and tabloid headlines for her fledging relationship with none other than Kanye West.
News of the pairing came out of left field, making the entire affair even buzzier.
Shortly before Fox and West went public, the rapper asked his ex-wife, Kim Kardashian, to "run right back to me" during the "Free Larry Hoover" concert.
And just ahead of Christmas, Fox posted a series of no-holds-barred Instagram Stories explaining why she split from ex Peter Artemiev, who allegedly abandoned her and their one-year-old son, Valentino.
Fox and West's relationship is as much as a surprise as Kardashian and Pete Davidson's jaunt, a spectacle that's sent equally forceful tremors through the pop culture sphere.
Unsurprisingly, plenty of onlookers are speculating that West's new romance is a publicity stunt, an attempt to "get back" at Kardashian, pointing to an old Paper Magazine photoshoot starring Fox and Davidson as supposed proof. Some even think the entire affair is some sort of performance art piece, ostensibly commenting on the nature of fame.
Stunt or not, the coupling of two artists whose work tends to blur the line between public and private is the spectacle of a lifetime — and the public was more than happy to watch.
But, as the old saying goes, the flame that burns the brightest also burns the quickest. Just over a month after things began, Fox and West quietly broke things off, a surprisingly mild ending to an explosively bold fling.
Below, a timeline of Julia Fox and Kanye West's maybe real, maybe fake (does it even matter?) relationship.
December 31, 2021
The actor met West at a surprise New Year's Eve performance in Miami.
January 2, 2022
 TMZ published photos of Fox and West having dinner at Carbone in Miami.
January 3, 2022
 While wearing a beach 'fit that will go down in history, Fox told Page Six that she doesn't know if she'll see Ye again.
January 4, 2022 
The pair saw Jeremy O. Harris's Slave Play (a rather loaded choice) and hit Carbone again, this time in New York City. West appears to dress Fox in his favorite label, Balenciaga.
January 6, 2022
Fox penned a brief article for Interview magazine confirming her and Ye's romance.
Detailing their NYC date night, the actor wrote that the DONDA provocateur "directed an entire photoshoot" for her at Carbone.
"After dinner... Ye had an entire hotel suite full of clothes. It was every girl's dream come true. It felt like a real Cinderella moment... I don't know where things are headed but if this is any indication of the future I'm loving the ride."
As for that suite full of clothes? Despite dressing Fox exclusively in Balenciaga (save for that pair of Miaou thong pants), Ye presented his flame with Glenn Martens's first collection for Diesel.
January 7, 2022
Speaking to Brock Colyar of The Cut, Fox cleared the air regarding her Instagram Stories about Artemiev.
"I obviously was not expecting all the publicity to come after I had come for my son's father online," she said. "My son's dad loves his son more than anything in the world. He just has some issues that I shouldn't have made public."
Ending the chat on an optimistic note, Fox wrote in a text message to Colyar: "The overall message is that if ur in a toxic relationship, get out of it cuz u never who know or what could be waiting on the other side."
Later that day, Ye posted a series of rather uneventful Instagram Stories showing Fox... walking down the street at night.
January 8, 2022
By the weekend, Ye and Fox jetted to LA, where they were spotted dining at Craigs before retiring to a hotel in Hollywood. The next day, Ye picked up his kids and some bootleg merch.
January 13, 2022
Fox opened up about her relationship with Ye on her Spotify podcast, Forbidden Fruits. "I'm just livin' my fuckin' life," she said to co-host Niki Takesh.
"I don't have any expectations, there are no labels," Fox continued. "It's just people that make each other feel better. It's such a Gemini-Aquarius connection. Our minds work very fast, we keep up with each other."
She described being in the studio with Ye and Future as "fucking amazing" and called her new partner "a genius."
Ye and Fox were also spotted hanging out with, of all people, Madonna and Floyd Mayweather at hip LA eatery Delilah. Outside, Ye reportedly got into an altercation with an overeager autograph-seeking fan.
January 15, 2022
Cementing an ongoing series on Fox's relationship with Ye, Interview published another tell-all with the actor.
"I think I'm going to call you about my date nights weekly, maybe bi-weekly," she told the magazine, going on to explain how that celebrity-filled photo came to be.
"I had a date with Madonna, but obviously I invited Ye... Then Floyd Mayweather, Antonio Brown, and a bunch of other people showed up."
She then recounted a bizarre movie night Ye hosted for her friends, along with Naomi Campbell, Dave Chappelle, and Marilyn Manson.
Seeming to address potential backlash against the problematic choice in company (namely Manson, who faces lawsuits from multiple women alleging sexual and physical assault), she said: "I'm canceling cancel culture and putting an end to this black-and-white thinking. People shouldn't be defined by their darkest moment."
Refusing to support someone whose actions are (allegedly) as reprehensible as Manson's isn't "cancel culture" or "black-and-white thinking" — it's holding people accountable, something neither Ye nor Fox seem to be willing to do.
January 23, 2022
Fox and Ye hit Paris Fashion Week, attending Nigo's Kenzo debut in coordinated denim 'fits (most notable was Fox's baggy pants by Carhartt, which recently went viral for instating a mandatory vaccine program).
January 24, 2022
The couple twinned (yet again) in all-black, leather ensembles to sit front row at Schiaparelli's couture show, where Fox was spotted Juuling inside.
January 28, 2022
Photographer Danielle Levitt posted a rather upsetting shot of Ye and Fox French kissing, taken at a celebratory dinner for the rapper, Rick Owens, and Anselm Kiefer.
The photo was notable not only for its volume of visible tongue, but also for its eerie resemblance to snaps Ye took with his former partners, Kim Kardashian and Amber Rose.
February 2, 2022
Fox celebrated her birthday with a private dinner at Lucien, a French bistro-cum-hotbed of hype-seekers, aged hipsters, and fledging influencers.
West was in attendance, and dressed Fox in yet another black crop top and low-rise pants.
According to IG Stories, West apparently gave Fox a Birkin bag for her birthday, a $22k+ gift. He may have also ponied up matching accessories for her friends, too, though that's not entirely clear.
February 4, 2022
On a new episode of Forbidden Fruits, Fox cleared up rumors that she once dated Ye's former archenemy, Drake.
"Nothing really happened. We were just, like, friends hanging out," Fox clarified. "I wouldn't say that we were dating."
Phew. A Ye-Fox-Drizzy love triangle is the last thing the world needs.
February 7, 2022
Kanye hits the town with a Kim K impersonator, no Julia Fox in sight.
February 9, 2022
Fox appeared on (so-called) feminist podcast Call Her Daddy to discuss her life, pre and post-Ye.
"I call him my boyfriend and he calls me his girlfriend," she stated, going on to characterize her first impression of him as "super magnetic."
Later, she appeared to confirm that Ye has been engineering her wardrobe ever since they started dating. "We were on the Kanye workout plan," Fox recalled. "If I'm going to be seen with [Ye], I need to step it up a little bit."
"I definitely need to be nudged and a little bit and pushed out of my comfort zone... I'm stubborn, and I'm going to, you know, wear the things that I'm comfortable in."
February 13, 2022
Having lashed out at Kim Kardashian, Billie Eilish, and Kid Cudi, Kanye spent Super Bowl Sunday acting out in the worst way. Indefensible stuff all around.
Fox, meanwhile, has scrubbed her Instagram page of any Kanye references or photos with the rapper, though recent pap shots suggest that she's still wearing the stuff he picked out, including a blue YEEZY GAP Round Jacket.
That, plus the couple not having been photographed together for a week or two, seems to suggest that the honeymoon is over and the couple is no more.
Oddly, ardent fanpage @foxye.news has also been deleted (Fox herself uploaded a few of its posts to her Stories over the past few weeks).
February 14, 2022
The end of an era.
Fox herself all but confirmed the rumors of a break-up a day later, uploading an Instagram Story calling herself "a #1 hustler" and saying that she has "love for [Kanye] but wasn't in love with the man."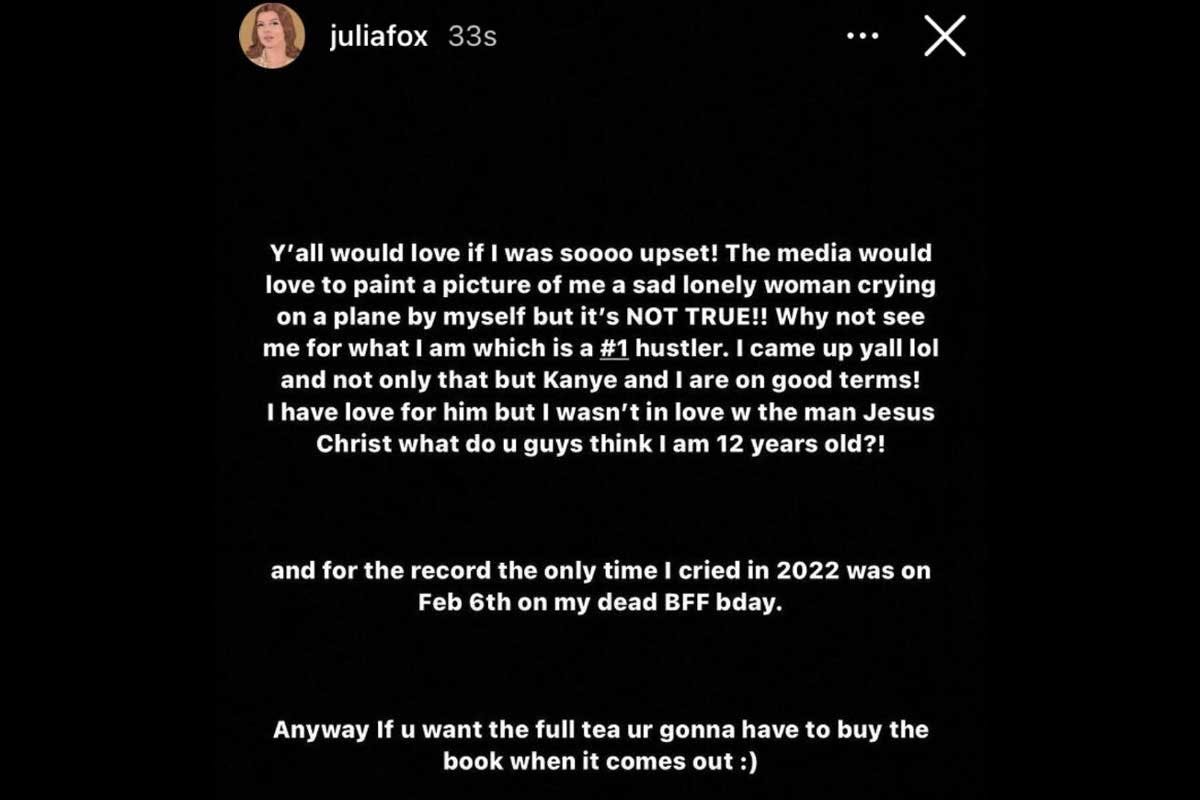 Fox ends the note with a the semi-serious wink to a possible book about her monthlong affair, which, yeah, probably doesn't need to exist given how thoroughly documented the whole thing was. Just look at all the entries on this timeline!
Shop our favorite products