Solebox has been on an impressive run over the past few months. First, the German sneaker boutique teamed up with adidas to bring back an archival, prototype model, and now it's dropping a very special BAPE-STA collaboration. Initially teased by Solebox GM Aljoscha Kondratiew and officially unveiled just yesterday, the Solebox x A Bathing Ape BAPE-STA is a decidedly grown-up take on the shoe of the '00s.
In true Solebox fashion, the brand has elevated the BAPE-STA and given it a modern-day-appropriate rework. Not only is the shoe Made in Italy, it also features the OG shape — something BAPE fans will be especially pleased about.
Ahead of the sneaker's release on December 30, Kondratiew sat exclusively with Highsnobiety to discuss the significance of the project to himself and the Solebox team. During the call, he also reflected on what was a big year for the retailer, and what to look forward to from Solebox in 2022.
BAPE is synonymous with Solebox in Germany. How did that relationship develop?
Aljoscha Kondratiew: What made Solebox special for me as a consumer, before I joined the team, was that we had a lot of brands most other retailers in Germany didn't have. We had BBC Ice Cream. We had Medicom toys. No other store back then was tapping into the Japanese product world like Solebox was.
So for me, it was key to include BAPE because it's the most famous of the bunch and the brand that started a lot of this. It was one of the first brands that I brought in when I joined Solebox six years ago. I reached out to the brand to see if they're interested in opening up distribution for the European market. I was really getting on their nerves, sending a lot of emails and getting slow responses from them. But I think that's also a Japanese way of initially doing business. They're trying to see if you're really committed, and you really want it.
This project has been in the works for two years. Was that due to Corona or because good things take time?
AK: Corona definitely pushed us back in the calendar, but on the other hand, good things definitely also take a while. When we started the project, we wanted to bring back the OG BAPE-STA shape. At the time, the updated version of the BAPE-STA was on the market. So I asked BAPE if we could bring back the OG shape. To begin with, it was a no. So we started working on the updated shape, just experimenting with materials and how we could get the camo adapted to the shoe.
Somewhere down the road, they started making samples for certain celebrities on the OG shape, so I hit up BAPE again like, 'Hey guys, the OG shape is out there.' And finally, they allowed us to work with the OG shape. Basically, we had to start the sampling process again because the shape needed to be adapted to the last. That's why it took a little longer than expected, but I'm happy that we took the scenic route.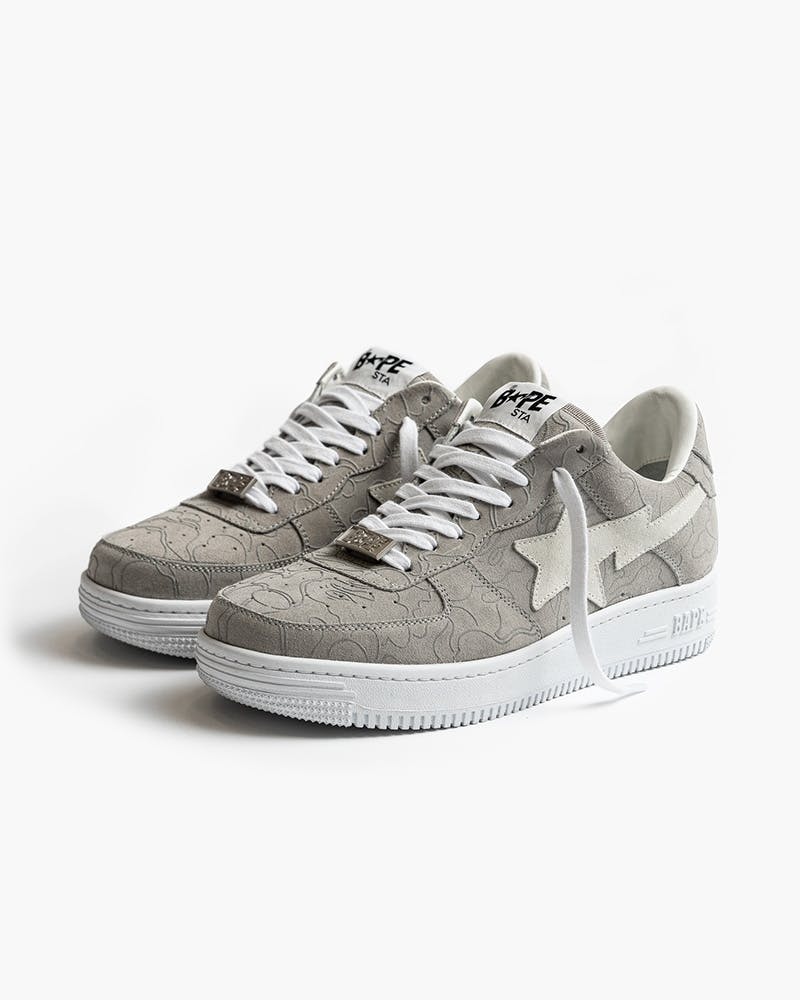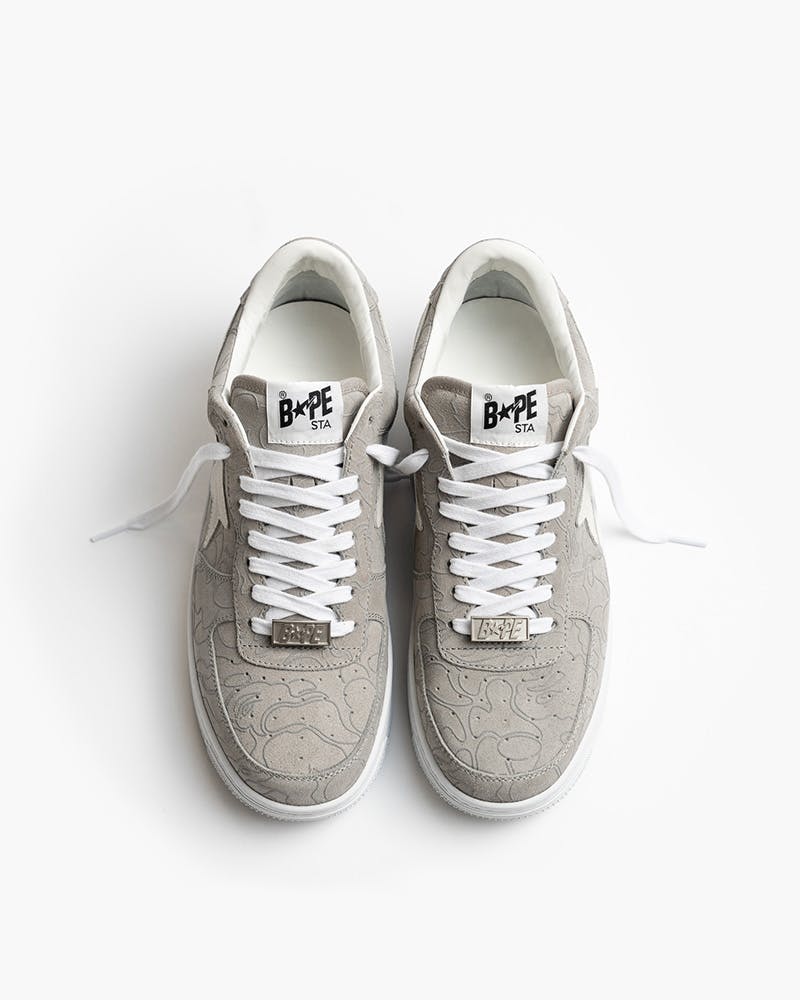 The OG shape is a big deal of BAPE heads and collectors of the shoe.
AK: Yeah, absolutely. I think the first one that I saw was at the LV show and when Virgil was wearing the black croc pair. They made a few custom order pairs for important persons to the brand. After that, a few more kept popping up, so I was like, "Hey, it's perfect timing right now, so let's do it."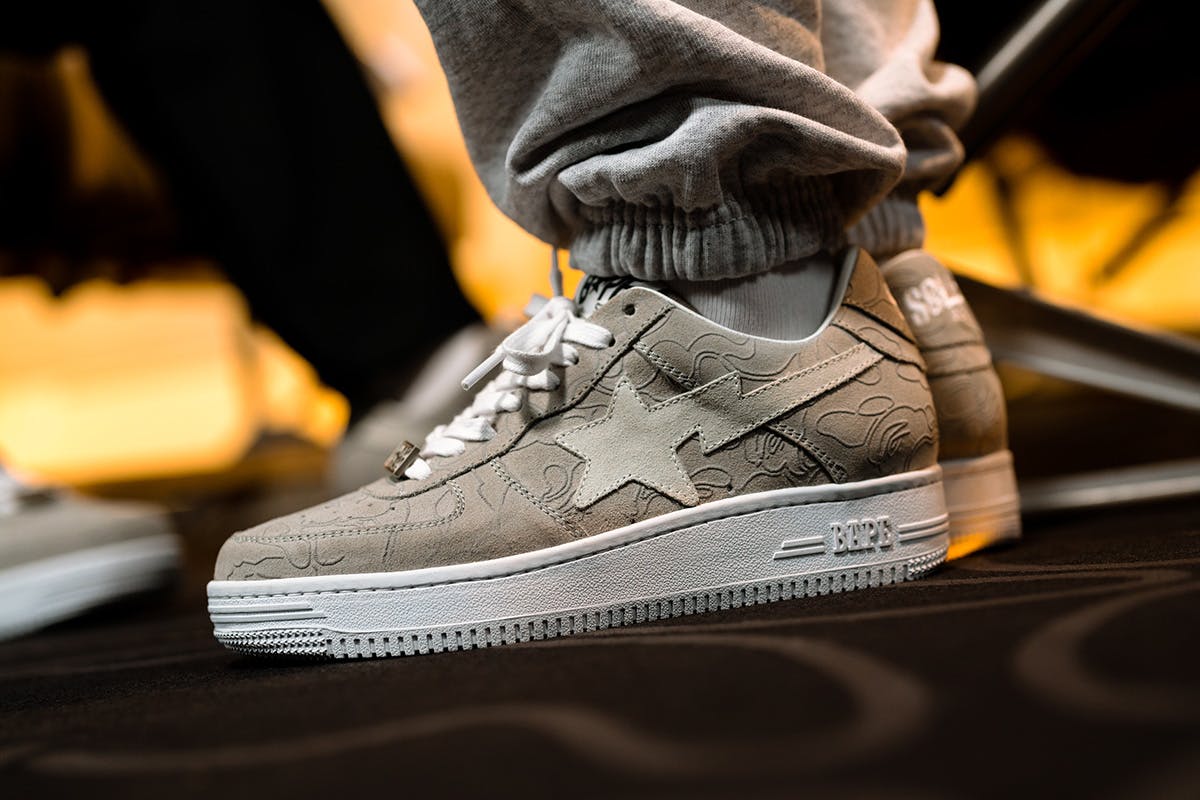 Walk us through the overall concept of the project and the design of the shoe.
AK: BAPE was a very loud brand, especially if you look at all the OG colorways, which were mainly patent leather and flashy colors. Trends change, and we wanted to see how to put the Solebox lens from 2022 on the BAPE-STA. We wanted to tone it down a little. But we also wanted to make sure the original DNA, the camo, was present in a subtle way. When you look at the Solebox catalog of products, we are always very keen on making sure that we use high-quality materials, and incorporate our branding in a smart way.
The shoe is made in Italy. Why?
AK: We wanted to make sure it's produced in Italy using high-quality Italian leather. We wanted to look into a smart way of implementing the BAPE camo. So we had the line camo — not tonal but just in a slightly different shade — implemented to the upper. We also switched up the OG BAPE-STA logo with Solebox branding. It's been a long time coming, so this can be seen as a milestone project for us as a brand.
Other brands have done collabs on the SK8-STA recently. Why did you stick with the BAPE-STA?
AK: The BAPE-STA is the most iconic out of the whole footwear offering. We were also one of the first retailers that noticed that the sneaker was doing well in Japan and would also do well with our consumers in Europe. Plus, on one of my first travels to America as a young kid, my first purchase in New York was a BAPE=STA, so it was a nice full-circle moment for me as well.
What's your favorite part about this collaboration?
AK: I think we are one of the first to produce the shoe in Italy, so manufacturing locally in Europe and adding another layer of luxury to the shoe is what I am proud of. Then the colorway in general, that it's toned down, but there is a lot of BAPE DNA and also Solebox DNA. It's a shoe that is wearable in a casual way but also stands out. We also worked on a capsule collection next to the footwear. So there will be a range of BAPE x Solebox apparel to celebrate the international relationship between the two brands.
2021 was a strong year for Solebox.
AK: The biggest highlight for me is that during a global pandemic, we were able to make sure that our team kept the spirit alive, that everybody stays motivated and hungry, and that everyone was safe.
Then, of course, we opened a store in Barcelona after two years without any openings. After being locked in for a year and a half during COVID, coming back, opening that store, being in touch with consumers again, receiving firsthand feedback from those guys was the greatest feeling.
What's coming up in 2022?
AK: Next year is our 20-year anniversary, so there are a few things lined up for that. There's not too much that I can reveal, but what I can sayis that community is always at the center of what we want to do. For example, in Berlin, we just opened up our first community hub. It's a creative coworking space, where the local community can come together and work on projects. We want to open up more of these hubs. Barcelona will be the next one.
To finish it off, what are your top 3 sneakers of the year?
AK: I grew up on all that stuff in the early 2000s. The Dunk was also big back then, and it's good to see that a lot of colorways are coming back and the love is there. The Adidas Forum was also a shoe I actually appreciated, and I thought was pretty well positioned next to the Dunk craze that we saw on the market. Then from New Balance, their biggest reintroduction was the 550. I think it was a smart move to do that with Teddy and Aimé Leon Dore. I think the 550 was, across the board from pinnacle retail to commercial retail, a very strong success. I bought two pairs of them, so that is definitely my top three. Three kind of retro basketball-inspired sneakers.
To stay updated on everything happening in the sneaker world, check out the best sneakers to add to your rotation this week, follow @highsnobietysneakers on Instagram, and sign up to our newsletter for early access to the best drops sent straight to your inbox.