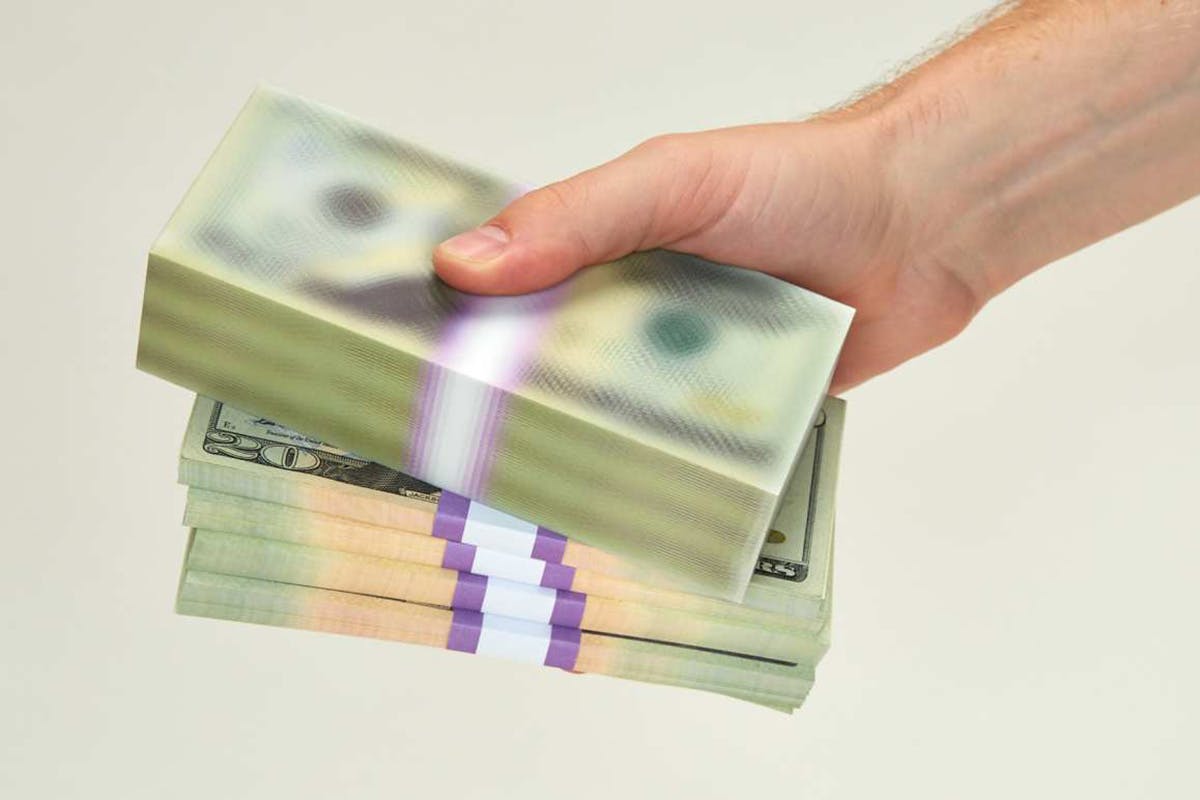 No, your internet isn't bugging. Yes, that is in fact an unblurred image of a blurry 3D stack of dollars. It's a work titled Big Blur by art provocateurs MSCHF (aka the brand behind those Jesus Shoes and the Birkinstocks) and it's currently up for auction at Sotheby's.
Well known for its viral releases, MSCHF's latest piece is all about "reading value into an object" – which, if you think about it, isn't that what the art market is all about? Big Blur literally blurs this transactive process into a 60 x 24⅜ x 17-inch sculpture of hundred dollar bills. The auction kicked off this week and currently, bidding has already passed $40,000.
Big Blur was influenced by one of MSCHF's earlier works, a 2020 eCommerce performance art piece called Blur. According to MSCHF's founder and CEO Gabriel Whaley, the piece was hosted on the website whatisblur.com where "the object for sale appeared to be blurred out, with the idea that you must purchase it to receive it in person and 'reveal' what it actually was [...] Upon receipt, however, the buyer discovered that the object was exactly as advertised - a solid, brick of what appears to be a stack of $20 bills which has been blurred on all faces."
Blur – and Big Blur as its continuation – is a commentary on how the art market entertains the tantalization of the unknown. The piece subverts this trade of money for something abstract of value into a transactional art piece.
Sotheby's is known for pushing the boundaries of art into the terrains of fashion, sneakers, and even hip-hop, which makes it the perfect platform for such a conversational and potentially controversial piece. MSCHF's latest work straddling the physical and digital art world is especially meaningful as the art market stands on the precipice of fully-digital art and the rise of NFTs.
Head over to Sotheby's to check out the listing for MSCHF's Big Blur, bidding closes on March 18.