Clean Clothes is a series examining the fashion industry's impact on our planet, and the brands, technologies, and people helping us toward a cleaner, more environmentally conscious future.
Last week, adidas unveiled the Futurecraft.Loop, a running shoe that has been designed from the ground up to be fully recycled.
Unlike traditional sneakers, which are constructed from diverse materials, the Futurecraft.Loop is made entirely from TPU, from the sole to the laces, and its various elements are fused together with heat, so there's no glue or stitching required, either. That means that when the shoe is worn out, it can be broken down into pellets, which will then be used to make a brand new Futurecraft.Loop sneaker. This new announcement landed just before adidas was named one of the world's most transparent brands by the newly released 2019 Fashion Transparency Index.
We live in an era of "conscious" collections, sustainable startups and corporate responsibility programs, so you'd be forgiven for not giving the story much further thought — this isn't the first time adidas, or anyone else for that matter, has debuted an innovative, waste-minimizing shoe. What's really exciting about the Futurecraft.Loop, though, is that it's a step toward what's known as the circular economy, or a "closed loop" system (hence the name). It's a concept that many in the industry believe can save fashion from the mess that it's in, where over-consumption and irresponsible practices are trashing the planet and creating a monumental waste problem. So, what is the circular economy?
Right now, we live in an era of linear ownership, where brands buy raw materials, turn them into products, and then say goodbye to them when they're sold. We buy things with a built-in lifespan, which means it's only a matter of time before we throw them away. Recycling rates are low, and because products aren't designed to be recycled, it's extremely difficult to re-use them without a drastic reduction in value. Fibers from your unwanted tees might end up in insulation, if they're recycled at all.
According to the Global Fashion Agenda, 73% of the world's clothing eventually ends up in a landfill or is incinerated. Less than 15% of garments are collected for recycling, and only 1% of the materials used in clothing production are actually recycled into new clothes.
But in a circular system, products are designed to be recycled, and manufactured so that their raw materials can be repeatedly used without sacrificing their value. This is where the Futurecraft.Loop comes in. A traditional running shoe made from dozens of materials is a nightmare to recycle, but the Futurecraft.Loop can be re-used "again and again and again," as adidas executive Eric Liedtke explained at the shoe's launch event.
Now, this is where things get really interesting. In order for the Futurecraft.Loop to be repeatedly recycled, adidas can't just let go of the shoes once someone's paid for them. The brand hasn't said exactly how it plans on launching the shoe when it's released in 2021, but the only way adidas can ensure the shoes are properly recycled is if they're released via some kind of rental, subscription or buy-back scheme.
This is where the circular economy manifests itself for the end user. As brands take over the responsibility for recycling their products, it creates the opportunity for consumers to rent or lease products, rather than owning them.
Are sneaker subscriptions the future?
If it seems unusual at first, think about it — do you really need to own a pair of running shoes, or do you just need to use them? Rather than paying to own a new pair of sneakers every time their old ones are worn out, consumers could in theory pay a monthly subscription — like they already do for music and movies — which would give them access to a vast number of products without having to sacrifice excess cash and wardrobe space. In return, adidas would keep hold of its raw materials and guarantee unprecedented levels of recycling. That same methodology could be applied to any consumer product — TVs, cars, bedsheets — because right now we are forced to own so many things that we just need to use.
The circular economy — or "circularity" as it's often known — is seen by many as the only way forward for the fashion industry. If brands extend their responsibility for products after they're made, there will be a clear financial incentive for sustainability, and waste will become a liability, rather than just an unpleasant side-effect. However, that will only work when there's a recovery system in place, which is why renting makes so much sense. The rental economy also neatly fits into modern consumption habits, where people prioritize flexibility and choice over physical ownership.
Right now, this is all just big ideas, but the circular concept is catching on. Sustainability pioneer Stella McCartney already offers a line of sneakers, also known as the "Loop", that's made from 100% polyamide, and can be disassembled and recycled once the stitching has been removed (the designer's website doesn't offer any information on how the shoes are recovered, though). Dutch brand Mud Jeans offers a denim rental service, where customers pay €7.50 a month for their jeans, with the brand offering free repairs and the opportunity to exchange them for a new pair every year.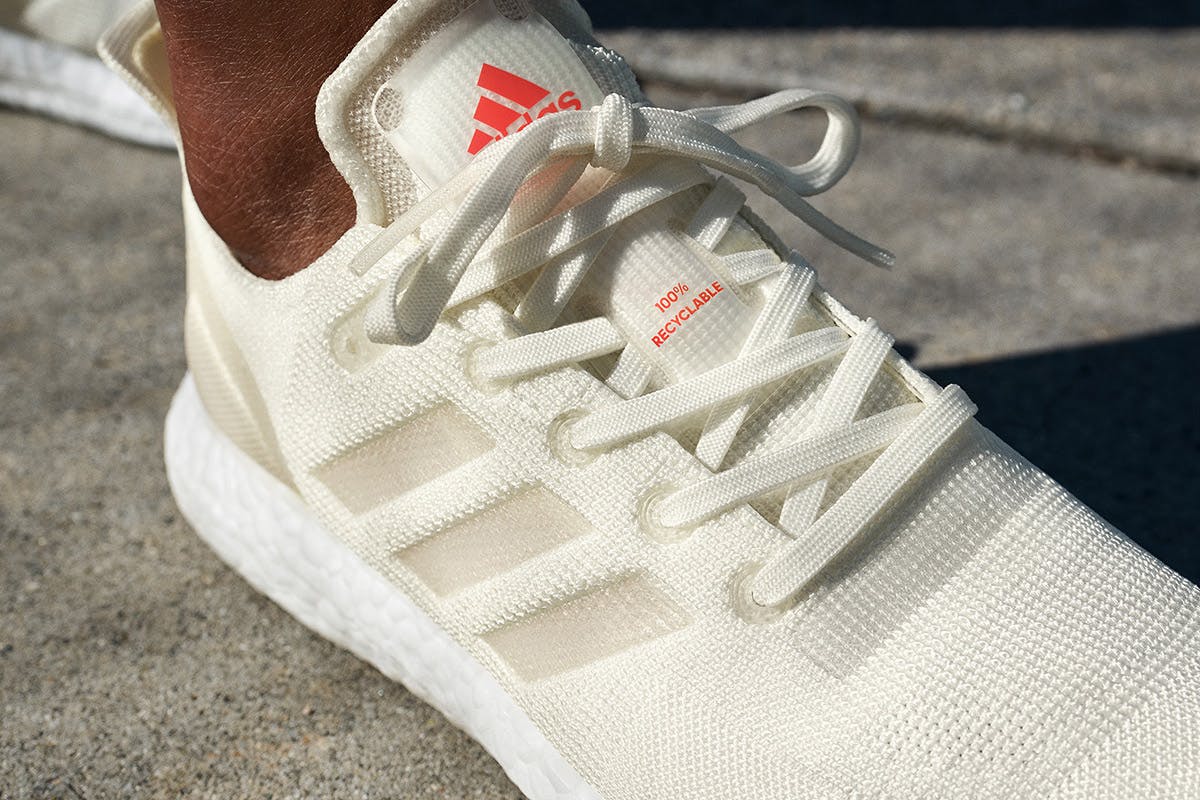 During 2017's Copenhagen Fashion Summit, a commitment to circularity was signed by a total of 94 companies, which account for 12.5% of the global fashion market. Signatories included ASOS, H&M, Gap, Kering, Nike, and — you guessed it — adidas. It's unclear how these commitments will be implemented, and moving to circular business practices doesn't guarantee a transition to a post-ownership model, either. But in theory, a circular system paired with the rental economy could address both the fashion industry's waste problem, and changing consumer habits.
That's not to say that the circular economy is a magic bullet — it won't necessarily solve the industry's problems of carbon emissions, labour exploitation, harmful manufacturing processes or water consumption, but addressing the industry's addiction to waste is a step in the right direction, at least.
For more reading on the circular economy, German chemist Michael Braungart and U.S. architect William McDonough have already set out a vision of a circular economy in their book Cradle to Cradle: Remaking the Way We Make Things. It's a must-read for anyone who's interested in the subject.
To stay updated on everything happening in the sneaker world, follow @Highsnobietysneakers on Instagram, check our sneaker release date calendar and subscribe to our sneaker chatbot on Facebook to receive lightning quick updates to your inbox.