This week Supreme unveiled its latest collaboration with Rei Kawakubo's COMME des GARCONS SHIRT. Alongside the collection's cut-up box logo tees and hoods, there's a distinct pattern adorning some of the finer cut'n'sew pieces. The collab's Schott Perfecto jacket, chore coat, matching painter pants and short-sleeve shirt all feature the phrase "JUSTICE FOR ALL," scrawled by one of downtown New York's most infamous characters: the graffiti artist known as Earsnot.
To say that born-and-raised New Yorker Kunle Martins is a memorable figure is something of an understatement. I first met Martins when he worked as manager at ALIFE's Lower East Side sneaker boutique, The Rivington Club, back in 2001. This outspoken, super friendly, statuesque character was pretty much the polar opposite to the anonymous and introverted graffiti artist stereotype at the time.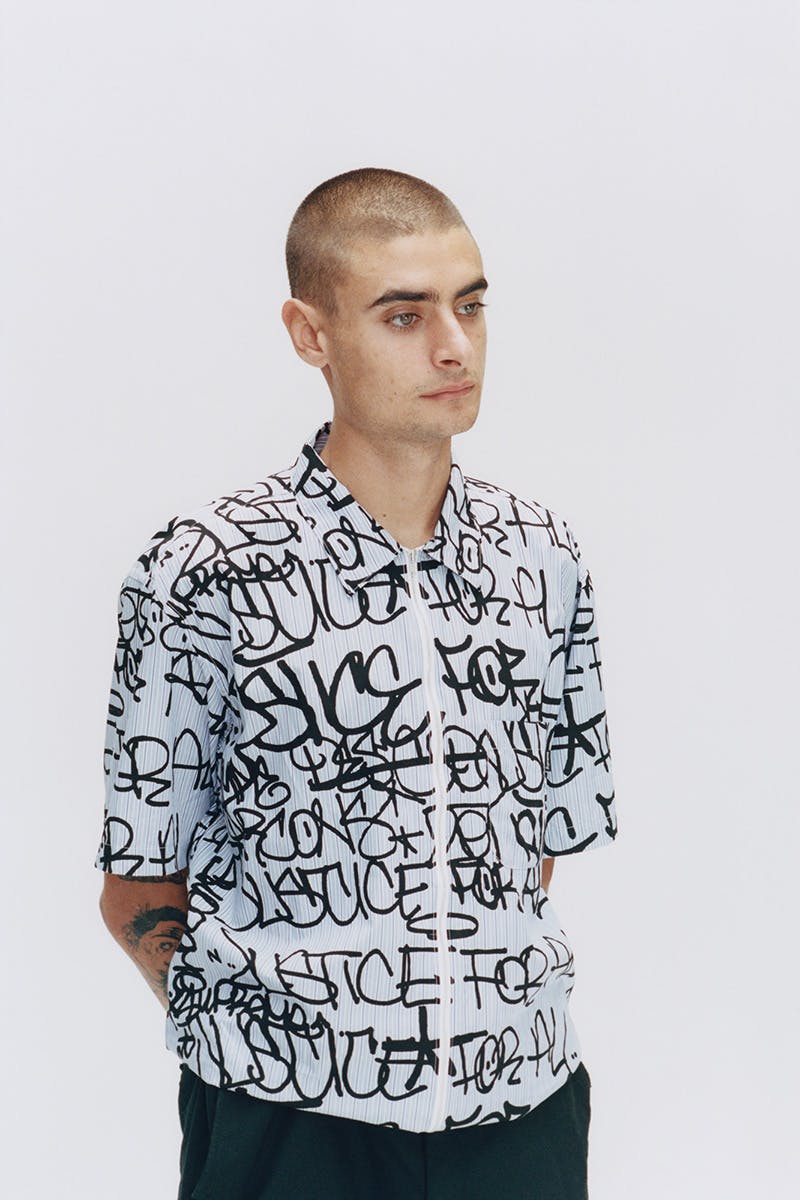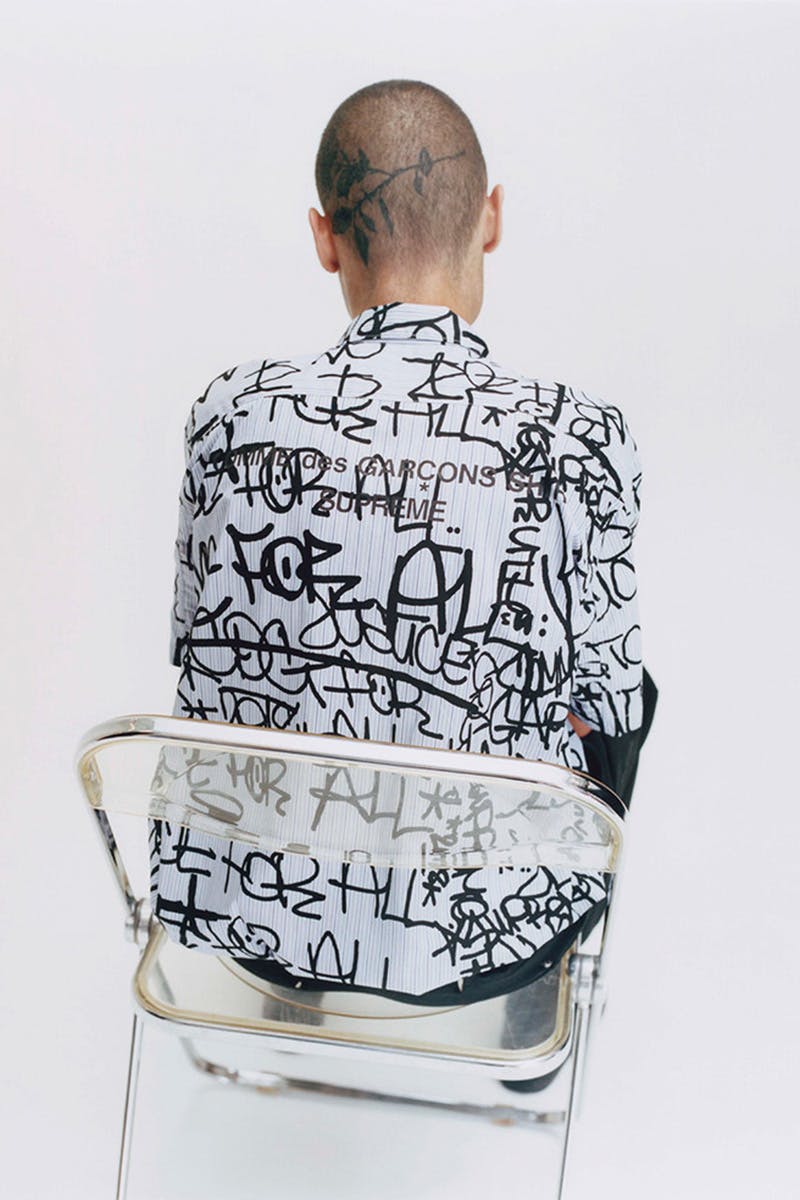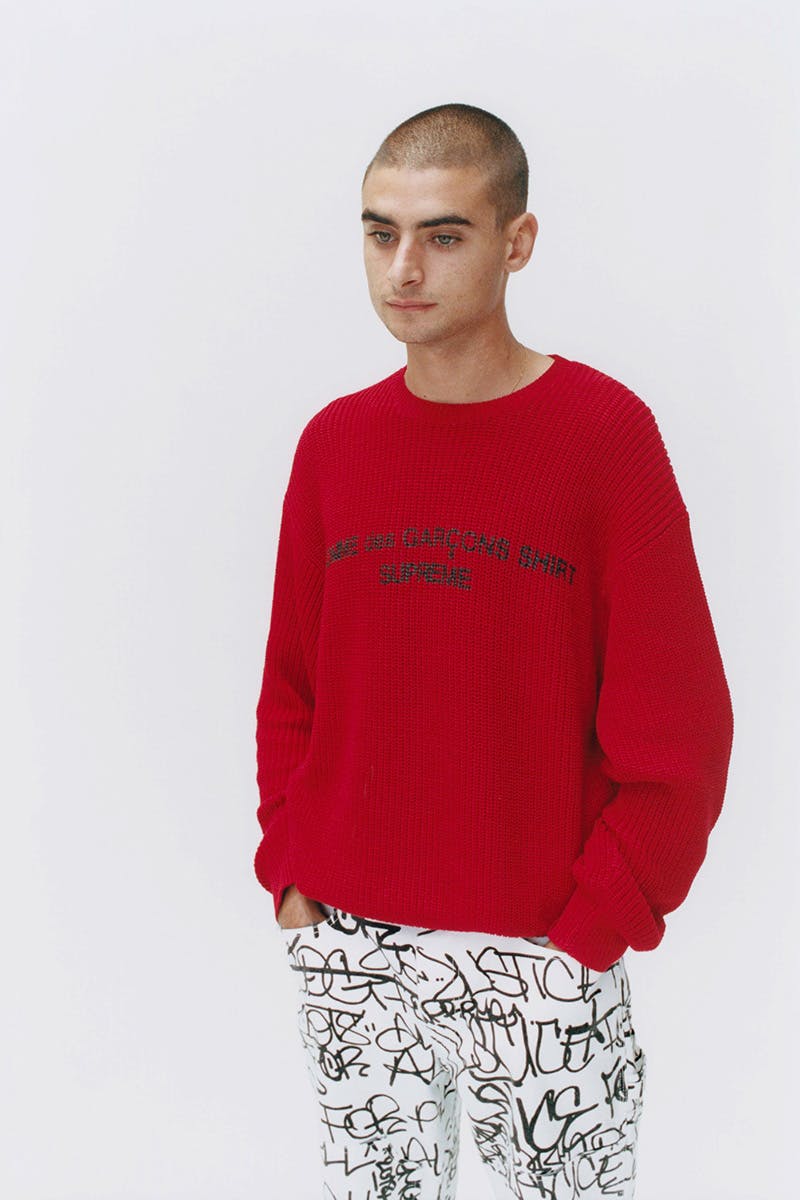 As president of the infamous IRAK crew, Earsnot and his band of writers rampaged through New York from the late '90s to mid '00s, leaving their mark all over the Five Boroughts, from street signs to subway tunnels. Earsnot's infamy wasn't simply due to his prolific writing — a teenage runaway, Martins was forced to fend for himself on the streets of NYC, and became well-known for his prevalent shoplifting of anything from cans of spray paint to $400 North Face jackets. He even ended up with a few short stretches in Riker's Island penitentiary.
The IRAK crew, whose name was pronounced "I rack," meaning "I steal," soon expanded to include a diverse mix of photographers, designers, writers, musicians and filmmakers, like Supreme alumni Jason Dill, A-Ron the Don, and the late Dash Snow.
Earsnot would eventually find himself working in art studios rather than city streets, on design projects with the likes of Nike, ALIFE, Fucking Awesome, Violette, and, of course, Supreme. Martins worked alongside Jesse Geller for Miami Art Basel, and even landed a cameo appearance in season two of HBO's How To Make It In America.
No matter how big Supreme has become, the team has always stayed true to their New York roots by working with artists who shaped the creative landscape of the city. Earsnot follows fellow NY street artists such as Adam Cost, Ja, Futura 2000, Blade, Rammellzee and Lee Quinones, who've all made their mark on Supreme clothing designs over the years.
Here's a brief guide to Supreme collaborator Mike Kelley.