Now more than ever, the community of young creatives and forward-thinking businesses is growing at an exponential rate. With the rise of exciting new projects, startups, and individuals sharing their passions with the world, comes the desire to share their messages too - and what better way to do so than with personalized merch. It's no surprise that the demand and necessity for blank, customizable garments have significantly increased, and H&M's Blank Staples collection ticks all the boxes. As the perfect, cozy blank canvas for creatives to let loose on, we caught up with three business owners who customized the Blanks line, allowing them to truly express their practice and identity on the garments.
The first in our series of three focused on the green-fingered, LA-based duo that is Plant Man P, and for the second, we talked all things craftsmanship and embroidery with artist Chainstich in New York City. For the final iteration, we ventured into the hot and spicy world of LA-based restaurant Tacos 1986. Best friends and business partners, Joy and Victor Delgado have taken the California food scene by storm with their mouth-watering creations, currently the proud owners of five thriving taco spots all across the state.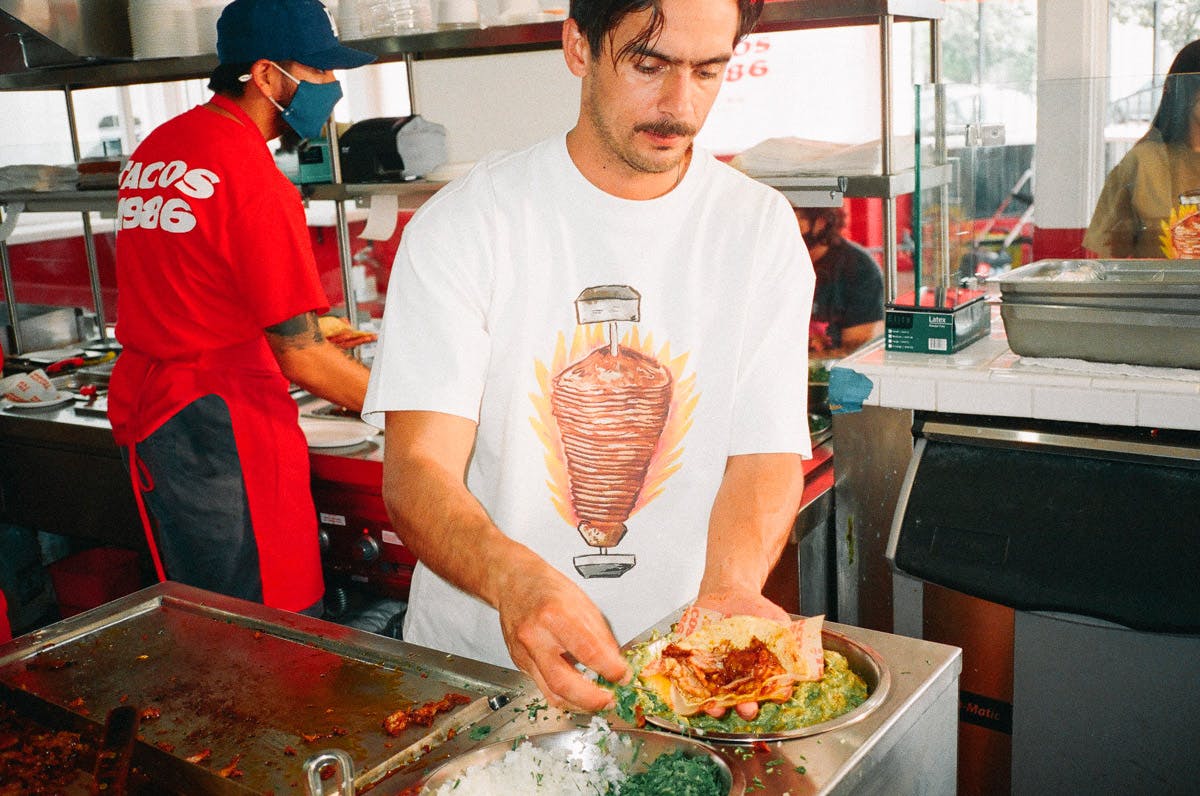 Delgado explains, "I grew up in Tijuana, Baja California, and tacos are just part of your everyday week, there's no way around it. Fast forward to 2009, I moved to LA and was really excited to discover the Mexican food there - up until this time in my life, I only knew Tacos the way we make them in Tijuana. After going on many taco-crawls throughout the city, I failed to find the style of cooking and flavors from my beautiful home, and that right there is where it all started." Everything from childhood memories and family inspirations, to his love of his heritage and cuisine, is what pushed Delgado to the peaks of success with Tacos 1986.
Joy is the life and soul of the restaurant, you can't miss him when you walk in. Known for his outgoing and charismatic demeanor, he runs all things food-related, from flipping tacos and smearing guacamole, to dolloping on tangy salsas, and keeping people full and happy. "I started cooking in restaurants at the age of 17. I grew up in Tijuana too and at a very young age I found a devoted passion for food and cooking for others - that passion soon led me to travel around the world and I was fortunate enough to work at great kitchens with great leaders."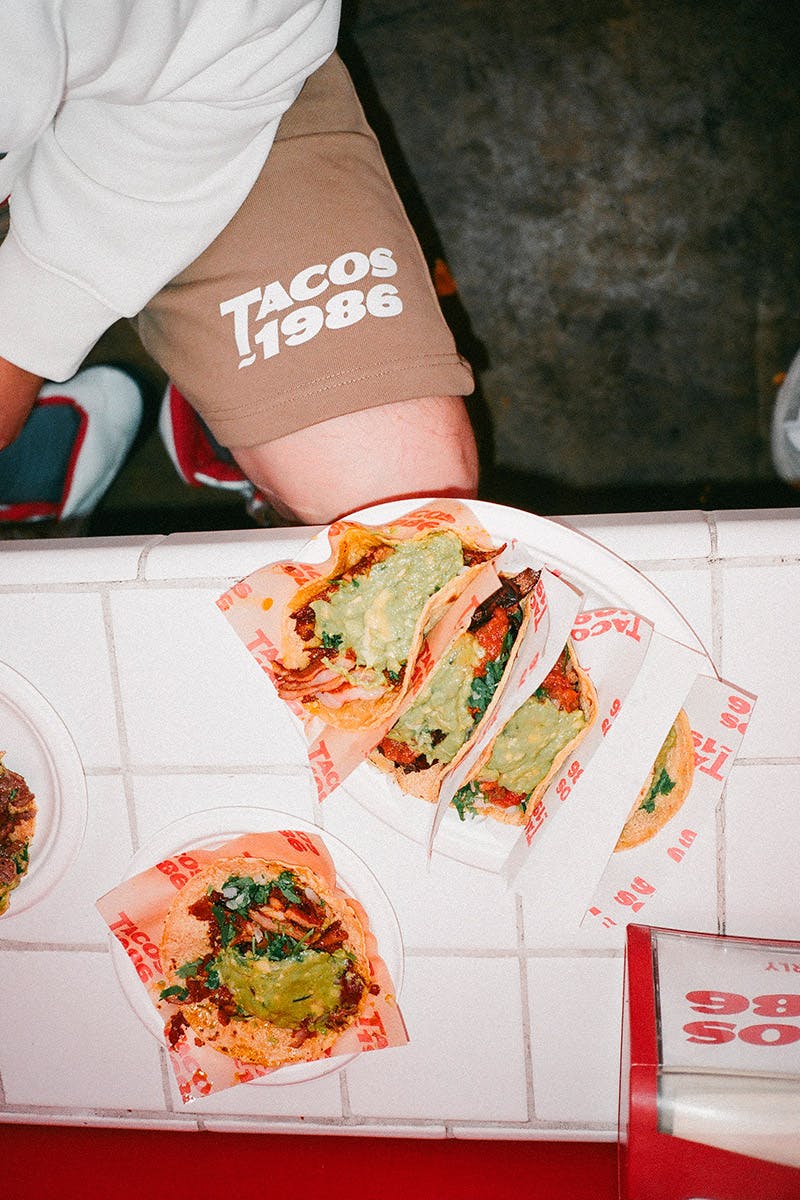 It is clear that Tacos 1986 is a place for the people. "It brings me a lot of joy to see diversity at our restaurants, to see families with little ones eating tacos, to groups of friends and co-workers meeting for lunch at our restaurants. That's what I love seeing, an atmosphere for everyone." explains Delgado. Joy similarly says that "the one key focus is happiness in each bite - eye contact and smiles go a long way with us. As far as drawing people in, we have a grill that is always on and smoking delicious tender meats, and we squeeze fresh orange juice while grilling so it gives our spots a unique aroma and atmosphere." Anyone else's mouth watering?
Now when it comes to their favorite tacos and some insider tips, Joy and Delgado stand by their personal creations. "From our menu, anything with adobada, our marinated pork on the vertical spit, is the best," says Delgado. The pork is marinated in chilies, vinegar, and an array of different spices and seasonings, and then slow-roasted al pastor style to give that succulent, tender but rich flavor explosion in your mouth. Joy very much agrees, expressing his personal go-to combo "adobada quesadilla all day with salsa verde, regular salsa, and a fresh touch of lime." His top tip for making the most perfect, all-encompassing tacos is simple - "fresh ingredients, handmade tortillas, onion, cilantro, guacamole, and salsa. That's it."
With the proliferation of new taco spots and Mexican restaurants in Los Angeles, people like Joy and Delgado could find it frustrating when others strive for or advertise 'authentic' Mexican food without really knowing the deep-rooted culinary history or cultural processes involved with that cuisine. On the contrary, both of them look at this type of gastronomical gentrification in a positive light. "Honestly I saw it as an opportunity," says Joy, whilst Delgado explains, "I believe we can all have our own understanding of what food is, of what authentic food is and there's absolutely nothing wrong with that. I respect and stand behind anyone who tries to offer 'their own take' on Mexican food or specifically, tacos." New and exciting taco spots are opening up all over LA, so when asked what makes them stand out, the duo cut straight to the chase, "our food, and specifically the adobada tacos but also our red and white trademark colors." As long as you're serving the good stuff, people keep coming back, and this has allowed Delgado to pursue his dream of opening up more Tacos 1986 locations in different areas.
As if opening restaurants wasn't already testing enough, we're all aware of how hard the food industry has been hit by the pandemic. Many restaurants have been forced to close, with others facing long-lasting effects that will take a lot of time to recover from. "It really put us to the test at an early stage in our career as restaurateurs'' explains Delgado. "Like everyone else, we really didn't know what was going on or what to do. At the end of the day, our decisions and direction impacts our entire team and supply chain. After multiple conversations with our team, they stood with us and decided to not close a single day during the pandemic." Joy goes on to say, "it's been an incredible challenge to open three locations during the pandemic. I have learned a lot about my team and myself. We all managed to push through given the challenge, and if anything we became more of a family, looking out for each other - and that has been magical to witness."
The key to remaining positive and making it through the madness of the past year has most definitely been supporting one another, and that is exactly what Delgado has felt showered with. "We live in the best city, the food scene in LA is the most supportive industry I've ever been a part of. All the chefs and restaurant people are very caring of one another and it's been one of the most amazing take-aways from it all. It was very humbling to receive messages from fellow restaurateurs and chefs saying "cabrón, sending you love. Stay up."
When asked about how they found the process working with the Blank Staples collection, Delgado and Joy commented on how their backgrounds and the colors of their hometown inspired the garments. "Honestly, it's been challenging to steer a project like this when it's not what you do," says Delgado. "All of a sudden, I'm looking for a print shop, looking for a photographer, and then figuring out the direction of the design. I enjoyed the H&M Blanks pieces because these are not color schemes we would normally use for our uniforms or branding, our branding is very specific so this collection definitely broke our own rules." Joy explains how "we grew up with red and white in every corner of Tijuana. These mini-markets called abarrotes usually have a taco stand that is promoting Coca-Cola, or a pop-up business promoted by Coca-Cola, so those two colors are ones that make us think of growing up and eating tacos!" The eye-catching and playful designs on the clothes are clearly inspired by the food that Tacos 1986 make too, with the famous adobada making a fiery appearance. "Merch allows us to express ourselves beyond just our food and restaurants. It's really rewarding to see people from other states and countries order Tacos 1986 goodies" says Delgado - and it doesn't stop there for the restaurant chain, who have an exciting collaboration coming very soon.
And the most memorable dish they've ever eaten? Both have experienced a multitude of impressive restaurants with Joy explaining how, "breakfast at Buvette in New York City, lunch at Gjusta in Venice, California, and dinner at Tie Estela in NYC" would be his go-to, with Delgado describing how "in the last two years there have been too many memorable restaurant moments, but I'll go with the one time I went to a Wolfgang Puck restaurant for my birthday, and Puck sat down with my wife and I and chatted for a bit."
It is clear that Joy and Delgado are fighting spirits, and their love of their craft will keep propelling them to new heights. "It doesn't matter how tough it gets, we always say 'we're ready'."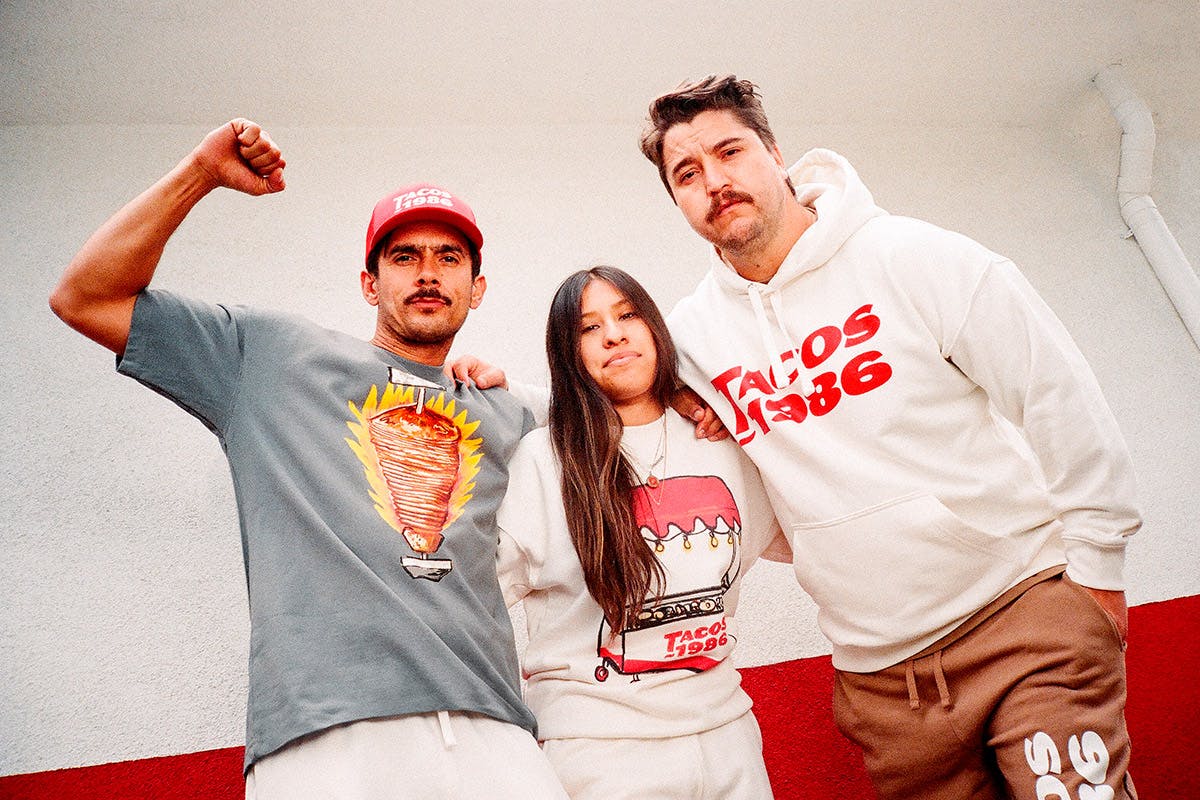 The H&M Blank Staples collection is available here for the US, and here for the rest of the world.