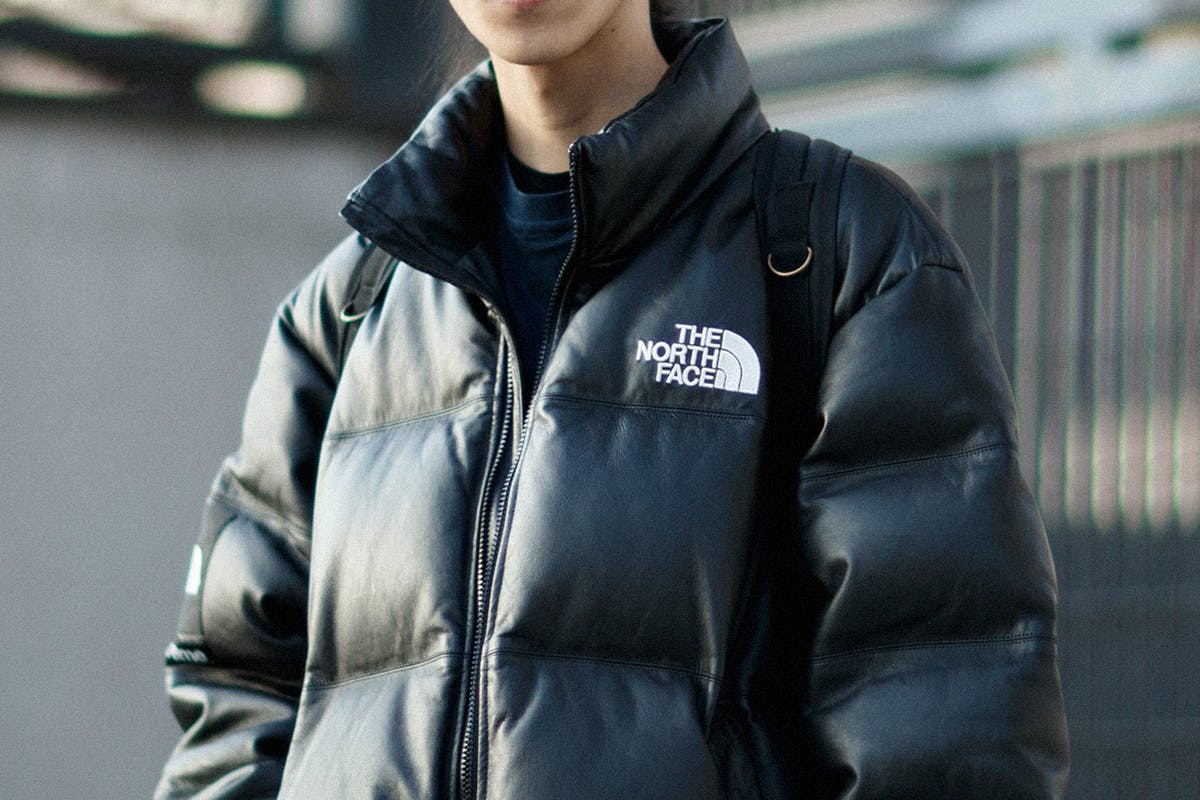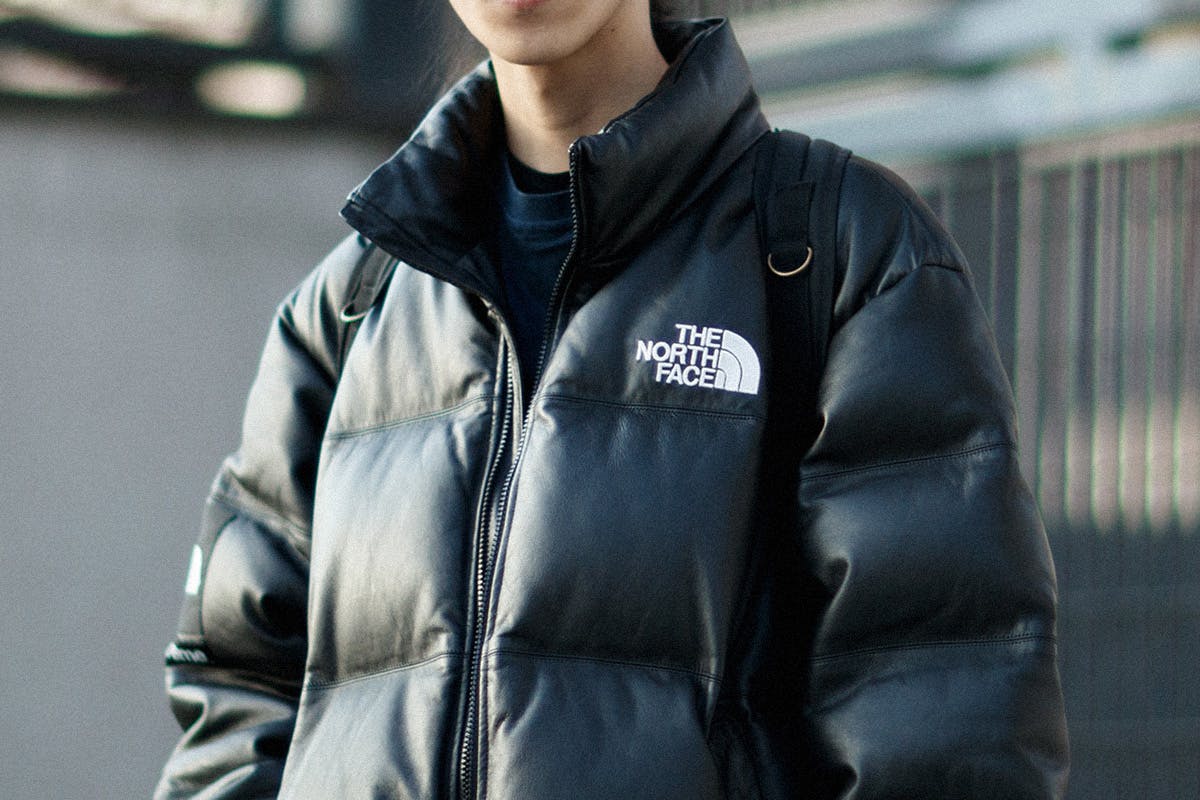 Researched and written by Editorial Director Christopher Morency, our Special Report series takes a deep dive into the brands, people, and consumers that make youth culture tick. Through interviews with business executives, cultural leaders, and other experts, we examine where today's new luxury market stands, and project where it's going. To stay in the know, and for more insights like this, subscribe to our weekly Insights NL.
The North Face is everywhere, and we can't seem to escape it.
This morning, on my daily walk in London's Hyde Park, roughly one in three people were wearing one of the American outerwear brand's technical puffers, anoraks, caps, bags, or practical boots. It's been this way for at least the past three months, which is when my selective perception first took hold.
And don't just take it from me. On LYST — the UK-based shopping platform used by 100 million shoppers annually — searches for The North Face have skyrocketed. Between November 2020 and February 2021, searches were up by 243 percent compared to the same period a year earlier. To give a sense of this step-up, the increase over the same period one year earlier was just 38 percent. The brand was so in demand, it recently topped the shopping platform's quarterly index of hottest products in the world, in both the men's and women's categories.
Last week, I hit up 22-year-old veterinary student Dominic Ward, from Nottingham, England, who has become one of the biggest sellers of The North Face on resale app Depop. "Since around October, I've sold 365 jackets, and could easily have sold double that if I had the time to dedicate to my shop," Ward says of the best-selling puffers, which he gets through an undisclosed wholesale supplier. "This winter has been far busier than last. The majority of drops sell out on the day of listing."
On the surface, we could easily credit the rise of the VF corp-owned performance brand (the mother company also owns Supreme, Vans, Eastpak, and Dickies) to a surge in outdoor activities as a result of the pandemic, its recent buzzy Gucci collaboration, the mainstream embrace of its re-released 1996 Nuptse bomber, or even the plain workings of seasonality. To narrow it down to these elements alone, however, would discredit the calculated strategic efforts at play.
Wearing Multiple Hats
The North Face is at the crux of becoming one of the most influential clothing brands in consumer culture today. Outside of fashion's wandering eye, it's exemplifying what it means to cleverly cater to a wide customer base who, independent of each other, have individually gravitated to the brand's unconventionally fashionable allure and best-in-class technical innovation.
"Now, with everything gone gorpcore on one hand and Depop on the other, the brand can point to things like Prep School Gangsters and the Trans-Antarctic Expedition and that famous Biggie x MA$E pic to say 'we're authentic' to almost everything in culture," says Alex Rakestraw, writer and founder of outerwear blog Coat Checking.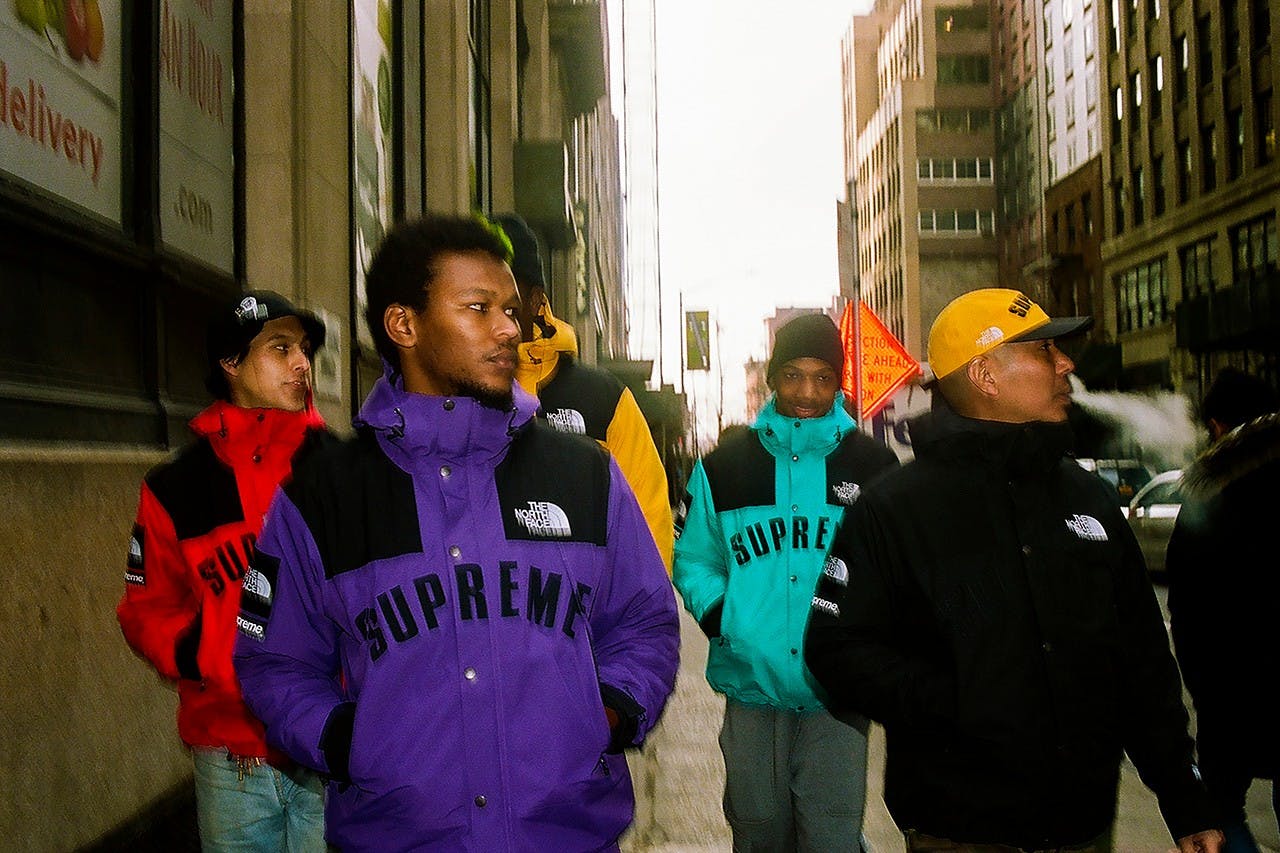 The North Face — similarly to power brands like Nike, Apple, and Louis Vuitton — has found itself in a strong position, where varied consumer groups from around the world have cultivated around the business, with or without its knowledge.
For conglomerate-backed mass companies, to see another day in today's "age of brand" means recognizing the micro brand tribes and speaking to each individually, all while maintaining consistency across the touch points where they meet under the same brand umbrella.
For The North Face, this wide appeal isn't particularly new. It's been this way since the 1990s, when rappers and city folk sought out high performance apparel for use beyond extreme sports. Its "Off-Mountain" strategy (as the brand calls it) wasn't fully developed, and represented just a tiny part of the overall business.
Over the past decade, the desire formed around the business has continued to increase from fans far beyond the professional climbers, trail runners, and outdoor explorers they once catered to exclusively. We now see micro brand tribes — from camping dads to VC bros to yummy mummies to TikTok stars to techwear enthusiasts to your grandmother's weekly walking club — making the brand theirs.
In doing so, each micro brand tribe has injected its own rituals, semiotics, and codes around specific products. Where the relationship with one group revolves around archive puffers, collaborations with Brain Dead, Gucci, and MM6 by Maison Margiela they purchase at luxury multi-brand retailers like Browns and SSENSE, the other praises the company for its waterproof footwear and its accessibility both in price and retail.
"What makes it still so special, I think, is exactly that. It's the most accessible lifestyle brand in the market. Everyone can wear it, but they can make it their own. There aren't many brands that can do that," says Dean Cook, head of menswear buying at Browns in London, who picked up the brand's Black Series label last year. Given its early success, the retailer recently expanded its buy into all other lines from main collections to sub lines, such as Steep Tech and Black Box.
"We're used to serving different communities. The snowboarder versus a climber, a skier, or a hiker. They have different needs and rhythms to their season," says Steve Lesnard, Global VP of Marketing at The North Face. "So we've been trained over the years to think about our communities very specifically, who they are, what they need, and what the best way for us is to empower and enable them."
The demand for the brand is now coming from so many fragmented streams that it would be foolish to ignore the opportunity of expanding its "Off-Mountain" strategy any longer. And so it won't.
A Cultural Injection
"There's definitely something happening [and] I think we're about to really see that grow in a big way. There's a bigger scope and opportunity to now appeal and welcome more people to the brand," says Kelly Cortina, Global VP of Product Merchandising & Development at The North Face. "Over the last couple of years there's definitely been a strategic effort to start to tap into our archives, and bring it back in a new energized way."
In practice, what does that look like?
"So, we may develop a key [On-Mountain] product and we think about how it can be for an 'Off- Mountain' occasion," Cortina explains. That includes targeted products, distribution, marketing, collaborations, frequency of merchandising, and launch strategy, specified for each group. Collaborations with Japanese brands Junya Watanabe, Sacai, Hyke, and Beams are targeted, presented, and made available to a different tribe than the "Off-Mountain" version of the brand's signature Steep collection, or its core climbing pack.
"Obviously with that comes a strategic approach to how we communicate with them. Where do we find them? Where do they shop online? Where do they get their inspiration in brick and mortar as well? How do we show up in their lives in a way that's the most relevant and authentic to them. [It's] a big part of the strategy," says Lesnard.
"It's definitely strategic, but I think it goes far past demographics or even the recent past. TNF was the first of the major outdoors brands to recognize that the category's growth would come from sportswear," says Rakestraw. "That doesn't mean they've abandoned Everest, but it does mean they run the 'Off-Mountain' side of the house like a sneaker brand [with] seasonal drops, energy collabs, even target cities, all supporting a few core franchises. It's hard not to look at the success of the Retro 96 Nuptse coat and see shades of [adidas] Stan Smith [strategy]."
Just last week, it launched TNF Metro X, a "rooted in nature, crafted for the city" sub line; graffiti-printed track jackets, pants, and crossbody bags made in collaboration with graphic artist Jiro Bevis. The collection launched on its @thenorthfaceuk Instagram page with 185,000 followers, one of its many geographic-specific social media pages. More interesting, beyond country lines, The North Face has started to recognize that it doesn't have a single "community," the empty buzzword brands too frequently throw around to make you believe the company we follow online can miraculously connect us all over the product.
Instead, The North Face has started to diversify its social media presence based on mindset and niche. The North Face Purple Label — its limited fashion-forward sub-label made in collaboration with Nanamica and once strictly available in Japan — now sports 165 thousand dedicated followers in IG. There's also The North Face City, The North Face Snow, The North Face Climb, The North Face x Hyke, The North Face Standard, and more. But you would never know if you, alongside 4.8 million others, only follow the brand on its main account, which serves the function of pulling the core of the company together while giving each micro brand tribe just enough niche space.
As simple as it sounds on paper, beyond the Nikes and adidas of the world, the majority of labels remain clueless in identifying their micro brand tribes, let alone how to actively target each. Especially as new micro brand tribes regularly pop up and die out.
Performance or Fashion?
Now, speaking to multiple micro brand tribes isn't as easy as launching a spin-off social channel or a diffusion fashion line à la Marc by Marc Jacobs, Armani Exchange, or CK Jeans. The difference here is identifying the different communities that have already formed around a business in the first place, often without its knowledge, to then, carefully, identify what each group resonates with, how they've made it their own, understand the nuances at play, and cater to them accordingly without completely alienating them from the main brand and what made each group fall in love with it in the first place.
The North Face didn't work with Brain Dead for the sake of collaborating with a business relevant in youth culture — it worked with the streetwear brand after it found out the creative collection had an already existing deep connection to climbing. A fashion collaboration done right.
When The North Face posted its campaign video for its Gucci collaboration, however, the comment section was highly polarized. At a time when outerwear brands like Canada Goose are working with the NBA, Vetements and Juun.J, Arc'teryx with Palace and Jil Sander, and Napapijri with Martine Rose, the question begs how far an outdoor label can push the fashion sentiment forward before performance and style lines get too blurred, and other micro brand tribes are put off. The exact challenge is currently being tackled by Jean-Marc Djian, the footwear veteran who, after redeveloping the footwear strategies at Salomon and Arc'teryx, joined The North Face as VP of Global Footwear in 2018.
"If you're able to be relevant at the top of a mountain, but also to people who are shaping culture, that's what speaking to everyone [looks like], and what I love the most," says Djian. "If we look at our Vectiv shoe, everything that is black on the shoe is for performance, everything that is white is for comfort. Just like the Nuptse jacket, it's really made on purpose. So it's [always been] embedded in the brand."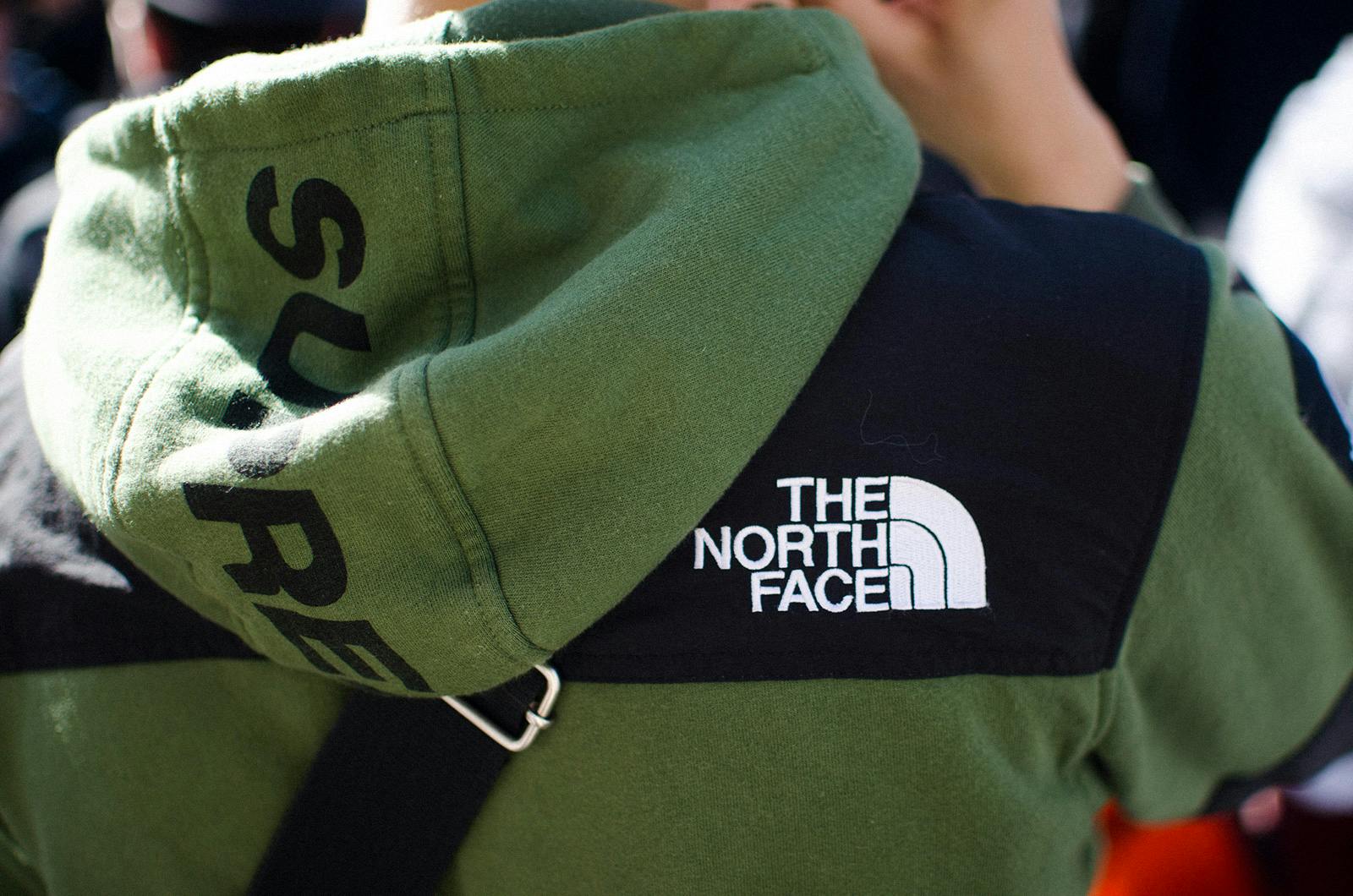 "It's an inclusive conversation," says Cortina. "I think that, for a long time, for athletic or outdoor brands, fashion and style were really bad words. There would be a cultural component of not talking about it. But then, what we see is a very beautiful thing, where a brand like ours has the opportunity to actually create for more people. While we 100 percent stay committed to our core community, there's this bigger opportunity."
Lesnard agrees: "First we have to continue to earn that credibility as a performance outdoor brand. Because if our products don't deliver, then we've lost all our credibility. Then we can find ways to bring new people into our outdoor communities."
Expand the Mission, Not the Target Audience
And that's where The North Faces and the Nikes of this world will win, going forward. Where young brands are rightfully focussed on establishing their core everything, for big global businesses, cultural credibility is defined predominantly through non-brand controlled channels like word of mouth, multi-brand retailers, and KOL's. Driving a deeper connection with fans means understanding that your "community" is fragmented.
The smartest companies expand their mission, that which drew people to the brand in the first place. To then let go of control and let culture play out is the hardest part, but to then come back in and be aware of the micro brand tribes that have built up around the business is a way to regain a controlled balance. Done successfully, it's where old and new consumers, heritage and innovation, and "core community" and micro tribes meet.
For The North Face, the mission is to double-down on "democratizing the outdoors," wherever outdoors may be. It's a broadened scope on the brand's founding mission.
"We approach it from two lenses," says Lesnard. "Number one is we believe that we get people's attention when we bring innovation, something new and better. It's how we keep people interested. We're on a mission to deliver a better product and to bring new and more people outside. We believe that these values allow us to show up on their feed, and show up in their life to keep them in our brand ecosystem." That red thread is core to everything the business does, despite which micro brand tribes latch on.
"The outdoors has totally changed. I don't want [us] to be just a traditional outdoor brand. The fact that in a more diverse way [people] are going outdoors because of their love for a product, and posting it on Instagram is exceptional. From an object, they're starting to enter the world of the outdoors and making it cool. I don't make much distinction now in terms of performance and lifestyle, it's totally embedded. That's really where I think our mission is and it's so much broader [now]."
Our designated Selects section features products that we love and want to share with you. Highsnobiety has affiliate marketing partnerships, which means we may receive a commission from your purchase.