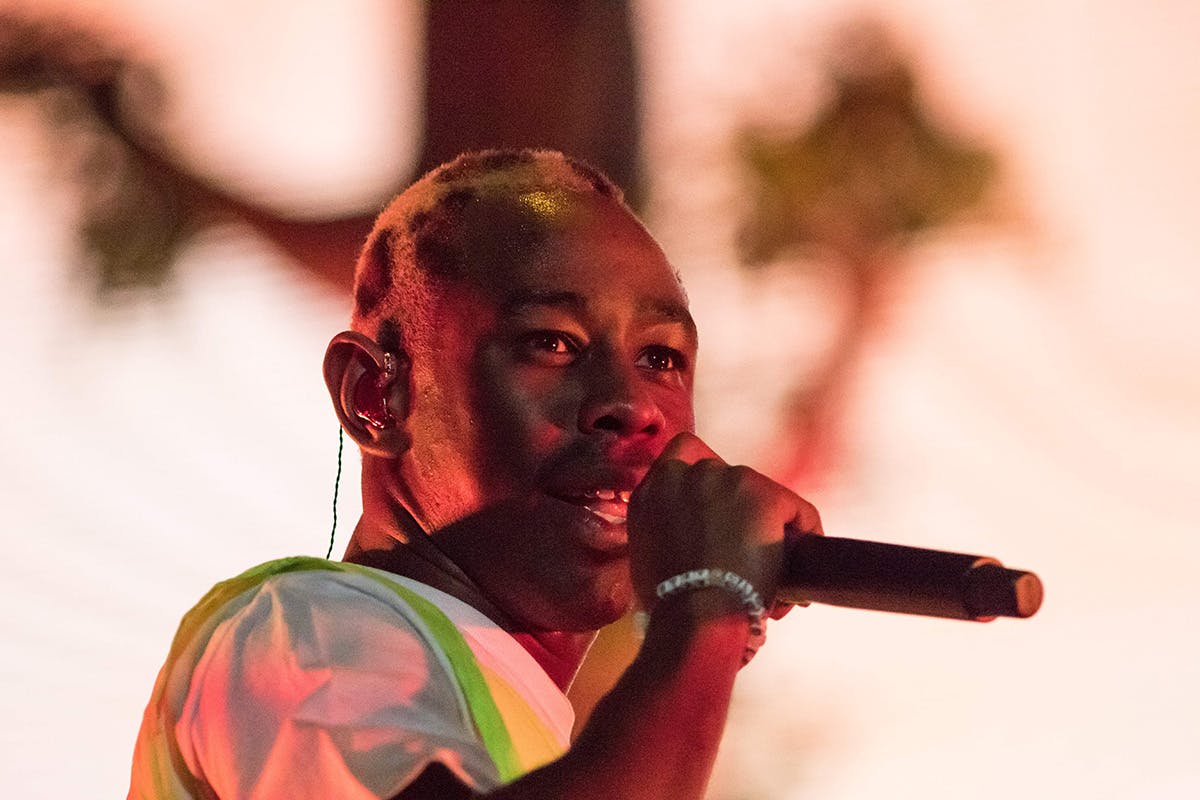 In a recent interview with Fantastic Man, Tyler, the Creator did what he does best — offering weird and wonderful answers to the questions posed to him.
Bouncing from topic to topic like an excitable rubber ball, he touched on hairstyles and beauty — revealing that if he was white, he'd fashion himself a blue mullet (which he should probably get anyway) — to more sensitive topics such as what it was like being banned from the UK by prime minister, Theresa May, to the reasons behind his sobriety.
Here's a round-up of Tyler's choice quotes from the interview.
On hairstyles
I always told people that if I was white I would definitely have a mullet and it would be royal blue. But I never did it. Then one day I was just, like, 'Fuck it, I'm going to dye my hair cheetah-print.'
On Theresa May banning him from the UK
I'm dark-skinned, man. I get it. I'm the first person that this happened to. So there's nothing to look at and gauge. It sucked. It is what it is. But hopefully it will get figured out. It happened. Now we're figuring out how to un-happen it. When it does un-happen, we need to make people aware to make sure that it doesn't happen again, if people give a fuck enough.
On why 'Scum Fuck Flower Boy' is his best album
It's more accessible, easier listening. I got great hooks, the beats are great, shit doesn't need taking out. It's cohesive. The album art is fucking flawless. I get all my points across. The features are done well.
On Hedi Slimane at Céline
I wonder what he's going to bring. It's been nine, ten years and I guess she [Phoebe Philo, former creative director of Céline] wants to leave, but I just don't want the beautiful marble and the plants and the colour palettes to turn into all black, skinny, heroin-looking white boys. Ah, man, I just don't want it to lose that.
On beauty
I work off how shit looks for the most part. Like okra. I don't like okra. The food is gross. But I love so much how that word looks. I can't explain it. It's all face value to me. If it looks good, then it's the most beautiful thing in the world and I don't care what it is. I've seen pastries that look so beautiful I didn't want to touch them. Buildings. Tyres. Bags. People. Oh my God, there is something really pretty about your ear. Can I take a photo?
On his sexuality
It's still such a grey area with people, which is cool with me. Even though I'm considered loud and out there, I'm private, which is a weird dichotomy. The juxtaposition of loud and quiet is weird.
On what he says instead of 'goodbye'
'Send dick-pics.' I always tell people to send dick-pics when I hang up, because it's so awkward. Like, 'what the fuck did you say?
On being sober
(In the studio with A$AP Rocky, working on "Potato Salad")I went in the room and took the blunt out of somebody's hand, threw it on the ground and stepped on it and said, 'This is a distraction. This needs to stop. We are here to fucking work. Not to hang out.'

I know that I don't want to be that drunk guy. But I do know I want to hit a jump on a dirt-bike. I can look at that and say: 'I want to do that.' I've never seen anyone drunk, like, 'Damn, I want to be that.' So, I guess I just naturally got it pushed into my head that I have no reason to go over there and get fucking drunk.
On Frank Ocean
Being around him when he was making it was just fun. It was, like, he would rent houses and stuff to record in. I mean, I didn't know you could do that. That's a big homie. His shit is tight.
On Supreme
James [Jebbia] was supportive since day one. James was always really nice and would give me some gems that he didn't need to, regarding my clothes and what I was doing. He's really nice. Cool kid, I love that dude.
Will you now say 'send dick pics' instead of goodbye? Let us know in the comments.
Now watch Woodie Smalls go from Belgium to Las Vegas in "Never Trust Again."