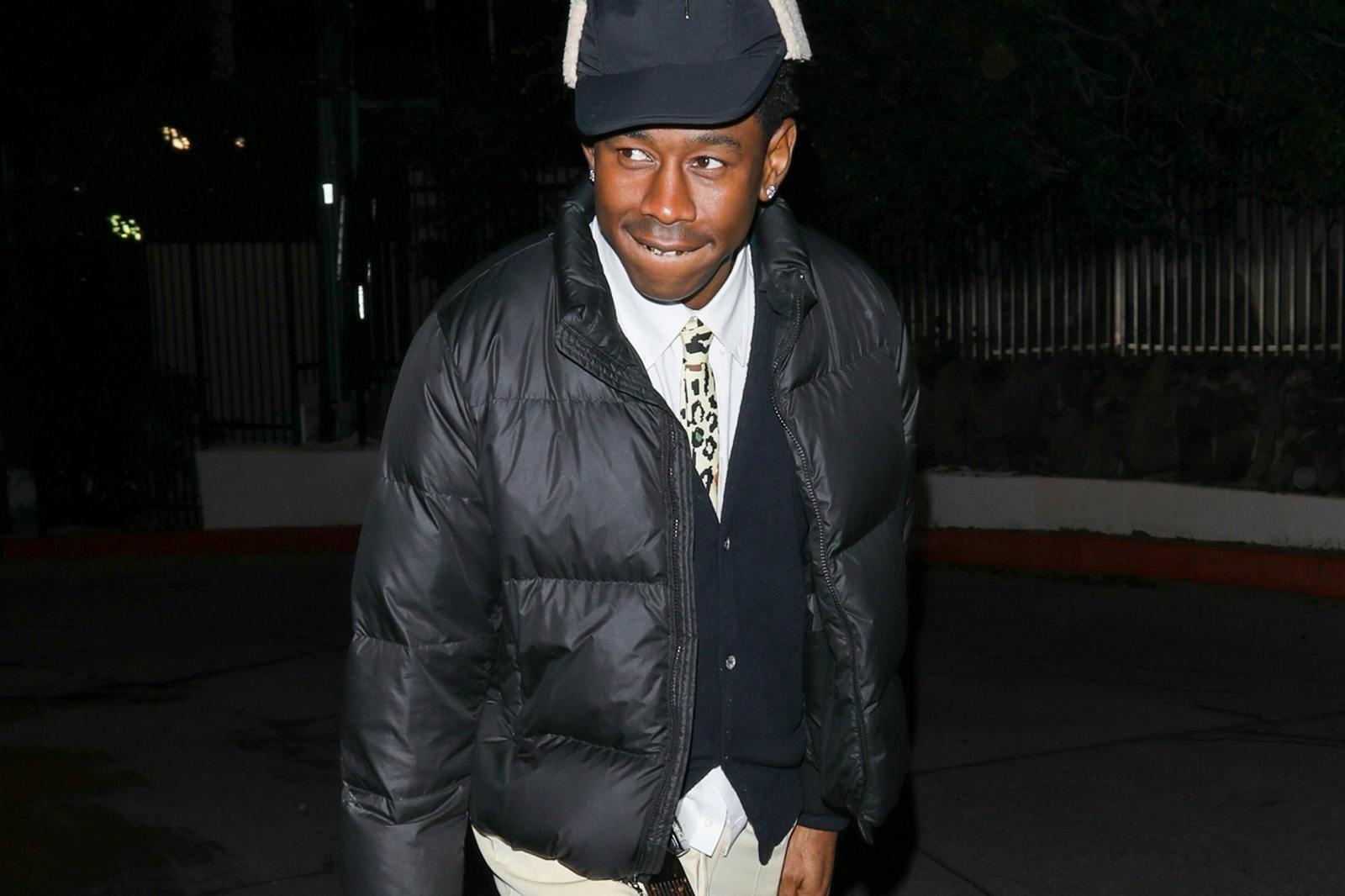 It's been a big few years for Tyler, The Creator. Between the multiple Grammy awards, film scores, and consistent drops from his brand, the musician and multi-hyphenate creative has established himself as a sartorial force to be reckoned with.
Having entered the scene as a high-energy, brightly-dressed skater, his transition into wearing more formalwear such as cardigans, loafers, and oxford shirts was well charted. Now, in 2023, it has aged like fine wine as streetwear's preppy obsession is as big as ever.
And while many of us are playing catch-up on his cool grandpa look, Tyler has been adding more strings to his stylistic bow.
Never one to be held back by conventions, the 31-year-old has been building on his signature style with eye-catching combinations such as shorts and puffer jackets, taking his love of luggage to new levels, and giving everyone a lesson in how to wear leather.
And with an equally-fashionable girlfriend by his side, it comes as no surprise that he had to be featured as one of our picks for the most stylish people of 2022.
Trying to pick favorites from his countless on-point 'fits is no easy feat but we've given it a go below.
Scroll Down For Our Favorite Tyler, The Creator Outfits
While it's a style that will never truly go out of fashion, we have recently been seeing long coats more than ever. Tyler is a perfect source of inspiration when debating how to wear a long mac like the one shown above — and so is his girlfriend Reign Judge.
Shop The Look
When we said his outfits have aged like fine wine, we weren't lying. It's coming up to the four-year anniversary of this look and it should be on everyone's moldboard for smart spring/summer outfits.
Shop The Look
Has anyone else been noticing an uptick in the number of leather jackets being worn recently? Drake, Kylie Jenner, A$AP Rocky... they've all been making headlines for their leather jacket styling in recent months and Tyler is giving them all some tough competition with this look.
Shop The Look
Jeans and a jumper could be described as most people's go-to daily look but, of course, Tyler's version is perfectly elevated. From the matching green Goyard bag and le FLEUR* cap to the festive pink print on the jumper, it's an effortlessly top-tier 'fit.
Shop The Look
On a practical level, combining shorts and a puffer jacket makes little sense but for some reason, I want to try it out every time I see Tyler do it. The musician wears shorts better than most and this combination is proof that he has mastered the art of getting your knees out.
Shop The Look
An outfit that your Grandad could only dream of pulling off, Tyler puts his own spin on preppy styles with his signature Ushunka hat and some seriously large pearls. Going from shorts and puffer jackets to this is proof of Tyler's range — if you ever needed it.
Shop The Look
Doubling up on a single brand and still keeping to your personal style can be tricky, but Tyler manages it here — wearing a jacket and shoes from Louis Vuitton and Human Made's collaborative line. And while on the topic of things that are hard to style right, there are not many people who could make an all-brown 'fit look this good.
Shop The Look
Want to keep browsing? Download the Highsnobiety app for all the hottest products and brands from the Highsnobiety Shop. Highsnobiety has affiliate marketing partnerships, which means we may receive a commission from your purchase.