We're under the magnificent glass dome of Milan's Galleria Vittorio Emanuele II, Italy's oldest shopping center and one of the world's most opulent, where models stand in vintage puffer jackets, looking straight through the gathered crowds with the kind of thousand-yard stare that burns deep into the soul. After a while, some of the women begin distorting their limbs into improbable postures, before others take a seat on the cold mosaic tiles. A few are overwhelmed by the ineffably haunting atmosphere and tears begin to roll down their cheeks. Watching a ballerina cry is as sad as it sounds.
But this isn't some odd exercise in public humiliation, rather, it's an installation from the legendary Vanessa Beecroft in celebration of Moncler's new House of Genius pop-up store. Beecroft's tableaux vivants are deceptively challenging, an exploration of existentialism that invites those involved to interpret how the audience is interpreting them. Each performance references the political, historical, or social associations of the place where it's held, the models and clothing also chosen specifically. Often, Beecroft disregards the latter in favor of bare human flesh. It's what makes this coming together with the Moncler puffer jacket — an icon of heavyweight outerwear — so curious.
"When I was growing up, there was a big boom of Moncler jackets worn by a particular group of teenagers," she tells me, reminiscing. "They were from Milan and they were called the Paniari. They would wear them with Timberland shoes and Levi's. They looked amazing."
The Italian-born Beecroft studied art in Milan but has long since lived in Los Angeles. It was the Hollywood Hills' eclectic colorscapes that inspired her work for Moncler, including the homeless tents that have, regrettably, become a familiar sight throughout the city in recent years. "It's all in your face there, all of these realities next to [one another]," she says, referencing LA's schizophrenic urban fabric.
Despite her long involvement in the fashion world, it's Beecroft's work with Kanye West that has seen her star go supernova. Somewhat antithetical to the ethos of a creative autocrat like West, the Moncler Genius project is all about collaboration, operating under the motto of "One House, Different Voices." Beecroft tells me that she had only two weeks to realize the performance, which proved challenging because she had also just undertaken a job for West — whom she has resumed working with again — that will be revealed in the coming fortnight. Like West (and Moncler Genius), you sense she harbors an inherent desire to push fashion forward, to challenge its orthodox practices. Like the runway, for example.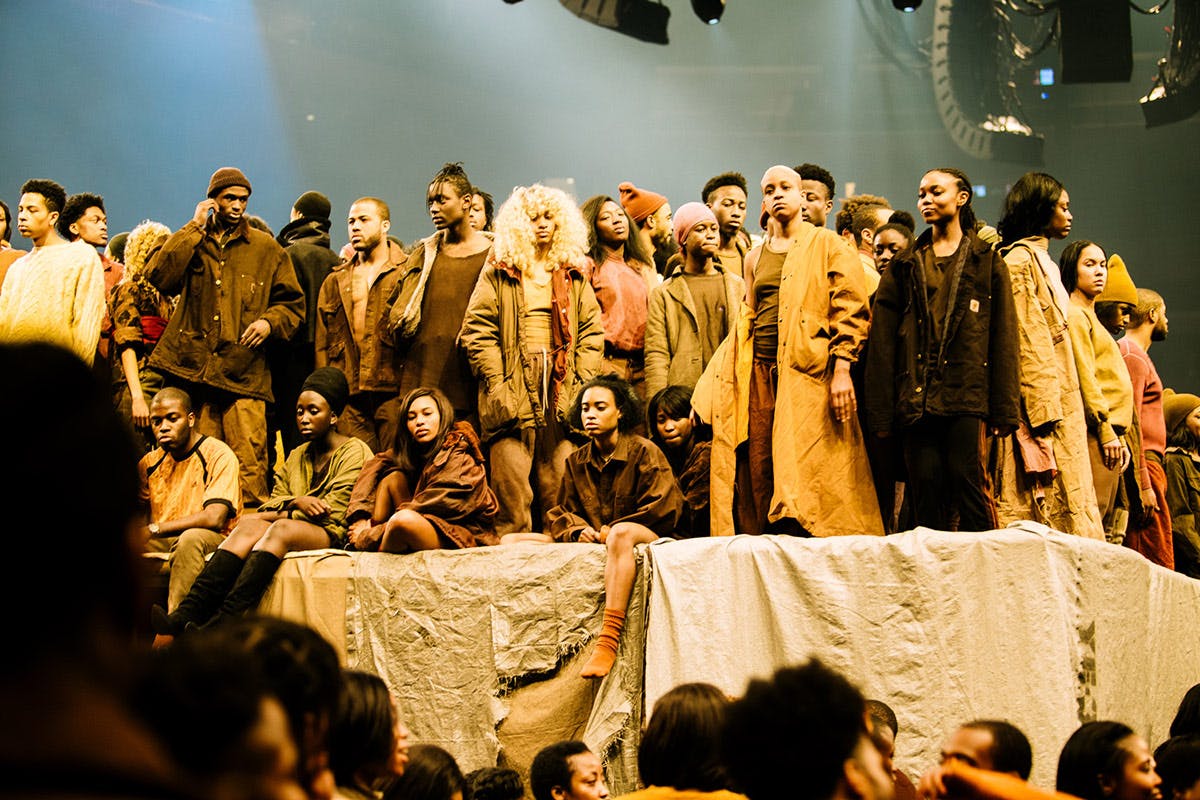 "I was never a great fan of the traditional fashion runway," she confirms, which will come as no surprise to anyone who has ever watched a YEEZY show. "I didn't like the destitution of cheap music, the walk that is so fast, the show. It was too similar, too quick and consumeristic – but the big fashion shows are even worse.
"In the art world, the importance of the actual gallery or museum is fading, since people can just look at the work online and they kind of dismiss going to a place and viewing it. That's a shame, because there is an importance to the actual theatricality and the spectacle. For example, early Saint Laurent fashion shows, where the ladies come in – it's more intimate. I feel like there should be a balance."
The internet, too, has also had a profound effect on the relationship between performance art and fashion. When Beecroft was working with Helmut Lang and Prada in the early '00s, there was no such thing as Instagram. Nowadays, people can gorge on content indefinitely. It's something she laments.
"In the '90s, you were starved; I was starving, craving that visual. Now I feel less so because I keep seeing imitations or other things happening online. At the time, I remember you had analog materials, magazines, books, and when you saw something live, or even in photographs, it was really fulfilling. Today I feel less so, but [the current state will probably lead to] something positive. I'm waiting for that to happen."
"What do you think it will be?" I ask.
Beecroft pauses, before opening the question up.
"I'm wondering if it will be a progressiveness," she answers, getting philosophical. "For example, if I show a naked woman and nobody understands and I have to go to another museum and show another naked woman, [still] nobody understands. By the time you do it online, within a month, maybe they will get it and we'll move to the next chapter. So maybe social issues could be dealt with faster. Because capitalism is so insidious and evil, it might just trigger you back into another pocket where you can't get out. So you have to buy a new iPhone and you have to have something. So my wish would be that issues would be understood on a larger scale faster, and we could move on, but I'm not sure."
Back at the Galleria that night, people clamor to film and take photos of Beecroft's tableaux. The place is heaving, so much so that there's a line to enter the Francesco Ragazzi-designed House of Genius. As a 17-year-old student who worked as an au pair, Beecroft used to walk through the venue when it was cold and empty. Tonight, she's the toast of the hottest party in Milan.