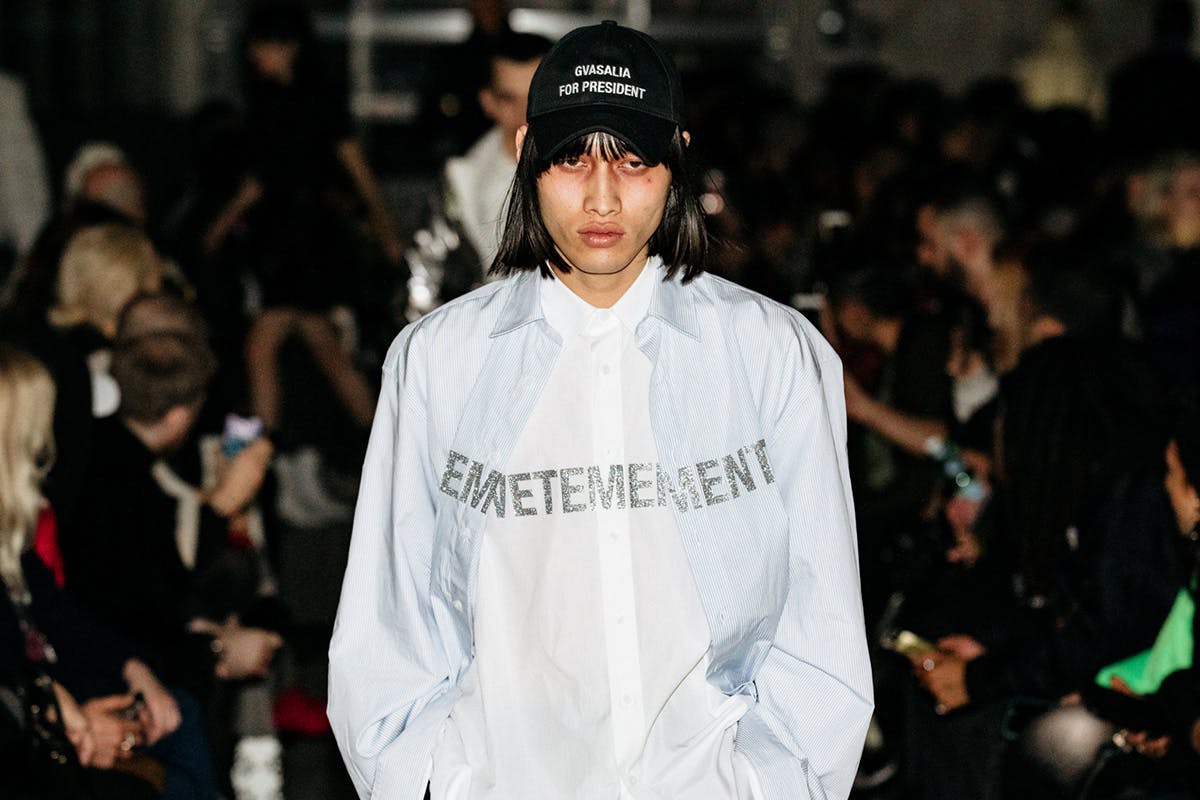 When your brand is synonymous with anarchy, a leader — a martyr — to front the cause is important.
For five years, between its inception in 2014 and 2019, Vetements had one in the form of Demna Gvasalia. The Georgian enfant terrible of fashion who, it could be argued, single-handedly upended modern luxury merchandising with items that riffed on thrift store graphic tees, band merch, shoulder-padded football jerseys, and vintage denim. It spoke to a moodiness and irony that rarely made its way to the runway in an industry as lofty and self-obsessed as fashion.
So when he left to focus on his work at Balenciaga, claiming he'd "accomplished [his] mission" at the brand that led to that role in the first place, whether anyone could fit the Vetements' mold as his successor was one of fashion's most mulled over questions. Could the brand survive without the pulling weight of its co-founder, and work as a relatively voiceless, anonymous design collective instead?
The answer, it seems, is yes.
Vetements' FW20 collection is the first without Demna at the helm (his brother and co-founder, Guram, remains the company's CEO). Presenting on calendar at Paris Fashion Week — a positioning they've reckoned with and reconsidered in the past — it feels like a surefooted return. On Friday evening, straight from Kim Jones' immaculate Dior show, journalists flocked from those palatial settings to a Parisian studio that was plummeted into darkness. Grandiosity has never been one of the key codes of Vetements. Excess, however, bleeds right through it.
Lights from the cameras of the front row's phones are all that guide models down a runway that snakes the room. You recognize some of them. Is that Mike Tyson? Kate Moss? Angelina Jolie? Snoop Dogg? Not quite. These were their doppelgangers instead.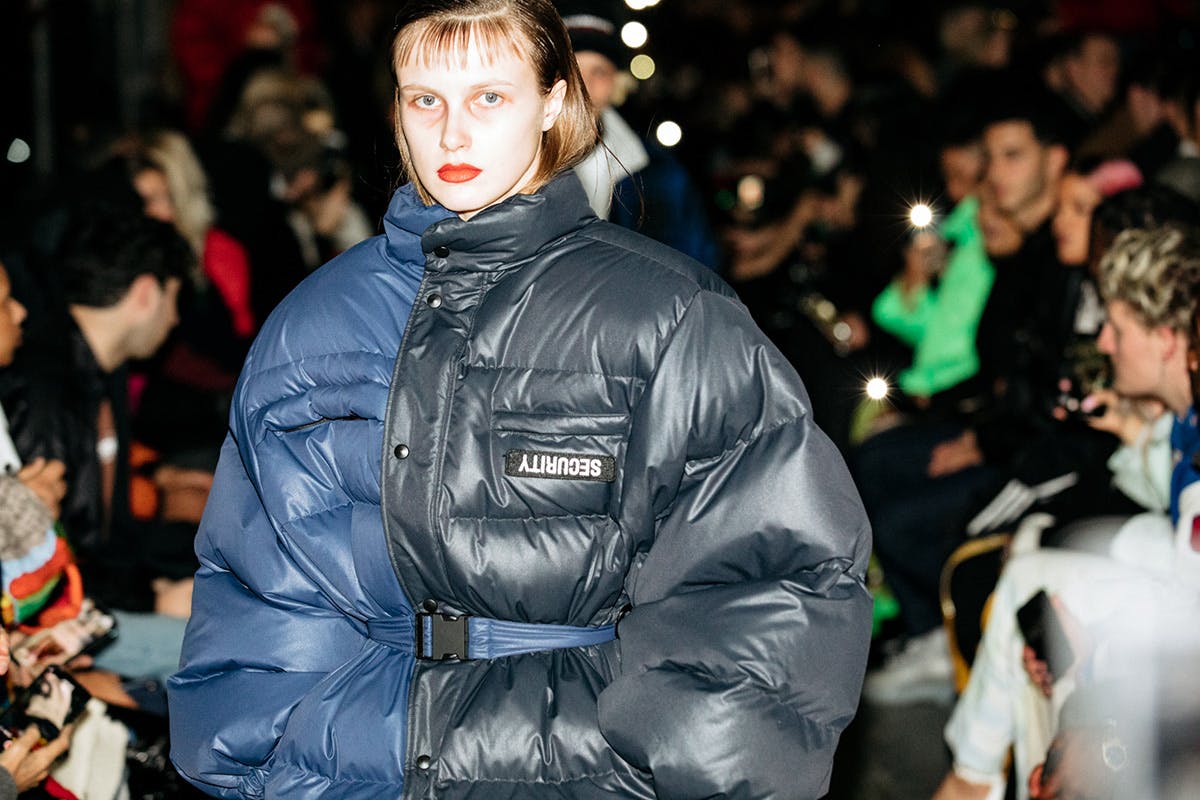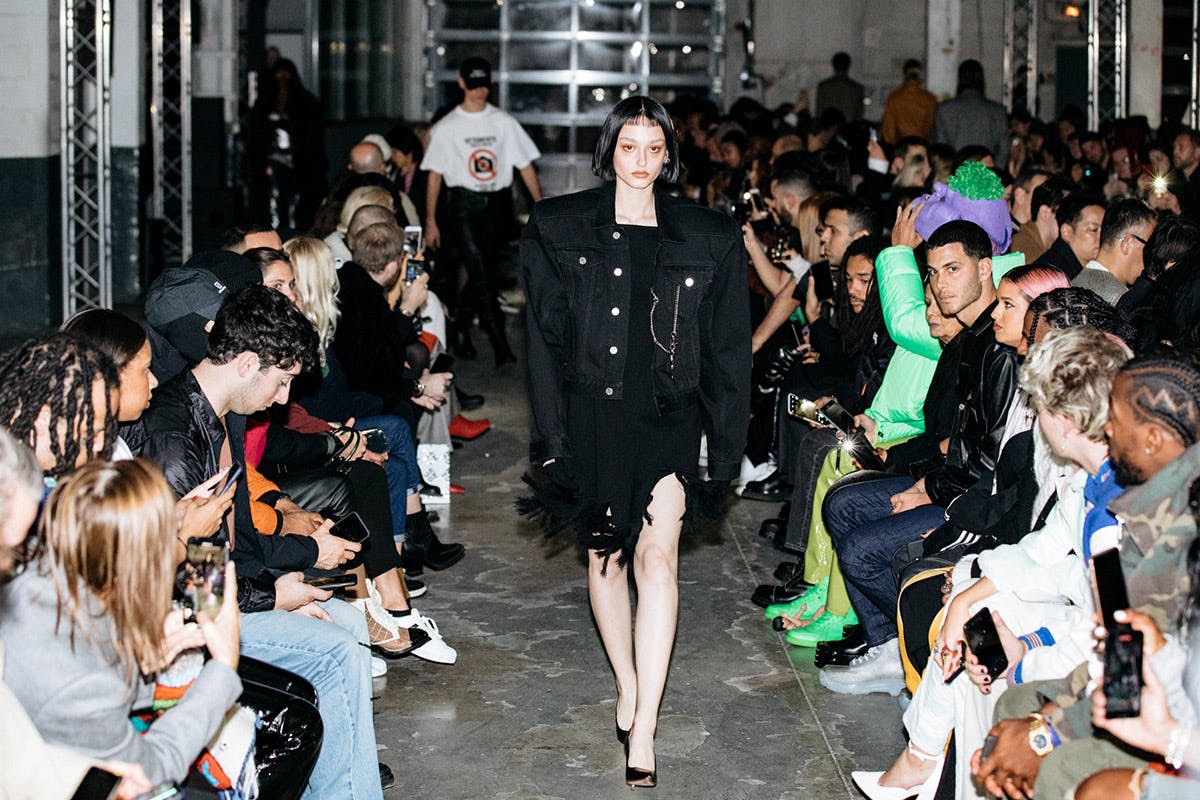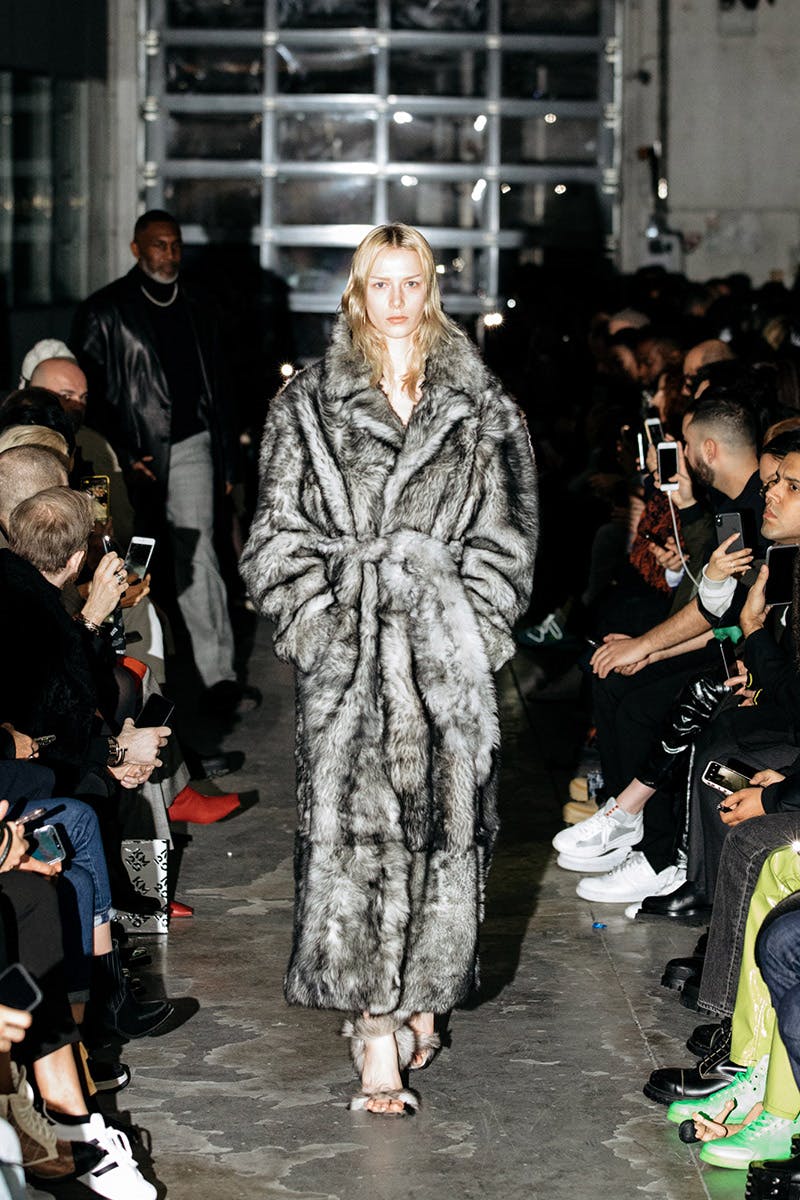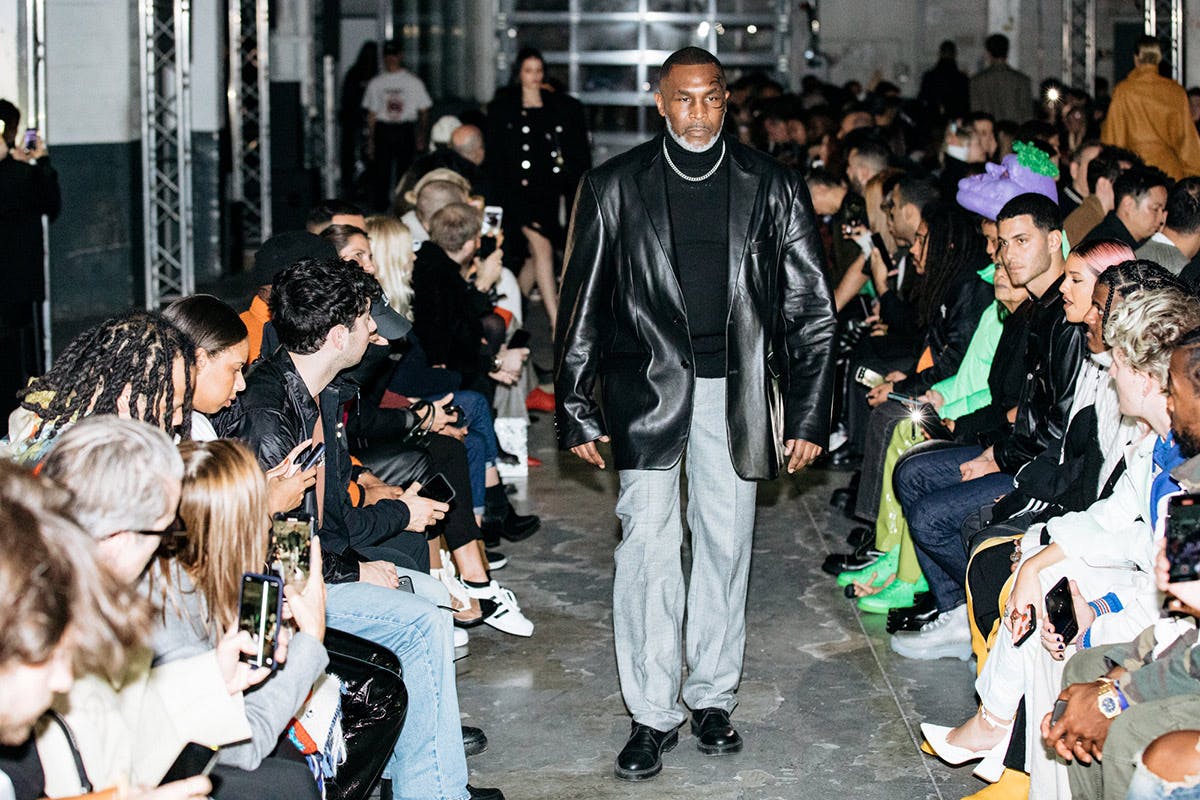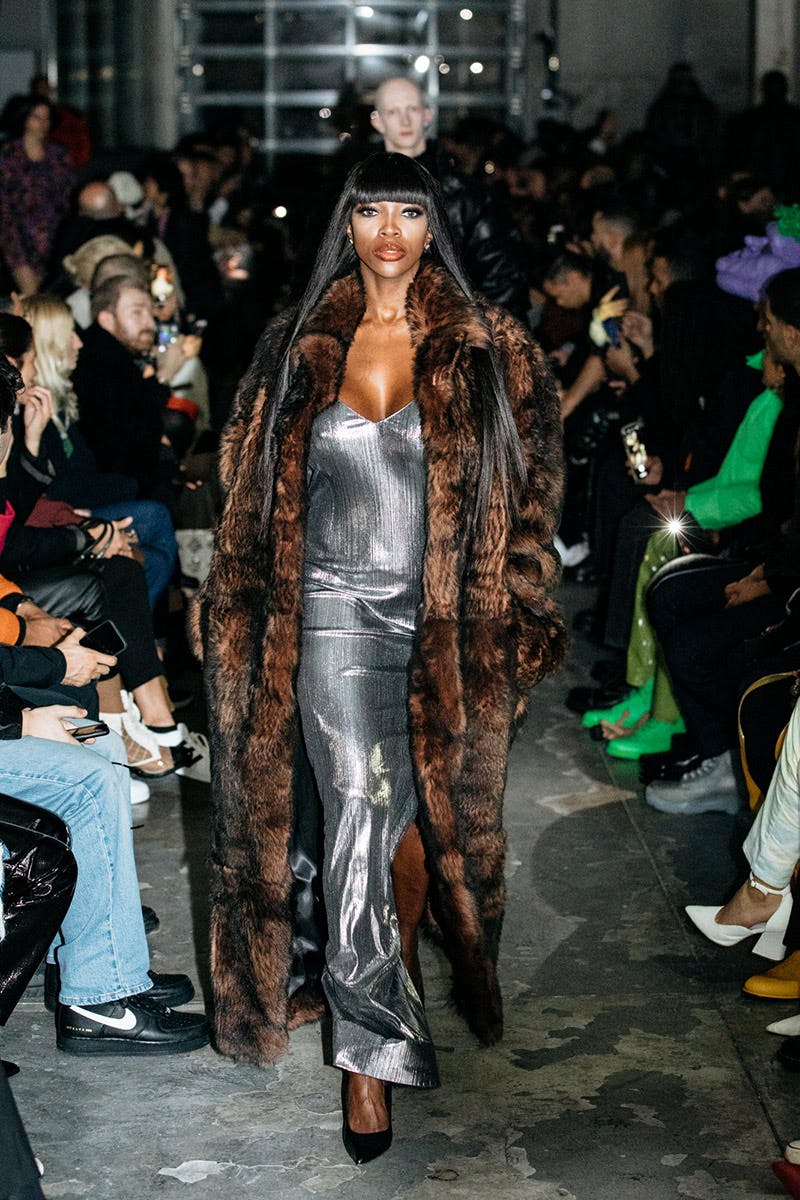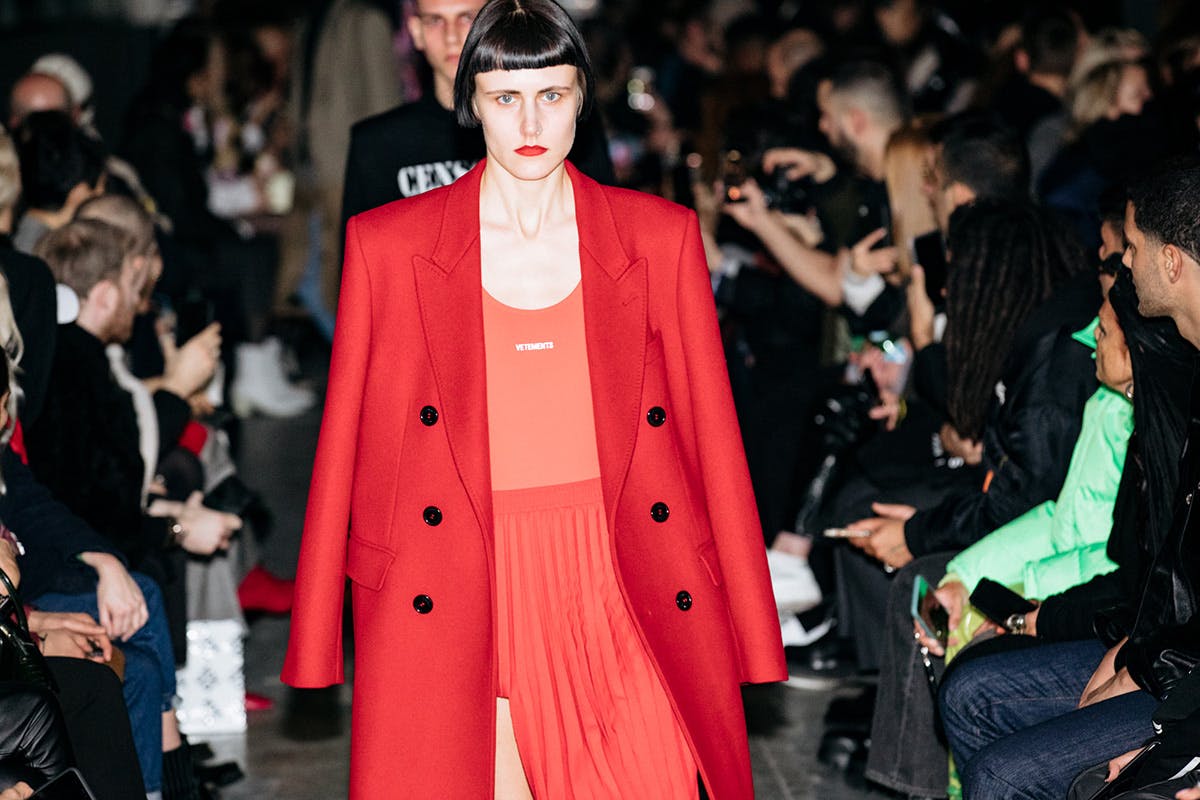 The phrases that define the Vetements comeback are familiarity and reinvention. In just six years, the visual language of the brand has been solidified and appropriated by others – both in high fashion and on the high street. The pressure on Demna to push that language into fresher realms was, from the outside, the biggest burden on the brand creatively. Perhaps as a reaction to critics probing them him the question "What else can Vetements do?" SS20, his final presentation, struck a balance: normcore (dad hats and office-ready shirting) with glamor (deep, V-neck silk dresses with raw hems), always teetering on the edge of having to be taken seriously. But the brand works best when those involved are laughing at their own work as much as others'. And, as this latest collection proves, when they're being smart and self-referential.
In a witty homage to the way a creative director of a legacy house might look back into their archives and imbue their work with the flares of a predecessor, the anonymous cohort behind Vetements has done the same with just nine of Demna's collections to work with.
His most famous pieces are resurrected in many ways. For the opening look – a basic black hoodie and the much-Instagrammed flamed applique boots from its first collection appear. The latter is elevated: thigh high, crafted from PVC, that old, cartoonish design replaced with a striking, photographic print instead. Leather fetish-inspired wader boots were worn over dad-blue denim, paired with simple slogan tees bearing phrases like "It costs $0.00 to be a nice person." Dangerously strong shoulder pads, reminiscent of those high school football jock numbers from the brand's formative years, are present, too.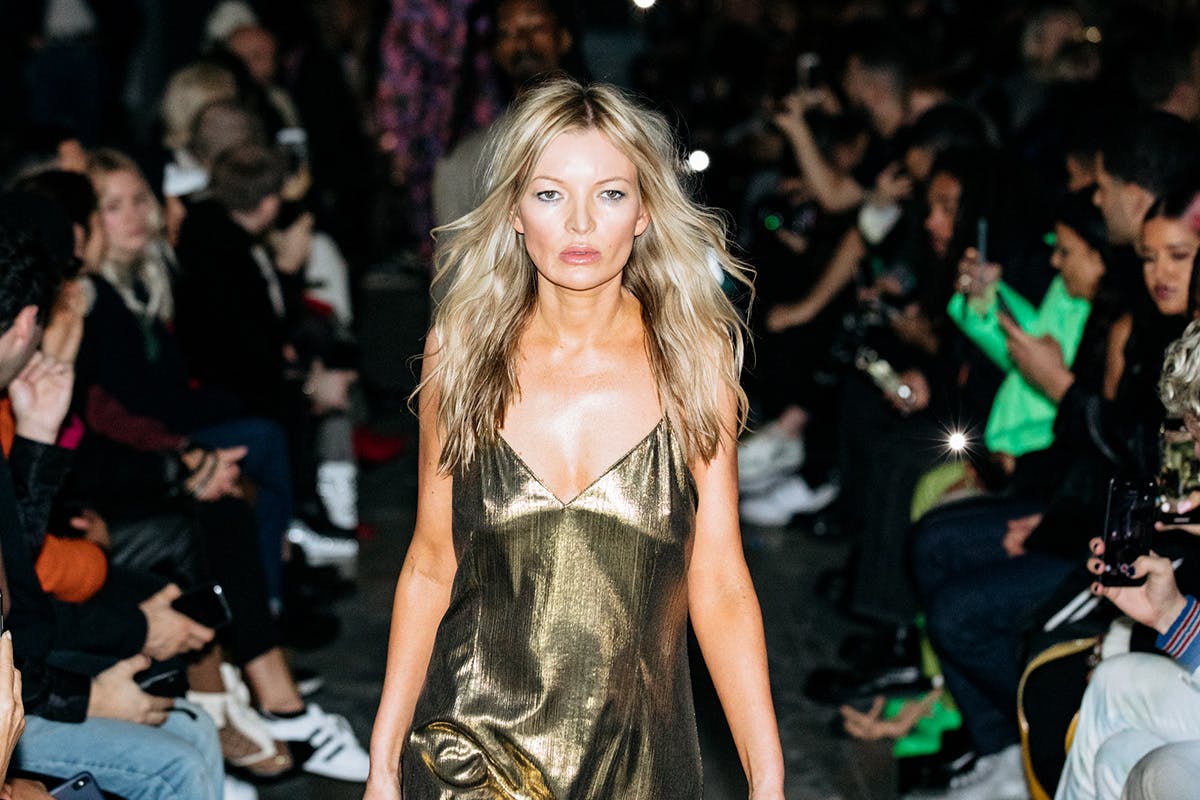 The printed floral frocks often cut as evening gowns in more recent seasons are back to being knee-grazing cocktail dresses, made for party girls; tulle tutus sit alongside them. The evening gowns that do remain become, once again, all-over print co-ord pieces with matching boots; a striking Gvasalia staple that's seeped into his aesthetic at Balenciaga. Those hooded sweatshirts with overlong sleeves that spawned plenty of memes have even edged their way back in. And the 'SECURITY' slogan? A once omnipresent force, it manifests again on the chests of ostentatious puffer jackets.
The collection feels like a winking eulogy to their now absent co-founder, right down to the trucker hat that reads "GVASALIA FOR PRESIDENT." It's a gathering of his most dynamic and prominent aesthetics in one line-up that, no matter how much change has been made, remains synonymous with the Vetements name. It works because it feels fluid, and less esoteric. The pressure of having to shock the front row has been sidelined in favor of a collection that feels like its intentions are somewhere stronger.
The entire presentation – doppelganger glamor models and rappers included – riffed on that idea of skewed familiarity. The careful balance of social commentary (What is a fashion show if not a mere photo opp for the front row?) and design that works in tandem with it (a T-shirt with a struck out camera and a "No Social Media" warning) is the place where Vetements works as a brand. It's encouraging to see them return to it.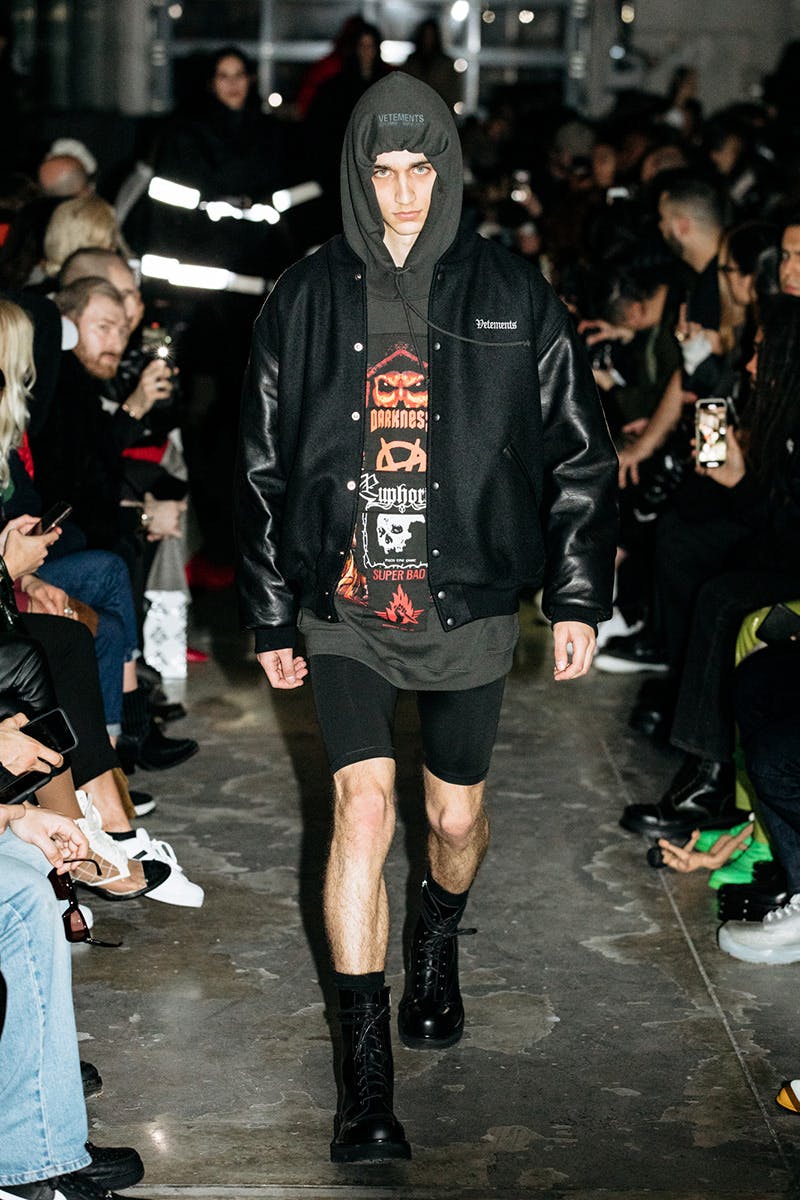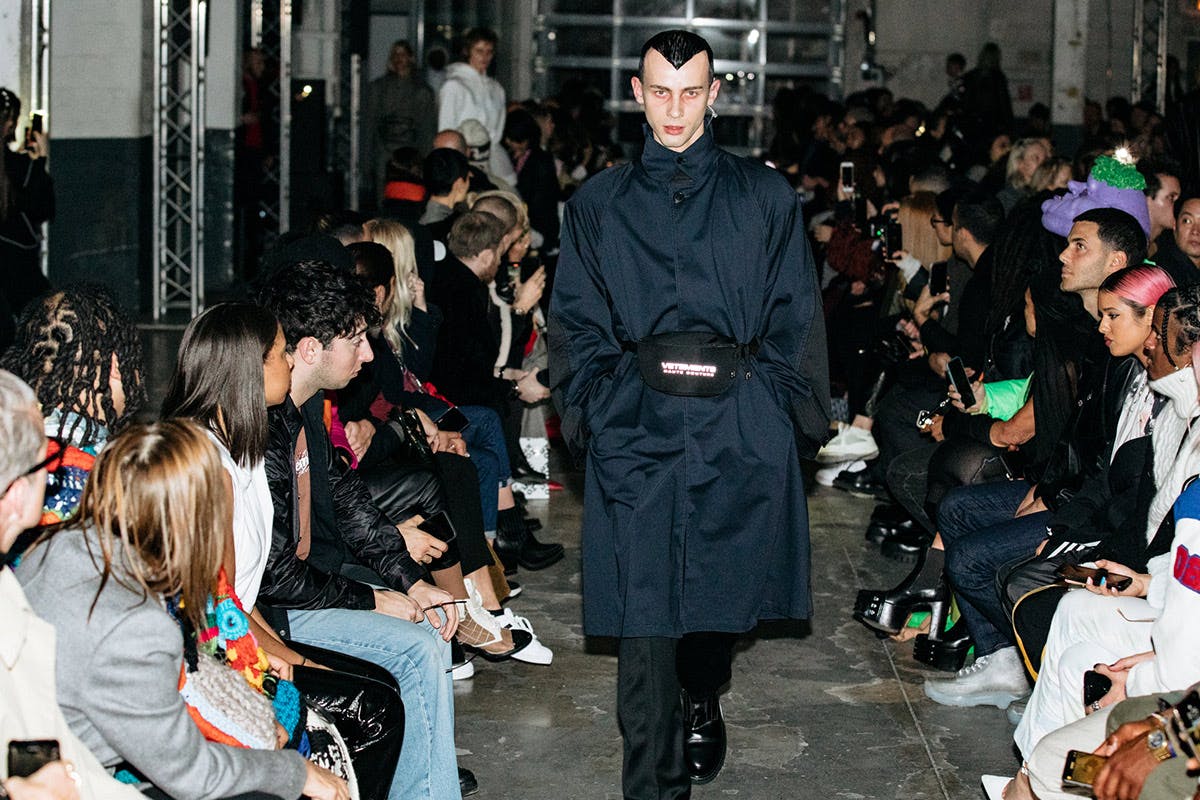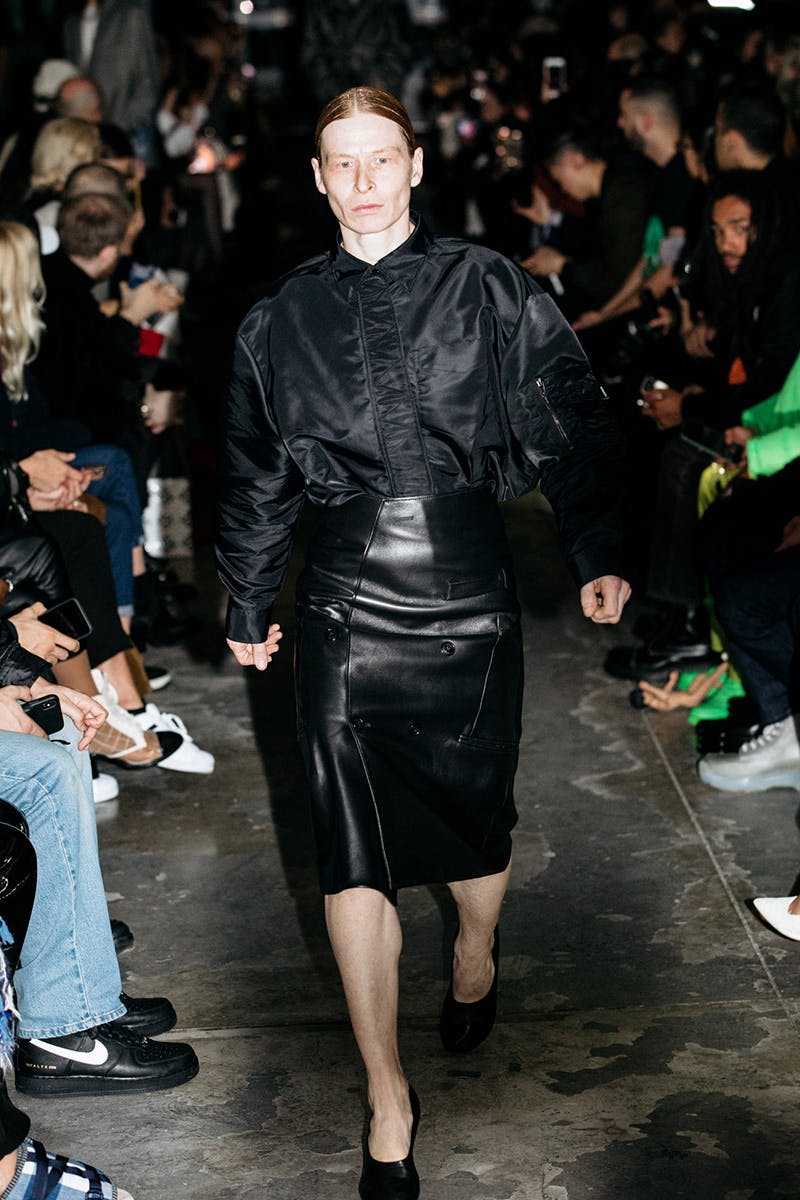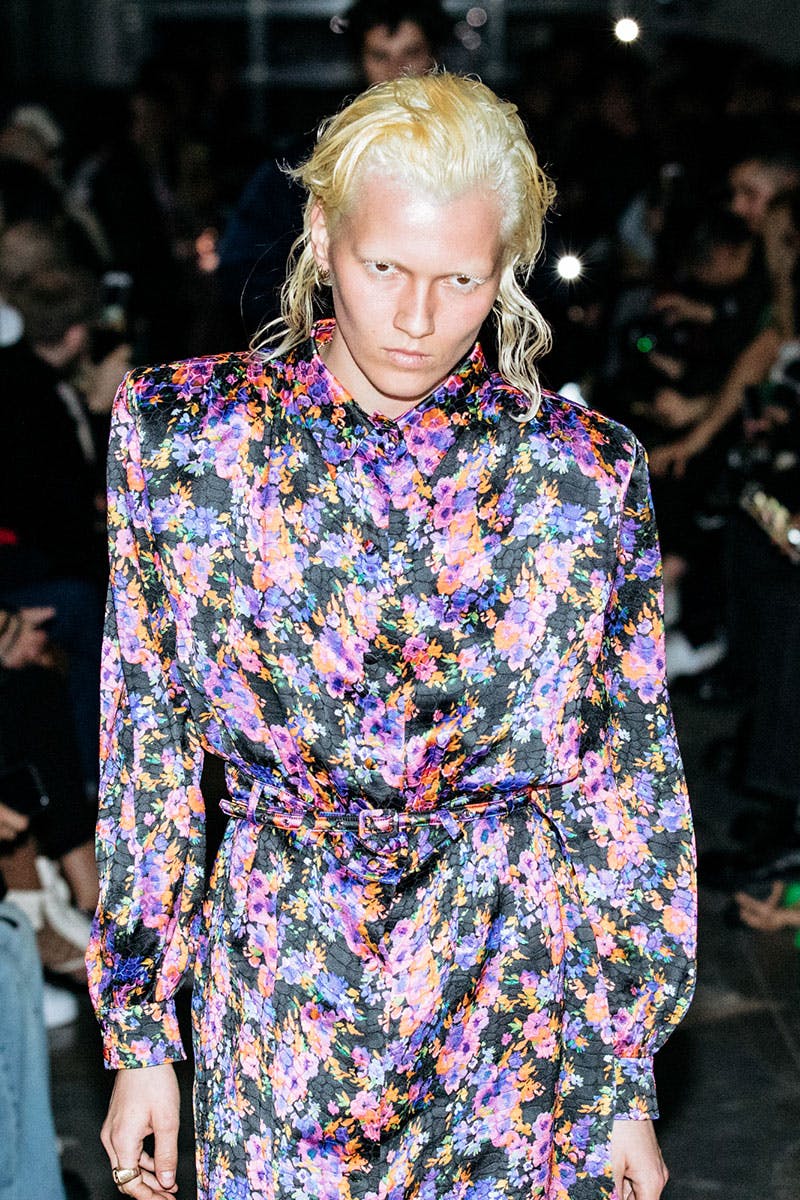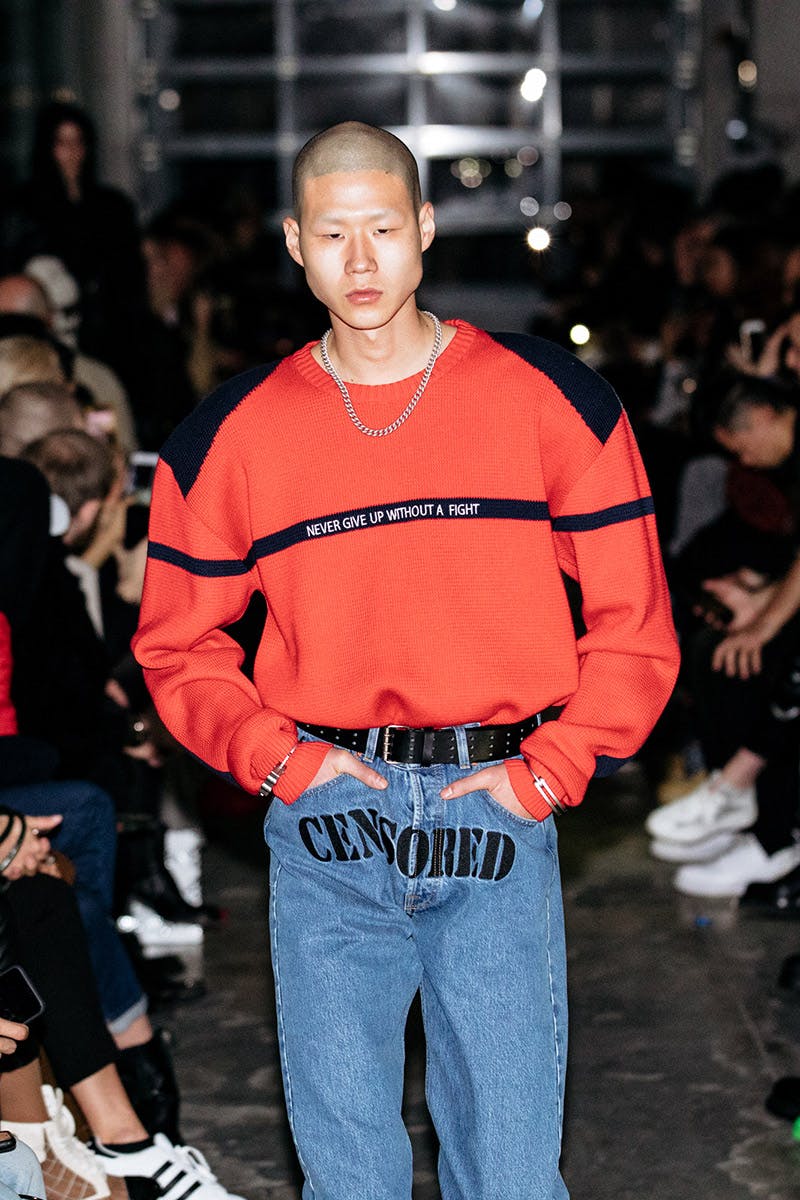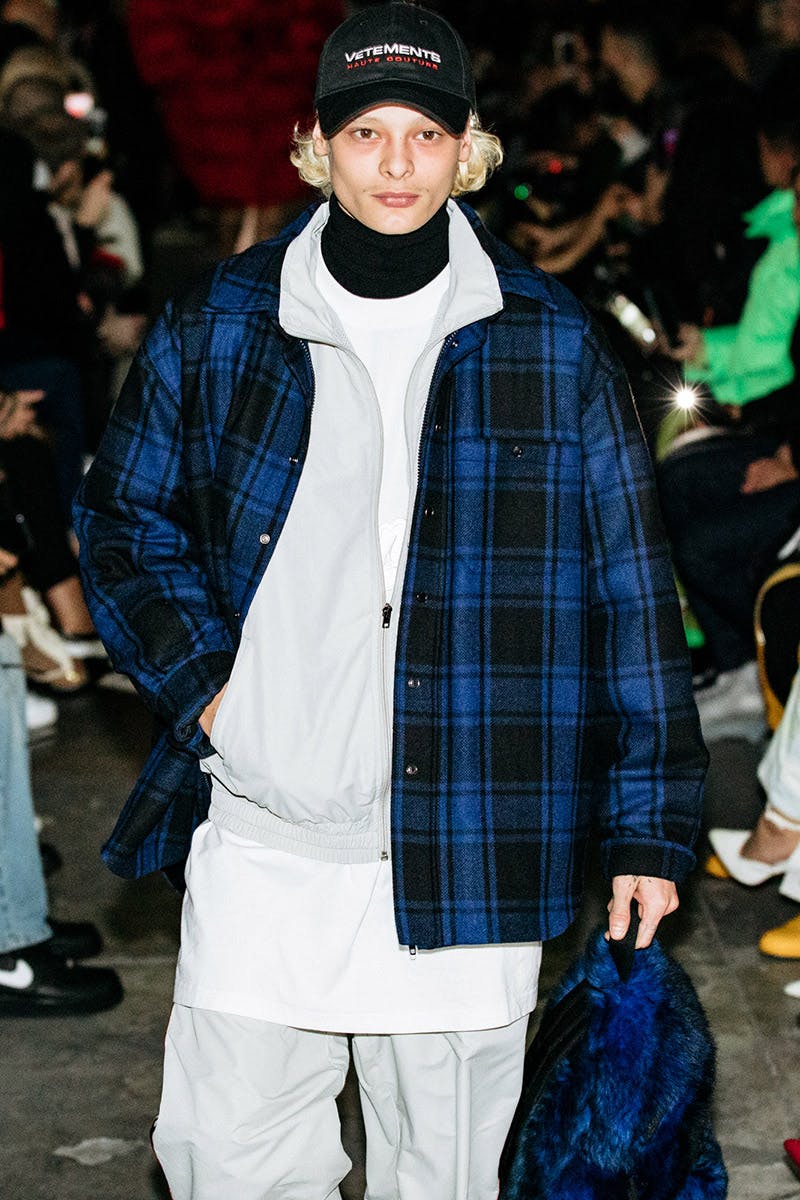 Vetements without Demna looks much the same as Vetements with Demna, though with that brilliant iconoclast now absent, the pressure to deliver anarchy and innovation with each new season is lifted. Fashion, like all art forms, needs haughty artisans and jester-like satirists. Even when it's not under the helm of Demna – who's arguably slipping into that former category – the creatives behind Vetements know where they stand in the realm of luxury fashion. What they're offering for FW20 paints an optimistic picture of their future.