Who Decides War founders Ev Bravado and Tela D'Amore bring the sounds of the streets to life with their newest collection. The brand's Fall/Winter 2023 show, titled "Politics As Usual," highlighted New York's lively hip hop scene in what Bravado and D'Amore dubbed "an ode to New York City."
The show took place at the Angel Orensanz Foundation, a synagogue-turned-art space whose religious architecture felt aligned with Who Decide War's signature stained glass window pane designs. Merging the modern with the classic, the venue created an atmosphere akin to the brand's overall look. Known for reworked denim, ecclesiastical art, and reflective passages printed across the clothing, the brand's aesthetic is one of thought-provoking beauty. 
Outside of the venue, the street overflowed with attendees and anticipation as eager guests waited to get a glimpse of the new line. Celebrity guests who sat cozily in the front row were all appropriately dressed in Who Decides War or pieces from Bravado's previous line, Murder Bravado. These enthusiastic displays of support made it clear how successful the label has been in growing a loyal base and creating a discernible brand identity. 
A stacked roster of hip hop figures were in attendance, including The Diplomats members Juelz Santana and Jim Jones, Maino, Dave East, Fabolous, Joey Bada$$, Dess Dior, Cleotrapa, and Jay Critch. Hip hop's community and culture were alive and present in the room, contributing to the story of New York's hip hop legacy that Who Decides War uplifted through this collection. 
The vibrance of New York's cultural scene was felt through the attendees, the music that carried models down the runway, and the sartorial styles that are key players in hip hop fashion. The show's soundtrack included classics from NY-born artists Mary J Blige and The Diplomats, to NY-dedicated songs such as "New York, New York" by Starship Orchestra. Hip hop style staples including bold graphic tees, denim, reworked styles, puffer coats, and oversized clothing all graced the runway, bringing home the designers' tribute to the city. The collection drew from the musical subculture even more explicitly through classically designed graphic tees boasting bold silver lettering that read "Ruff Ryders Decide War'' and "Diplomats Decide War," referencing prominent hip hop collectives.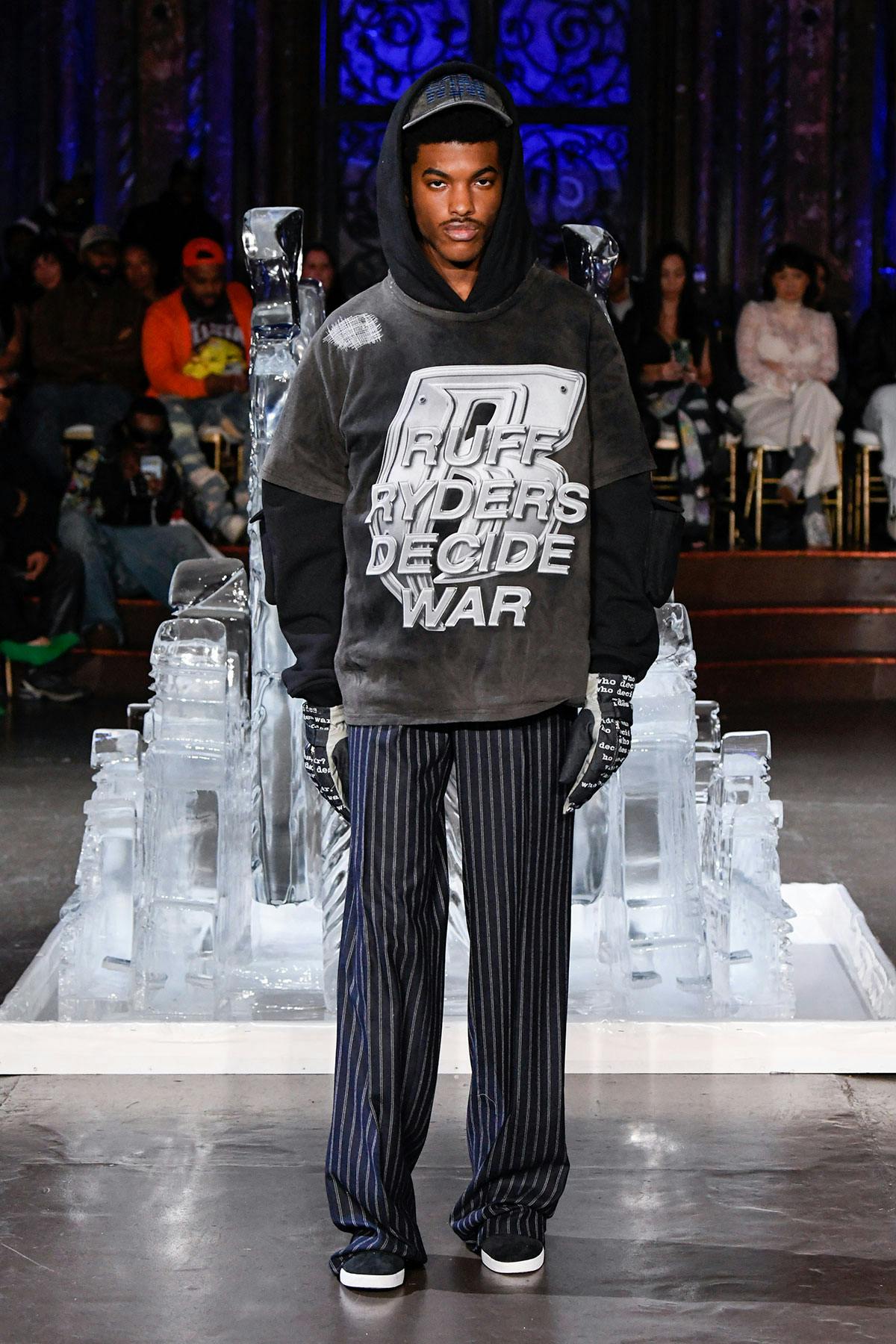 Models made their way down the runway in "Victorian punk" makeup and gothic-inspired streetwear (think stained glass window motifs on oversized puffers and denim) as they circled an ice sculpture depicting New York's skyline. The central element was dimension: distressed denim, metallics, leather, puffer coats, embroidery, corded rope, tulle, 3D pockets, patchwork, multiple interpretations of window pane silhouettes, the list goes on. It was eye-catching, it was refreshing, it was daring. Showstoppers included a black window pane dress complete with a wired petticoat covered in window pane cut outs, a heavily distressed pair of jeans with a tulle train, and embroidered puffer jackets. Collaborating with Italian brand ADD on outerwear and JakisChrist on intricately embellished garments, the designer duo linked up with emerging, like-minded labels. Entering the footwear scene for the first time, Who Decides War teamed up with adidas to present  its personal take on the Superstar sneaker. 
Coming off huge success from its SS23 collection (which sold out within 5 minutes of releasing) and its contribution to the Basquiat King Pleasure Exhibit with Black Fashion Fair, Who Decides War created another culturally resonant fashion moment. Just a month shy of Diplomatic Immunity's 20th anniversary, Bravado and D'Amore celebrated NYC hip hop icons and personal expression with their latest collection. As Santana once declared: "Jones is here, we invading the building." For FW23, Who Decides War brought those lyrics to life.