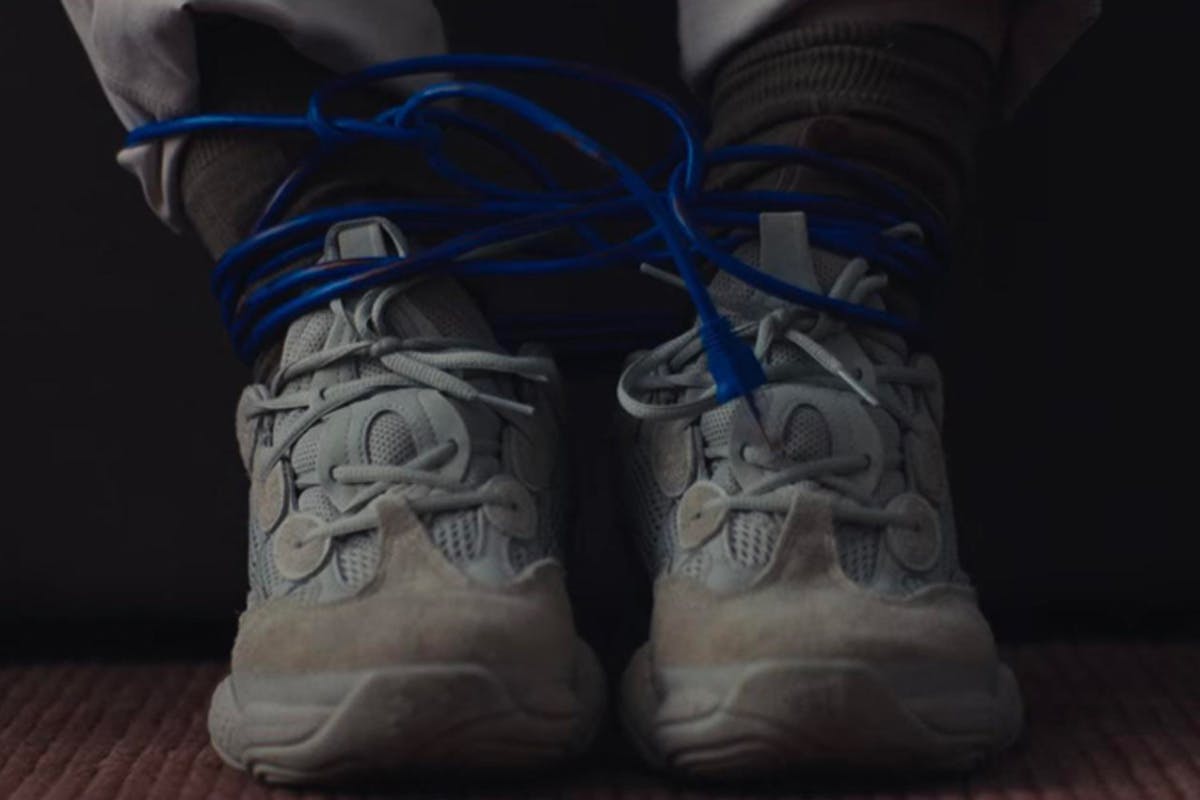 If you're in tune with the latest movie rollouts like I am, you may have watched Netflix's newest film, Windfall. And if you haven't seen the movie yet, just know: you're in for a YEEZY treat.
Windfall, directed by Charlie McDowell, follows the Malcolm & Marie pandemic-friendly movie setup — a small cast shot in a single location.
The film's storyline consists of an unnamed robber (Jason Segel) breaking into the vacation home of a Jeff Bezos and Mark Zuckerberg-spawn billionaire (Jesse Plemons). To his surprise, the CEO and his wife (Lily Collins) arrive at the house where the robber holds them hostage, awaiting $500,000 in cash from the wealthy tech exec.
Essentially, the film exudes "How to Rob a Billionaire for Dummies" feel, as a sloppy robbery exposes marital gaps and American classism at its finest hour (or 90 minutes, in this case).
Yes, the drama-thriller touts big names like Jesse Plemons and Lily Collins, but an appearance from a YEEZY 500 is what really caught my eye (and Reddit's) and ultimately stole the spotlight.
Throughout Windfall's anticlimactic run, Jesse Plemons, aka the full-of-himself tech billionaire, sports a pair of YEEZY 500 sneakers (possibly the "Blush" or "Salt" colorway).
A patterned buttoned shirt, cuffed chinos, and exposed brown ankle socks round off his character's billionaire style essentials.
After all, YEEZY 500s are the unofficial rich man's shoe, evident with YEEZY and Tesla's billionaire CEO bromance.
In 2020, Elon Musk and Kanye West flicked up wearing YEEZY sneakers, with Musk wearing the YEEZY 500 High "Slate" and Ye in the YEEZY QNTM.
It's safe to say, Windfall costume designer Megan Bowman Gray hits the nail with the billionaire starter pack fit, down to the YEEZY 500 sneakers.
Plemons embodies the spirit of an unwaveringly arrogant CEO who thinks the world is awaiting his downfall, making the Yeezy sneakers — a product of an actual cocky 10-figure-making founder — almost too perfect as a wardrobe selection.
While Windfall's plot was slow-moving with a semi-eventful end, I can honestly say watching a self-indulged billionaire held hostage in YEEZY 500s was enough to keep me locked in.