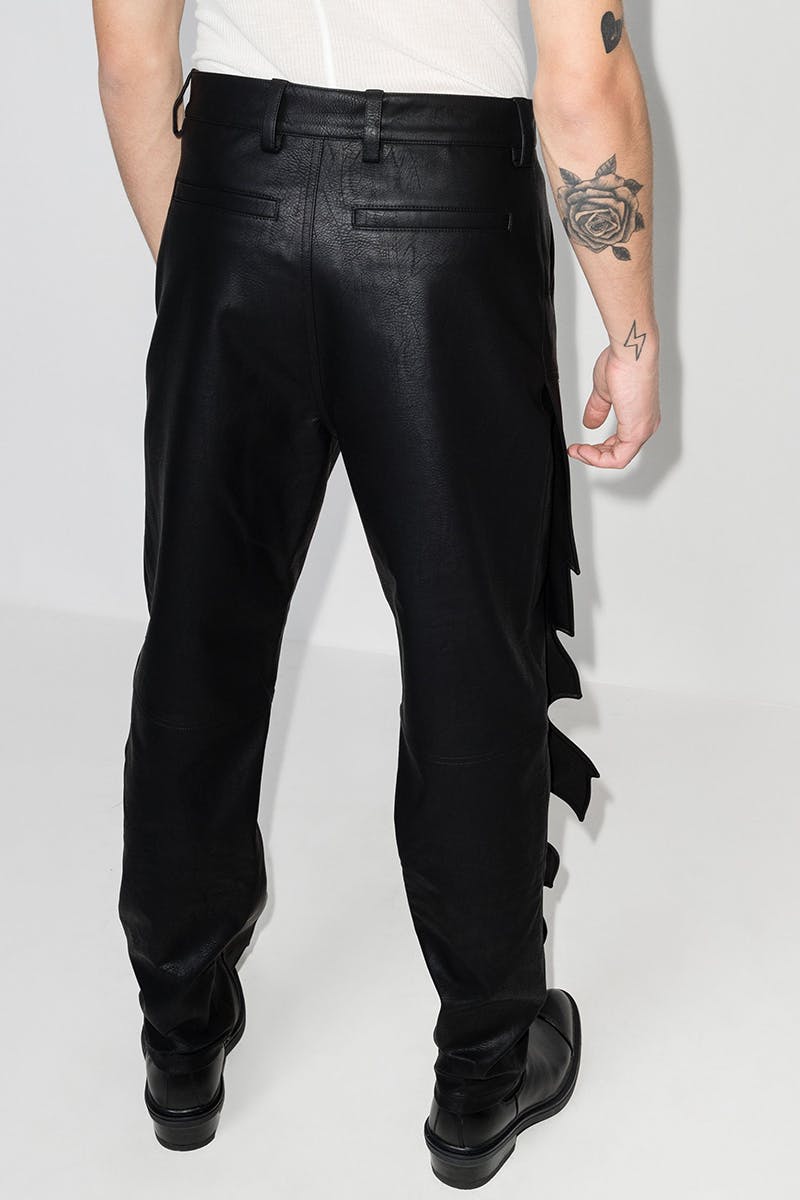 Ever adventurous, Y/PROJECT doesn't cut corners when it comes to dynamic design. Occasionally a little kooky, the brand trades in experimental offerings unlike anything else in the fashion industry, and these faux leather "Flame" trousers are no exception. The name does double duty here, both signifying the three-dimensional applications that run up and down the leg and reiterating the feeling of wearing these dense pants in hot summer weather, unless you're kicking around Belgium, creative director Glenn Martens' temperate home country.
A standout in a packed season that includes other wacky notables like a shoulder-folded tee, exposed seam sweater, and stacked hem jeans, the "Flame" trousers are in a league of their own. Daily drivers these are not — instead — Y/PROJECT shines when cooking up never-before-seen concoctions, toeing the line between approachable and imposing.
The "Flame" pants are made of a weighty faux leather that is sure to suffocate in summer, so make sure to only slide these on in more mild months. Thanks to the workaday fabric, mid-rise and straight leg cut, the trousers approximate the look of sturdy rodeo pants, an appearance reinforced by the 3D patches stitched down the side, creating a ridged effect that's nearly as shark fin as much as it is fire.
Still, the flame detailing is hardly a gaudy look-at-me detail — it's a considered bit of trim that alters the silhouette with the wearer's movements — a perfectly imperfect accent that sums up Y/PROJECT's off-center design ethos.
Would-be pyromaniacs can light up their wardrobe with Y/PROJECT's $603 "Flame" trousers by snagging them from Browns' website.