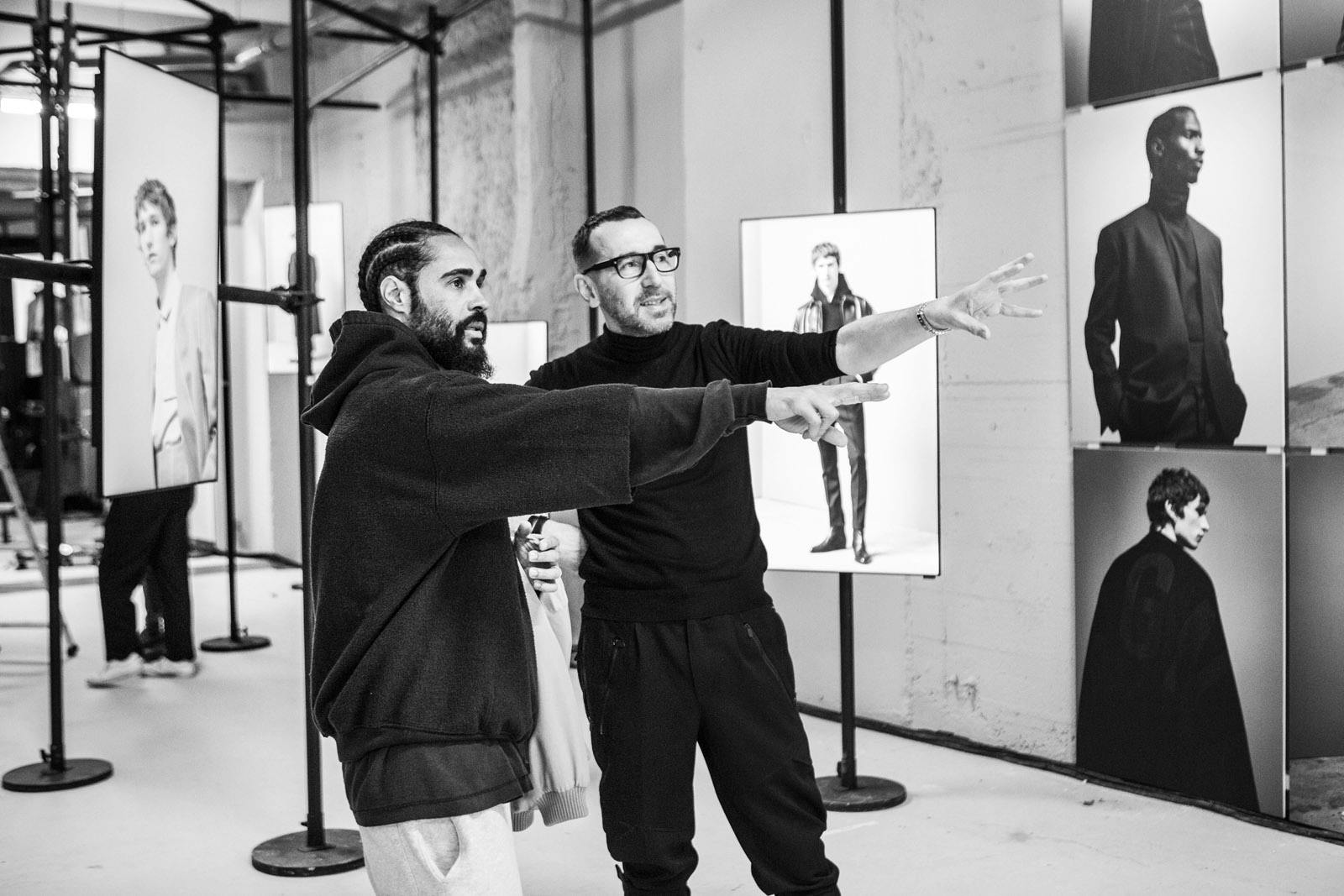 This piece appears as part of "Not In Paris," an online exhibition hosted and curated by Highsnobiety. Head here to see the full series.
It was back in early March when Jerry Lorenzo and Alessandro Sartori presented their Zegna x Fear of God collaboration at Paris Fashion Week, setting the stage for one of the most curious fashion collisions in recent memory. The clothing itself did not disappoint, delivering a sensibility that somehow bridges the sartorial gap between Skepta and Don Draper. Who says a polo neck shouldn't be bulbous with a zip? Or a tracksuit can't be made of luxurious silk? Together, they want to blow open the menswear conversation, bringing into being a hypermodern way of comfortable dressing that cherry-picks the best bits of luxury and chic sportswear. Think of it like bodega-core for when the bodega has an exclusive dress code policy.
The Los Angeles streetwear dynamo and Milanese tailoring savant might ostensibly make for odd bedfellows, but theirs is a relationship built on mutual admiration. The dynamic isn't so much a case of the student and teacher; rather, it's totally egalitarian, with Lorenzo's intuitive knowing of what young guys want to wear just as important as Sartori's unrivaled technical expertise. In other words, they're both reading from the same script. "I think that the difference [between Fear of God and Zegna] is obvious on an aesthetic level from far away," Lorenzo previously explained to us. "But the souls of the brands are the same. And when we sat together, we knew that immediately, and we also had a desire to create a new language that would require the best of both worlds."
Keen to find out where the pair were currently at given the events of recent months, we caught up with them over Zoom.
Let's start from the beginning. What attracted you guys to working together?
Jerry Lorenzo: I've been a fan of Zegna for a long time. The first luxury suit to ever live in my household was a Zegna suit that my dad bought back in the '90s. Alessandro being the head of the house made the opportunity even more exciting to me. I wanted to not only learn from the 110-year-old-plus house, but also learn from Alessandro, whom I really look up to, and whose aesthetic I've been a fan of for a long time. Usually, you don't want to meet people in fashion, because they're never what you hope them to be, but Alessandro just gets better with time.
Alessandro Sartori : We come across as very polite, but we are honest in what we say. It all started when a mutual friend asked, "Do you want to organize a coffee with this designer?" I remember seeing Jerry's work first on the web and then in a very beautiful store in Tokyo. I was attracted by the chicness of the clothing, because what he does is not only has to do with his aesthetic and his feel, but he also has a timeless grammar. After a year or less, we talked about doing something because we shared so many values and ideas. The idea was to combine chic American sportswear with the timeless aesthetic of an Italian house.
Two opposites on the same page.
AS: I haven't told you this, Jerry, but one of the best comments I got a couple of weeks ago was from an Italian retailer. He said to me, "You know what I adored about the picture and the video I saw? It didn't feel like it was in Paris or of the time." And I said, "Well, I never thought about that."
JL: It's exactly what we were hoping for — we wanted to land somewhere that was informed by the things we loved of the past, but spoke to something new; a new day, a new decade. Creating something that defines the early '20s. I feel that's the best possible comment that we can get. They're seeing something that they hadn't seen before.
Your presentation in March feels like a lifetime ago! How did that go?
AS: Jerry wanted to create something that looked like an art installation. A retrospective on this collection 10 years from now. We created a fantastic environment where there was no sense of time.
JL: That's exactly what it was. We are trying to establish this new wardrobe for the modern man; the foundation and the principles of it are classic and timelessness. So maintaining that theme throughout all the communication, all the feelings, all the emotions from the setup, again, to the music that was played, to the location that Ali found, it really spoke to all of the different nuances that I believe Alessandro and myself poured into the project.
I feel that the runway and re-see still serves a purpose with a collection like this. To allow people to get really get up close with the fabrics and craftsmanship. Jerry, you've never done a runway show, and Alessandro, you just announced an online show for Zegna. But how do you compensate for that lack of physical interaction?
AS: I think the normal shows as we know needed a refresh anyhow. That's one of the reasons why, when we decided to go with the presentation in Paris, we didn't think about spending more or less money. We wanted to have the best effect for that collection according to what we wanted to achieve and tell. The place, the collection, the music, the light, the production, all at once conveyed the full idea of what we wanted. It felt timeless.
We decided to do a combination of digital and physical for this season at Zegna. We took the idea that we can't invite people as a creative and challenging idea for what could be the future. Will we be able to do shows as before? Do we need to do shows before? We don't know. I think that there's going to be more formats, perhaps more private. Physical with, say, 300 people. But sensory in a way you can touch the fabric, you can see the material, and you can see the silhouette.
JL: We're a little different than you guys in having never done a fashion show. Our biggest presentation was what we did together in Paris. And so we're used to the digital way of presenting. However, as my craft develops and we start to play with knits and tailoring, and our pieces become more complex and beautiful to the touch, there's the flip side of maybe that's what we want to do. Perhaps having the human experience that maybe we haven't had in the past.
We're used to being digital, but it's sad that at this moment — as we're playing in a lot of new categories, that we were able to play within with Zegna and Alessandro — we kind of don't have a platform to share this physically with the world. But as we've always done as a species, we adapt to the times, and we find ways to do what we have to do. I think creativity thrives when it's limited.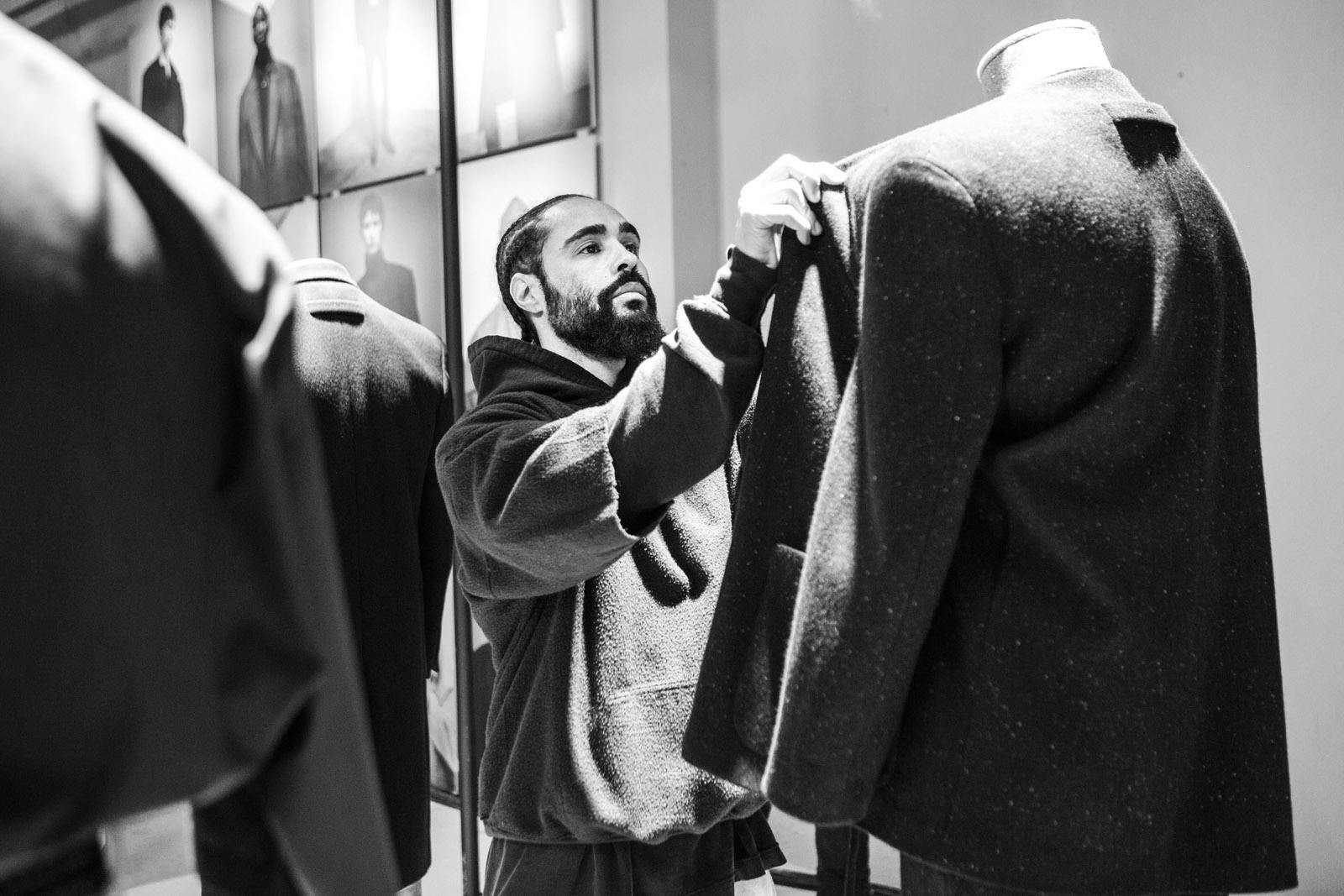 There's been a lot of talk about streetwear being outmuscled by menswear among young people as a kind of trend, but I don't think it's as binary as that. The modern man's wardrobe is fluid.
JL: That's what we believe. We believe that there's not this jump from wearing a hoodie and sweats one day to the perfect tailored suit the next. There's this in between area that speaks to the transition, but that also speaks to the time that the gentleman is in, in an honest way. Fear of God has always tried to create products that allow our customer to be who they are. We wanted to create something that's digestible for our customer, that he could see himself in, that's not intimidating. That when he walks into a room with a suit on, or something tailored, he still looks like himself, and he doesn't look like he's made this 10 year jump to being older.
I don't think it's as black as white as a tailored suiting world and a streetwear world. I think we're all very complex individuals who have tons of different needs and desires. We were really just trying to speak to the modern lifestyle, and understanding those needs and desires, and how the consumer moves, and what his day is like, and how we can help him be best prepared for that through his wardrobe.
I'm growing, as I'm maturing in the same way that you are. My taste, needs and desires all develop, and you could say it's an assumption that the rest of the world is kind of feeling the same way. The research and development that we depend on is asking the question "what's missing from our closet? How do we want to present ourselves? Today's a little different than it was yesterday, and what are the solutions that we can create?" I think we all live in the same world, and so we're connected. And you assume that what you're feeling is what other people are feeling, whether right or wrong, but that's usually the safest assumption. So we've taken on the responsibility of an industry pacesetter and leader in what we do, and we do feel a responsibility to step up first in these instances, and go with our gut versus watching the market change and being reactive, and we're going to continue to do that.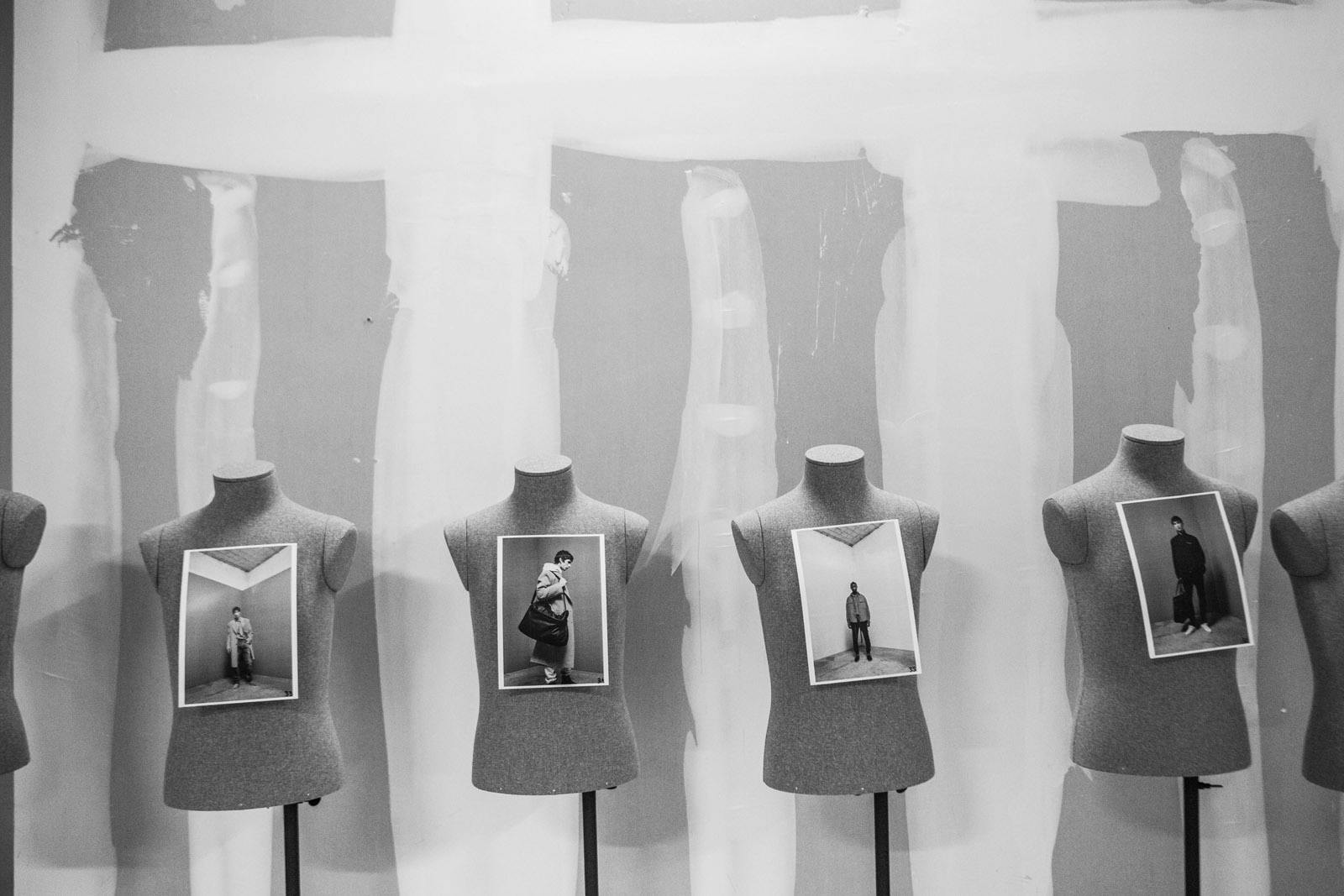 This collection won't be cheap, but it embodies the "buy less but better" mentality.
AS: From day one we thought about life long garments. About pieces that you can mix and match — one collection after the other. Let's think about a garment that you can easily give to your younger brother, or to your girlfriend. The quality of fabric and construction means it's built to last. If you open the garments inside, you see the quality.
I'm intrigued how that plays into the studio dynamic. Jerry is very intuitive with no formal training, whereas you studied fashion design, Alessandro. How does it play out?
AS: We didn't know how each other worked at first, but when we entered the room, I saw a fantastic soul, and the beautiful aesthetic behind the man. Keeping that in mind, all the discussion, bigger or smaller about a centimeter, or pants, or a jacket, whatever, were all part of this common idea to deliver the best possible project.
JL: We're [Fear of God] are so unorthodox in our process, coming in with two to 300-plus images and vintage references, with what I thought was an all over the place story. Alessandro was quickly able to understand them as well as the emotion that we were trying to get across. We agreed on the question, and we agreed on that perspective, which allowed us to easily work through and work past the different ways of working that we both were accustomed to.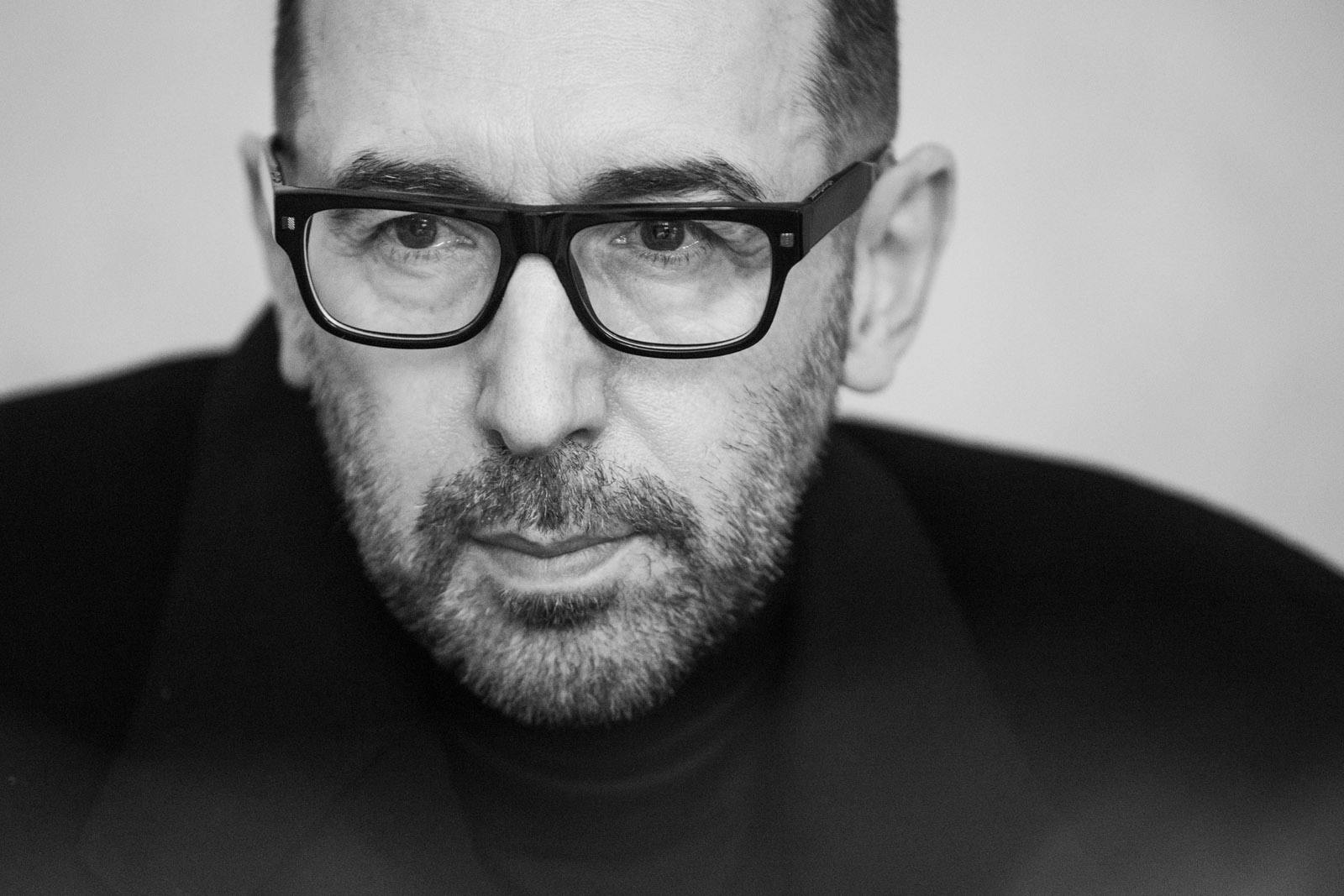 Let's talk about the collection itself. Those turtle necks are wild and immediately caught my eye! I know it's like asking to pick a favorite child, but do you have any stand out pieces?
JL: It's exactly like picking your favorite child because we're really trying to tell a full story. And so, every word, every child, is necessary. And if you leave one out, the story is not complete. The piece you are speaking about, I love that it's this rear zip, like a turtleneck, but not, but it's with shirting fabric. Living in LA and not being able to wear this turtleneck swag, it's just like, "How do we do this?"
We considered so many different things, wanting this clean look without a lapel and this new turtleneck feel that's not heavy knit. Every piece, if we speak to the turtleneck, or we speak to anything, is it as effortless and relaxed as it is sophisticated and elegant? That was the filter that we do everything through. On top of that, I just think it's a solution. It's a solution that it's a shirt that didn't really exist. Maybe for women in a different way, maybe with shoulder pads back in the day, but I felt we needed to propose something new in this area that wasn't as stuffy as a traditional suit and tie. So it's a pretty cool piece for you to mention, because it really speaks to all those different elements.
AS: I think we created, I don't want to say new categories, but new pieces that didn't exist in the classic menswear wardrobe before. I haven't seen a sports pant that uses the best fabrics and finishes in the market. To channel this sportswear attitude through a tailoring mindset is interesting. I'm sure that guys will find the collection interesting because we'll convey not only a new aesthetic, but also a lot of new pieces.
To finish, I wanted to ask about the suit. Jerry, I was learning today about the role of the suit and its relationship with black identity, power, and social politics. I think of stuff like Obama's tan suit to Kanye and the Rosewood movement to the very idea of Sunday best. So what does this mean to you on a cultural level? The same goes for you, Alessandro.
JL: If you Google Sunday best Chicago, there's this image that comes up of five young black kids in front of this old car and they're all in their Sunday best. It's a portrait that we have hanging up in my mom's house. And there is something about a Sunday best and getting dressed for church and something about this term of church clothes, which were always considered your best clothes.
There is a lot of nuances that go into the feeling a suit gives you, and the emotion that a suit gives you, and a good feeling suit. And I think a lot of times Americans, and maybe people of color, have different shapes, many times the proportions and silhouettes aren't best for them.
And that's one of the things that I also considered during this process is making suits that allow the people who wear them to still feel like themselves, and even a better version of themselves, and not someone else. A lot of times when you put a suit on you begin to feel like someone else instead of the best version of yourself.
And so, yeah, there's a lot of that deep down emotion that goes into it. And it comes from exactly that, the Sunday best growing up and only being able to wear your church clothes on Sundays. And if you got caught wearing your slacks or your blazer during the week, you would definitely catch a spanking and be in trouble. So there's a lot of that that culturally we poured into this project.
AS: Yeah. I totally agree. First of all, I googled Sunday best Chicago 1941 [holds up phone to camera]. Amazing! I want to start from one of the sentences Jerry said about looking your best. We did this process and quite often people are forgetting that, but think, Graeme, of the first time you feel fantastic, when you were sensing what is good on you for the first time. It's not the second time or the third; it's only the first time because you're used to it after that.
So when you put something on yourself and it's so right — not every garment you own is like that — just a few pieces, and you put it on and you say, "Wow." That emotion, and you fix and block that emotion in your mind, is exactly when we click — your emotions, the piece, this time. So we're trying to convey — and I think it's a very important story to build as far as suiting goes since I consider suiting the most iconic piece of the menswear uniform —  that it's very important to be able for each customer to have a proper one. Because if not, you look like somebody else.
Jerry Lorenzo: Yep. Very well said. And I think that was the beauty in us coming together because I have a perspective of some shapes and silhouettes and you have a perspective of shapes and silhouettes, and how do we honor each and all these different body types and still give them the same emotion.
Are you also "Not In Paris?" Not to worry, you too can join in on the non-gathering with our exclusive set of merch. Shop the collection here.